A health sciences instructor at CSU Long Beach in California has become the center of controversy after one of his students shared a question from his class's in-home exam.
---
In the test, instructor Matt E. Fischer asked students:
"Which of the following gangs generally do the least graffiti? Black, Asian, Hispanic, or White?"

Twitter user Alex Rambo (@Al_RamBro) shared a picture of the question online, expressing his continued frustration with the class and its teacher.
A taste of the kind of idiocy I've been dealing with in my health science education class. This is a question on my… https://t.co/QJhgKIm5eq

— Jim... James... Jimothy? (@Jim... James... Jimothy?)1544512331.0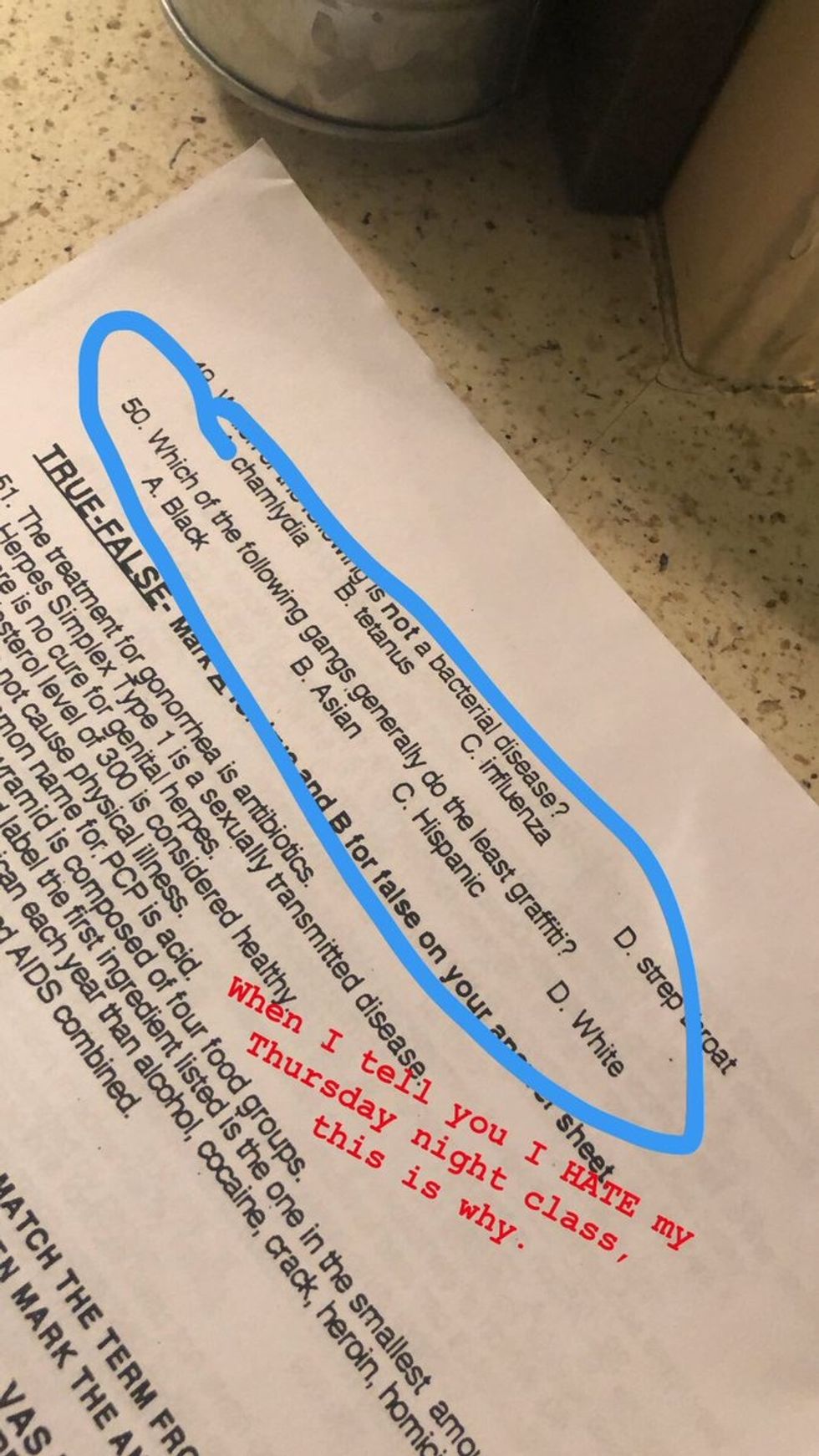 Twitter: @Al_RamBro
As if the racism wasn't enough, the subject had never been discussed in class, according to the student.
Idk what the answer is or what it's supposed to be.

— Jim... James... Jimothy? (@Jim... James... Jimothy?)1544863490.0
@Mmkay2 I have absolutely no idea. None of my classmates know either because this isn't something that was ever discussed in class.

— Jim... James... Jimothy? (@Jim... James... Jimothy?)1544595110.0
@Al_RamBro Wait, what? How is this question even relevant to health science??

— Amber Santos (@Amber Santos)1544534617.0
Twitter users were flabbergasted by such boldfaced bigotry.
@Al_RamBro That's ridiculous - I'm glad you are speaking out about this, Alex. It's straight up bullsh*t, and not s… https://t.co/5KPfXc0kTh

— Sharon Roy (@Sharon Roy)1544720230.0
@Al_RamBro I would like to know what was the correct answer. In addition , explain the reasons while being escorted off the campus.

— Reginald Marquez (@Reginald Marquez)1544684986.0
@Al_RamBro This is not okay G

— Seanley Kubrick 🇧🇿 (@Seanley Kubrick 🇧🇿)1544552543.0
People were eager for Twitter user @RacismWatchdog to chime in.
@Al_RamBro Hey @RacismDog 👆🏻

— "Almost, not Christmas yet" Palmer (@"Almost, not Christmas yet" Palmer)1544672986.0
@rivrraaa @Al_RamBro https://t.co/zmn9ltd0CB

— Ana Elizabeth (@Ana Elizabeth)1544669036.0
It's hard to see how, in 2018, any professor would find this question acceptable.
@Al_RamBro DaFaq?

— Shaun Newton (@Shaun Newton)1544807674.0
@Al_RamBro Racist much? My goodness this is terrible fam

— SlimVante Swang (@SlimVante Swang)1544546396.0
@abc7miriam @ABC7 @CSULB Really. Who does that

— annette smith (@annette smith)1544749275.0
Rambo's mother, Angela Reid, commented to RawStory:
"(It was) kind of the awkward things happening in the class and he showed me the exam and asked me to read that one question and I did. And after I read, it my question was 'What does that have to do with health science?'"
@abc7miriam @daylan @ABC7 @CSULB that still doesn't really constitute a health science class question. i went to… https://t.co/RTXiobrqCF

— D O O L E Y💍 (@D O O L E Y💍)1544807438.0
CSULB spokesperson Jeff Bliss condemned the question and promised an investigation.

"The campus takes these allegations seriously. We will provide additional information when we have reached a resolution."
@abc7miriam @ABC7 @CSULB Why would you as a professor do this?

— francisco gonzalez (@francisco gonzalez)1544744159.0
It's currently unknown whether instructor Fischer will face any disciplinary action, but his students are certainly hoping that is the case.