A new billboard went up in Times Square and it has people talking. In big black letters, the sign proclaims, "NO GAYS ALLOWED."
---
If the sign seems shocking, that is the point! Under the larger letters, a message reads "STOP Alliance Defending Freedom. Learn more at NoGays.org."
The goal is to shine a spotlight on the conservative Christian legal group Alliance Defending Freedom, or ADF which the Southern Poverty Law Center describes as a hate group against the LGBTQ community.
The ADF encourages businesses to deny service to LGBTQ people and criminalize homosexuality. If that seems ridiculous in this day and age, consider a hardware store in Tennessee, Amyx Hardware & Roofing Supplies in Grainger County, which hung a "No Gays Allowed" sign in their front window.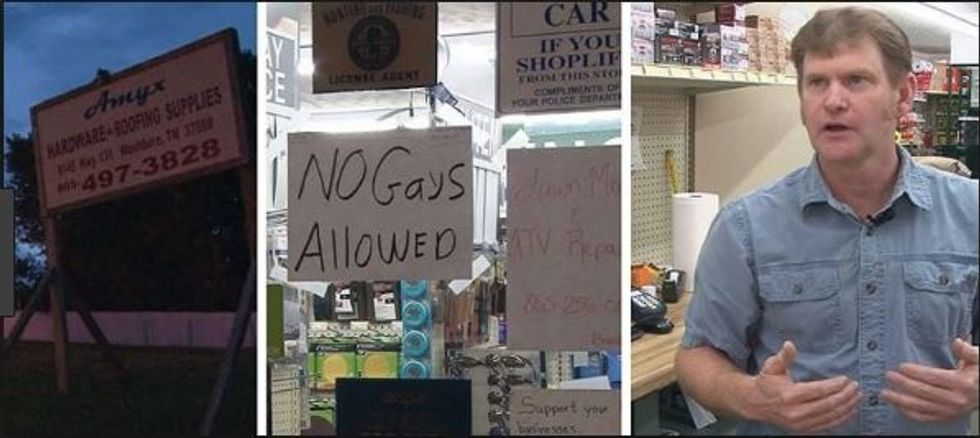 Salt Lake Magazine
A spokesperson for Citizens for Transparency, Caleb Cade, told NBC News:
"ADF has been leading that war for a long time, with tens of millions of dollars to do it."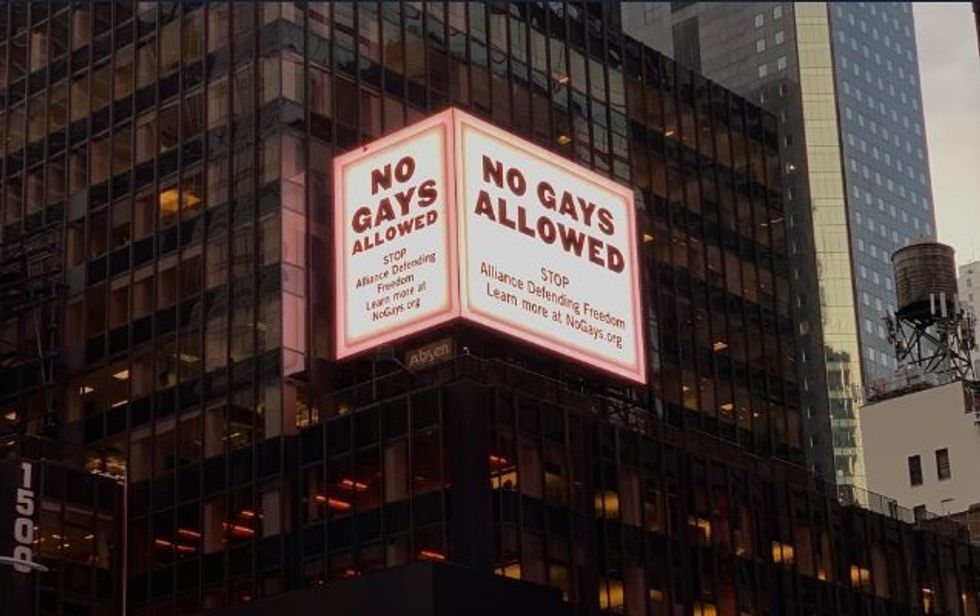 NBC News
The nogaysallowed.org also has an informational video.
No Gays Allowed youtu.be
If we don't stay vigilant, this could be a glimpse into the future but people are conflicted about the message.
@TheAdvocateMag I'm bi & from NYC. It's a dangerous billboard message that could prompt violent haters to think its… https://t.co/aP9PIvM2bW

— Nancy 🇵🇷🏳️‍🌈❤️💜💙 (@Nancy 🇵🇷🏳️‍🌈❤️💜💙)1542321586.0
@TheAdvocateMag I get what this group is trying to do but the words are still harmful no matter what! What if a gay… https://t.co/Vrv7Qd6PSG

— Charles Hixon-Smith (@Charles Hixon-Smith)1542318929.0
@TheAdvocateMag IF you care about LGBTQ equality & safety, you need to check out the devastating webpage 'NoGaysAll… https://t.co/gToor2GRfI

— Holy Bullies (@Holy Bullies)1542326317.0
@TheAdvocateMag Keep the billboard up. It tells folks about the webpage. The fact that the LGBTQ community doesn't… https://t.co/dxzx6Igj6F

— Holy Bullies (@Holy Bullies)1542326245.0
@TheAdvocateMag Take it down!

— Mrs Poli (@Mrs Poli)1542313936.0
@TheAdvocateMag You know what? Nothing turns out more progressive radical activist like this kind of hate. Leave it up.

— Steven Star (@Steven Star)1542313090.0
@NBCNews @NBCOUT Smart move from this organization. Everyone now who agrees with them but had no idea it existed ca… https://t.co/zFNWIrNOuj

— Gustavo C. (@Gustavo C.)1542312101.0
@NBCNews @NBCOUT Uh oh @gop , it sure sounds like they want sharia law in the US, but that can't be right because R… https://t.co/YxOw9zGXpj

— SkankHunt42 (@SkankHunt42)1542311696.0
@NBCNews @NBCOUT Funny how all the crazies and deplorables have come out of the woodwork since Adolf Trump took off… https://t.co/ve785O6I7Z

— Bruce Oleson (@Bruce Oleson)1542310885.0
If the goal was to get people talking, it's working.