Nixon Had A Disaster Speech Ready For Apollo 11 Mission To The Moon
Space travel seems like a relatively normal (if still incredibly awesome) idea now, but back in 1969 when the Apollo 11 mission launched on its way to the moon, it was anything but.
Manned space missions had been successful, but we had never put anyone on the surface of the moon, let alone got them home safely again.
---
Even Neil Armstrong said that he thought they had:
"a 90 percent chance of getting back safely to Earth, but only a 50-50 chance of making a landing on that first attempt."
Buzz Aldrin gave them about the same odds.

Michael Collins, who was also on that first moon-bound flight said:
"I think we will escape with our skins, but I wouldn't give better than even odds on a successful landing and return. There are just too many things that can go wrong."
Given these testimonials from the astronauts themselves as to the danger of the mission, and the tragedy of the Apollo 1 mission, it's easy to see why members of Nixon's cabinet wanted him to be prepared for the possibility that the astronauts wouldn't make it home.
The plea for a contingency plan actually came at the request of fellow astronaut and White House liaison Frank Borman. Borman asked Nixon's speech writer, William Safire, to prepare a contingency plan in case the mission was unsuccessful.
The full text of the speech didn't become public knowledge until 1999.
"Fate has ordained that the men who went to the moon to explore in peace will stay on the moon to rest in peace."
"These brave men, Neil Armstrong and Edwin Aldrin, know that there is no hope for their recovery. But they also know that there is hope for mankind in their sacrifice."
"These two men are laying down their lives in mankind's most noble goal: the search for truth and understanding."
"They will be mourned by their families and friends; they will be mourned by their nation; they will be mourned by the people of the world; they will be mourned by a Mother Earth that dared send two of her sons into the unknown."
"In their exploration, they stirred the people of the world to feel as one; in their sacrifice, they bind more tightly the brotherhood of man."
"In ancient days, men looked at stars and saw their heroes in the constellations. In modern times, we do much the same, but our heroes are epic men of flesh and blood."
"Others will follow, and surely find their way home. Man's search will not be denied. But these men were the first, and they will remain the foremost in our hearts."
"For every human being who looks up at the moon in the nights to come will know that there is some corner of another world that is forever mankind."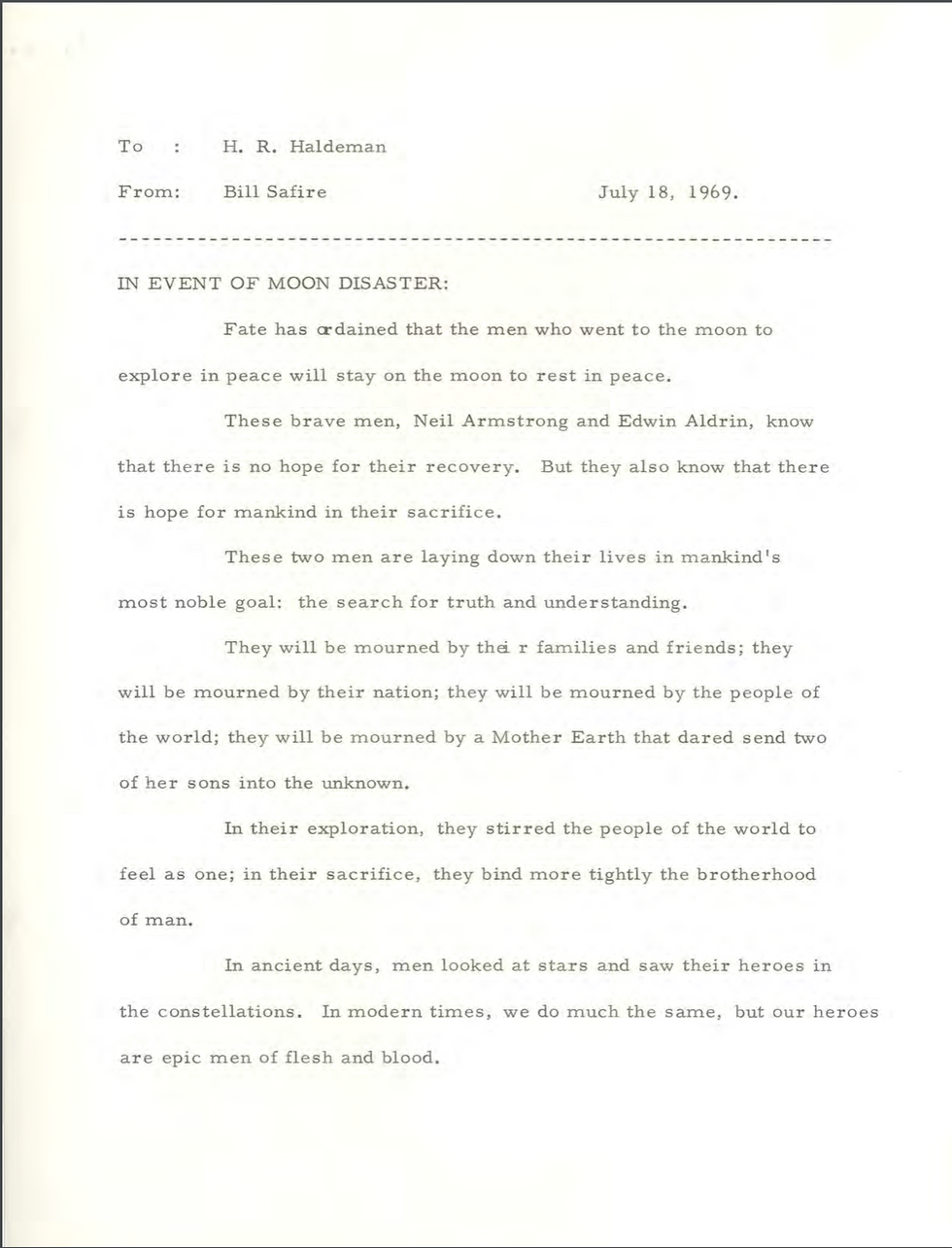 Original Typewritten SpeechU.S. National Archives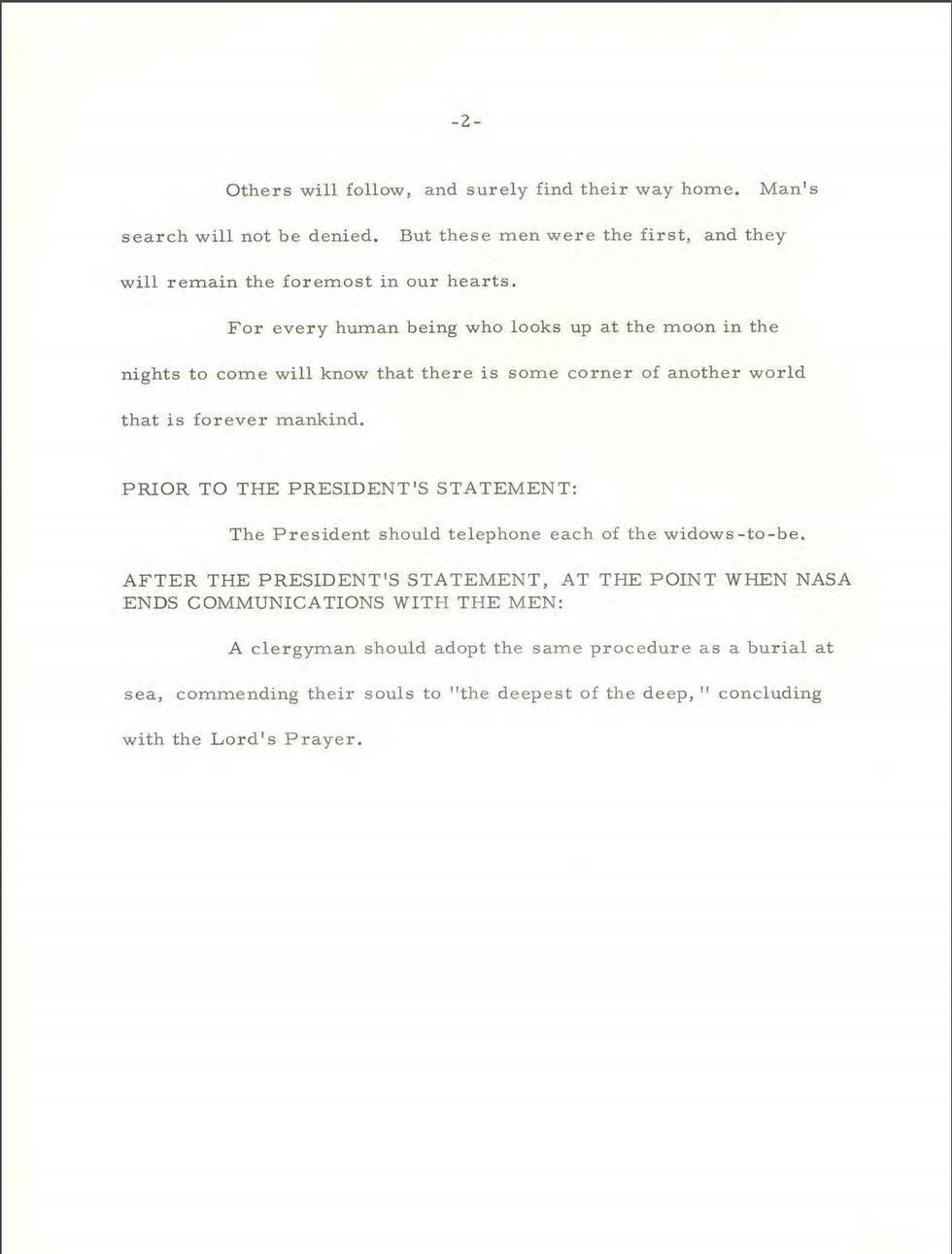 Original Typewritten SpeechU.S. National Archives
The speech really drives home the danger that astronauts face whenever they leave earth. Apollo 11 was a resounding success, and changed but it is tempered by the tragedies that have occurred. The 10th Challenger mission ended in the death of its 7-member crew in 1986.
On a lighter note, the mission was a success and today is the 89th birthday of Apollo 11 astronaut Dr. Buzz Aldrin. Aldrin has spent his life forwarding the mission of space exploration, and is currently a strong proponent of a manned mission to Mars.
Twitter is full of birthday wishes to the astronaut, scientist, and all-around American hero today.
The sobering text of President Nixon's contingency speech reminds us of the sheer difficulty of space travel, and what a wonder it was that the mission was a success.
Dr. Aldrin's life reminds us of the good that we can do when we stick to what we believe. He has spent the majority of his 89 years working to improve humanity and further the idea of scientific exploration.
What could we do as a species if everyone were so driven to improve?
Reddit user nonoriginalname42 asked: 'What's the worst thing you've seen happen at a wedding?'
A couple proclaiming their vows in front of loved ones is the ultimate affirmation of love.
So when the day of the wedding finally arrives for a couple after months of planning, there's a lot of pressure for things to go smoothly.
And while for the most part, the joyous day of celebration culminates in plenty of emotions and tears that is remembered and reminisced about.
Unless it wasn't the perfect wedding day ever. Because sometimes, things just don't go as planned due to various unforeseen circumstances.

Kind of like the ones strangers online shared when Redditor nonoriginalname42 asked:

"What's the worst thing you've seen happen at a wedding?"
Choose members of your wedding party wisely.
Otherwise, the following might happen.​
Not The Best Man For The Job
"Best man starts off speech with, 'I've seen *the groom* with a lot of girls over the years...'. You know the cliché speech where it goes on to say but you're the best for him, etc. etc. Turns out the bride and groom were dating long before the best man even became a friend. Essentially outed him as a degenerate cheater. She was super pissed."
– Wallace2727

Oops
"The best man giving the toast at the reception and saying the groom's first wife's name instead of the current one."
– pharmhound

Downhill After The Upchuck
"Matron of honor throwing up just as the officiant was asking if anyone objected."
– Amiiboid
"My brother was in a wedding where as the bride said I do, the groom threw up all over her due to the bachelor party the night before."
– ParsonJackRussell

Unfortunately, you can't expect family to all be on their best behavior in these unfortunate situations.
Rehearsal Dinner Disaster
"Bride and groom got in a huge drunken fight after the rehearsal dinner, it escalated to include shouting and name-calling between both families, then the wedding got cancelled the day of."
– jkvincent

Drunk Dad-In-Law
"It started super late, it was super hot out, the future father-in-law was wasted and left before it started. He then showed back up in a red bath robe and his gun. Cops got called. It was a whole thing."
"Oh, and then after the reception we were all trying to convince one of our friends not to drive. He insisted he was fine... Drove his truck into the river."
– MLaw2008

Because Priorities

"I was at a wedding in rural Wisconsin and both the bride and groom were members of the local all-volunteer fire department. Almost everyone at the wedding proceeded to get quite drunk, except the bride, who doesn't drink. At some point, there was an emergency call to the fire department (not a fire, but a medical call). The wedding was not far from the fire station, so the bride rushed over and, along with one other volunteer who was on call, drove an ambulance to an emergency call."
"In her wedding dress."
– GingerStu

The bride and groom aren't always the most exemplary role models.
Ghosting The Guests
"I went to a friend of mines Aunts wedding. It was a second marriage for both of them so they wanted something 'relaxed.'"
"They threw it on one of the family members property and had all the guest do grueling manual labor to get the property ready for the wedding. We were literally landscaping in the Texas summer."
"I was climbing trees to hang lights, we laid sod, we laid down stone for a walk way, my friends mom cooked food for days and made all of the floral arrangements. We were setting up tables and chairs, you name it. We worked from 6am until almost midnight for 3 days."
"Finally the wedding happens and it's beautiful. I was actually really proud of what we had done. It looked professional."
"We go to cut the cake and the couple is no where to be found. They just left without telling anyone and went back to their hotel. I was offended by that because we had worked SO HARD for them and they didn't even stay for the entire wedding."
"We never got a thank you or any appreciation for it. Other people were upset too and took their gifts back before leaving."
– littlemybb

Going Nowhere Fast
"Groom wanted cigarettes so he snuck out and tried to drive to a convenience store a minute away. Drove straight into a telephone pole and was arrested for DUI and spent the night in jail."
– mdreb18

Weddings have an element of surprise because no matter how well things are planned, anything can happen.
Hey Mr. DJ
"My brother's second wedding. For the first dance, the DJ played the wrong song for half a second before stopping, and starting the right song. The Bride disappeared for 2 hours afterwards because 'the wedding was ruined.'"
– Upper-Job5130
"I wonder if he'll hire the same DJ for his third wedding."
– the_beat_labratory
"Oh God I can't deal with people like that. I have a family member who does this. The tiniest little thing goes a touch awry, moment of awkwardness maybe, then back on track for a great day. But then they go and ACTUALLY ruin the day but throwing a tantrum...."
– CowsArouse

When Duty Calls
"I was supposed to be best man at a friend's wedding. At 7:30 AM, the morning of the wedding the groom called and said the wedding was off. It wasn't going to happen. I never talked to or saw the guy again. He signed up for the army and within a few days he was just gone."
– fredzout

There's so much pressure built-up from the anticipation before couples say, "I do."
So, it's not surprising that we all hope things go without a hitch before couples get hitched.
But don't count on it.
Unless you plan a small, casual wedding or reception with only your closest friends and family following a City Hall ceremony.
That's how my husband and I got married.
There can be perfection in simplicity, and that's how we roll.

Never underestimate the power of intuition. When these people felt something was odd, they trusted their gut feelings—and ended up saving lives. When they didn't, the consequences were disastrous. If you just can't help but feel like something isn't right, listen to the little voice in the back of your mind. It could change everything.

Learning about the death of a well-known figure can sometimes feel as if we lost a friend or family member.
Even if we never met them or knew them personally, their work may have touched us in such a way that it feels as if part of us died with them.
This can be even more poignant if they died young and/or under tragic circumstances.
Particularly if the cause of their death was never fully explained or discovered and continues to be a mystery to this very day.
Redditor ZellaphantBooks2 was curious to hear stories of deaths or disappearances that remain a mystery (or possibly too easily explained), leading them to ask:
"What celebrity death seems a bit too suspicious?"
Alive And Well... But Nowhere To Be Found?
"Shelly Miscavige , wife of Scientology leader David Miscavige."
"Disappeared 2013 after vocally coming out against the practices of Scientology."
"Lawyers for the cult - I mean religion - still maintain she is alive and living a private life devoted to Scientology."

"Right."- shineymike91
"Not a 'murder' or 'death' and not really a 'celebrity' but... WHERE is Shelly Miscavage?"- hopeandnonthings
Supposedly A Robbery, But Maybe Not So Simple?
"Haing Ngor."
"Oscar and Golden Globe winner for 'The Killing Fields'."
"Cambodian and former prisoner of the Khmer Rouge."
"Tortured and imprisoned in Cambodia."
"Murdered outside his home in Los Angeles."
"His family thinks it was revenge from Cambodia for his outspoken support for human rights and bringing people to justice in Cambodia."- Lothar_28
Wrong Place, Wrong Time?

"Sridevi."
"She's a Bollywood actress who died in Dubai from accidental drowning in a bathtub, the day after a wedding where she was in perfect health and she had a huge life insurance which would pay only if she dies in Dubai."- CurlyBrownHair08
The World May Never Know...

"Brian Jones of The Rolling Stones died under suspicious circumstances while swimming."
"The person he was swimming with (a contractor working on his house who Jones had accused of stealing from him) supposedly confessed on his deathbed to killing Jones."- Laughacy
Without A Trace
"Jill Dando."
"She was a British TV presenter, news reader and journalist."
"She was shot on her front door step and it's never been solved."- TheKnightsTippler
Bulldozer Accident?
"In my hometown of St. Louis, Missouri, there was a sculptor and entrepreneur by the name of Bob Cassilly."
"His works, whimsical and larger than life, are all over the city."
"The crown jewel of all this is the wacky home of repurposed industrial materials into a crazy sort of playground, the popular City Museum."
"He was a notoriously driven worker, and in 2011 he died in an apparent bulldozer accident working on a new outdoor art playground project he called Cementland."
"His death was even investigated, but again ruled accidental, despite one medical expert saying he had been beaten and the bulldozer accident was staged."
"Not a true celebrity, but a local legend here to be sure, and a person who left an indelible mark on this town."- ImaginaryMastadon
Did She Know Too Much?

"Dorothy Kilgallen, reporter and TV personality."
"Died under mysterious circumstances while investigating Kennedy's assassination."- WoolaTheCalot
"Dorothy Kilgallen."
"She was an investigative journalist and game show panelist on What's My Line?"
"She was digging into JFK when she died of an overdose."
"Her manuscript on JFK was taken by the govt and will never see the light of day."- Risky-Potato
Dealing With Villains On Screen And Off Screen

"George Reeves, the guy who played Superman in the 50s."
"There were a bunch of people in his house the night he died, and a lot of conflicting stories, also he was having an affair with a studio exec's who was in attendance with his husband that night.'
"Also forensics disagree with the testimony of the witnesses."
"It's all a clusterf*ck."- jorsiem
Something Doesn't Add Up...

"This might be stretching the definition of 'celebrity' but Rudolf Diesel, inventor of the diesel engine (and kind of a big deal in his day) died under really suspicious circumstances."
"On September 29th, 1913 Diesel boarded a ship in Antwerp, Belgium on his way to a business meeting in London."
"He never arrived."
"His bed was never slept in, his shirts remained unpacked and his pocket watch was open on the night stand."
"The crew found his hat and overcoat neatly folded by the aft railing of the ship."
"The last entry in his diary was simply a cross on the day of the 29th."
"About 10 days later they found a body in the channel that was eventually IDed as Diesel."
"Pretty straightforward, right?"
'The thing is, he gave his wife a bag when he left with instructions to open it upon his death."
"It contained 20,000 Marks (about $120,000) the whole of the Diesel's bank accounts withdrawn as cash."
"Diesel had recently declined to sell his patents exclusively to the German government and was on his way to London to meet with representatives of the Consolidated Diesel company and the British Royal Navy."
"After his death, no memorial or tomb was built until 1957, when the founder of Japan's Yanmar Diesel company funded the building of a memorial garden for him."- weirdoldhobo1978
Might Want Another Source Than The Kremlin...

"Don't know if he qualifies as a celebrity but Yuri Gagarin, Russian cosmonaut and the first man in space."
"After the kremlin sent one of his friends to certain death on an extremely unprepared rocket ship, in a desperate attempt to catch up with USA's progress, Yuri, a Russian hero and one of the most popular figures at the time, criticized the kremlin and blamed them for the death of his friend."
"Not too long after, he died when he allegedly lost control of his Mig-15."
"The official explanation given by the Kremlin is full of holes and to this day no one really knows what happened but, it seems obvious to some, that whatever caused his crash, the kremlin was responsible for it."- Danesho_PT
It's sad that all these poor people died before their time.
Even sadder if the reasons behind their death were, in fact, far more sinister than anyone might realize.
How to lose a job in 10 seconds.

Now, that sounds like a fun show to watch.
It is astonishing how fast people can lose their jobs.
Some people really need to learn how to actually exist at a job.
You'd think it'd be simple... but no.
Redditor Quintowne wanted to hear about all of the ways some employees have been let go, so they asked:
"What is the fastest way you've seen someone get fired?"
With many years in food service under my belt, I've had more co-workers than Mars, Incorporated has made M&M's.
So many were gone by the end of shift one.
Secrets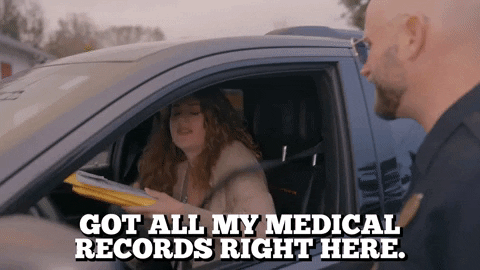 Car Police GIF by BabylonBee
Giphy
"New person got access to the medical records system. Week 2 - Looked up our boss and bragged about it. Was walked out and gone the second week."
JenntheGreat13
Okay. Bye.
"My first job was in a small grocery store and my boss asked a coworker to do the dishes in the bakery (baking pans, etc). She replied: 'I only do my own dishes, somebody else put these here so I'm not doing them. I'm serious. Fire me if you want, I won't do them.'"
"Boss says 'Okay then, don't bother finishing your shift, goodbye!'"
Selios2112
Sticky Fingers
"First day at work, hired by a temp agency. Me and one other guy, we put stuff in boxes and tape them shut, stack boxes on a pallet. He can't keep up, can barely use a tape gun, and decides it's time for a break. Goes to the lunch room and takes a lunch. It was the boss's lunch, he stole the guy's meal his wife prepared for him. The boss man came over 15 minutes later and wanted to know who ate his BBQ, sticky fingers, and BBQ on his shirt he denied it. I just looked at him and the Boss and said well I hope it was good man."
BigNotGay420
He Was Warned
"Worked at an ISP back in the 90s and had a guy working late shift. Found out quickly he wasn't answering the phone at all, but just playing video games. He was warned. The next day he walks in to work with a Voodoo2 graphics card to install in his work computer to improve the game playing. Fired before he sat down."
Beestung
"Oh Gawd, just reading the word voodoo brought out a flash of memories I buried."
calamnet2
Oh Willy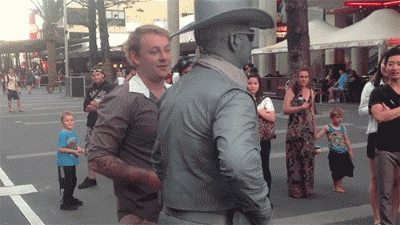 wet willy martial arts GIF
Giphy
"First day on the job, gave another coworker a wet-willy. Sh*t you not."
themoistdonut
I have never understood this wet willy thing.
Completely disgusting.
Who even came up with it?
Loopholes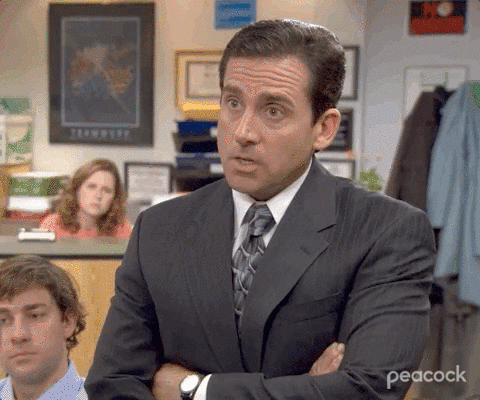 Angry Season 4 GIF by The Office
Giphy
"Had a coworker explain to our supervisor how he found this great loophole for making extra money: if a customer had exact change, he'd just pocket the cash and cancel the order on the register."
DudebroggieHouser
On the Spot
"Had a supervisor start selling Amway from his office, hinted at favorable treatment for anyone who would buy. Reported him to HR--and when they asked if it was true, he pulled out a catalog and tried to sell them something. Fired on the spot."
walkingknight
"I did customer support at a software company that sold to other businesses, and every one of us had one customer that we hated a hell of a lot more than any other. The guy who sat next to me hated Amway."
MajorNoodles
"A high school friend's dad offered me a job with his company after I graduated, it was 'Do the interview and then go to work.' The interview consisted of a five-minute spiel about the company and a 45-minute Amway sales pitch with the understanding that if I didn't agree to sell Amway for him, I wouldn't get the job. Dad called me a couple of days later wondering to know why I didn't take the job. I started to work at about the same time the former interviewer stopped working there."
m945050
$100
"Half an hour. Working in Arby's, a new girl shows up. They run her through how to work the cash register on a few dummy orders. She takes a real order or two and then it gets slow. She asked to duck out for a minute to smoke and never came back. Register ended up being $100 short that day."
AaronKMartinez
"Always smart to rob a place after giving them your name and address."
Bobby_Newpooort

Hangover
"The guy responsible for opening the shop on Saturday morning went out and got blitzed on Friday night. We showed up to work to find his car in the lot but the doors locked. He didn't answer his phone. Had to call the owner in to get us inside. The guy was fast asleep, under his desk. He was gone before you could say hangover."
davisherm
The Eagle
"I was on a new team hired for corporate sales. They trained us as a group. We were given the task of creating a presentation with graphs and charts to show how we presented to a group and given pointers on how to improve. One guy shows up an hour late, waltzes in, and says he's tired from the drive-in and says he needs a coffee before settling in. We are in suit and tie, and he's wearing a dress shirt with a huge eagle on the front and jeans."
"He comes back a few minutes later, and when asked to present, he says he didn't prepare anything, but he's happy to answer any questions they may have about presentations. We all looked at each other in disbelief. Fired on the spot by the Manager. I heard that they asked him to return his laptop, and he stiffed them for months before they sent a repo man to his door to pick it up."
WildBillyBoy33
Buh-Bye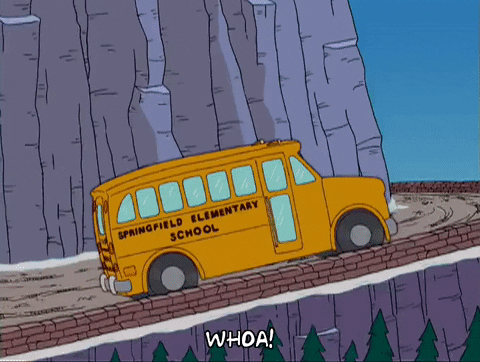 jumping episode 11 GIF
Giphy
"A colleague let a middle school kid drive the bus. Buh-bye!"
Useful_Exchange3583
"When I was in middle and high school they hired students with driver's licenses to drive the busses. This was in the 80's."
Calypso_gypsie
My school bus drivers were all nuts.
I always thanked GOD when I got home in one piece.