Vlogger Nikkie de Jager—better known as YouTuber NikkieTutorials who specializes in makeup tutorials—came out to fans as a trans woman in an emotional 17-minute-long post to her channel.
The video came after she received blackmail threatening to out her to the press.
---
De Jager explained her journey to her audience in the video below.
I'm Coming Out. www.youtube.com
She began:
"Today I am here to share with you something that I always wanted to share with you one day, but under my own circumstances. It looks like that chance has been taken away from me so today I am taking back my own power."
By the time de Jager was 6, she already knew she was ready to start taking steps to transition.
"By the age of 6, I grew my hair out. ... By the age of 7 or 8, I fully wore girls' clothes only and it felt amazing."
Sadly, de Jager explained why the chance for her to come out was "taken" from her:
"I have been blackmailed by people that wanted to leak my story to the press....I've always wanted to share this."
Many of Nikkie's fans had no idea she was a trans woman...
...but that didn't affect their support for her...

...or their ire for the people who threatened her.
The overwhelming support of Nikkie has far outweighed the negativity.
All her stans made it clear that blackmail was a completely unacceptable way for her to be scared into coming out.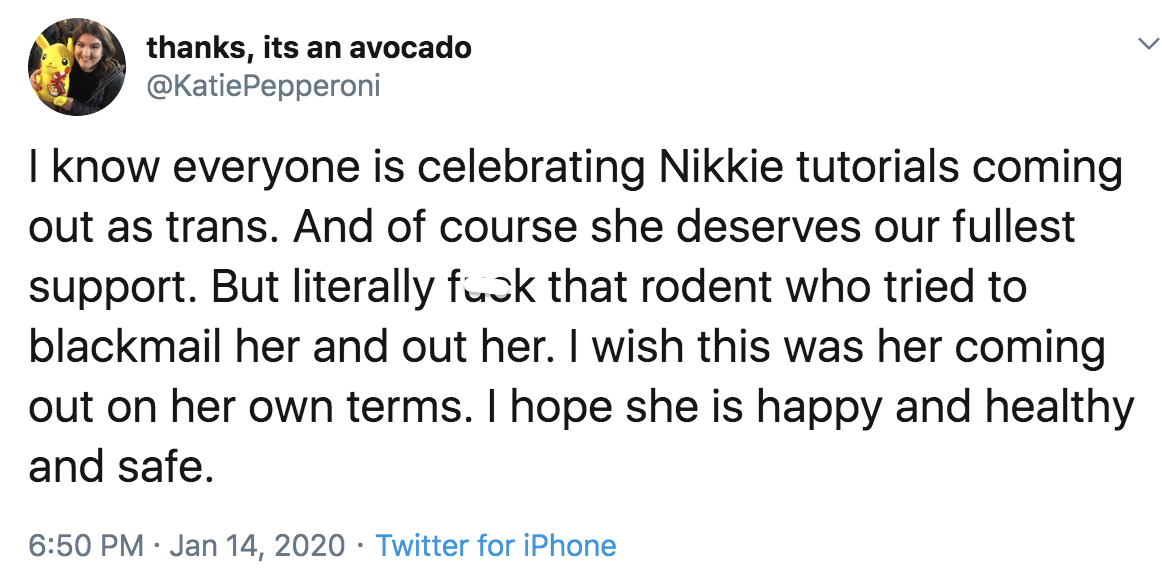 @KatiePepperoni/Twitter

@remembersolo/Twitter
The decision to come out is an individual choice for many reasons, including the safety of the person. Forcing someone to come out is a despicable attack against the person being targeted.
Nikkie de Jager has not revealed the identity of those who threatened her.
Yet.