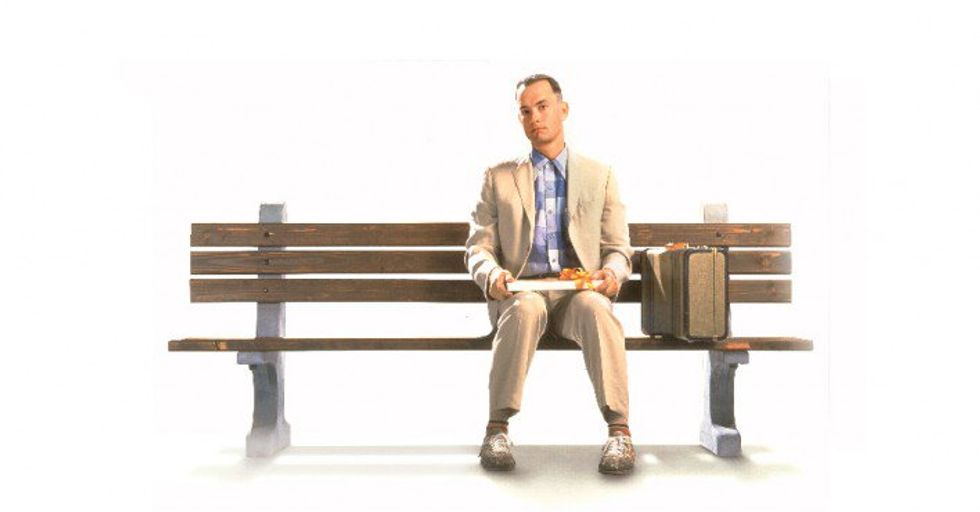 Forrest Gump, made in 1994, is heartbreaking, odd, and beautiful. Breath taking performances by a stellar cast of actors guarantees this film to be a delight every time.
---
Thanks to IMDB for these awesome facts.
1/25. Bill Murray, John Travolta and Chevy Chase turned down the role of Forrest Gump. Travolta later admitted that passing on the role was a mistake.
2/25. Tom Hanks' younger brother Jim Hanks doubled for him in many of his numerous running sequences.

3/25. Tom Hanks signed onto the film after an hour and a half of reading the script but agreed only to take the role if the film was historically accurate. He initially wanted to ease Forrest's pronounced Southern accent, but was eventually persuaded by director Robert Zemeckis to portray the heavy accent stressed in the novel and patterned his accent after Michael Conner Humphreys (young Forrest) who actually talked that way.
4/25. Tom Hanks wasn't paid for the film. Instead he took percentage points which ultimately netted him in the region of $40 million.
5/25. When Forrest gets up to talk at the Vietnam rally in Washington, the microphone plug is pulled and you cannot hear him. According to Tom Hanks, he says, "Sometimes when people go to Vietnam, they go home to their mommas without any legs. Sometimes they don't go home at all. That's a bad thing. That's all I have to say about that."

6/25. The line, "My name is Forrest Gump. People call me Forrest Gump," was ad libbed by Tom Hanks while filming the scene. Director Robert Zemeckis liked it so much that he decided to keep it in.
---
Continue to the next page for 19 more Forrest Gump facts.
7/25. With every transition of Forrest's age, one thing remains the same - in the first scene of each transition he wears a blue plaid shirt.
8/25. Forrest and Dan's Shrimp Emporium "Bubba Gump", is now a themed restaurant in 33 locations around the world in the U.S., Japan, China, Mexico, Malaysia, Philippines, Indonesia and the UK. There is one in Orlando, Florida, at the entrance to the Universal theme parks, at the Anaheim Gardenwalk in walking distance from Disneyland Park(TM) in Anaheim, California in the Los Angeles area and at Pleasure Pier in Galveston, Texas.

9/25. When Forrest first learns to play ping-pong in the infirmary, he is told the trick is to "keep his eye on the ball" by another soldier. After that moment, whenever he is shown playing ping-pong, he never blinks.
10/25. The actor who plays the reporter on the scene when Tom Hanks visits Washington DC after his tour in Vietnam was, himself, an actual tourist from Atlanta, Georgia. He happened to be on Capitol Hill that day with his wife, and was asked to read.
11/25. Many of the extras in the hippie scene were actors from the Maryland Renaissance Festival, since the casting director Ellen Lewis realized that would be a good source of performers with long hair.
12/25. Gary Sinise's lower legs were wrapped in a special blue fabric that allowed them to be digitally removed later.
---
Continue to the next page for 13 more Forrest Gump facts.

13/25. During the ping-pong matches, there was no ball; it was entirely CGI, animated to meet the actors' paddles.
14/25. The running scene was inspired by an actual event. In 1982, Louis Michael Figueroa, aged 16, ran from New Jersey to San Francisco for the American Cancer Society, unknowingly inspiring a line for Forrest Gump's famous run on the silver screen. "I just put one foot in front of the other," it goes. "When I get tired I sleep. When I get hungry I eat. When I have to go to the bathroom, I go."
15/25. The park bench that Tom Hanks sat on for much of the movie was located in historic Savannah, Georgia, at Chippewa Square. The fiberglass bench he sat on, since then, has been removed and placed into a museum to avoid being destroyed by bad weather, or possibly stolen. The church where the feather first falls was about 100 yards just down the street from the bench. To this day, the bench is held in the Savannah History Museum, Savannah, Georgia.
16/25. Gump's Medal of Honor ceremony uses the footage of the actual ceremony for Sammy L. Davis, who was awarded the Medal of Honor on 19 November 1968 by President Lyndon Johnson for his actions in Vietnam a year earlier. Tom Hanks' head was superimposed on Davis' body.
17/25. When Lt. Dan Taylor first meets Forrest and Bubba in Vietnam, he says, "You must be my FNGs". Generally speaking, this stands for "F***in' New Guys".
18/25. Every still picture of Forrest during this film shows Tom Hanks with his eyes closed.
---
Continue to the next page for 7 more Forrest Gump facts.
19/25. Robin Wright was sick with a cold while shooting the nightclub scene. In spite of this, she was still able to perform her own singing during a non-stop twenty-four hour shoot in which she was nearly nude except for her guitar.
20/25. David Alan Grier, Ice Cube and Dave Chappelle turned down the role of Bubba. Cube refused to play someone with a disability and Chappelle thought the movie would bomb. Chappelle has since admitted to deeply regretting not taking the role.
21/25. Kurt Russell has said that he did the voice of Elvis Presley (uncredited) in the film, reprising his role from Elvis (1979).
22/25. The shrimp boat used in the film now resides in the moat surrounding the Planet Hollywood restaurant in Downtown Disney, at the Disney World Resort in Florida. Also, one of the ping-pong paddles used in the film is signed by Tom Hanks and hung up on one of the walls inside the restaurant.
23/25. On the day that Tom Hanks shot the football running scenes he had been suffering from influenza.
24/25. Sally Field is only ten years older than Tom Hanks.
25/25. When this film became wildly successful, talk of a sequel naturally arose. However, at the time, Tom Hanks adamantly refused to work in any sequel (and making the sequel with another actor was not a consideration).
---
My mamma always said, "you should share this article with your friends by clicking below."