Reddit user crooked_yellow asked: 'Which event from history will always be funny?'
"Someday we'll laugh about this."
You have to wonder if the people involved in the following historical events saw the humor at the time—or ever.
No matter.
People are laughing now.
Redditor crooked_yellow asked:
"Which event from history will always be funny?"
We All Fall Down
"Ancient Korea had special recording officials, whose job was to record everything. They were considered separate from the government, so the emperor of the time wasn't allowed to give them orders or tell them not to record something."
"Of course, some emperors would try anyway."
"On one occasion, King Taejong (15th century) fell off his horse while hunting. The recorder nearby wrote it down. The emperor insisted that it be removed from the record, and even tried to have the report destroyed."
"This lead to some nonsense as the emperor kept destroying their work, but the recorders kept copying it and hiding it in increasingly obscure places. And of course, recorded the whole thing as it happened."
"A few hundred years later, and the only thing that emperor is famous for is trying to hide the fact he fell off his horse."
- lankymjc
"I picture some dude writing something like:"
"'at 11:35am on Sunday, the 9th of September the emperor fell off his horse'."
"11:37 emperor says 'don't write that down'."
"11:39 emperor tries to take book from me'."
"11:43 emperor fell in mud chasing me yelling 'Don't write that!'"
"11:50 lunch is being set as the emperor cleans up. He is upset today'."
- Cbanchiere
Monkey See, Monkey Won't Do
"During the Napoleonic wars a French ship sank off the coast of Hartlepool England. The only survivor was the captain's pet monkey which he always dressed in a French military uniform. The locals freaked out because the law was that any French military found on British soil must be executed as a spy."
"So they ordered the standard punishment for spies—death by hanging. Except instead of dying, the monkey just kept climbing up the rope."
"Because it was a monkey."
"Hartlepool has since embraced their failure at executing a tinyprimate for military espionage."
"Their local football team mascot is H'Angus the Monkey."
- korar67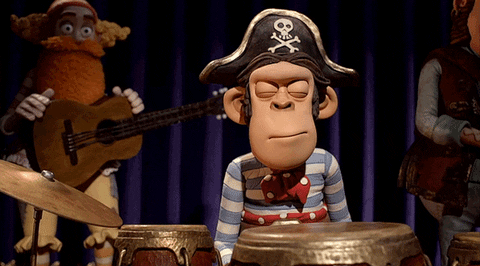 Giphy
Crying Fowl
"Spanish chicken farmer Juan Pujol Garcia tried to become a spy for the MI5, but they rejected him. He then applied to become a spy for the Nazi SS, who accepted him. The SS gave him the order to start a spy network in London, but instead he set up shop in Lisbon."
"There, he started feeding the Nazi commanders a bunch of BS intel, based on publicly available newspapers and magazines. They were believable enough for the Nazis to accept it as truth, even though they were completely made up. Every once in a while, he would be confronted about 'bad intel'."
"He'd blame it on one of his fictional subordinates, and told his commanders he had 'rectified the problem.' In one situation, he told the Nazi's that his subordinate 'had fallen ill' and later 'died'."
"A fake obituary was placed in the newspapers to back his story up. He even convinced the Nazis to pay a pension to the (again, FICTIONAL) agent's widow."
"The MI5 became aware of his existence after they saw the Kriegsmarine waste considerable effort in hunting down a non-existing convoy, based on Garcia's (again, fake) intel. They enrolled him into their ranks, and that's when his bullsh*ttery started getting serious.
"He was given the nickname 'Garbo' in reference to 'the best actor in the world' Greta Garbo."

"Because the Nazis believed he was 'one of theirs' they even sent him an Enigma, to encode the messages he was sending them. It was promptly turned over to the codebreakers at Bletchley Park."
"His most important work was on Operation Fortitude. He helped convince Nazi high command that the invasion of Normandy was a diversion—officers believed a larger army was due to land in Calais."
"For his 'efforts' he was awarded the Iron Cross, authorized by Hitler himself. Understandably, the medal was awarded via radio."
"He was then also given an MBE medal by the British king, making him one of two people known to have received such prestigious medals from both sides."
"He faked his death and fled to Venezuela after the war, where he then ran a bookshop. His secret identity was undiscovered until a journalist got interested in the story, and managed to track him down in 1984."
"He managed to finagle the real name of 'Garbo' from a former spy and then found Garcia after literally calling every 'J. Garcia' in the Barcalona phonebook until he managed to get in contact with Garcia's nephew."
"The whole story is just so incredibly goofy. It's a prime example of 'wait, that worked?'."
- Smallwater
Guess He Showed Them...
"When Persian king Xerxes punished the sea for ruining his bridge."
"He tried to build a bridge across the Dardanelles to get to Greece faster but a storm destroyed the bridge."
"'Infuriated with the sea, Xerxes ordered his soldiers to punish it by whipping it with chains 300 times and poking it with red-hot irons. Handcuffs were also tossed into the water to symbolize the sea's submission to his authority'."
- _Norman_Bates
"Literal embodiment of 'old man yells at clouds' energy."
- Excellent_Routine589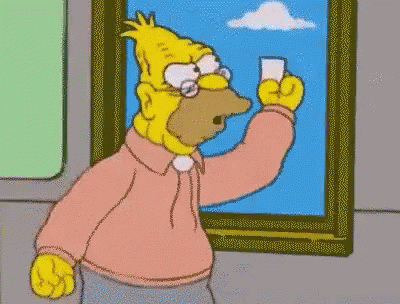 Giphy
Oops!
"In 1945 the Americans were pushing through Germany."
"General Eisenhower sent General Patton a message, instructing him not to take the city of Trier because it would require 4 divisions to seize the city."
"Patton sent a message back saying 'Have taken Trier with two divisions… what do you want me to do, give it back?'"
- SayNoToStim
R.I.P. Thag
"In 1982 cartoonist Gary Larson drew a cartoon of a caveman giving a classroom lecture, pointing to the spikes of a stegasaurus dinosaur tail and calling that the thagomizer 'after the late Thag Simmons'."
"That particular arrangement of tail spikes had no name at the time, so scientists who were fans of Larson unofficially named it the thagomizer."
- doublestitch
He Followed Us Home, Can We Keep Him?
"In 1866 when going to war, Liechtenstein's army of 80 men came back with 81 men after making a friend from the enemy's side."
- DavosLostFingers
Not Dinner!
"The Kettle War."
"It was the 8th of october 1784."
"The Dutch kingdom and then Holy Roman Empire had a short naval battle and the only casulty was a kettle full of soup that got hit by a cannonball and that was the only shot that was fired."
- AlwaysHappy4Kitties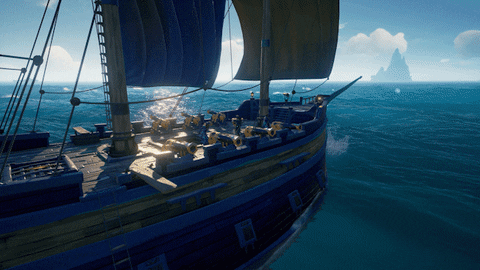 Giphy
Apparently Bugs Was a Republican
"President Jimmy Carter was attacked by a rabbit while paddling around in a rowboat."
"The President was minding his own business rowing around a small pond and fishing when a rabbit left the shore and swam deliberately towards the boat, apparently crazed."
"Carter splashed the rabbit with water, driving it away from the boat."
"According to Press Secretary Jody Powell:"
"'Upon closer inspection, the animal turned out to be a rabbit. Not one of your cutesy, Easter Bunny-type rabbits, but one of those big splay-footed things that we called swamp rabbits when I was growing up'."
"The animal was clearly in distress, or perhaps berserk."
"The President confessed to having had limited experience with enraged rabbits."
"He was unable to reach a definite conclusion about its state of mind."
"What was obvious, however, was that this large, wet animal, making strange hissing noises and gnashing its teeth, was intent upon climbing into the Presidential boat."
"Staff back on shore initially didn't believe the president's account, but a photographer managed to capture the moment."
"Carter's political enemies used the incident as fodder to show that he was weak and claimed that his response to the rabbit attack incited the Soviet Union to invade Afghanistan that same year."

- bookem_danno
While these events are funny in hindsight, one has to wonder if people saw the humor in the moment.
Hopefully we're laughing with them and not just at them.
Reddit user clueless-game asked: 'What is the most successful lie in the history?'
We've all lied, or been lied to at least once in our lives.
Some lies are easy to spot, right from the get-go, while others might have you fooled for years, if not your entire life.
Then there are the lies that made international headlines, and had the world fooled for years.
From Anna Anderson fooling the world that she was the Grand Duchess Anastasia Romanoff, to Mill Vanilli (need I say more?), some people were so convincing with their deception, that we are still kicking ourselves for being fooled.
Indeed, there are some who may have died peacefully knowing they had everyone fooled till the end of their life.
Redditor clueless-game was eager to hear what the Reddit community considered the greatest lie ever told, leading them to ask:
"What is the most successful lie in the history?"
"Honesty Is The Best Policy"... Or Is It?
"If you tell the truth you won't be in trouble'."
"Yeah mom, I fell for that a few times and learned that lesson quickly."- glucoseintolerant
Always One Step Ahead...
"During WW2 the British put faked documents on a corpse and dropped the body in the waters to be found by the Axis."
"It detailed an attack that never happened."
"Here's the best part."
"The plans for D-Day were found in a similar manner."
"The actual plans."
"But they were ignored cause the nazi leaders thought it was just another ruse."- Happy-Personality-23
We Can All See More Clearly Now...
"One of the most impressive ones was when Great Britain convinced everyone during WWII that carrots were the reason why their vision was great when it was really the recently discovered airborne interception radar technologies."
"I still know people that are convinced eating carrots as kids will ensure 20/20 vision for life."- KickArseDuke·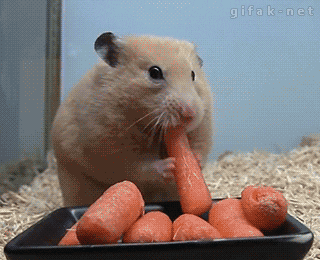 hamster GIF
Giphy
The King Of All Lies
"The lie that made a man the ruler of a third or quarter of humankind."
"Darius the Great (r. 522–486 BC) governed the Achaemenid Empire at its peak."
"His rule extended from the Indus valley to mainland Greece and from the Scythian steppes to Egypt."
"A remarkably high and possibly unparalleled percentage of the world population were his subjects."
"Darius reorganized the satrapies, which made the administrative system of his empire more efficient, and introduced major financial reforms as well."
"It was never a secret that Darius became the King of Kings after a successful coup."
"He and a small group of other aristocrats (primary sources refer to seven men in total) infiltrated the residence of the previous ruler and killed him after a brief clash with his guards."
"Shortly afterwards, Darius, who was also a member of the royal house, emerged as the leader of the conspirators and assumed full power."
"So far so good."
"Things become strange when it comes to the identity of Darius' predecessor."
"As far as the primary sources are concerned, Cyrus the Great (r. 559–530 BC) had two sons: Cambyses (r. 530–522 BC) and Bardiya."
"The former succeeded him as King of Kings, while the latter was given governorship over the eastern provinces."
"Fearful of opposition, Cambyses had his brother assassinated, but kept it a secret."
"Then he undertook the campaign that ended up bringing Egypt into the Persian fold."
"While Cambyses was in Egypt, he started acting cruelly and erratically: suspected everyone, disrespected the local traditions and the sort."
"Then a rebellion broke out back in Persia led by a magus (Zoroastrian priest) named Gaumata."
"The man claimed to be Bardiya, and the people, ignorant of the latter's death, flocked to his banner."
"It also helped that he took short-term populist measures such as tax cuts."
"Cambyses rushed home to quell the revolt, but died on the journey."
"His death was listed as an accident or even a suicide out of desperation for the usurpation."
"Gaumata got to rule as Bardiya and even took over the latter's harem."
"Almost nobody suspected he was an impostor, because on top of everything else he also bore an uncanny physical resemblance to the dead prince."
"The first man to suspect something was off was a nobleman named Otanes, who would later become one of Darius' six companions."
"Otanes knew about Gaumata's existence and was also aware that at some point his ears had been cut off as a punishment."
"So he asked his daughter, who was Bardiya's (and now Gaumata's) wife, to check his ears while he slept."
"The truth was brought to the light."
"Needless to say, the story was very convenient for Darius."
"By killing Gaumata, he saved the empire from a fraudulent, cunning and ruthless liar who had gone as far as to assume a dead man's identity and risk civil war in order to take the throne for himself."
"Darius simply punished him for his crimes and reinstated the royal office to the house it belonged to: the Achaemenid dynasty."
"But what if the whole story was a lie?"
"What if there was no Gaumata, and the man Darius killed was the real Bardiya?"
"Indeed, scholars have noticed a lot of problems with the traditional narrative, apart from its convenience."
"How could the real Bardiya's death be kept secret for so long from everyone except a simple magus — and what for?"
"How likely is it that Bardiya had a doppelganger who had also the knowledge, courage and brains necessary to take his place at the right moment?"
"And how is it possible that not even Bardiya's wives and inner circle were able to see through Gaumata's lies?"
'Some scholars go as far as to suspect that Cambyses' madness might have been the product of Darius' propaganda."
"Herodotus, for example, narrates that the King looted Egyptian temples, insulted the local gods and even killed the sacred bull Apis."
"The problem is, none of that appears in any contemporary Egyptian source — in fact, there are inscriptions showing that Cambyses honored the bull that died in 524 BC with a rich sarcophagus."
"If things were so, it cannot be excluded that Cambyses was also assassinated by Darius, who we know served as his spear-bearer."
"His death might have prompted his brother Bardiya to take power, since Cambyses was childless."
"Darius proceeded to eliminate him too and then created the lie about Gaumata."
"Of course, it cannot be excluded that Bardiya did indeed rebel against Cambyses — that doesn't change the crux of the matter, which is the story about Gaumata."
"So there you have it."
"One of the most powerful monarchs of antiquity and a possible lie that went unquestioned for millennia by almost everyone."- bradlux01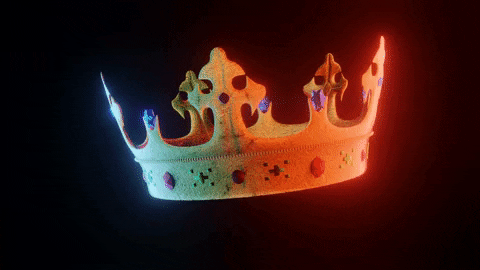 Gold Crown King GIF by SureYeah
Giphy
Or The Fact That Wrestling Is Scripted Entertainment...
"Maybe in the old days, but there was a time I used to believe without a doubt, that Undertaker and Kane were brothers, and Kane wore a mask because Undertaker threw acid on his face out of animosity."- ufc_007
Added To Prolong Your Agony...
"'Please listen carefully as our menu items have recently changed'."- Raspberries-Are-Evil
All In Moderation
"'Fat will make you fat'."
'Eating that full of sugar premade meal won't'."- Rhaenelys
No Doubt Some Actually Do
"'I acknowledge that I have read and agree to the above Terms and Conditions'."- K333N4N
It's An Ongoing Search
"We don't know the most successful lie because it's a lie we don't know of yet."- lolhappypoo
You Wonder How They Got Their Names...
"Iceland and Greenland."- SuvenPan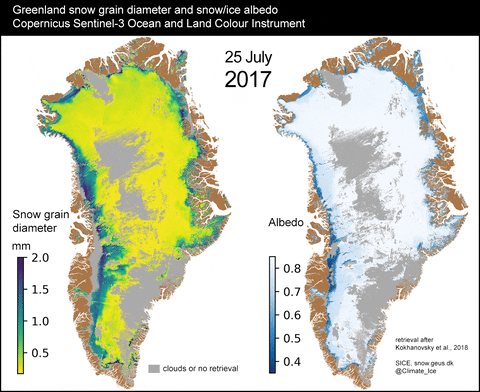 Giphy
Strange How This Was Also The Case Yesterday...
"'We are experiencing higher than normal call volume'."
"'Your call is very important to us'."
"Every. single. customer service line."- depikT
Name Brand Isn't Everything...
"Just get good marks in high school."
"Once you go to a top tier college, your life is practically set and sorted."- from_my_future
Beauty Does, Indeed, Come From Within...
"'You are not beautiful'."
"'But you could be with this product'." Reddit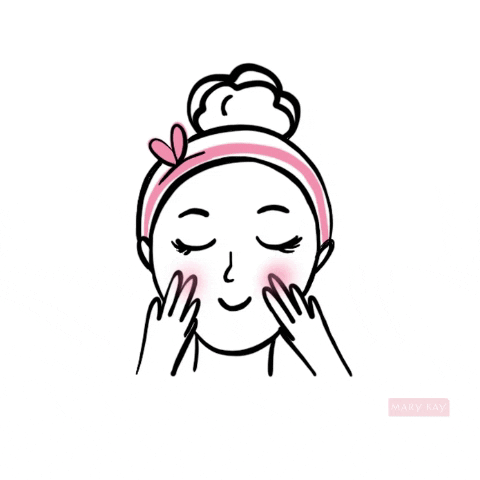 Skin Care Pink GIF by Mary Kay, Inc.
Giphy
It's highly debatable whether or not there is, in fact, such a thing as a "good lie".
Even so, a lie that has the whole world fooled for any stretch of time deserves a commendation of some sort or another.
Ahh... life before the 90's.
The talents and skills lost.
There were ticket takers at the cinema.
When buying concert tickets, there was a human you stood in line to meet at 10AM on a Saturday morning.
You had to purchase tokens, not Metrocards in NYC to ride transit.
So much change.
Who can keep up?
Who will remember?
Redditor wanted to hear about life in the recent past, so they asked:
"People born before 1990, what trivial skill do you possess that no one uses anymore?"
I had no skills in the '80s.
I was too young.
So tell me about history.
Professional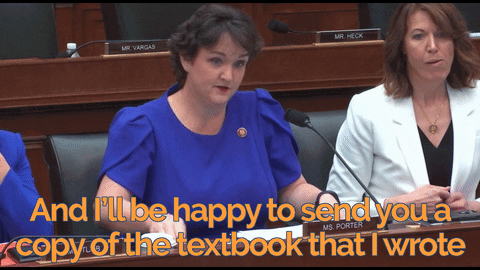 Giphy
"I can cover a textbook with a brown paper bag."
sourwaterbug
R We There Yet?
"I can re-fold a map correctly."
JungleZac
"I came here to say Reading a Map but yes, also how to refold it! I routinely amazed coworkers by remembering how to get to lunch spots without GPS after just one visit."
raulduke1971
"Yes. Yes. YES!! And how hard could it be?... if anyone bothered to notice or think or remember how it opened in the first place."
Far-Experience5137

I Remember
"Remembering phone numbers."
GreatMillionDog
"I remember the numbers for every house I lived in growing up, the phone numbers of the houses of my best friends from 7th grade and before, my grandma, and my first cell phone number. I've been married nearly five years and have no idea what my wife's phone number is."
AllModsEatSh*t
Tick Tock
"Being on time because you can't call and reschedule."
Sindertone
"I feel like you just always had an idea that plans could fall through, and were a little more excited when they didn't fall through."
"This is why there used to be more bars in restaurants, so you can wait for the rest of your party and have a drink or two, and I guess if they don't show your order there and enjoy a meal anyway or go to plan B. People also used to just meet at someone's and go from there, more so than they seem to now."
thatissomeBS
Classics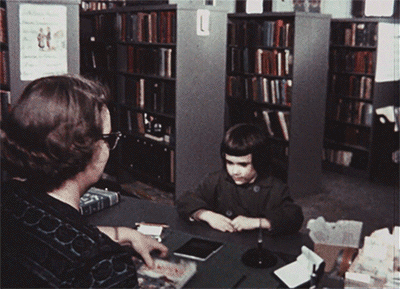 Vintage Read GIF by US National Archives
Giphy
"Using the Dewey decimal at the library."
FunStorm6487
"Still a relevant skill. If you search for a book, you're given a call number and you need to track it down."
heck-ward
Dewey who?
I have never fully understood any of it.
That's me though.
Developments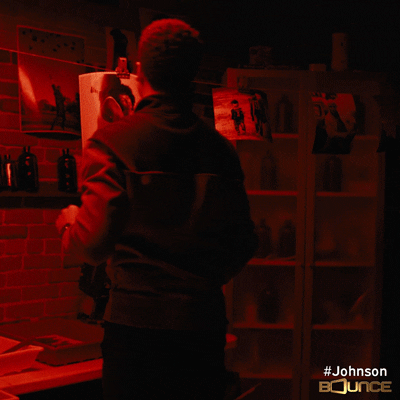 Looking Good Red Room GIF by Bounce
Giphy
"I can develop and process photographic film and enlarge prints in a dark room."
Glade_Runner
"I took a class in high school that did this. Was fun!"
sjk8990
The Master
"Record to tape from the radio. Trying to make sure to not get the DJ/presenter talking sh*t or an ad."
Gankstajam
"I was a 'videotaping from TV' master! My anticipation of the end of commercial breaks was amazing, especially since you had to start the recording just a moment prior to having a cue that the show was coming back.
Of course, I was always screwed by those random late-night News commercials and the random extra-long pauses"
Maliluma
Hold On
"Using your shoulder to hold a telephone up to your ear while doing multiple other things at once. Now, the phones are so damned small I drop them."
Regular_Sample_5197
"Before cordless phones got really cheap, I walked around the house with a super long phone cord. My parents got sick of tripping over it, so they saved up and got me a cordless phone for Christmas."
"That phone lasted for so many years. They got it when I was a freshman in high school and it was still going strong when I graduated from college. I don't know when or if it stopped working, but my parents switched to a phone with more features."
ZoraksGirlfriend
Glitches
"I outright destroyed Super Mario Brothers in almost no time flat very recently on Nintendo Switch after not having played it for probably 30 years. I did it totally from memory on just the second run-through. I even hit the multiple 1-up glitch on World 3-1. My kids thought I was a god (for just a few minutes)."
all4whatnot
"I grew up playing on the Super Nintendo. My son is old enough to play. The look on his face when I bomb through a level is priceless. Mama's still got it, kid. He's smart though. Kicks my a** in Mortal Kombat."
exWiFi69
SCORE!!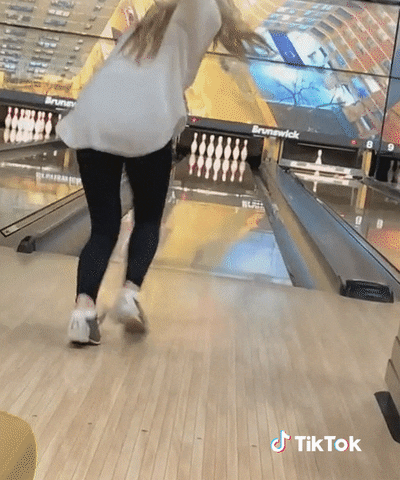 Sport Lol GIF by TikTok France
Giphy
"I can keep score in bowling."
sodangshedongerI
"took bowling as phy Ed in college. In the final exam we were given 10 lines of scoring and we had to score each line and add it up. 8 out of 10 was an A."
Qnofputrescence1213
Bowling is an art.
And keeping score is a gift... that I have never unwrapped.
Every moment we breathe is a moment to learn something new.
What's funny is the more we learn, the more we're shocked.
Some knowledge is so obvious it's stunning how oblivious we are.
Like, "How did I not know this sooner?'
And no matter what I can still be shocked.
Redditor r3tr0gam3r83 wanted to hear about which realizations in life have left people SHOOK, so they asked:
"What is something that blew your mind once you realized it?"
Avocados are not vegetables.
They're fruits, berries to be exact.
Like what?!?!
Colleagues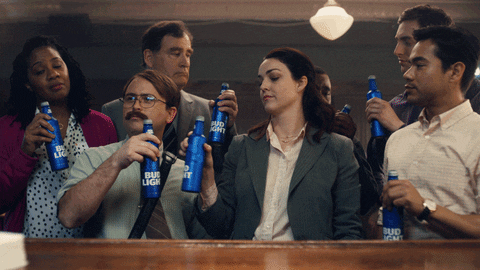 GIF by Bud Light
Giphy
"Sometimes it is more important to like your colleagues than the actual job."
"I had shi**y jobs with the most amazing colleagues and had shi**y colleagues and the most amazing job. I'd pick the first every time."
chr989
Star Trekking
"That you could legitimately travel at warp speed through the center of galaxies and never run any real risk of hitting a star. That's how spread out space really is."
justanotherguyhere16
"Also, galaxies, stars, and even the Universe is constantly moving. I think time travel has been invented, but they can't figure out the 'space' part of it.
"Yes, they can travel back in time, but relatively speaking, they can't figure out how to navigate to the part of the planet they want to reach. So when they travel back in time, it's relative to where they currently are, and end up not moving through space, thus ending up in the middle of an empty vacuum."
theknights-whosay-Ni
Jaws is Old
"That sharks predated the rings of Saturn."
BeardedDominant
"Sharks also developed the immune system that ended up in both dinosaurs/birds and mammals."
csiz
"We don't know that. We can't say for certain that the rings are only 100 million years old. It's still debated."
The_Kek_5000
"I'm pretty sure that sharks are older than trees."
Cayderent
From the Trees
"One day I sat on a tram, passing a river. There was a duck in a tree. I realized I'd never seen ducks in trees. No one else seemed to notice, but I was puzzled. Now whenever I come across something that seems intuitive but I have never considered I call it a duck in a tree."
Ol_Pasta
"This realization happened to me this past year. We apparently have a family of wood ducks in one of the big trees in our yard. Our neighbor said she has seen a duck walking around on a branch. I made it 37 years without knowing some ducks can roost in trees. My wife caught a video of the mama leading like eight ducks into the field next to our house. We aren't even near water."
jwbourne
Artistic Timeline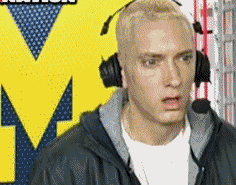 Confused Eminem GIF
Giphy
"Pablo Picasso and Eminem were both alive at the same time."
leebon427
"I'd bet a lot of people think Picasso is a Renaissance artist."
editormatt

I admit it. I'm one of those people. Pablo and Marshall, in one lifetime.
New facts are fun.
The New World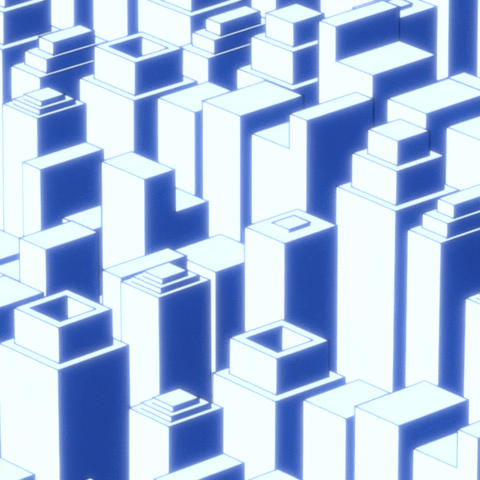 Design Loop GIF by xponentialdesign
Giphy
"They were colonizing the Wild West at the same time as they were building skyscrapers in Manhattan. I always think of them taking place eighty to a hundred years apart. It's wild."
Emilayday
Oh the Power
"Nuclear power plants are just steam power plants that use nuclear reactions to heat the water. There's no fancy magic extracting energy directly from nuclear material. They just boil water and spin a turbine."
RenaKunisaki
"Most electrical generation is spinning a turbine. Photovoltaic solar power is pretty much the only exception, and it's not the only form of solar power. There's solar thermal power, which uses mirrors or lenses to concentrate the heat of the sun to make steam and turn a turbine."
Brawndo91
The Empire
"The Roman Empire fully fell less than 50 years before the discovery of the new world."
South-by-north
"The Romans also had copper wire, magnets, and battery acid. They could have invented electricity hundreds of years before it was actually discovered. But they didn't. The wire was used for jewelry, the magnets as lodestones, and the battery acid was used to clean the rust off of swords."
Kahzgul
"RIP Byzantine Empire. 1453 never forget."
crossbowman44
The Witness
"Owl's silent flight. I mean I always knew that but a while ago was the first time I actually witnessed it. Owl came flying towards me and landed only a few feet away and you couldn't hear anything. Crazy."
Zealousideal-You-324
"I saw a barn owl swoop down and catch a mouse while hiking at night, and the whole thing happened in complete silence. It gave me a deep sense of unease because it was literally like someone hit the mute button on life."
VulcanVisions
Bad Kermit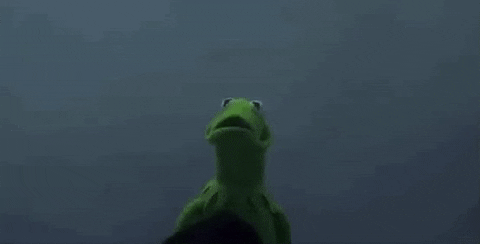 Kermit The Frog Meme GIF by Identity
Giphy
"Poison dart frogs aren't poisonous in captivity."
"I own 5 of them and anytime I tell someone I own some I always get 'Do you ever lick them' or 'Can you go kill someone with them.' But yeah they get their poison from what they eat, and all I give them is fruit flies."
JMfury
Poison frogs?
That sounds like something Rose would have a story about on 'The Golden Girls.'
Let's face it. We love horror movies–at least a good majority of cinephiles do–because the experience of seeing one in theaters is as thrilling and pulse-pounding as riding a roller coaster.
Scary movies are not real-life.
But there are some scary films that are actually based on real cases or incidences, but even those are highly dramatized.
What genuinely gives people the heebee jeebees, however, are not movies like "Halloween" or "Nightmare on Elm Street."
It's the historical and scientific facts that a lot of people aren't cognizant of us that have the potential of keeping them up at night.

But thanks to an unnamedRedditor, some of those were revealed when they asked strangers online:

"What are some really creepy facts you know ?"
Scientific facts like these can be downright terrifying.
The Sound Of Prey
"Dogs like squeezing toys because it sound like a dying animal."
– Nain6969
"My dog loves squeeze toys except the chirping bird toy we got for our cats. If he hears it he picks it up very gently and brings it to us and then whines and is distressed by it."
– CopperTucker

Ominous Mass
"There is a black hole called Phoenix a, and it is estimated to be 100 billion times the mass of our Sun, comparable to the mass of an entire galaxy. Its event horizon is 590 billion kilometers wide, or more than 100 times the distance from the Sun to Pluto, or about 1/16 of a lightyear wide."
"To get a visualization of how big that is on a human scale, lets shrink our solar system by 1 trillion times."
"The Sun would be 1 millimeter wide, and Pluto would be a little more than 5 meters away, and that black hole would be 590 meters wide. For reference, Alpha Centauri would be about 40 kilometers away at that scale."
– Youpunyhumans

Easy Passage
"Take away the stomach acid and an octopus could go into your mouth and crawl out your a**hole."
– Resident-Clue1290

Creepy Crawlies
"Spiders, one of the most evolutionary advanced species on the planet. We keept killing them, they began to get better at hiding. They can also convince us we have killed them when we haven't. Rain doesn't destroy their webs, not even a pressured hose does anymore."
"Also forgot to mention, they can do nothing, sleep all day and wake up to find food in their webs. They do not need to hunt or attack like almost every animal."
– Unlucky_Ducky23

Some of the sinister forces around us are the work of humans.
Murderers In Our Midst
"As many as 50 serial killers are active in the US and on the loose."
– Individual_Bit_8528
"Wayyy more than 50 if you include organized crime affiliated killers. Probably a lot more than 50 lone weirdos killing strangers too, but definitely hundreds or more if you include the former demographic."
– fluffedpillows

Corruption
"A guy disappeared in my country. Everyone knew he died. Everyone knew who did it. But the guys were policemen. So the investigation was so ruined it became ridiculous."
"There are people on this planet who can interven in the investigations made against them, decide to block them and if you do something about it, no one will investigate when you will mysteriously vanish."
"Can't fathom to be so powerful but yet use this power to be so heartless."
– Least-Designer7976

A Patient's Risk
"In 45 states, doctors and medical students are legally allowed to practice pelvic exams on patients who are under anesthesia without being granted explicit consent to do so."
– TrailerParkPrepper

Feasting On Flesh
"The first known human cannibal was a Neanderthal whose victims' 100,000-year-old bones were discovered in Moula-Guercy, a cave in France."
"There have been sites where the act has occurred involving the cannibalism of children leading some to speculate the act was not just done for food, but that it was done as a warning to rivals."

"Some anthropologists suggest that cannibalism was common in human societies as early as the Paleolithic."
"To this day only a few countries have laws which explicitly criminalize the practice of cannibalism, and the act can still be found in isolated regions of five different Countries."
– JustSomeApparition

Death itself is a mystery.
Ill-Fated Flight
"The crew aboard the Space Shuttle Columbia was still alive for several minutes during the fatal and futile reentry attempt."
"The first signs of trouble were observed at 8:53:46. More and more started to go wrong but Mission Control was able to maintain communication through 8:59:32. Sometime after that, the shuttle entered a flat spin while traveling approximately Mach 15, which is enough to cause disorientation and very painful injury, but most likely not unconsciousness or death. Review of recovered data recording shows that Commander Husband and Pilot McCool were still attempting to restore systems and recover control past 9:00:05. The first lethal event was depressurization, which occurred between 9:00:35 and 9:00:59."
"All that means that the crew was very much alive and very much fighting to maintain/regain control for more than 7 minutes despite knowing that realistically their chances of success were pretty much zero."
– HoopOnPoop

After The Chopping

"Supposedly you're still aware for a few seconds after being decapitated."
– Broski225
"There was that one scientist or whatever who got beheaded in France. He said he would attempt to blink as many times as possible after his head was lopped off, for science, and his head did. I'm paraphrasing since I don't remember anything about the story but whatever. lol"
– Adkit

Now you know.
Some of the scariest things in life are our real living nightmares, and once you know about them, you can't unlearn them.
Reading through some of these examples, it's very clear that our world is a mysterious and creepy place to live in.
Sleep tight, and don't let the bedbugs bite.