Reddit user AlainasBoyfriend asked: 'What should a foreigner avoid while visiting the United States?'
When I was in college, a cousin of mine who lived in London all her life came to visit me. We went out to my favorite restaurant on her first day and I warned her right of the bat not to order too much. She'd never been to New York, but I had been to London, and I knew there was a difference in portion sizes.
Portion sizes in England are usually just enough to satisfy you while potion sizes in America are usually too much to finish in one sitting. I explained this to her, but she waved me off. It was a point of pride for her that in any given group of people, she was always the one who ate the most, and the one who never slipped into a food coma.
Big mistake.
She was surprised to find that the chicken finger appetizer she ordered, which she refused to split when I suggested it, came on top of a mountain of loaded fries. She was struggling to finish it when the entree she ordered came out. She paled when she remembered it came with four sides.
In the end, she had to pack up a lot of the food, which was a totally new concept to her.
Ordering too much thinking you are going to finish it all is just one of the things foreigners should avoid doing when visiting America. There are plenty of other things to avoid or places not to go, and Redditors are eager to share what those things are.
It all started when Redditor AlainasBoyfriend asked:
"What should a foreigner avoid while visiting the United States?"
Rain, Rain
"Don't be bullheaded when it comes to the weather. If the locals are worried, you should be worried."
– TakeThisification
"Friend was gored to death by a mountain goat. Right through the femoral artery."
– Sharp-Procedure5237
Say Cheese
"If you go to the national parks, don't attempt to take selfies with the wildlife. A full grown bison will throw you through the air like a crumpled piece of paper."
– Juergen2993
"In Washington DC, avoid taking pictures in front of DC District court thinking it is the Supreme Court. The Supreme Court is 6 blocks away."
"Also, the White House is MUCH smaller than you think it is."
– SafetyMan35
"And eat and eat..."
"Ordering a large at a restaurant, or especially a movie theater. I don't care how hungry you think you are, you will not eat/drink it all in one sitting."
– Amazing_Excuse_3860
"Especially stupid if there are free refills on drinks lol."
– sigaven
City Folk, Beware
"If you are visiting a more rural area, like Montana where I live, don't underestimate the rural-ness. You might not be able to get a hotel in a small town and there are plenty ty of places where there aren't any hotels or accommodations. You can take highway and run out of gas because there aren't any gas stations for 70 miles."
"Also, if it is a dirt road, and there are a lot of them in the rural U.S., don't ever assume that you will have cell/GPS reception or that the dirt road goes anywhere besides 50 miles into the mountains where you can get stuck or break down. It's hard to conceptualize for people who live in more populated areas."
"Your best bet is to plan ahead and read reviews. It is absolutely worth it to visit areas where there is wilderness. That is why I live here. That being said, it's dangerous in a different way than visiting a city."
– Violet624
"Damn, as an American city dweller, you made me scared of Montana."
– DasBeatles
Road Trip
"Driving from New York to LA."
– No_Finish_2144
"Unless you're planning to spend 2 weeks visiting places in between. The drive will not take just a few days!"
– VG88
"We had an exchange student from France staying with us (NY). one day, we saw her with a map of the US, said she was going to take a bus to California because she had heard so much about it on television."
"We had to sit down and explain it was going to take a week, each way."
– medicinaltequilla
"Yep. I lived in France for a longtime and took the bus everywhere. on a 10 hr ride there you could easily cross three countries..."
– No_Finish_2144
Six Feet Apart
"I find a lot of foreigners have about 2 1/2 inches of a personal space bubble, while us Americans value our space. Keep at least a 2-3 feet distance when conversing with strangers. I've had an Italian guy come so close I thought he was going to kiss me. Very uncomfortable for someone who isn't used to a lack of personal space."
– MasterPip
Keep Your Mind Wide Open
"Leave all your stereotypes about America home, it's a hugely diverse country and your experience in one part of the US will be very different to your experience in another. Keep an open mind and have fun."
– zerbey
"Well said. I don't think most first time visitors to the US get just how different one state can be from the next."
– TacohTuesday
Smokey Home
"Don't smoke in public buildings, this is illegal."
"Don't smoke in someone's house, apartment, or condo without asking for permission. This isn't illegal, but it's still extremely rude."
– Max10imus
"This feels like common courtesy anywhere in general. Even in houses where people smoke, I still go outside to smoke. I'm really uncomfortable smoking in other people's houses."

– Conditions21
Don't Forget To Tip You Waiter
"Remember that our service staff do not get paid a living wage. They rely on tips to survive. If you can't afford to tip, don't eat out."
– kindest_asshole
"Tipping is compulsory here. It's super fucky, and really shouldn't be. But it is. Especially if you plan on sticking to one area and eating in a place more than once, you'd best tip. Don't toy with the people who handle your food out of eye-shot..."
– MothraWillSaveUs
Where To Eat
"Don't go to the big chain type places. Go to the mom and pop little restaurants and coffee shops and specialty shops. You will usually find new cool things you enjoy."
– ElectionProper8172
"Agree but check reviews. Not all small businesses are created equal. Chains are good if you don't have time to do research. You know what you're getting (probably)."

– UnihornWhale
American Health Care
"Avoid a hospital visit. Whatever you think it costs, it's more."
– pug_fugly_moe
"Whatever a European thinks is a cartoonish amount, and then triple it, and that'll cover the ambulance ride there."
– liketreesintheforest
"Right? I remember listening to a Dutch person complain that their Healthcare wasn't actually free despite what Americans said. He went on to explain that he has to pay something like a $20 copay to go to the dentist and some vague circumstance where you might theoretically have to pay close to a hundred dollars at some point. It was cute."
– UnspecificGravity
Get Me A Map!
"Avoid looking lost and unorganized in areas of big cities with high crime rates. Dress functionally, always keep the illusion of knowing where you are and where you're going, pay attention to your surroundings. Bad people will target folks who look lost and unorganized more often than people who appear oriented."
– xtrasmolpp
"That kind of applies to any big city in the world."
– the13bangbang
"If I am legitimately lost, I will walk with purpose until I find somewhere to sit. Once seated, the phone comes out and I try to make it look like I am texting someone and not studying a map. Nothing stands out like a group of people, standing in the middle of the sidewalk, all staring at one person's phone."
– Lothar_Ecklord
I'm not even a foreigner and I follow this rule all the time. Extremely important!
We can all agree that there is something to appreciate about every country in the world, but there are arguably some countries that appear to have their ducks more consistently and happily in a row than others.
While it would be easy to let pride get in the way and continue to do things the same way, the more productive thing would be to learn from the countries who have figured out a better way to do certain things, whether it's healthcare, food banks, or other services.
Reflecting on the United States, Redditor Blinds**thead asked:
"What is one thing the USA should adopt from some other country?"
Introductions to Alcohol
"Swedish drinking laws. If I remember correctly, you can purchase alcohol below 5% at age 18, and be served liquor in bars (so the bartender can control the amount being served)."
"Seems like a smarter way to introduce kids to alcohol rather than opening the floodgates at 21."
- underhandfranky
Taxes to Approve
"Automated taxes."
"I've never done them but they seem complicated and stress my parents out, so I just know I'll f**k mine up and end up in stupid jail, lol (laughing out loud)."
"Just send me something to sign, please!"
- teenage-nightmare
Societal Improvement
"A prison system that focuses on rehabilitation instead of punishment. Many countries have been successful with this saving literally billions of dollars and cutting down on crime."
- LtRecore
Universal School Lunches
​"Universal school lunches. It is embarrassing that we do not have folks cooking lunches for students from scratch and that it is not provided for free to all students."
"Do you want to bring your own lunch? Great, but you can also have the free hot lunch that looks homemade, not pizza squares, canned veggies, a slice of fruit, and 3 oz of milk."
"Kids shouldn't be going into debt for lunch. We're probably wealthy enough that our food waste alone would be sufficient, if captured magically, to feed every kid in the United States three proper meals per day."
"Also walkable cities and above-ground monorail systems."
- radiantpenguin991
Relieving Homelessness
"Finland has recently ended homelessness by just allowing people to live in small apartments without any preconditions, and four out of five of them make their way back to a stable life."
"It's also cheaper than allowing people to be homeless."
- littleMAHER1
Period.
"Universal healthcare."
- fastal_12147
Foster Care Assistance
"It would be nice to also eliminate the fees foster parents pay for general registration, classes, and social services related to fostering or adoption."
"And also eliminate trying to recoup costs by billing parents whose children have been placed in foster care."
- hawtpahtadah
Longer Paid Family Leave
"I was SUPER blessed to get 12 weeks fully pay. But that's not enough time. Putting the emotional aspect aside, I've returned to work functioning on four to five hours of sleep a night, and my productivity and cognitive abilities are greatly handicapped."
"My three-month-old son can't even hold his head up or sit, let alone talk to tell me if anything's wrong, and he's placed in the care of someone else from 7:15 am to 5:15 pm. Doesn't seem healthy for mother or child."
- tealpineapple456
Bathroom Upgrades
"The fact that our toilets don't have bidets and that at public restrooms the gap between the doors is massive, are both disgusting. Our whole bathroom situation is messed up."
- darksix
Having a Siesta
"According to Dr. Andrew Huberman, whether you eat lunch or not, everyone requires a rest midday."
- Justhere_2468
Tax Included in the Price
"Man, I had such a hard time with this when I visited America. Maths in my head is not my forte and I'm so used to looking at prices and expecting that to just be the price."
"I don't get why you wouldn't just add in the tax to the price. No one wants to do math unnecessarily. I mean, we don't even tip in Australia so I don't even need to work that out."
- Cookie_Wife
Raising Multilingual Children
"Teaching a foreign language to young students in public schools (ie 5yrs, k-5) when the propensity to learn the language quickly is maximum."
- zenjen22
Clean Public Restrooms
"The clean restrooms in Japan were amazing. I never had to clean a toilet seat to put my young kids on it. In the states? Near every time. People here just don't care about the 'we' when it comes to restrooms."
- NoodlesAreAmazing
Separate Work and Healthcare
"Decent healthcare that isn't tied to your job. Other countries all over the world have figured out different ways to do this, so why can't we? (I know, corporations own politicians.)"
"I'm not an expert, but I'm guessing it would destabilize a bunch of industries in the near term. But I wonder if long-term, it would create so much new innovation since people would be unafraid to lose their health benefits to leave their stable but s**tty corporate jobs to start new ventures."
- michiman
Designated Drivers on the Go
"In Japan, there is a service that you can call 24 hours per day that will come with two drivers and one car. One driver drives you and your car home, and the other follows in their car to pick up the driver that took you home with your car. No DUI, etc."
"It's actually really affordable there. No need to get an uber home that night and then an uber back the next day when you are hungover only to find out you have a million parking tickets or your car got towed."
- Visual_Sport_950
Though there are positives to every country, it would be so cool to see each country be more open-minded about adopting the positives of other countries.
If a country is doing something better than another, the best thing for the citizens would be to take some notes, rather than let their pride do the talking.
Whenever a person is getting ready to travel, one piece of advice they should always listen to is to read up on the local laws of the place they're visiting.
Because there are activities that might be acceptable back home that will land a person in jail in another country.
Curious, Redditor Judgmental_Squirrel asked:
"What is something illegal in Europe but not in the US?"
Baby Names
"In Denmark, we can't just name our babies anything we want. We have an approved names list to pick from. We can request a name that is not on the list but it rarely gets approved."
- Healthy_Highlight_71
No Medicine Commercials in Europe
"Pharmaceutical companies marketing directly to consumers."
- ConstantlySlippery
Aesthetic Dog Changes
"Docking dog's tails and cropping their ears."
- Penguinair
Also Cat Aesthetics
"Declawing cats. Most countries here do not allow that."
- DreamingDragonSoul
Crate-Training Animals
"In Germany and in other European countries, it's illegal to lock dogs in cages or crates for extended periods of time. As in daily while you are at work, for example. It's considered animal abuse."
"So many people in the US do this and I've always thought it was abusive. It amazes me how they justify it as, 'Oh, my dog loves the secure feeling of being in his crate' when it's only done for the owner's convenience."
- KookyPiccolo1661
Enough Said.
"Flamethrowers."
- squirrelrap69
Predatory Pricing
"Selling something below the price you bought it for (with the intention to sabotage other businesses). For example, Walmart tried to do this in Germany to destroy their rivals, but they failed miserably and completely retreated out of Germany."
- Lord_Gelthon
Washing Eggs Pre-Sale
"I'm in the US, and a former workmate has chickens as a hobby and gives away the eggs, unwashed. They are in the carton and obviously straight from the nest, because there are all sorts of particles of an output nature on the eggs."
"In Europe, eggs at the stores have sometimes a bit of poop or even feathers on them. Either rinse them before or just wash your hands after. But usually, they're quite clean."
- rncookiemaker
Not Okay in Europe
"Well, Colorado just made it legal to grow psychedelic mushrooms in your own home."
- ITRabbitHole
Additives in Food and Drinks
"Brominated vegetable oil."
- Marijn_fly
Satire Not Allowed
"In the UK at least, showing footage from parliament in a comedy show. More specifically, 'No extracts from parliamentary proceedings may be used in comedy shows or other light entertainment such as political satire.'"
"I only learned that when I tried to watch an episode of 'The Daily Show' that was blocked in the UK for that reason.US comedy shows can show congress all they want."
- Moctor_Drignall
No Sick Days
"This is the main reason I quit my job at Walmart. I had strep throat, so I got a doctor's note and asked that my absences be excused. The managers there refused, and so I quit."
"By the way, Walmart counts your absences as points against you. For example, if you're absent and call in to let them know, you still get a point. Get five points and you're fired. Really makes you feel like a worker drone in a dystopian novel."
- stellaluna-37
The Impact of Additives
"The US has a use it until it's proven harmful policy, and the EU the other way around. Prove it doesn't harm (in given and reasonable quantities) and you can use it."
"Fun fact, some friendly Americans after moving to Europe started realizing they did not suffer from suspected lactose/gluten/you name it intolerance but simply had their guts harmed by additives and seen their symptoms improve here. Check your additives, kids."
- ArtichokeFamiliar205
Candy Distribution
"Various ingredients found in lollies/sweets/candy e.g titanium dioxide. There are tighter restrictions on food production in Europe resulting in American companies having to alter their recipes so they can be sold in European countries."
"A lot of US-based companies partner with foreign companies to meet these laws (so the healthier versions rarely reach US soil). In French Polynesia for example, Coca-Cola partners with La Brasserie de Tahiti, and all of it is made with real sugar and sold in glass bottles that you return to any store for a discount on your next purchase."
"I can't remember for sure if the glass bottles are a law or just the standard for La Brasserie de Tahiti. Either way, it's a great example of how easy it is to cut our reliance on plastic. The public will adopt it quickly, it's really just corporate greed getting in the way."
- A0ma
Sale Sale Sale
"Artificially jacking up prices of things only to then put them 'on sale' when the sale price is really just the always-intended price."
- peachpinkjedi
While the word "illegal" may make most people think of illegal activities that a citizen might perform, most of the illegal acts here were in regards to public safety, as well as allowing the general public to live a healthier life.
Many cultures and countries are associated with a specific food or dish.
Most people won't visit England without having fish and chips at least once, while others dream of having authentic Spanish paella.
This leaves one to question, does the United States have a food synonymous with their culture?
Hot dogs, hamburgers, and french fries tend to come to mind.
Foods that interestingly have their origins, or at least their inspirations, from elsewhere.
Thus begging the question: what is the food which defines America in one bite?
Redditor FruityandtheBeast was eager to hear what people from near and abroad considered to be the answer, leading them to ask:
"What do you consider to be a cultural food of the United States?"
A Foreigner's Perspective

"As someone not from the states I would kill to try a peach cobbler or a pumpkin pie."- DukeOfPoose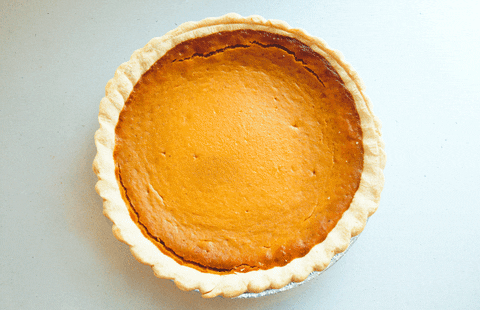 pumpkin pie family GIF by Simple
Giphy
Based On Their Origin, At Least

"Buffalo wings, perhaps."- Upstairs-Try6583
"Peanut, Penut Butter, and Jelly!"
"I was grocery shopping recently when a very nice German guy approached me for advice."
"He had friends coming to visit from his home country and he wanted to introduce them to peanut butter and jelly sandwiches, and could I advise him on the best ingredients?"
"He already had some kind of bullsh*t artisan bread from the bakery department in his cart."
"I told him to put that back, go to the bread aisle and get the crappy white Wonder Bread."
"Then there was discussion about the merits of Welch's grape jelly vs. strawberry jam, and how most big brand peanut butter is optimal as opposed to the oily natural kind."
"Lastly he learned to use the term 'PB & J'."
"He went away delighted, and it felt great to be a cultural ambassador!"- RedBattery
"PB&J."
"Idk if it was originated in the US but it's not that popular in other countries, although it's shown a lot in American cartoons."
"I literally tried PB&J last year for the first time and it's freaking delicious, 10/10."- burber_king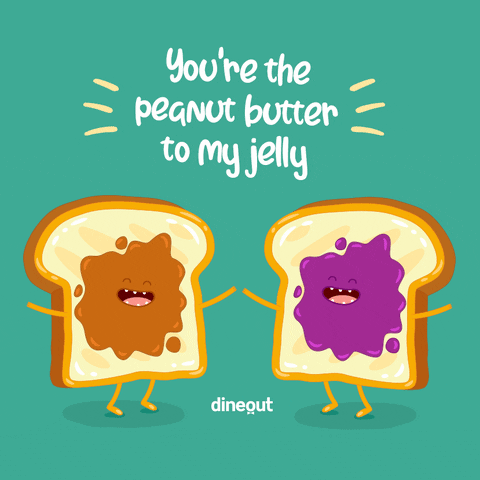 Peanut Butter Food GIF by Dineout
Giphy
"You're Killing Me Smalls!"

"S'mores."
"I've traveled the world and no one knows what smores are besides Americans, whereas even if burgers or whatever are American, everyone everywhere knows what they are, so..."- decehod235
With Or Without Chili!
"Cornbread."- Deadp*ssyf*ck
Shrimp, Chicken, Anything!

"Cajun."- tnmcnulty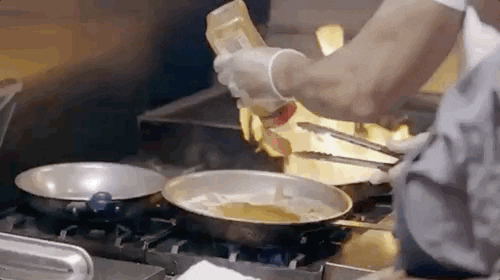 Stevie J Cooking GIF by VH1
Giphy
​​French Fries Are So Passé
"Tater tots."- tdly3000·
Maybe Depending On Where You're From?
"Shrimp and Grits."
"Nashville style Fried Chicken."
"Texas BBQ."
"Carolina BBQ."
"Kansas City BBQ."
"Memphis BBQ."
"NY Style Pizza."
"Po Boys."
"Jambalaya/Gumbo."
"Hotdish."
"Ambrosia Salad."
"Clam Chowder.:"
"Manhattan Clam Stew (it is not a chowder)."
"Conch Fritters."
"Chicago style Brownies."
"Chicago style Italian beef."
"Philly style chopped steak and cheese (NJ and DE have pretty good ones too)."
"Beef on Kimmelweck with creamy horseradish sauce."
"Lobstah Rolls (Maine only, every other one sucks)."
"Maryland crab cakes."
"Tex-mex style everything."
"Chicago Deep Dish Pizza."
"Chicago style hot dogs."
"Texas style corn dogs."
"Bagels with Lox (smear optional but I never get one without it)."- RandomUser0666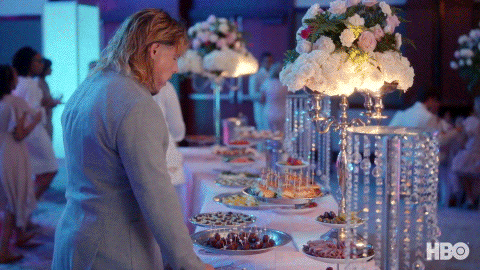 All You Can Eat Eating GIF by The Righteous Gemstones
Giphy
Don't Let The Name Fool You
"The Cuban sandwich - originated in Tampa Bay."- OhSeesOhMees
Simple And Delicious
"Biscuits and gravy."
"The reason it came to my mind is I have been making them now in the winter months."
"Here is the recipe I use for biscuits."
"It takes practice but they come out great."
"Very cold butter and not overworking or touching the dough with your warm hands is key."
"I get a little better at each time I make them."- wanted_to_upvote
The Sweet Treat Everyone Craves

"Chocolate chip cookies."- whoathererockstar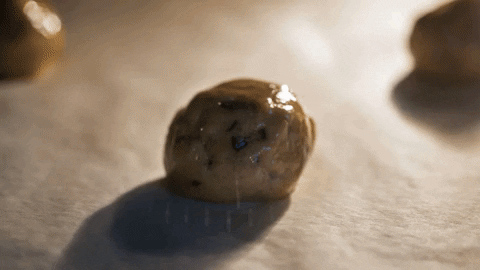 Baking Chocolate Chip GIF by Nestle Toll House
Giphy
Breakfast Combos
"The USA are fierce contenders against mainland Western Europe for the greatest breakfasts in the world."
"You people are visionaries when it comes to breakfast."
"Like, chicken and waffles?"
"Who the f*ck thought of that?"
"You did, that's who, you beautiful bastards."
'It shouldn't work, but by god, it does."
"And steak and eggs?"
"Who the f*ck eats steak in the morning? "
"THIS GUY, THAT'S WHO."
"I LIKE YOUR STYLE, AMERICA."- ZdCole
Needless to say, what constitutes being "American" has proven to be a highly, some might say unnecessarily, divisive issue.
Even so, it's hard to believe there are any people out there who can't put aside their differences to enjoy a Peanut Butter and Jelly sandwich, followed by a slice of Apple Pie.
A stepping stone for improved diplomatic relations maybe?
Stranger things have happened...
Anyone who has ever been interested in traveling or in studying history understands that each country is unique with its own rules.
For anyone who wants to visit the United States, Reddit has collected some of its favorite tips for what to do, and what not to do, while visiting.
Redditor Aarunascut decided to address this question for the land of the free when they asked:
"What should you never do in the United States?
Don't Borrow Money
"Don't ever get a payday loan."
"People end up rolling them over every week for like a $25-$50 fee while the juice keeps running. By the time you pay down a simple $500 loan, it comes out to something insane like a 750% interest rate over the course of a year."
- sardoodledom_autism
Times Square Isn't Such a Great Time
"Go to Times Square on New Year's Eve. The experience is so not worth it. Its romanticized for some reason."
- SATATSDOG
Don't Get Out of the Car During Traffic
"Don't get out of the vehicle during a traffic stop. I did not know this. Here in Australia, we are perfectly OK to get out of the vehicle unless the cop says otherwise."
- CptUnderpants-
Don't Get Out of the Car for the Police, Either
"Don't get out of the car after the police ask you to stop."
"My old chemistry professor made that mistake on holiday, and they pulled a gun on him."
- HorizontalAndy
No Sleeping in the Car
"Never leave your sleeping infant or child in a vehicle. This is fairly common in some places across the pond, but it is definitely NOT legal in the US."
- Nyxmyst_
Be Careful Where You're Sightseeing
"Walk onto someone's property without permission, or knowing the owner. It's cool in many places around the world to be able to go wandering through the countryside. It is not cool in the U.S."
"You might end up getting arrested, held at gunpoint, or shot at if you're really unlucky."
- Ai_of_Vanity
Ask Before Taking the Picture
"Don't take pictures or record videos of strangers' children. I've had to warn many people coming over from Asia about this. Some have ignored me and it has led to screaming and threats."
- newuser60
It's Bigger Than You Think
"Don't underestimate the size of the US. Apparently, some people think it can take only a couple hours to go to locations that are states away."
- LucarnAnderson
Do You Know... the Florida Man?
"Don't go to Florida for the beaches and forget about the wildlife. Black Bears, gators, panthers, hogs, etc."
"You can just ask any random Florida Man to see his pet alligator, we typically keep them handy for such an occasion."
- _Ross-
All Hail Dolly Parton
"At least in Tennessee, you should never say anything unkind about Dolly Parton."
- Abe_Fromans_Day_Off
Learn From History
"Don't be a king and use the Tea Act of 1773 to give special consideration to the British East India Company in the colonies."
- imaque
Don't Cut in Line
"Don't cut in line. I've been in countries (for example: Spain) where lines/queues are more of a vague suggestion of who goes first, this is not true if you cut in line in the US. Cutting in line in the US can literally lead to violence."
- hiro111
More Trouble Than They're Worth
"Do not trespass onto other people's land and don't engage in road rage. Both are higher stakes than you probably think…"
- hiddengill
Each Region Is Unique
"Don't base your entire opinion and generalization of the country just on one part or a particular region. Cultures, values, and people are so different all over the US."
- PoppyPalace
Respect First
"If you're in the South and someone calls you, 'sweetie/sugar/honey/baby,' they likely aren't flirting with you. We call everyone that. Also, 'ma'am' and 'sir' are not meant sarcastically. A lot of us are raised to always say that to people out of respect."
- almc0418
Every country has its own unique set of rules, and the best thing we can do when we visit is to try to follow their general protocols.
These tips may not cover everything in the United States, but it's a start.