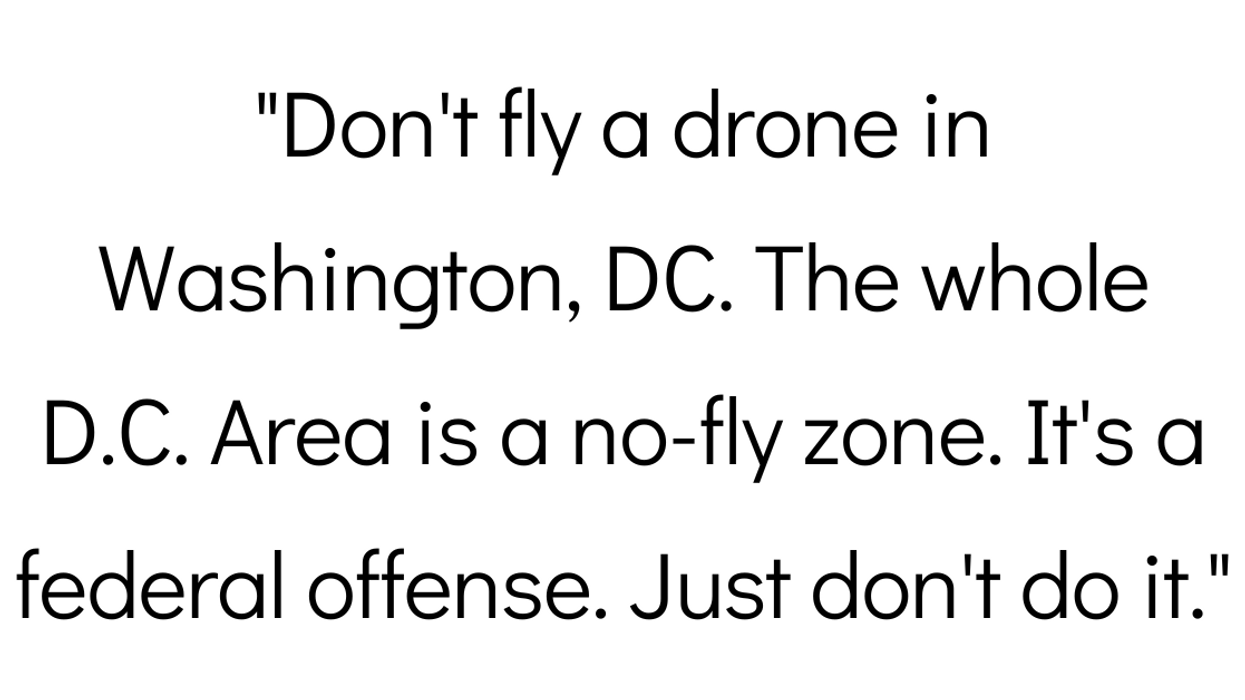 When visiting any foreign country, one should always be familiar with the laws and customs of the land.
After all, what might be generally accepted on your home turf, might be frowned upon, if not illegal, elsewhere.
For that matter, even locals might need a refresher course on what they can and can't do while at home.
A recent Redditor was curious to hear what tourists and locals alike should avoid doing in the USA, leading them to ask:
"In the United States, what should you never do?"
Stay out of the skies!
"Don't fly a drone in Washington, DC."
"The whole D.C. Area is a no fly zone."
"It's a federal offense."
"Just don't do it."- PeytonCarrK
Cops can't be bribed.
"Don't try to bribe cops when you get pulled over."
"I had some Argentinian friends immediately pull out their wallets and start pooling their cash when they got pulled over once.'
"Fortunately someone in the car noticed and told them to put it away immediately."- PeytonCarrK
"Don't pay off the police."
"My dad has friends from several third-world nations where it is common practice to give the police some cash when you are pulled over."
"However, if you try to bribe a police officer here, you'll get into a lot of trouble."- JohnASmiley
Know your rights.
"Everyone, including foreigners, has the right to be silent and have a lawyer when being questioned."
"Don't say anything."
"Also, even if you speak English fairly well, ask for an interpreter."- WickedLilThing
Enjoy all that nature has to offer... carefully!
"Don't wander off in the national parks."
"It's very real wilderness and you can get lost and die out there."
"This includes going over railings you aren't supposed to, or off trails."
"People have died accidentally falling into a steam geyser that looked like normal water, mauled by animals or left to the elements."- AlphaOhmega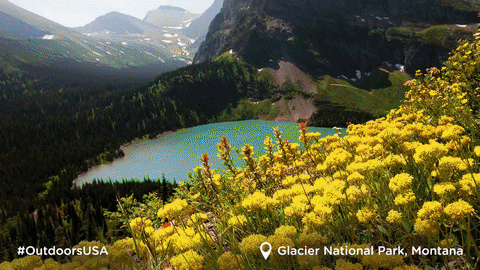 national parks GIF by Visit The USA
Giphy
Allow plenty of time!
"Expect consistency at TSA in airports."- WickedLilThing
Some terminology doesn't translate...
"If you're from England, they're called cigarettes here."- Yung_Onions
Make sure your license is up to date.
"If you come from a walkable country don't come here expecting the same."
"There are some areas with good public transportation and bicycle/pedestrian friendly streets but for the most part, especially outside of cities, the areas are designed to accommodate cars more than anything else."
"The reason a lot of Americans drive everywhere is because, depending on where you live, we have no choice."- The_Cars93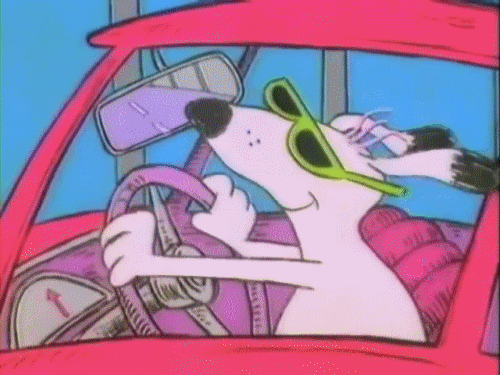 Dog Driving GIFGiphy
Wait for instructions.
"Get out of your car and approach the cop when being stopped by a cop unless told to."- hildrash
Whether your'e waling down a street in a foreign country, or the street you've lived on for your entire life, it's always wise to be on guard and aware of your surroundings.
Not to mention, obey the law.
Keep reading...
Show less
The day Joe Biden won the 2020 Presidential Election, people literally took to the streets to celebrate, giving an idea that people weren't so sad to see his predecessor leave office.
Indeed, many think so ill of the 45th President of the United States, that people have a hard time even saying or writing his name.
Throughout his tumultuous, often headline-making four years in office, he was frequently referred to as the "worst President of all time."
But was he?
Redditor Unaball3r was curious to hear who the Reddit community considered the all time worst leader of the free world, leading them to ask:
"Who was actually the worst President in US History and why?"
The 17th, but also an unceremonious "first"

"Andrew Johnson."
"He only became President because he was VP when Lincoln was assassinated."
"He basically tried to obstruct/reverse as much of Lincoln's policy as he possibly could."
"Inept, regressive . . . the first President to be impeached."
"Unworthy."
"A President that never should have been . . ."- OutsideSpring
"Andrew Johnson paved the way for the KKK to form in the aftermath of the civil war."- Random_puns
"Andrew Johnson is directly responsible for much of why the US is f*cked up today."
"TLDR: land redistribution after the civil war could've set up former slaves to be on equal footing with white people."
"Instead, Johnson made sure they got nothing."- caldo4
So bad they weren't even mentioned by name.
"The two presidents before Lincoln and his successor are usually ranked as the worst ones by historians."- DanSRedskins
"The 'Trail of Tears' guy wasn't great."- RudigherJones
Seriously, how do people like this get elected?

"Grover Cleveland assaulted a woman, got her pregnant, promised to take of her, and had her name the baby after a friend of his that passed away."
"He had a doctor he knew deliver the baby, then kidnapped it and had his sister raise it."
"Then he had the woman committed to a mental institution."
"When all this came out, he painted her to be mentally unstable and a drunk."
"He claimed she didn't know who the father was and had several men come forward and lie saying they all had been with her."
"He also made it a point to mention that she had named the baby after who she thought the father was, and that wasn't him."
"The guy was dead so he couldn't say anything."
"He convinced everyone he had tried to help her by having her put away to get help and by finding the baby a good family because he assumed the father to be his deceased friend who the child was named after and he was just wanting to do the right thing."
"He also married the daughter of a friend and business partner."
"He doted on her as a child and bought her a baby carriage."
"When her dad died when she was 11, he was more like a father figure."
"Until she got older and then he started sending her flowers."
"Everyone assumed he was courting her mother until the two of them popped up and got married."- TheMudbloodSlytherin
A war is never a good way to end a Presidency

"James Buchanan."
"The Civil War escalated to the levels that it did because of his inaction."
"His presidency was by far the most disastrous in history."
"He's at the bottom of every conceivable list."- LFCSpectre
"James Buchanan."
"Encouraging secession and setting the stage for the civil war puts him at the top without much debate."- jah05r
Andrew doesn't seem to be a name befitting a President
"Jackson and Johnson."- ConnieLingus24
In the eyes of others, maybe there was a President worse than the 45th.
A man with more impeachments than terms as President.
Perhaps its still too soon, and everyone's just trying to forget it ever happened...
Keep reading...
Show less
America is in quite a state right now.
We are hurting in ways we've never hurt before.
And getting better doesn't seem like an option on the horizon.
America gets a lot wrong everyday.
But, maybe let's try to focus on what America does right.
Maybe it can be a little comfort in times of struggle.
People from all over the world want to live here.
Why?
Redditor Ulrich-Stern wanted to discuss the best of America. They asked:
"What does the United States get right?"
I think America certainly has a strong work ethic. We know how to work and win.
Getting Around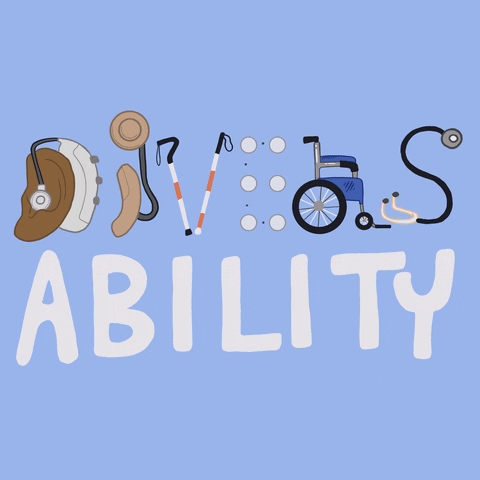 Civil Rights Equality GIF by INTO ACTION
Giphy
"Accessibility code for buildings. I come from a country where disability is looked upon like a crime or fault. USA does an amazing job making things accessible. I haven't seen all of USA but majority of the places has amazing system."
snreddit87
The Backbone
"Our public libraries are a real backbone for the country."
"Andrew Carnegie's groundwork in building the institution of free libraries, even in small towns, set a precedent that we wouldn't fathom today but couldn't live without. They often serve not only as an information exchange but as cultural hub, art gallery, performing arts center, tax aid, voter registration, job resources, etc. in communities."
"Plus they're one of the only places you can just exist for hours indoors without the expectation you must buy something.And I feel like they've adapted to the ever-changing needs of their patrons in modern times faster in the US than most places."
"'A library outranks any other one thing a community can do to benefit its people. It is a never failing spring in the desert.' -Andrew Carnegie"
fadedVHS
'restore' or 'create'
"Valuing actual wilderness in places like national parks. Here in England, they will 'restore' or 'create' natural habitats, which is sort-of nice, but they are almost like zoos. They are too small to survive by themselves so they are actively maintained."
"And in some English national parks, they actually allow housing developments as long as the architectural design is sympathetic. Here, 'countryside"'means farms. There is still a notion in the USA of protecting some large wilderness areas from development."
anon5005
Nicotine Fiends
"The rate of smoking cigarettes. We do very little well in the US when it comes to overall health, but we are light years better than most places when it comes to the prevalence of cigarette smoking. Hardcore anti smoking adds + laws of inconvenience + social stigma really did work."
pasta_sauce87
Hollywood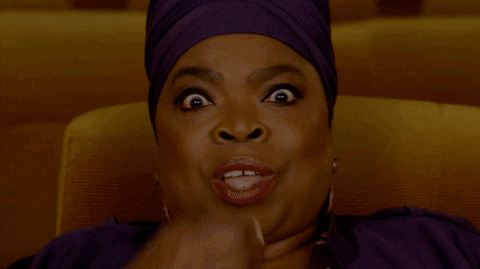 Movie Theater Reaction GIF by CBS
Giphy
"Films. Don't get me wrong, the US can put out some bad films, but the best ones I've seen are usually American."
ConcreteGardoki
We do do films well. That is a big plus.
Family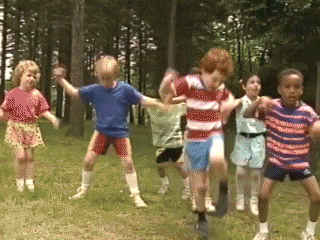 Kids Playing GIF by moodman
Giphy
"The United States adopts more children than the rest of the world combined."
noodles43r
The Menu
"Burgers. Motherfreakin' burgers."
ProfessorRoyHinkley
"I'd expand that to sandwiches in general. Burgers, Philly cheese steaks, Reubens, subs, clubs, chopped cheese, po'boys, just this whole sandwich spectrum. Americans just took sandwich concepts from across the globe and ran with them."
gurnard
Natural Beauty
"I've always envied your wildlife. I'm from England and the only large wild animals (other than fish) we have are deer, boar and foxes. And they're incredibly rare. I've always thought it was so cool one country could have bears, moose, cougars, alligators, panthers, bison/buffalo, etc."
gateman33
Quickies
"Gas stations like QuikTrip, where they have clean bathrooms, lighted parking lots, free air for your tires, ten different coffees on tap, beer, hotdogs, any soft drink or snack you want, the list goes on. In other countries -- you're not gonna believe this -- their gas stations only sell... gas."
Blort_McFluffuhgus
POWER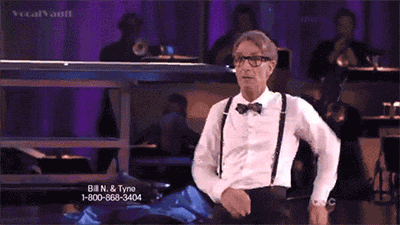 bill nye GIF
Giphy
"The US is an absolute science powerhouse. The technology we come out with has touched the lives of nearly every person on the planet."
AmericanHoneycrisp
Welcome
"I say this as an immigrant who came to this country, so perhaps take it with a grain of salt. But it truly gives people a second chance at life. My life would be nowhere near as good as it is right now if I were back in my home country."
Porongas1993
Maybe America isn't the hot mess a lot of people think it is. We'll see...
Keep reading...
Show less
Let's put this up front: the United States of America is not the greatest country in the world.
It's just a fact. We're not tops in the world in education, our maternity leave for new mothers pales in comparison to most European countries, which is to say nothing of our healthcare as a whole, and our average income per household?
8th. Last we checked, that's not 1st.
It's not all doom and gloom though. There are still a lot of things to love about the good ol' U. S. of A. And if you love something, you fight for it, to make it better, and truly try to achieve the ranking of "best."

Reddit user, kake92, wanted to know what the U.S.A. actually gets right when they asked:
"Americans, what thing do you appreciate the most about America (USA)?"
Not everything that makes the U.S.A. great is honorable or noble.
Sometimes, it's just funny.

Too Much, Then Dial It Back
"Drink refills at restaurants."
MisterMorgan1206
"You get ice! And you get ice! And you get ice!"
PrisonerV
"yes, and most of the time way too much! Europeans complain that we are obsessed with ice. This might appear to be true, but im more comfortable asking for less ice in the US than for ice at all in Europe."
MisterMorgan1206
I May Not Agree With What You're Doing, But...
"we can have all sorts of outlets that mock people in positions of authority and dont get sent to labor camps or prison"
"hell we can burn our own flag"
"pretty gud I think"
King-Grey
"I think people who burn our flag are sh-theads, but I'll defend their right to do so to the death, and that's a fact. I don't always love what I hear from "free speech" but I love that it's free. For now, anyhow.."
LittleArkansas
You know what we have a lot here? Land!
There's a lot of land and a lot of land to see, so why not take a trip this summer and get lost in the wilderness of your imagination.
This is starting to sound like a travel ad.
The Most Gorgeous Vacation You Haven't Taken
"National Parks"
Ezzy17
"Sounds braggy, but I work for the National Park Service and it's the best job I've ever had in my career. I don't think I ever want to leave. Plus, paid trips to all the parks and getting to see things "off the beaten path" that normal visitors just can't get to. I love it and I love our parks."
clyde2003
Not As Crowded As You Might Think
"Wide open spaces can still be found here. I don't like most people, and I frequently need to get away from them."
salthecrawfish
"I grew up in rural Idaho and the wide open spaces are truly amazing. I live in the city now, but still look for any opportunity to get away. My wife is from back east and she thought she knew what the "middle of nowhere" was like until I took her to my grandparent's ranch. The nearest neighbor is five miles away. The nearest "town" is 30 miles away. She didn't realize how much nothing there was in the Western-half of the US."
clyde2003
And We've Got The Disaster Movies To Prove It!
"We've got all the weather. You want hot and humid? We have it! You want frigid? We have it! You want all the weather within 24 hours? We definitely have it!"
"Tornadoes, hurricanes, earthquakes (not weather, I know), lightning? We've got it all!"
CitizenCobalt
Location, Location, Location
"This is going to sound really dark but with all the talk of war recently…especially with the Russian invasion of Ukraine, I appreciate how far we are from all the other major powers."
"Yes, they can always send missiles but any land invasion is very difficult to achieve. China and Russia would have to put in major effort if they were going to try to invade America….."
OSUfirebird18
Maybe we're not the "greatest country in the world," but we should all be doing everything we can, every day, to make that come true.
Go Do What You Want
"Answering this as a serial expat that has spent at this point 25% of my life overseas and has lived in multiple countries."
"Few places on Earth embrace the "go do what you want" mentality like America. You want to be a wiccan priestess that lives in a yurt in the Cascade mountains? You want to be a rancher in Utah?"
"You want to live your dream of opening a cupcake store for pets? No matter what you do there is a community of people cheering you on in America and that is a very rare and very cool thing."
RootlessNumbers
Mostly, We're Alright
"I have lived in lots of other countries, but I am from the US. I have a few things to point out."
"The roads are generally nice. Smooth, without huge potholes. I am generally talking about the highways."
"Cleanliness. I have been to places with mountains of trash 6 feet high. Another related thing is that the US has very few stray dogs, and that keeps things overall cleaner."
"The last thing is kind of hard to explain, but I would say the sense of order. Everything is structured, and I kinda like it. The places I have lived, people are just not raised with the mindset that everything should be standardized."
"It really grinds my gears when people talk about how bad the U.S. is. It does have its problems. So does every country. When people go on and on about how bad the US is, I try to put it in to perspective how much worse it can be. My house almost got burned down because the government removed the gas subsidies (which after having them for 2 decades, were bankrupting the government) and people were afraid that the transportation system would shut down. I doubt many people who complain about the US have experienced that."
Mawd14
We're Trying To Get Better, A Little, Every Day
"Having lived outside of the US, I have some perspectives that differ from the norm."
"I'm gonna say some stuff that is gonna make Americans and foreigners alike scratch their heads but I'm hoping some people will know what I'm talking about."
"I truly and wholeheartedly believe that America is the least xenophobic place on the planet."
"I think that xenophobia is so deeply ingrained and normalized the world over that people genuinely do not recognize it in themselves. People will engage in the most hateful xenophobic behavior that I've ever seen and then say with a straight face that they are afraid of moving to America because of xenophobia."
"I think that people think America is xenophobic because America's xenophobia is highlighted, fought, and condemned in ways that no other nation's is."
"This is because of the second thing that I love about America."
"America is the most diverse nation in the world."
"More than half of our population is people of color, and those people of color are made up of American Black people, North Africans, Sub-Saharan Africans, Native tribes, East Asians, south Asians, central Asians, Latin Americans, Pacific Islanders, Indians, Arabs, and more."
"Every single world diaspora has a politically significant population in America, most of whom are also American citizens who participate in our democracy and our national conversation."
"No other nation in the world comes even close. France and England also have diaspora but not like America does."
"This diversity has created an environment in which that xenophobia which does exist is magnified in its relevance because it actively effects people; a xenophobic American has much more opportunity to cause harm because of their xenophobia than a xenophobic Chinese person."
"But also, this means that America is the epicenter of the movements against xenophobia, and we are the only nation in the world who is engaged in a national conversation about it."
"I'd argue that America is not more xenophobic and thus more backwards than the rest of the world, I'd argue that America has advanced to the stage in attacking our xenophobia that the rest of the world isn't even close to doing yet."
Brandywine5
We many not get everything right, but it doesn't mean it's not worth living here, fighting for here, and always doing our best to make sure the mistakes get corrected.
What's something you like about living in the United States? Tell us about it in the comments!

Keep reading...
Show less
As tourists, we enjoy exploring foreign cities and seeing famous sites in person.

When we're on hopping on and off touring buses that take us from one tourist attraction to another, however, it's hard to get a sense of how the locals really live in their country.

Curious to hear from those who don't live in North America, Redditor DerpDerp3001 asked:
"Europeans of Reddit, what do you imagine life in the United States to be like?"
One thing is certain. Americans are full out.
Everything Big
"Big. Big country, big cars, big buildings, big voices, big personalities, big ambitions, the Big Apple, the Big Sky Country, Big Sur. Big portions."
– HoneyGlazedBadger

So Much Pride
"Shopping malls and big cars and sports games and lots of national pride."
– foxmachine

The "Loud" European
"Moved to the US from Europe 5 months ago. What's most noticeable to me is that you have to drive everywhere and that everyone calls me soft-spoken... In Europe I was perceived as loud."
– un-BowedBentBroken
They Have It Made
"All my American friends are highly educated and middle to upper middle class, they have it ever so good. I know they are far from the norm, but if you have skills in high demand, the opportunities are almost endless it seems."
– D-Rez
Decent Aesthetics
"Generally good, the roads are wide, It's very spacious and it's a land that stands for freedom, Quality of life seems good, the only downsides that I probably would not like is a lack of a NHS, and the fact that you have less annual leave, you should get way more then you all currently do that's for sure."
– The-Rare-Road

Things that needed room for improvement were pointed out.

Work Rights And Healthcare
"I've been to the US a few times and never had a bad encounter. A lot of really nice people, genuinely nice interactions.
As an outsider looking in, the working rights and the healthcare is absolutely insane to me and a crying shame for some of the kindest, most giving people I've come into contact with as a foreigner."
– Sylviabutler04
"Every Good, Every Horrible"
"Impossible to generalise. To the best of my knowledge, it varies enormously place to place, between socio-political and economic backgrounds, and between various groups."
"It seems to have every good and every horrible thing thinkable of."
"Overall, I'd say the standard of living is comparable, and in the grand scheme of things world class, but if things go bad, life becomes hell, and when things go well, they go brilliantly ."
"If it helps, I really found visiting America great fun, and found out most Americans are nice people, and you have this sense of optimism and hope, which I really appreciate."
– PayNoNoticeOfMe

Different Social Ladder
"Seems like the social ladder is just overstretched. It's better to be a cashier in Europe than in the US, better to he a software developer in the US than in Europe."
"I definitely prefer Europe in that regard, even if I know for a fact that I'd be making three times as much in the US. imo It's just part of the social contract that those at the bottom of the ladder should be able to live life in dignity, even if it's at the 'expense' of those at the top. It's not the only reason, among other things american work culture would overwhelm me, 8 hours of work, 8 hours of leasure, 8 hours of sleep is how it should be. And I'm not about to burn the midnight oil and burn out and not have a life outside my job just because "that's how things work around here", too depressing of a prospect for me. (at will law is insane by the way)"
"That said It's on my bucketlist to visit it one day. Seems like a lovely country to do tourism in, but working and living there isn't that enticing."
– AndyBales

Others, however, saw chaos.
Walking On Eggshells
"Uncertain..the fact that you can get fired just like that, the lack of paid sick leave or paid absence due to giving birth, the cost of health services...I don't know how you guys do it, without having a panic attack every week."
– StopIntegral

Stresses
"its such a f'king mixed bag of everything. The united states values libertarian thought to such a degree that youll find literally every cultural subset, political idea, food, and religion. Even the legal codes vary INSANELY across state lines. I could theoretically buy semi auto rifles and huge amounts of marijuana legally in one state then travel across an arbitrary open border and the people will treat you like a terrorist there if caught. This is totally what the founding fathers wanted mind you, just a perfect amount of nuts i guess."
"Honestly this country is really f'king stressful as f'k and you have to have a lot of context and reasoning and awareness to not piss people off and see the good parts in america. Living in a blue state is totally different than living in a red one. Definitely a lot to sh*t on for sure."
– Artistic-Wolverine16

A Sad Reality
"Guns. So many guns."
– taaadaaa

Money Buys You Peace
"It's all peachy as long as you have money. The pressure to keep up with your neighbors and the credit card payments must be immense. And damn you must be scared the SH*T out of cops. And other people in general, but especially cops. And Jesus not having 28 paid days of vacation, as well as paid sick days, that's just uncomfortable. Also do you deal with the homeless situation, the fact that basically all mentally ill live in the street and that half of the population seems to be fascist religious nutcases? Also do you have any hope for your children given the state of your educational system?"
"Disclaimer: lived in CA and VA for a few months. Good times."
– TAastronautsloth99

It's interesting to hear from the perspective of those who are not from any specific country commenting on other nations.
While many observations are spot on, others seem to be very much influenced by the movies and the media.
Which of those would you say are portrayed as most accurate?

Want to "know" more?
Sign up for the Knowable newsletter here.

Never miss another big, odd, funny or heartbreaking moment again.
Keep reading...
Show less