When Heather Pearson of Portland, Oregon decided she wanted to marry her girlfriend, Kelsey Stacy, she knew the proposal would have to involve their favorite books: the Harry Potter series.
Pearson planned the proposal "for about a year," before finally sending Stacy on a Potter-themed scavenger hunt on Halloween day.
---
What Stacy didn't know at the beginning was that the scavenger hunt would inevitably lead to the rest of her life.
The story of the proposal was shared on Youtube.
Watch it here:
Harry Potter Halloween Proposal 2018 - BEST PROPOSAL EVER!!! youtu.be
Pearson explained to Pink News why this was the perfect proposal for them:
"Kelsey and I went to Harry Potter World on our first anniversary, we love Harry Potter, all the movies and all the books. Growing up I never pictured what my life would look like, but when I met Kelsey, [I knew] that this is it."
The pair, devout Slytherins, already owned matching robes and wands.
As the fateful day got closer, Pearson convinced Stacy to help her throw a Potter-themed Halloween party. What Stacy didn't know is that she was actually helping to plan her own engagement bash.
On Halloween, Stacy was led on a scavenger hunt that took her all over the city, seeing old friends and finding copies of the Harry Potter books with love letters from Draco Malfoy inside.
The search finally led her back to her own apartment, where Pearson was waiting on the balcony dressed as Malfoy, holding a copy of Goblet of Fire (their favorite installment in the series) whose pages had been artfully folded to spell out "Marry Me?"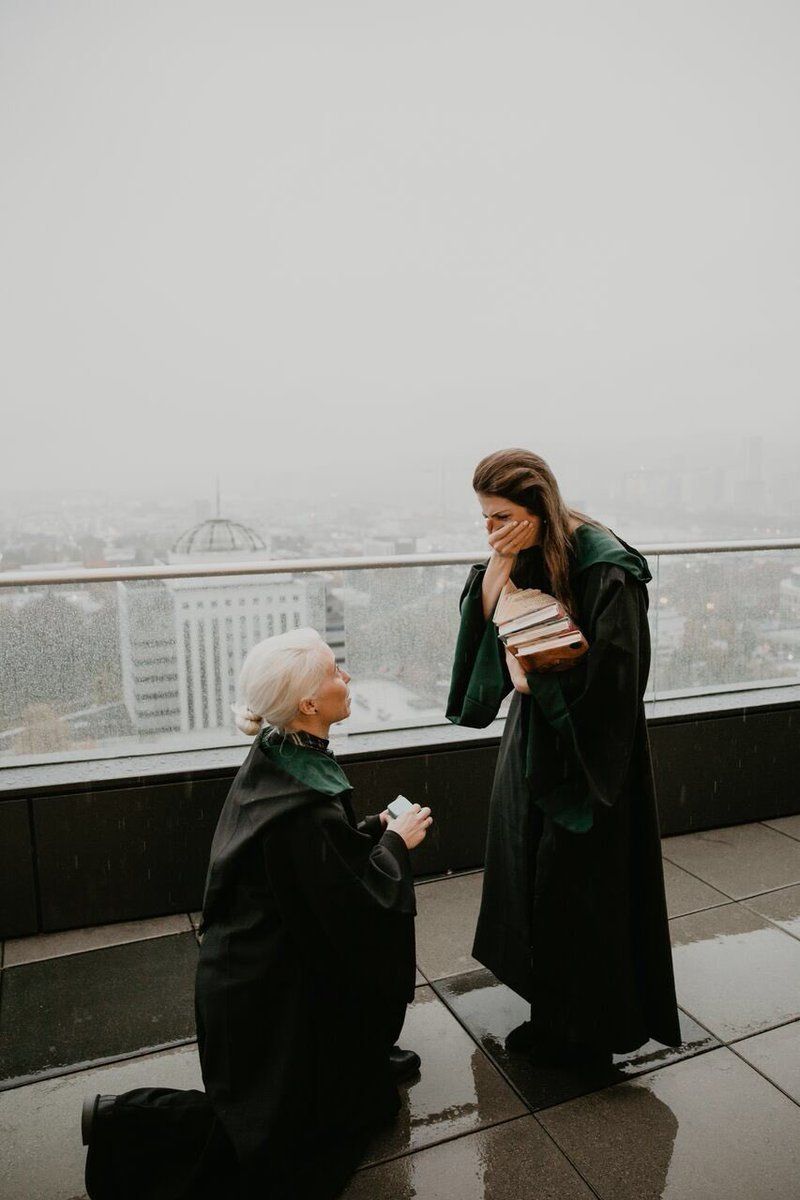 @heatherpearson_/Twitter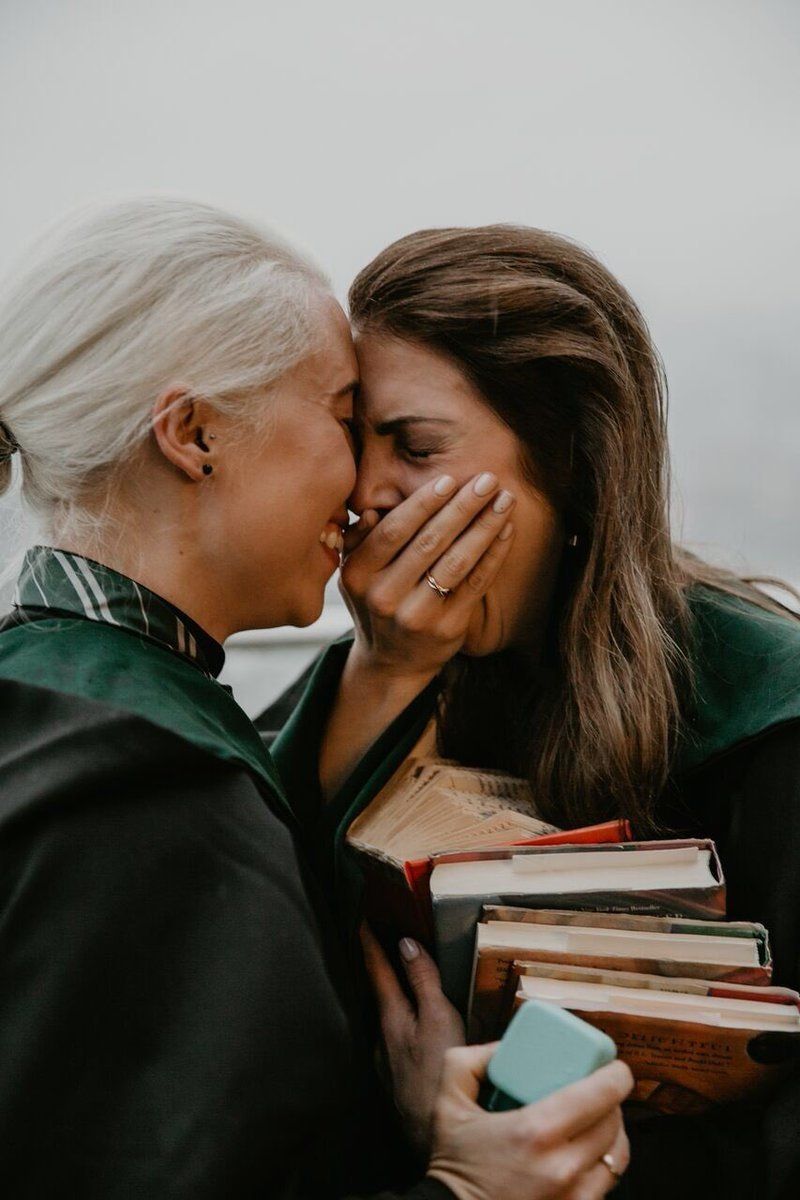 @heatherpearson_/Twitter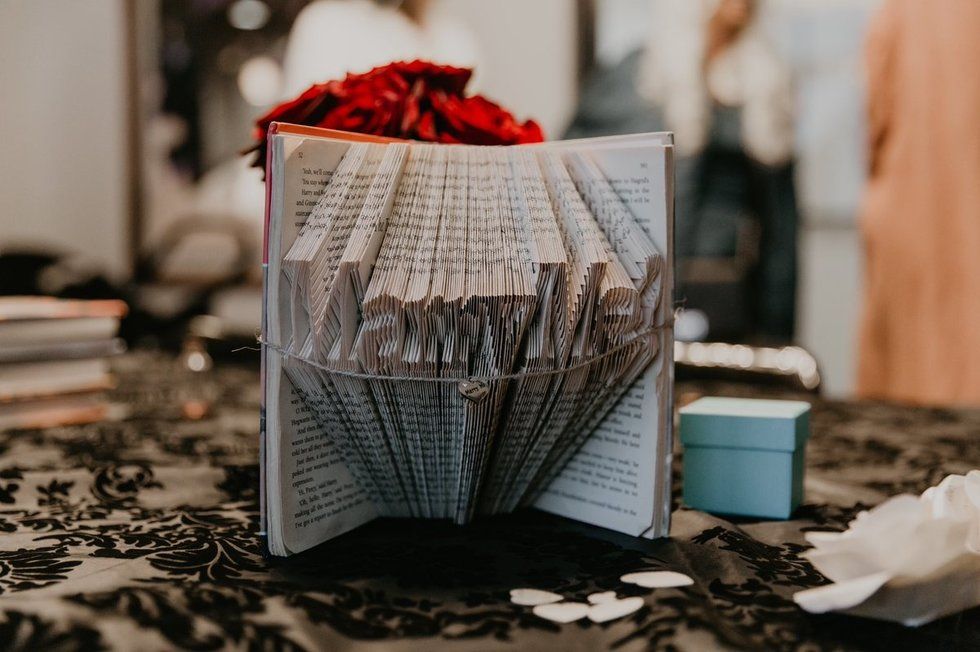 @heatherpearson_/Twitter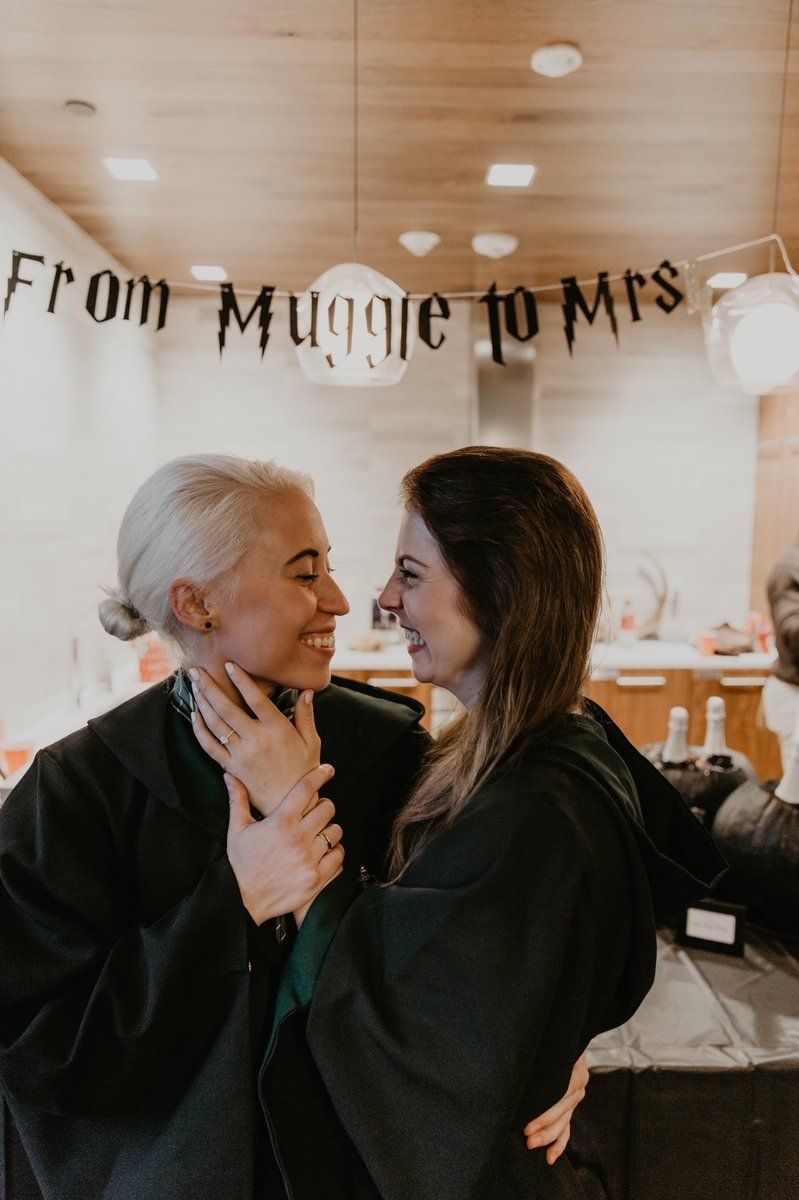 @heatherpearson_/Twitter
Stacy said yes as the couple's friends cheered and the pair shared a tearful kiss.
Fortunately, the whole day was captured on video to be shared with the world!
Author J.K. Rowling herself saw the video and tweeted out a message for the Potter-heads:
The newly-engaged couple could barely process it all!

Twitter was enamored with the couple and their shared love of the Potter-verse.

What better way could there be for two die-hard Slytherins to start their lives together?
Some other Twitter users couldn't help but make some Potter-themed jokes.
Congratulations, Heather and Kelsey! May you have a magical life together!