Game of Thrones racked up a record-breaking 32 Emmy nominations for its eighth and final season when they were announced on Monday.
---
But fans of the smash hit fantasy series were shocked that actress Gwendoline Christie, who finally scored her first nomination for best supporting actress in a drama series for her role as Brienne of Tarth, actually had to submit herself for consideration when HBO declined.
Christie shared the news on Instagram.
Writer Julie DiCaro pointed this bizarre factoid out in a now-viral tweet.
HBO didn't submit Gwendoline Christie for an Emmy so she submitted herself and got a nomination. Be your own biggest cheerleader.

— Julie DiCaro (@Julie DiCaro)1563372846.0
It certainly makes Christie's nomination all the more impressive.
@JulieDiCaro https://t.co/dE7ogjE0vv

— E Kaminetz (@E Kaminetz)1563374320.0
@JulieDiCaro @cmclymer So that's what she was writing... https://t.co/vl0lOa1h08

— Charles Song (@Charles Song)1563375237.0
@JulieDiCaro @leebee4life And Gwen deserved that nomination too!

— J. C. (@J. C.)1563374511.0
gwendoline christie deserves this emmy nomination so much, she was definitely one of the outstanding actors in game… https://t.co/96ry3uISG9

— ben (@ben)1563293598.0
People were pretty peeved that HBO left Christie to fend for herself, though.
@JulieDiCaro @saloni_g Wait really? HBO what is wrong with you https://t.co/HGztYepIOX

— Linda Maleh (@Linda Maleh)1563379432.0

@Becca_L_M/Twitter
@JulieDiCaro But let's not lose sight of the fact that @HBO sucks for not nominating her!

— President Kamala's Hand (@President Kamala's Hand)1563380764.0
@DearDean22 @JulieDiCaro @HBO I'll be mad at them later. First we celebrate. https://t.co/4umWMM68LN

— David Sorenson (@David Sorenson)1563398640.0
Other fans were quick to point out that Christie wasn't the only Game of Thrones actor who had to self-submit to be considered.
Alfie Allen and Carice van Houten, who play Theon Greyjoy and Melisandre, respectively, also submitted themselves for Emmy consideration, with Allen scoring a nod for best supporting actor in a drama series and van Houten grabbing a guest actress in a drama series nomination.
@leetokeen Via Entertainment Weekly: https://t.co/MLc2r95LCe

— Julie DiCaro (@Julie DiCaro)1563401451.0
All three of the first-time nominations came as somewhat of a shock to fans and now we know why.
@JulieDiCaro @leetokeen Do all actors & actresses know they can self submit? Interesting. Good on them!!!

— loves Chicago (@loves Chicago)1563451092.0
Of course, not all actors have to submit themselves.
HBO did, in fact, submit Kit Harington, Peter Dinklage, Lena Headey, Nikolaj Coster-Waldau, Emilia Clarke, Sophie Turner and Maisie Williams in various acting categories, all of whom scored nominations.
But, as one person pointed out, it is most likely about the odds.
The more actors you submit, the more internal competition they end up facing.
@mconnormurphy @JulieDiCaro @ljmaleh @saloni_g @HBO They don't nominate every actor bc then the actor they want to… https://t.co/AdDDVqWRvB

— Leah (@Leah)1563467201.0
Which makes it even more impressive that three additional Game of Thrones actors were able to break through with nominations of their own after paying the $225 submission fee.
So let that be a lesson for all of us: If you think you deserve to be considered for something, then just take steps on your own to get there if you can.
You might be pleasantly surprised by the outcome.
@JulieDiCaro https://t.co/OIPRp9ncNE

— Jason Matthews (@Jason Matthews)1563387529.0
Because as Bigfoot knows, believe in yourself, even if no one else does, shirt available here.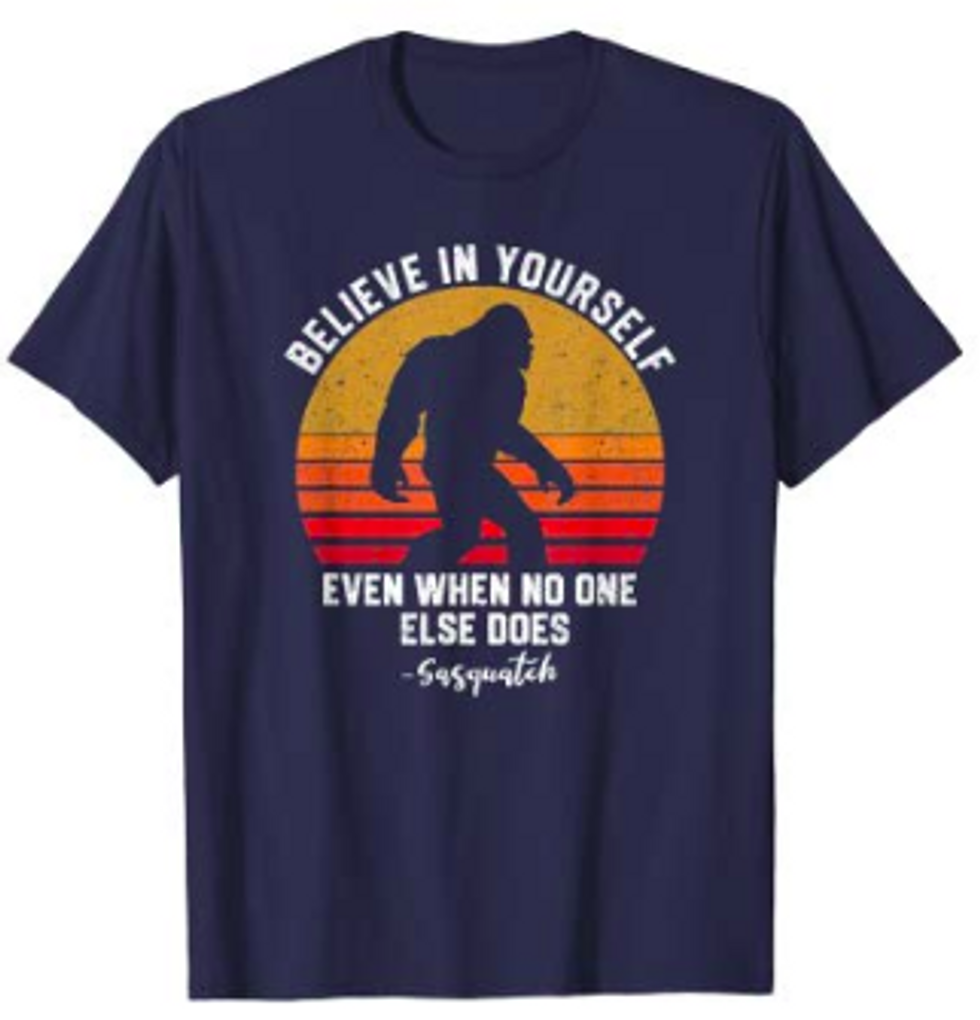 Amazon