A delighted teen celebrated as a fundraising page she set up for life-saving cancer treatment for her best friend smashed its £300,000 (~$390,000) target - in just one week.
Lillie Cotgrove, 13, was "devastated" when her best pal Lily Wythe, 14, was diagnosed four months ago with the deadliest type of childhood cancer.

The survival prognosis for Lily's condition - a high-grade diffuse intrinsic pontine glioma (DIPG) - is just eight to 12 months.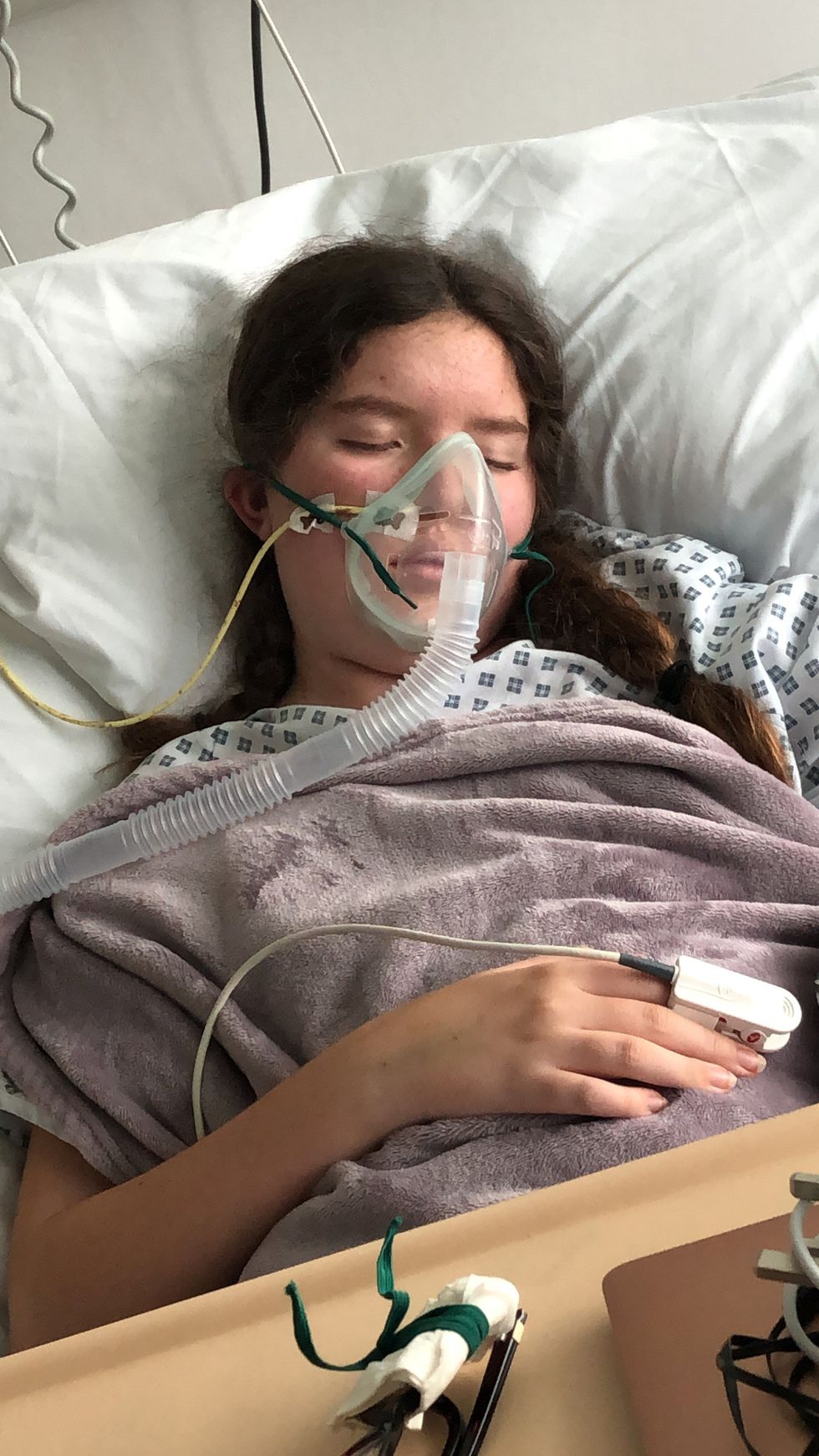 Wythe family / SWNS
So when Lily's parents found "promising" clinical trials for her cancerous brain tumor in Seattle, Lillie was determined to do what she could to help her friend.

Schoolgirl Lillie squealed with delight as her fundraising page, The One Pound Warriors, reached its £300,000 target - just a week after she created it on Facebook.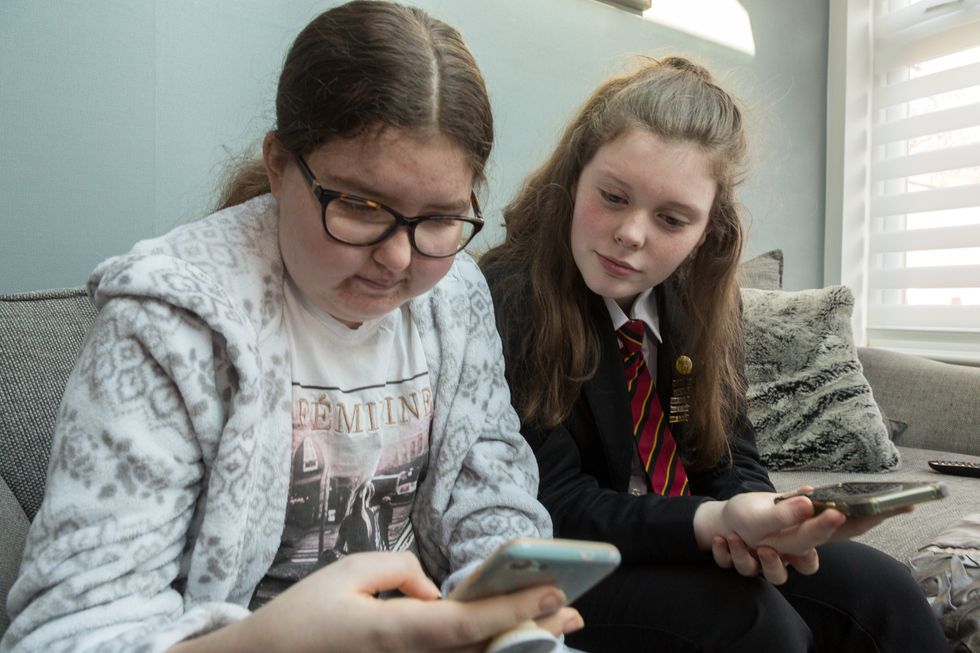 Paul Davey / SWNS
The One Pound Warriors - which asks for a voluntary £1 donation from all its members - has received a host of celebrity endorsements including Jonathan Ross, Rachel Riley, and Gemma Collins.

The Facebook page was set up by Lillie and her mum Sarah last Thursday (January 16), and its 134,000 members have helped to raise £230,000 (~$300,000) in just seven days.
This total was added to £78,000 (~$100,000) raised by a separate GoFundMe page, which was set up nine weeks ago in November 2019.
And when Lillie was told that her fundraising page had reached its target, she squealed with excitement, before hugging dad Mark and becoming visibly emotional.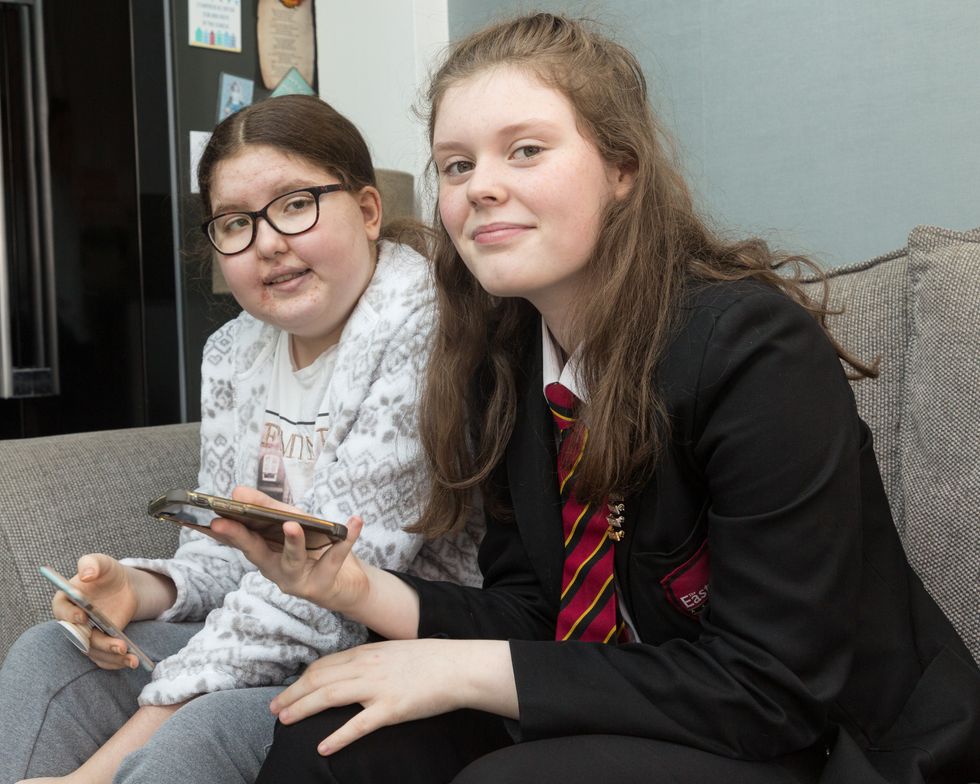 Paul Davey / SWNS
Speaking from her home in Benfleet, Essex, England, Lillie said:

"It's absolutely incredible what's been achieved. I did this because I really wanted to help Lily, and at the start I felt a bit like I couldn't help her."
"But then I set up the Facebook page, and lots of people started helping, and now, we're going to get Lily to the U.S. to get a clinical trial done," she added.
And her proud dad Mark, beaming at his daughter's achievement, said:
"It's just incredible, really. I couldn't be prouder of my daughter.
"All of this was borne out of the helplessness of the situation, and wanting to help her dear friend - and look what's been achieved. She's going to get out there to Seattle. It's amazing."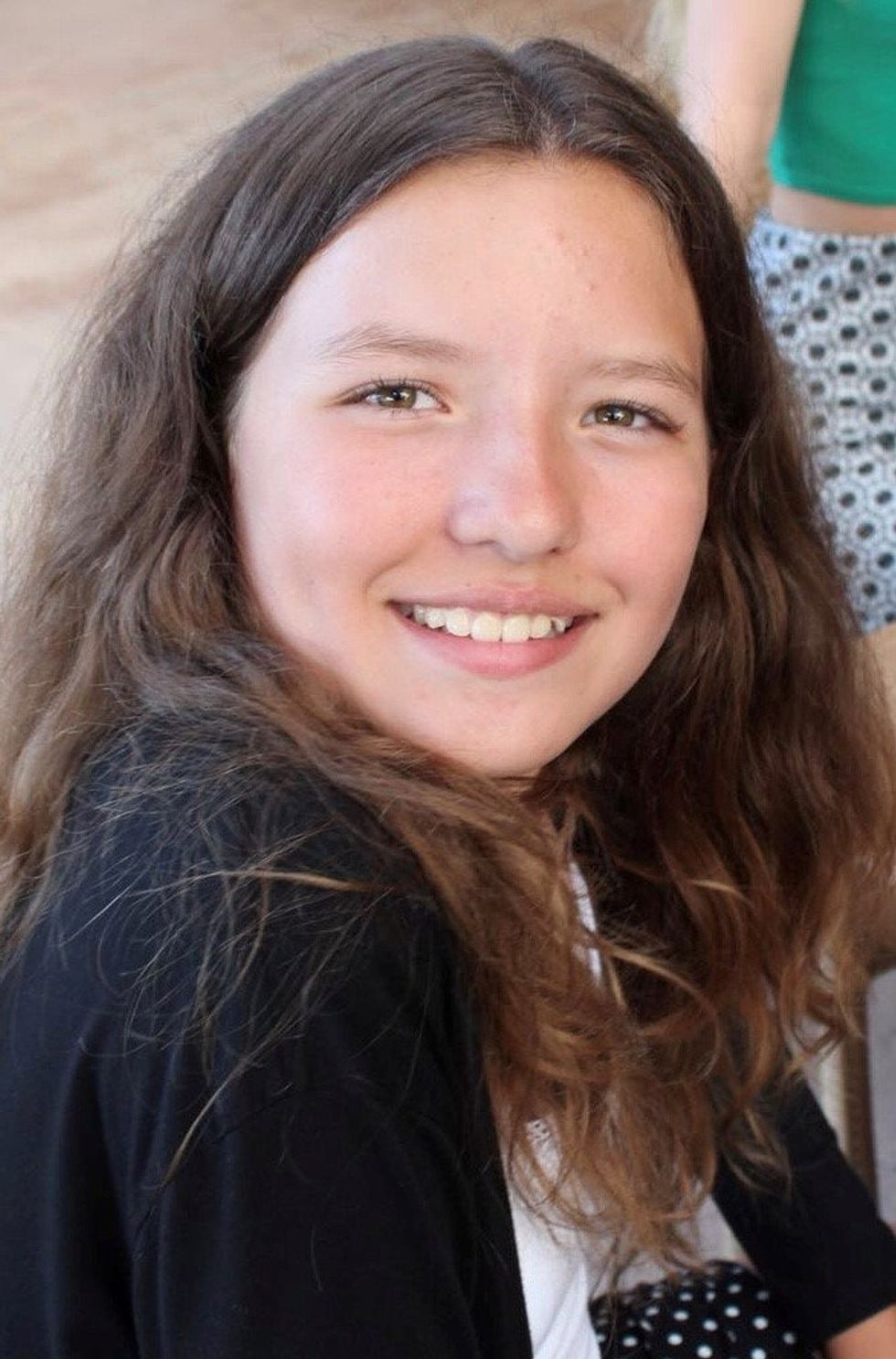 Wythe family / SWNS
Lillie also added her thanks to national charity Brain Tumor Research, who have helped the two girls spread the word about The One Pound Warriors.

"Brain Tumor Research has helped us so much," said Lillie.
And Lily's emotional mom Diana Wythe said:
"Lily and I never imagined we would manage to raise the £300,000, or that it would happen so quickly. Lily is blown away by it all."
"We can't believe there are so many people out there who have been touched by Lily, with people giving away precious savings or even their wages and children their pocket money."
"I want people to rest assured that any donations not needed for Lily, will be given to charity. We aren't making any money out of this."
Diana added:
"Lily had a scan on Sunday and we will get the results next week, which can then be sent to Seattle Children's Hospital to find out what the next move is. This has happened so quickly, we haven't even had the chance to get our visas ready, so that needs to happen fast."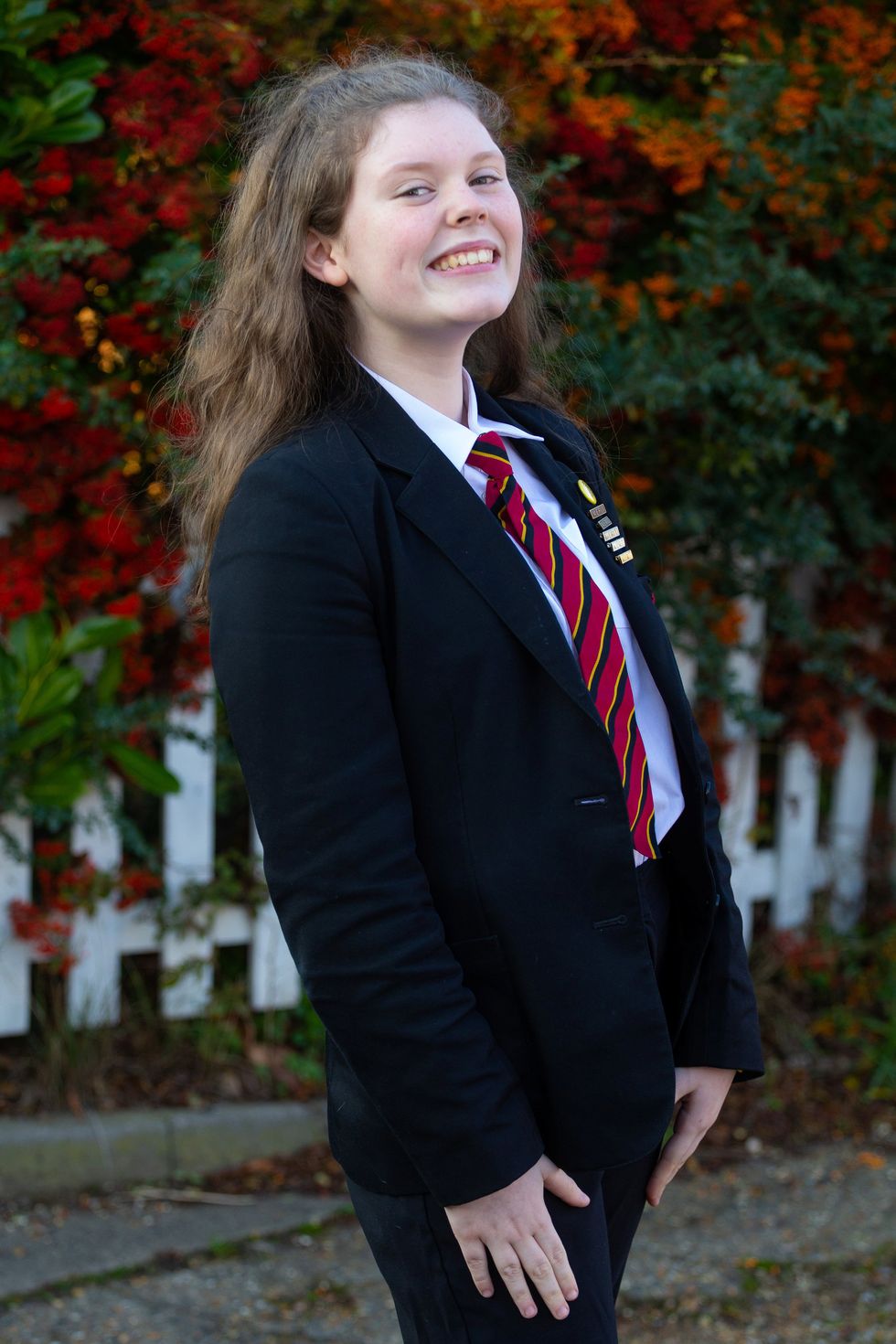 Paul Davey / SWNS
Lillie's fundraising efforts for her friend have touched people's hearts around the world, with many members of The One Pound Warriors nominating her for a Pride of Britain Award.

The parents of both teenagers have been overwhelmed by the "phenomenal" response, which has included retweets and messages from British celebrities including Jonathan Ross, Gemma Collins, and Keith Lemon.
Jonathan Ross shared the fundraising page on Saturday to his five million Twitter followers, writing:
"If any of you feel like joining me in chipping in I know it would be appreciated."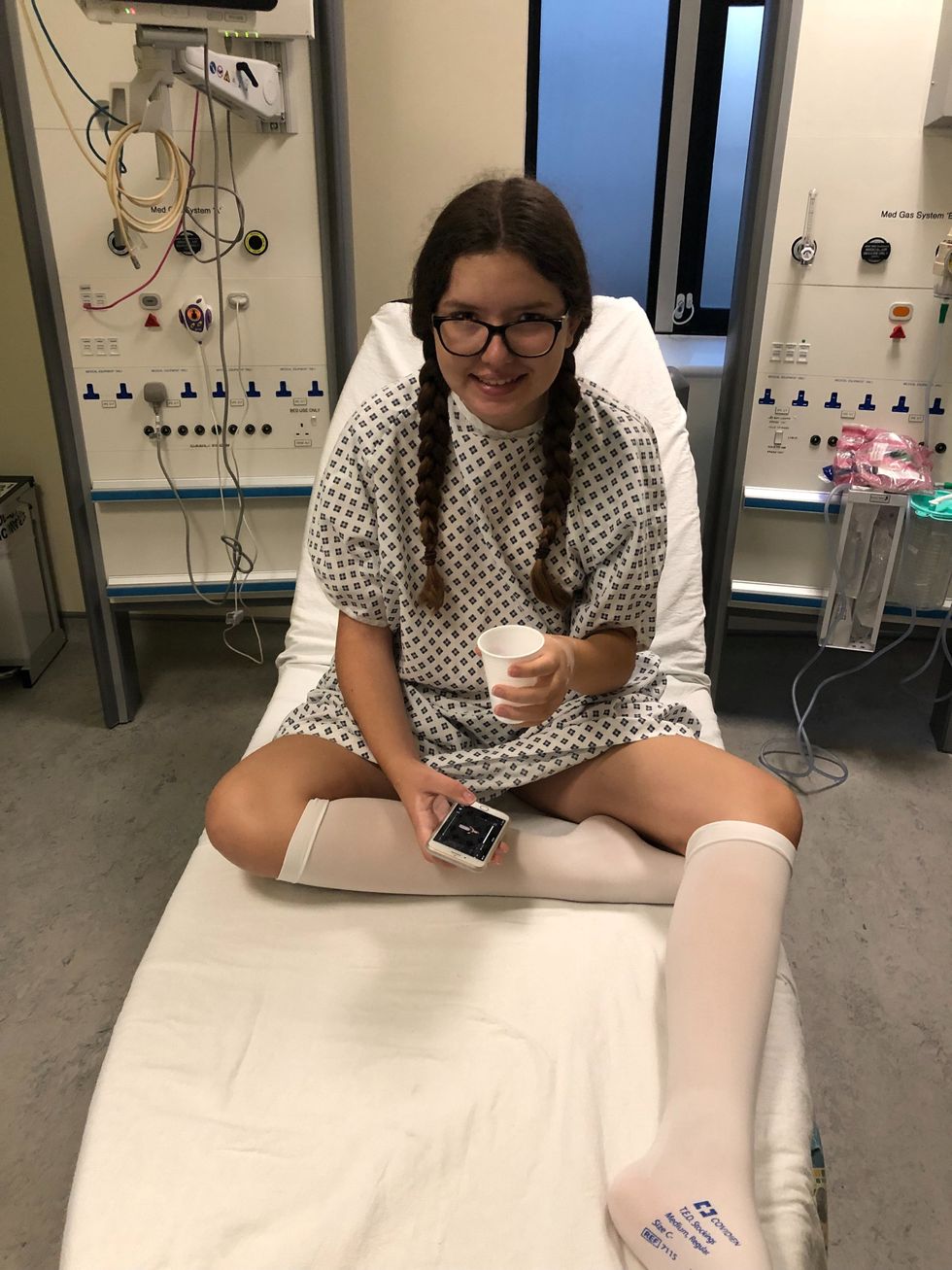 Wythe family / SWNS
And Gemma Collins shared the page on Sunday to her 1.3 million followers, writing:

"Have a read, share and donate if you can."
Hugh Adams, head of stakeholder relations at Brain Tumor Research, said:
"This is the most extraordinary achievement. Huge congratulations to Lillie and everyone who has got involved with The One Pound Warriors."
"Our hearts go out to the family of Lily Wythe as they start preparing for further treatment which they had been told by doctors in the UK wasn't possible. It is just not acceptable that families who have loved ones affected by brain tumors are sent home and told to make memories."
"On behalf of us all at Brain Tumor Research, I would like to wish Lily and her family all the very best," he added.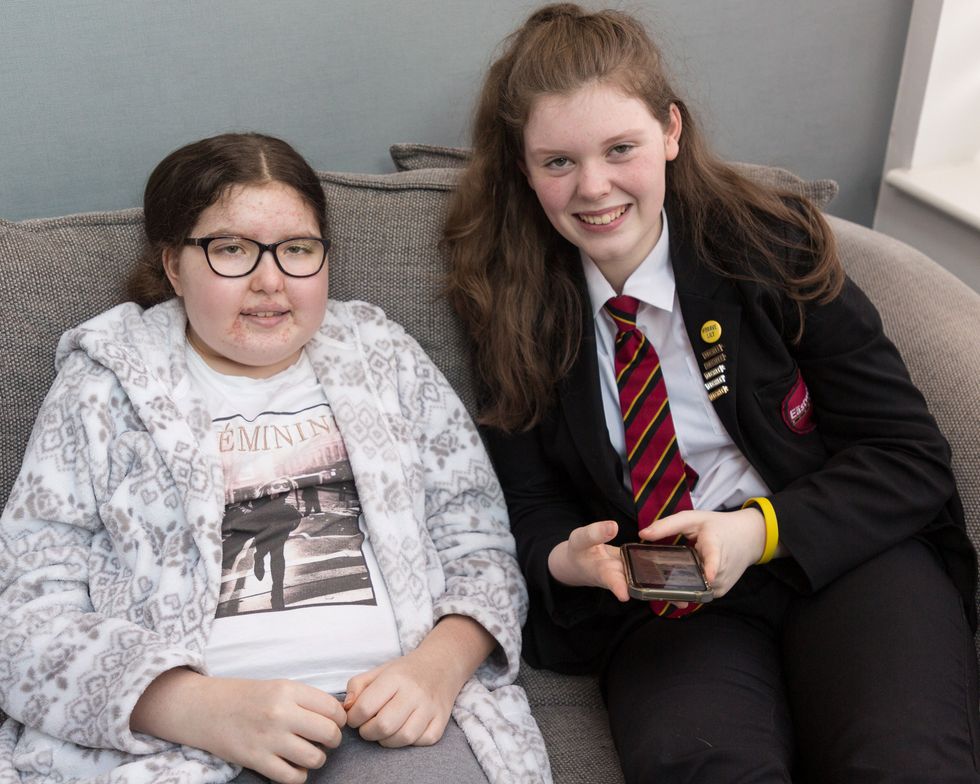 Paul Davey / SWNS
An adorable rescue dog with a "wonky" face has found a loving home - after hundreds of adoption requests.
Brodie the German Shepherd Border Collie cross was born in a rescue shelter but was attacked by his mom when he was only 13 days old.

She bit his head leaving him with severe cranial and facial injuries - but the resilient dog survived with a permanently slanted face.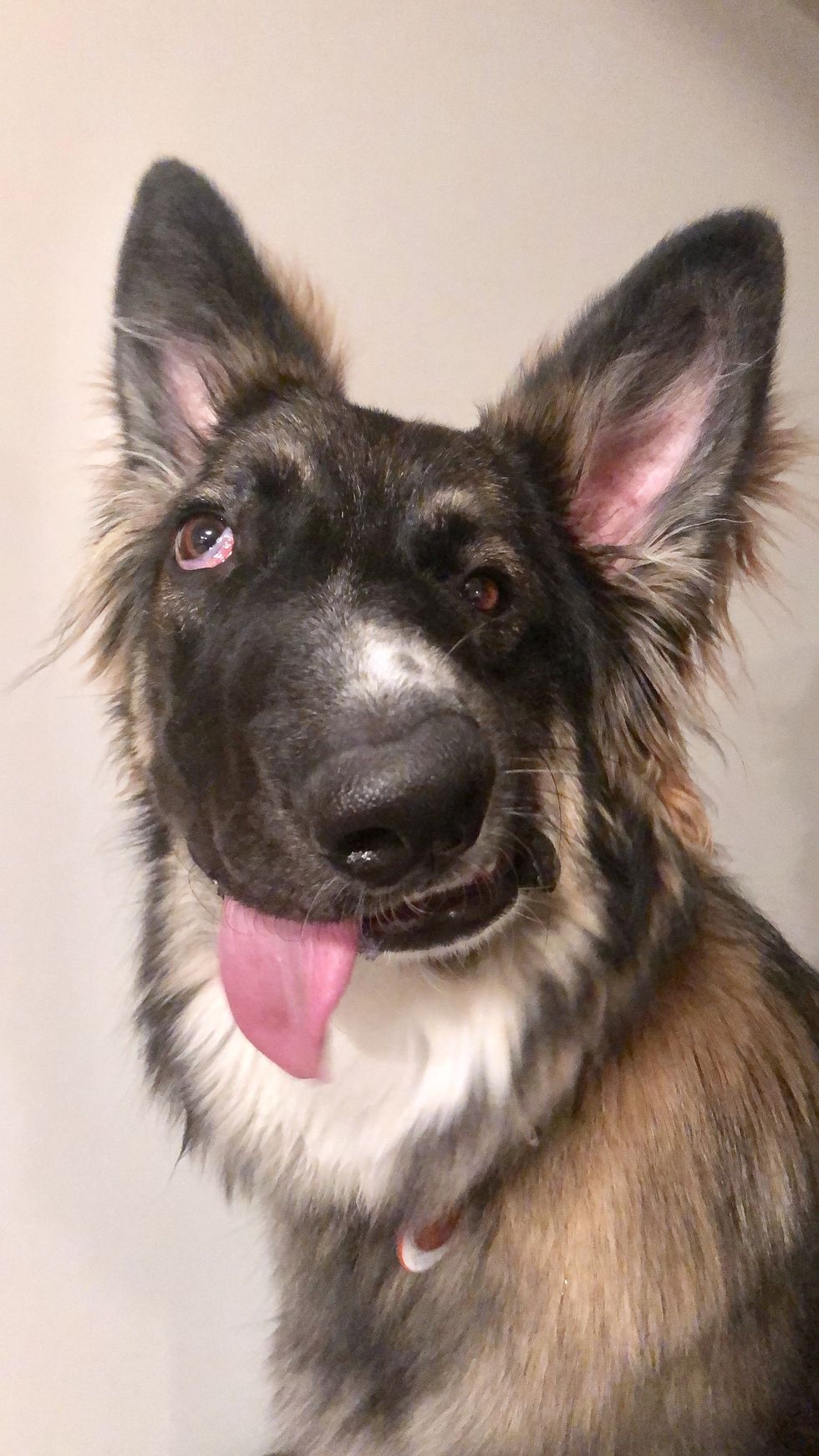 Amanda Richter/SWNS.COM
The poor little pooch's jaw fused together as he grew but one side of his face got stunted which left him partially blind in one eye.

He'd been adopted as a puppy but was returned to the rescue shelter after just five months as the owner complained he was "too hyper."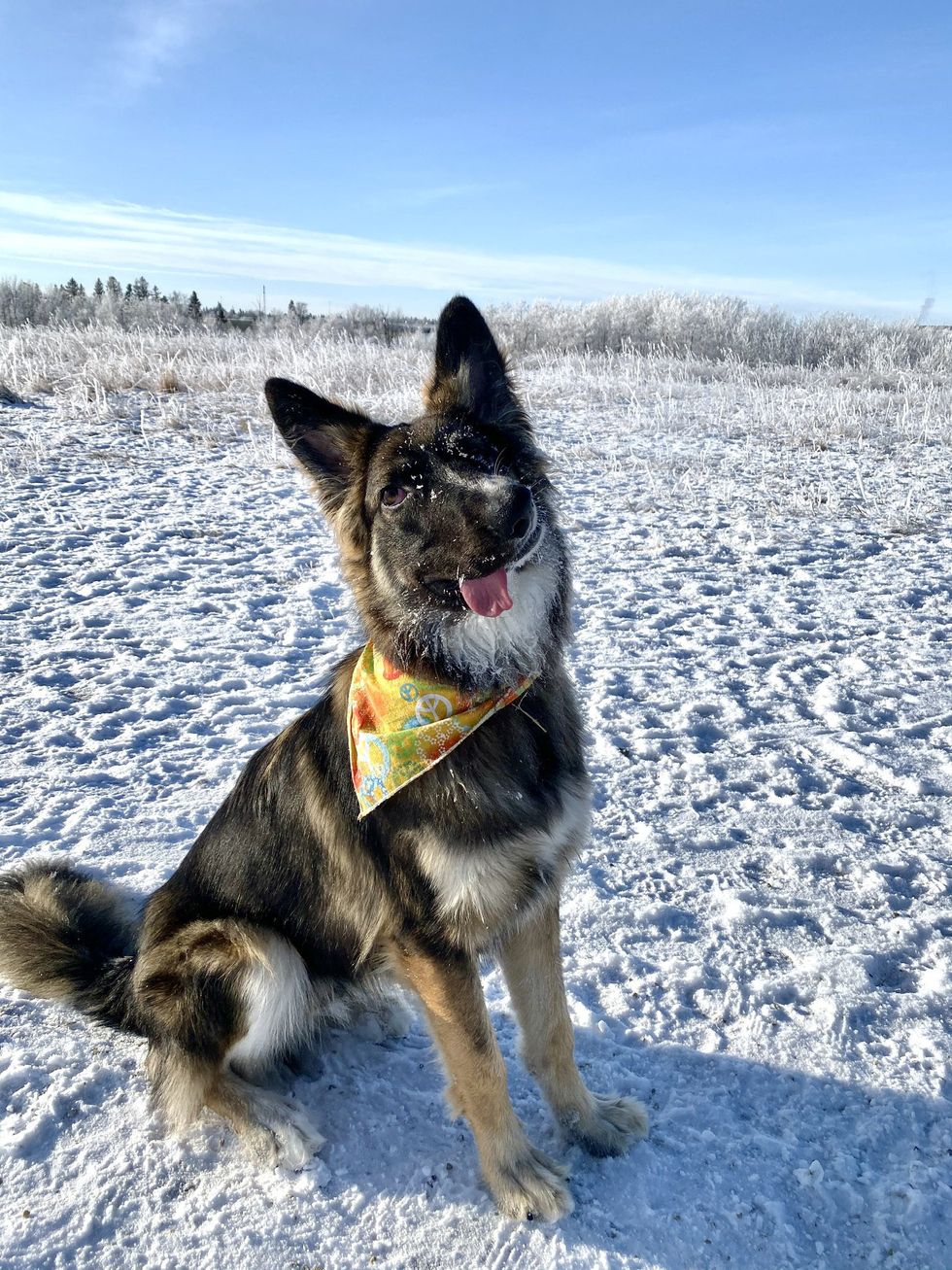 Amanda Richter/SWNS.COM
But Amanda Richter, 30, and boyfriend Brad Ames, 23, spotted the popular pooch Brodie on a posting online but despite his unusual looks, said it was "love at first sight."

The pair traveled to the Old MacDonald Kennels in Alberta, Canada, in September last year and brought him home the very same day.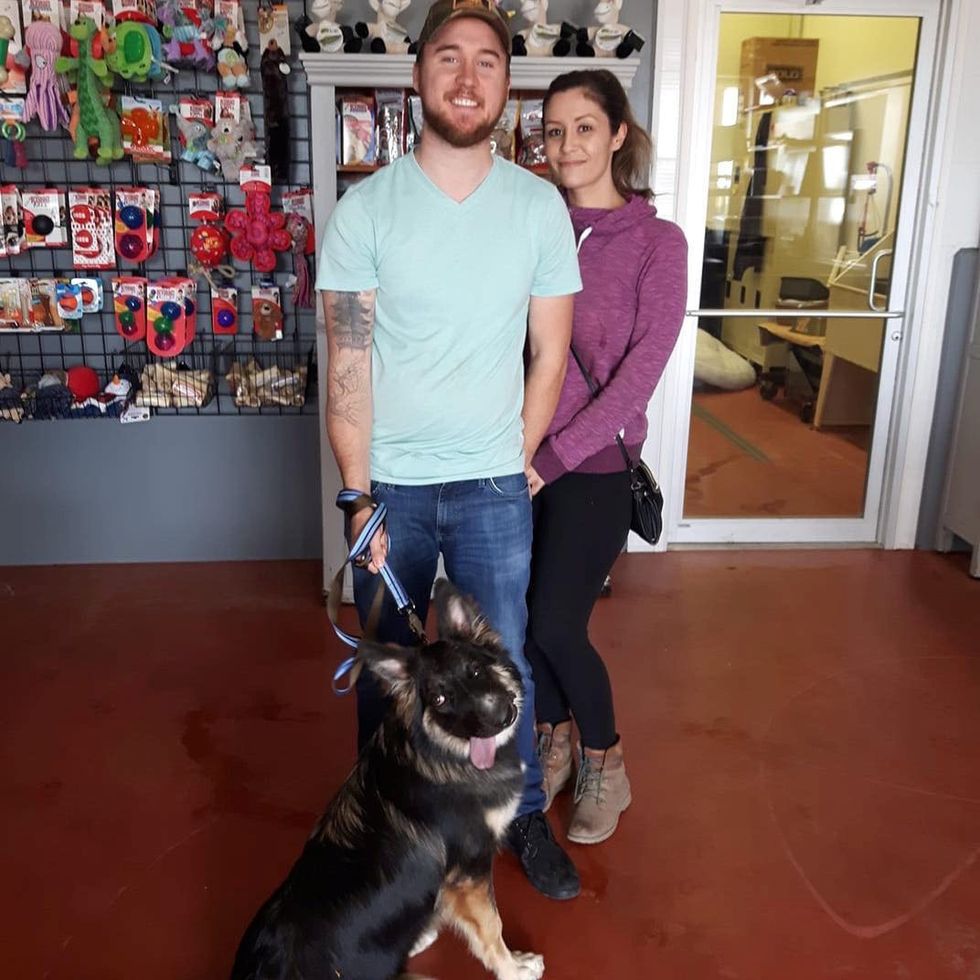 Amanda Richter/SWNS.COM
The shelter said they received hundreds of adoption requests for the "wonky" dog, but ultimately Richter and Ames were the perfect fit.

Amanda said she cried a few times after seeing his picture online but hopes the energetic pup can now help people with disabilities after training as a therapy dog.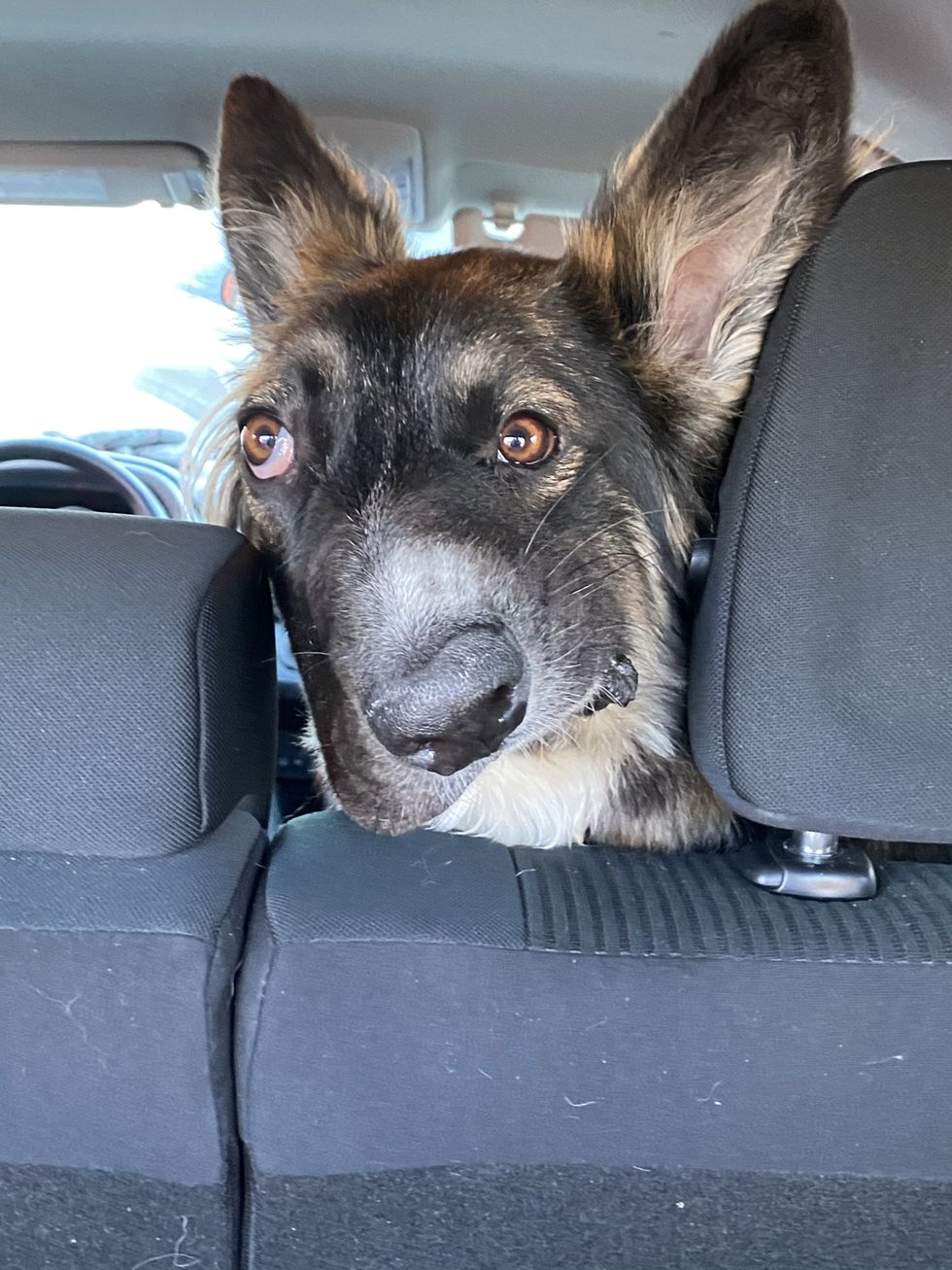 Amanda Richter/SWNS.COM
She said:
"I looked at his photos every day and even cried a few times. We felt drawn to him for some reason. We met him, took him for a walk and hung out with him for a few hours and ended up bringing him home the same day because the rescue really felt we were a great fit."
"He's definitely hyper but he is so intelligent. His brain is perfectly fine and he learns tricks within 10 minutes usually which tells me he is a smart boy. He just needed patience and someone to be consistent. He gets better every week."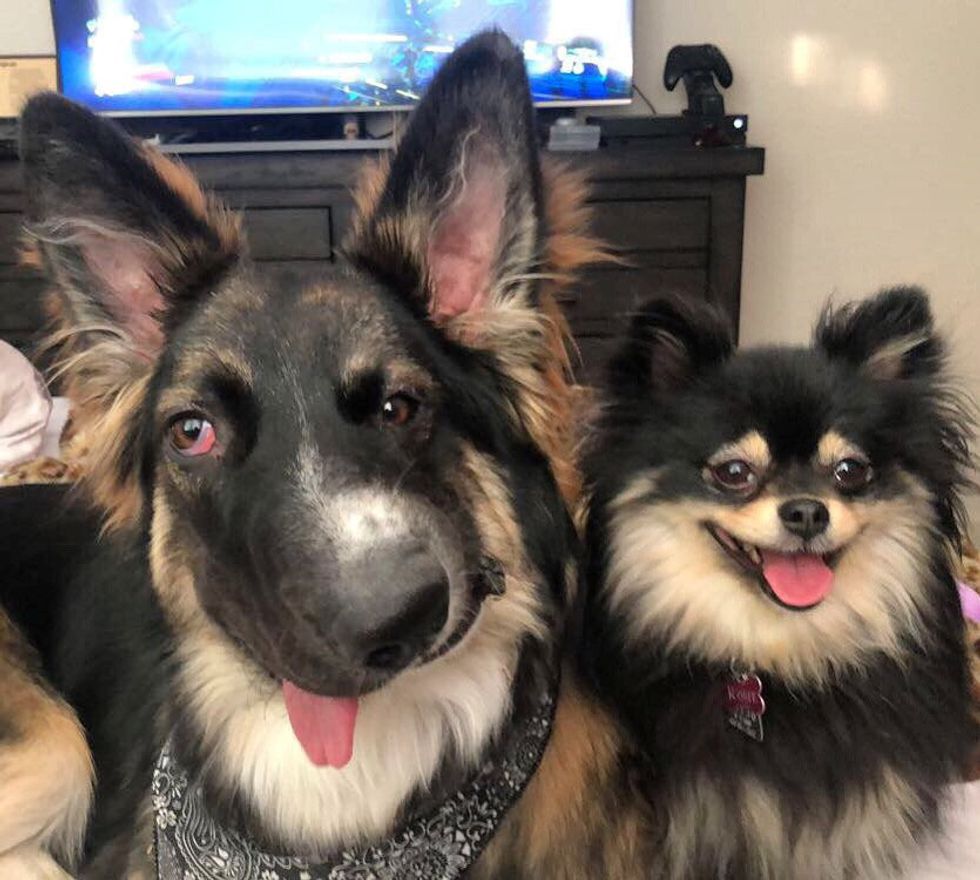 Amanda Richter/SWNS.COM
The brutal attack left Brodie partially blind in one eye and other complications may arise as he grows, but the couple hope this will only make their resilient pooch stronger.

They are hoping to train him as a therapy dog for disabled people while raising awareness for other dogs with disabilities.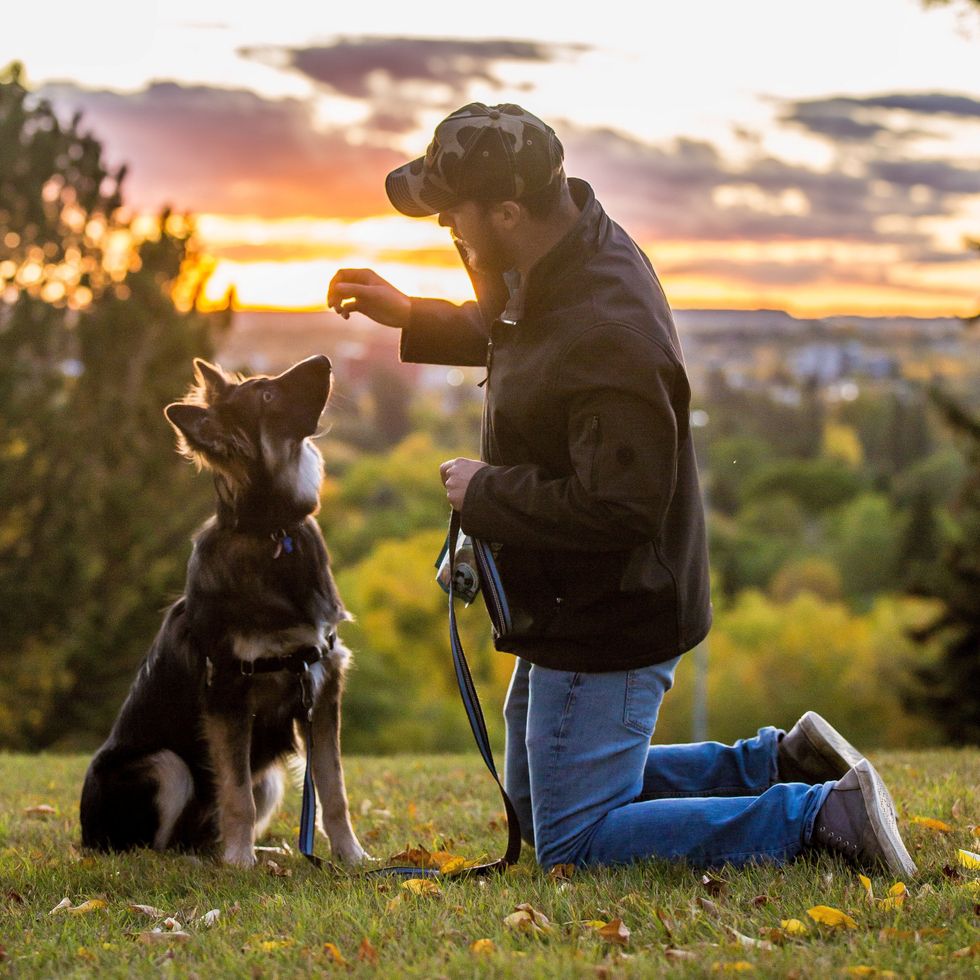 Amanda Richter/SWNS.COM
Amanda said:

"There is a chance they as he gets bigger more issues can arise, but for now he is as healthy and happy as ever. It's actually funny because when we go to the dog park everyone notices how he is the happiest pup there and just wants to play and run."
"We hope to train him to be a therapy dog one day so he can help other people with disabilities. We also hope that we can raise awareness for other special needs dogs and show people that just because someone or something looks different, they can be perfectly imperfect in their own unique way."
"Dogs are resilient and he has no idea he looks different so he enjoys his life just the same as any other pup."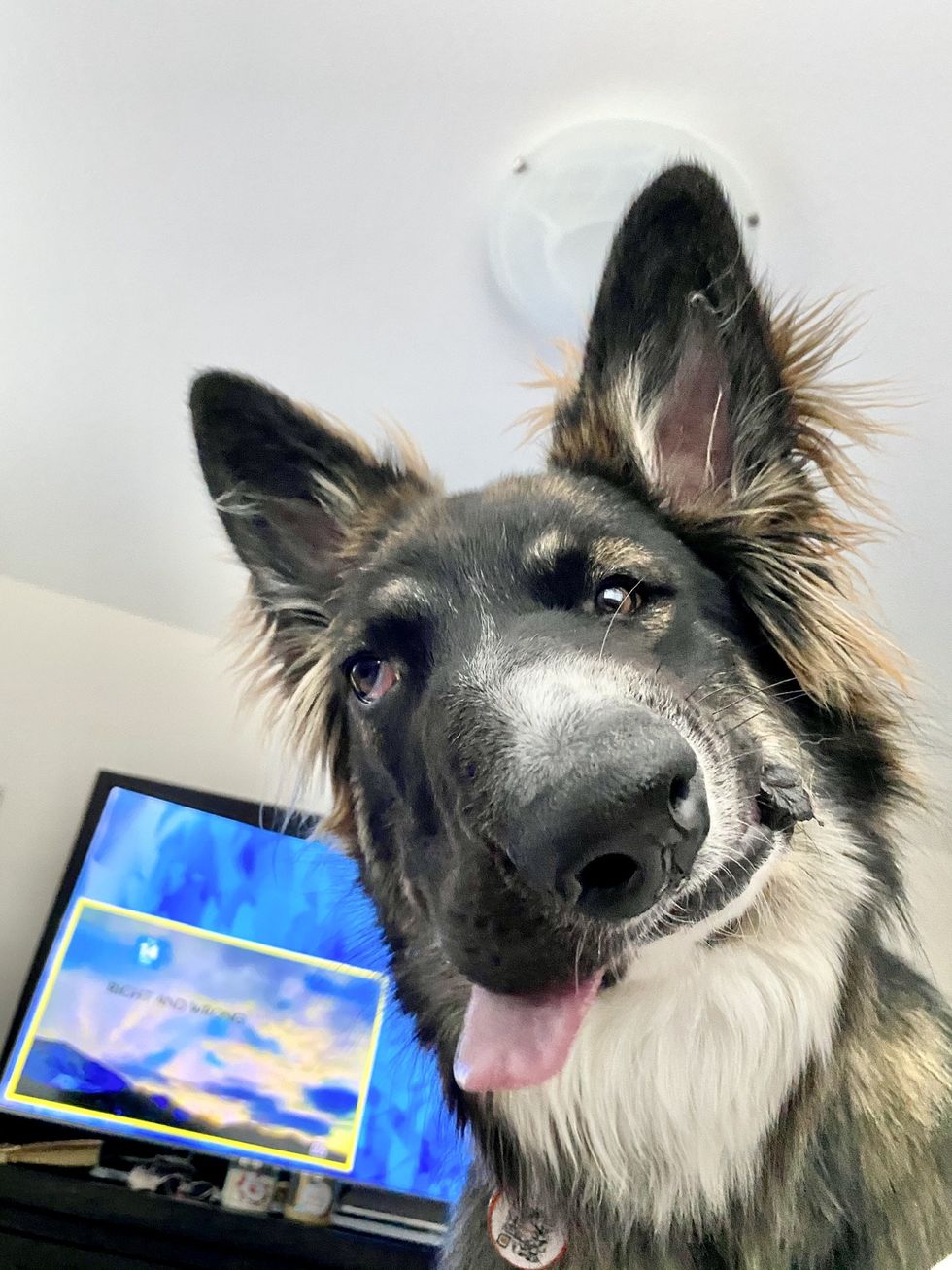 Amanda Richter/SWNS.COM
The Universe better watch out – because the U.S.A. is kicking butt and taking names.
President Trump made a very bold claim on Monday evening as he prepared to depart to Davos, Switzerland for the World Economic Forum.
In a bizarre tweet, Trump bragged that the U.S. is apparently now:
"NUMBER ONE in the Universe, by FAR!!"
Heading to Davos, Switzerland, to meet with World and Business Leaders and bring Good Policy and additional Hundred… https://t.co/tEaLEQjFoD

— Donald J. Trump (@Donald J. Trump) 1579568378.0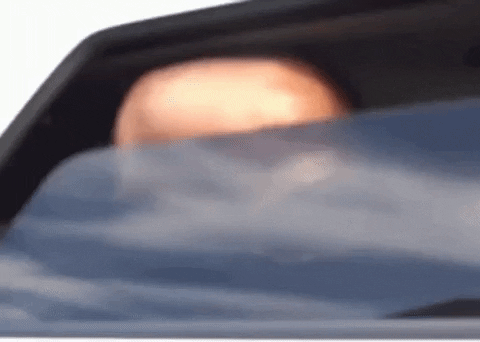 Giphy
That's right.
Now that Trump's Space Force has officially launched (with some sweet camouflage uniforms to boot), he's no longer afraid to say what we all know: That the U.S. is number one in all of space...when it comes to economic policy.
Take THAT aliens!
Twitter, however was left scratching their heads at Trump's expansive assertion.
It's pretty cool being number one in the Universe but somehow the 27th best nation in healthcare and education

— Jordan Perham (@Jordan Perham) 1579575424.0
Maybe he thinks we are NUMBER ONE in the Universe due to those Space Farce uniforms. https://t.co/CD4dzshcLm

— Mimi (@Mimi) 1579577992.0
@realDonaldTrump do you have any idea just how ridiculous you sound

— Jeff Tiedrich (@Jeff Tiedrich) 1579568461.0
In the universe? Damn space force works fast. https://t.co/pKYOsgVNo4

— Small Town Moisture Farmer (@Small Town Moisture Farmer) 1579577037.0
@realDonaldTrump The universe?! You're a space farce ! https://t.co/yaH230xEvr

— Outspoken (@Outspoken) 1579569099.0
@realDonaldTrump oh no you're going to anger the daleks and the klingons better get space force ready

— Sarah Beattie (@Sarah Beattie) 1579572373.0
"NUMBER ONE in the Universe, by FAR!!" Has he even seen the first quarter numbers from the Klingons yet? My man is… https://t.co/qxGafk1qqs

— NoelCaslerComedy (@NoelCaslerComedy) 1579571699.0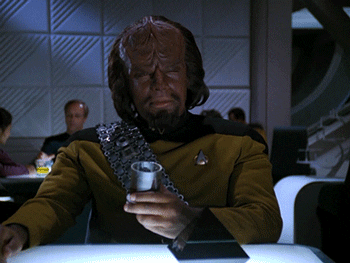 Giphy
Brace yourself for impact, President Trump.
We're NUMBER ONE in the Universe, Y'all! And it's gonna keep on getting better! He's gonna bring Hundreds of Billio… https://t.co/DYPkEdOdz6

— John Wheeler (@John Wheeler) 1579570327.0
... "WE ARE NOW NUMBER ONE IN THE UNIVERSE, BY FAR!!" https://t.co/KsxPxXBFwp

— fake nick ramsey (@fake nick ramsey) 1579568879.0
Donald Trump just announced that "We are now NUMBER ONE in the Universe." He's right. Poll numbers in favor of his… https://t.co/UV5NZS9sL2

— Palmer Report (@Palmer Report) 1579576352.0
@realDonaldTrump "In the universe"? What are you, an 8 year-old?

— TrumpsTaxes (@TrumpsTaxes) 1579568982.0
Trump: We are now NUMBER ONE in the Universe, by FAR!! The rest of the Universe: https://t.co/3IfO0oHcPf

— Natasha Del Riego (@Natasha Del Riego) 1579576292.0
DT phone home. Please.
@realDonaldTrump dementia and delusions of grandeur are a hell of a cocktail

— Jeff Tiedrich (@Jeff Tiedrich) 1579568494.0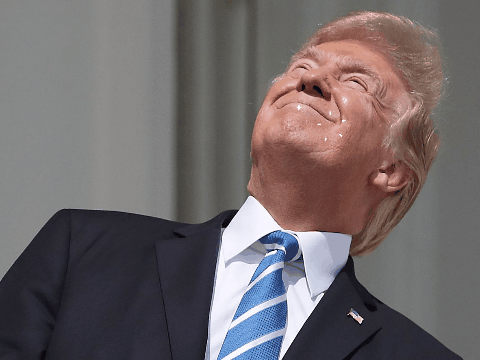 Giphy
The mom of a girl with "purple" birthmarks bravely admitted she hid her from strangers for six weeks after she was born - and even used filters in photos she posted online.
Sara Farrow, 27, was scared of people seeing her newborn daughter Lacey-Dee Barrett in public because of the port-wine stain birthmark covering 90% of her body.

It was caused by the abnormal development of her blood vessels during pregnancy, and protective Sara was scared people would single out her daughter.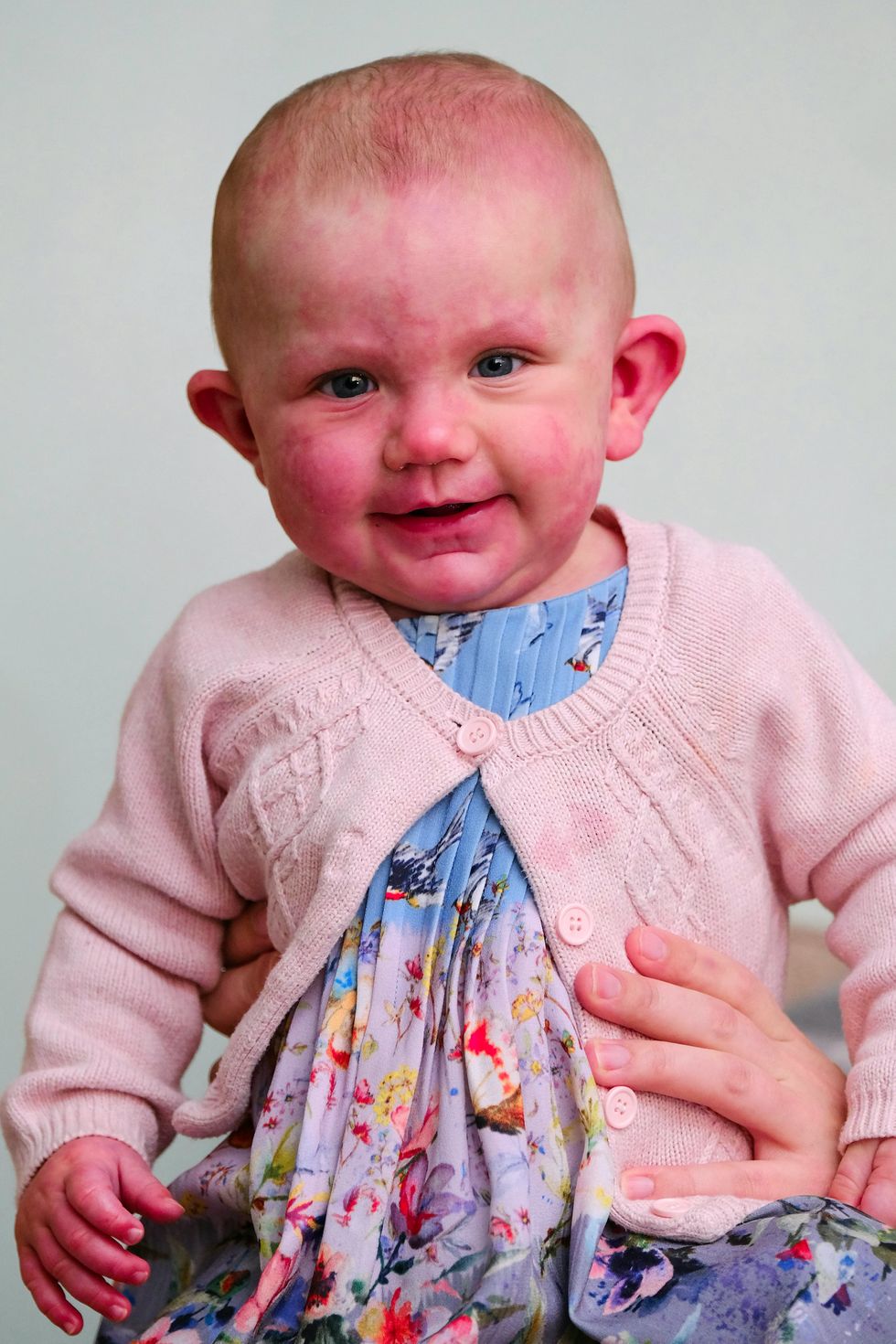 Tom Maddick/SWNS
So for the first six weeks of her life, single mom Sara covered her daughter's bright-colored skin and hid her away from strangers.

And when she posted photos of Lacey-Dee on Instagram, Sara said she used filters to mask the true color of her daughter's skin.
She only changed her ways when she became worried Lacey-Dee would look back on her baby photos when she is older and asked her mom if she was embarrassed.
But even when she finally plucked up the courage, Sara claims strangers told her her daughter looks "diseased" and "contagious."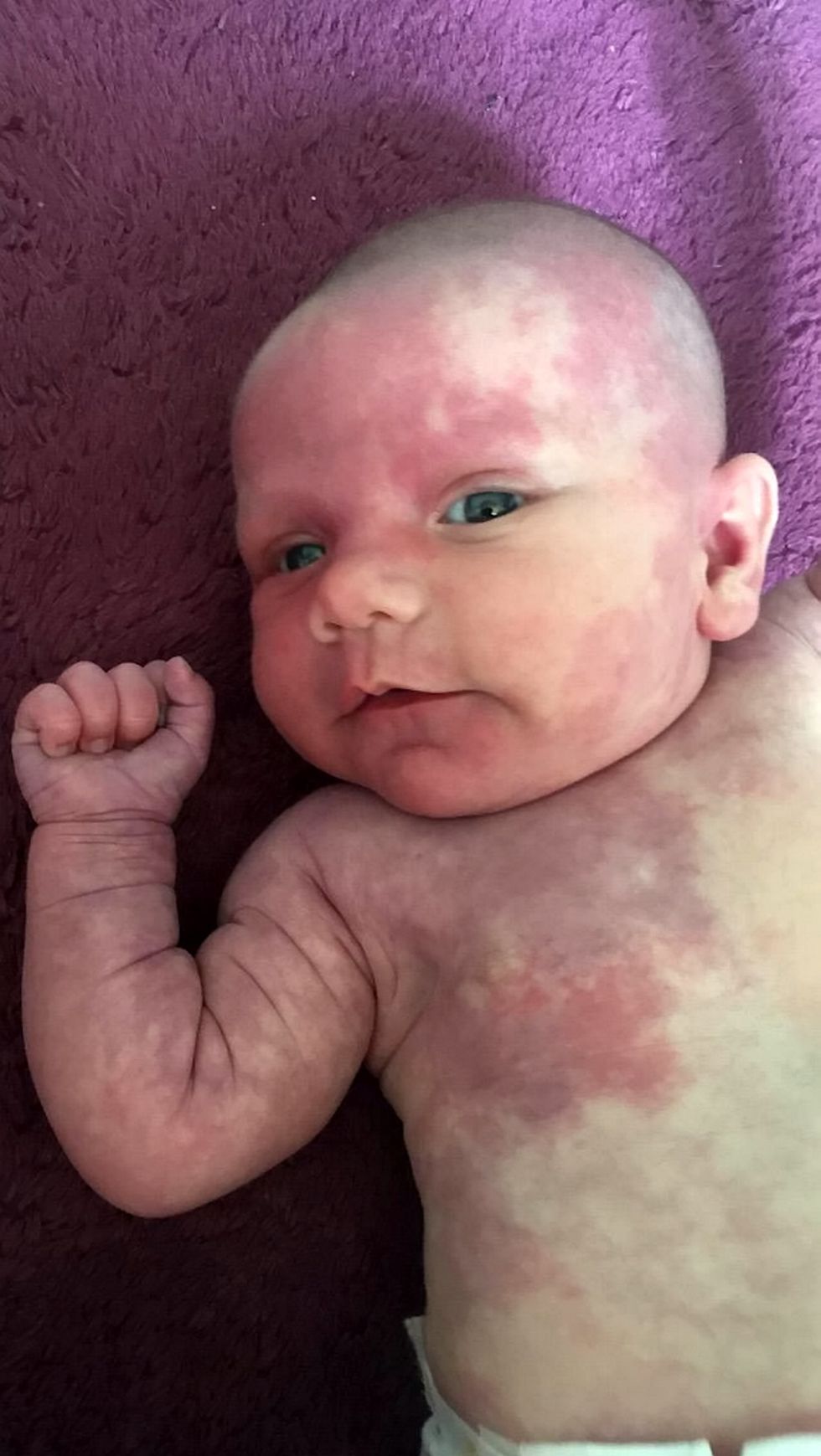 Sara Farrow /SWNS.COM
Sara, from Lincoln, England, said:

"Until she was six weeks old I covered her up whenever we went out in public. As her mom obviously I am not bothered about her appearance but I was scared about what other people would think."
"When she was first born she was very red and looked bruised. I've had people say lots of things when we are out. I was scared of what people would think of me as a mum."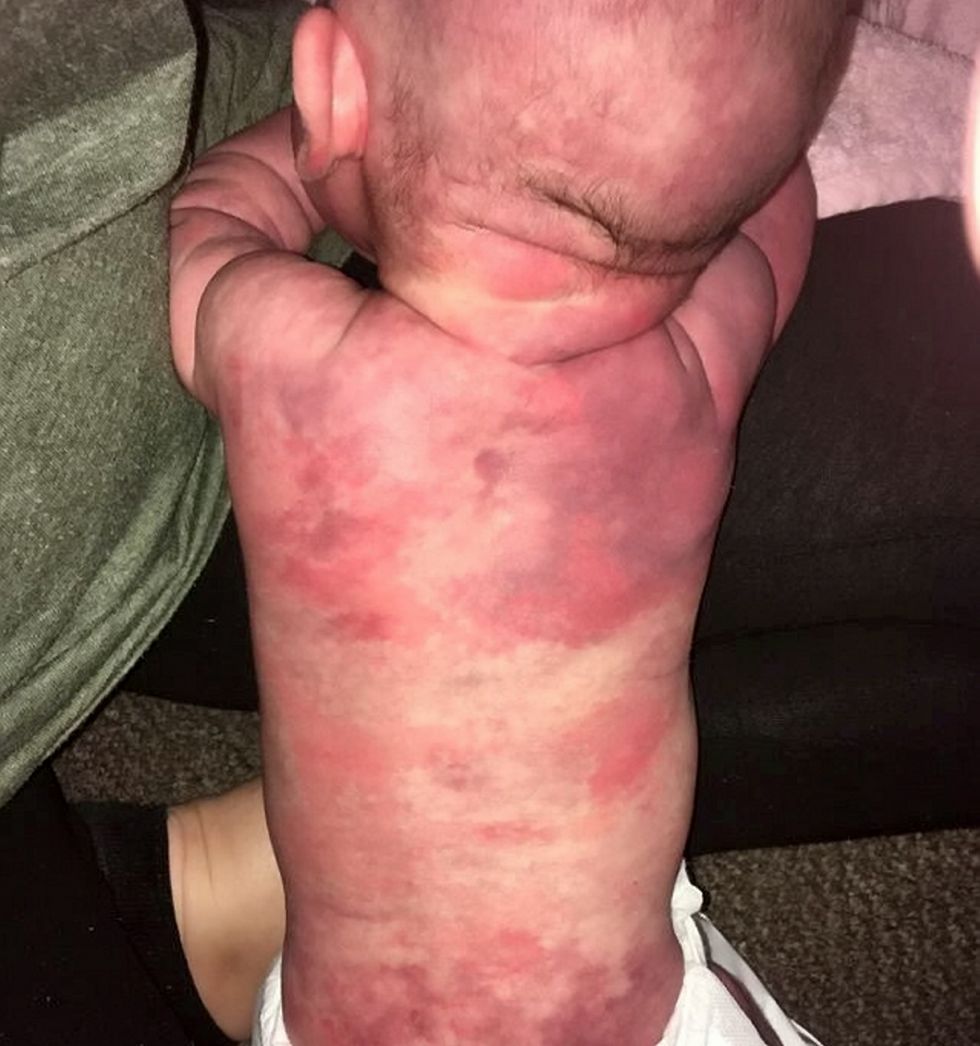 Sara Farrow /SWNS.COM
She added:

"People have said she looks diseased and have asked what's wrong with her face. One person asked 'is she allergic to the washing powder I use' and people think there is something really wrong with her.
"She is completely unique and it's just how she is. It makes her who she is and for me now it would be strange to see her without the birthmarks. I think she is beautiful and love how she looks."
Lacey-Dee was born at Lincoln County Hospital in April and Sara said she realized something was different straight away.
She had darker patches on her chest and doctors thought she may have been bruised.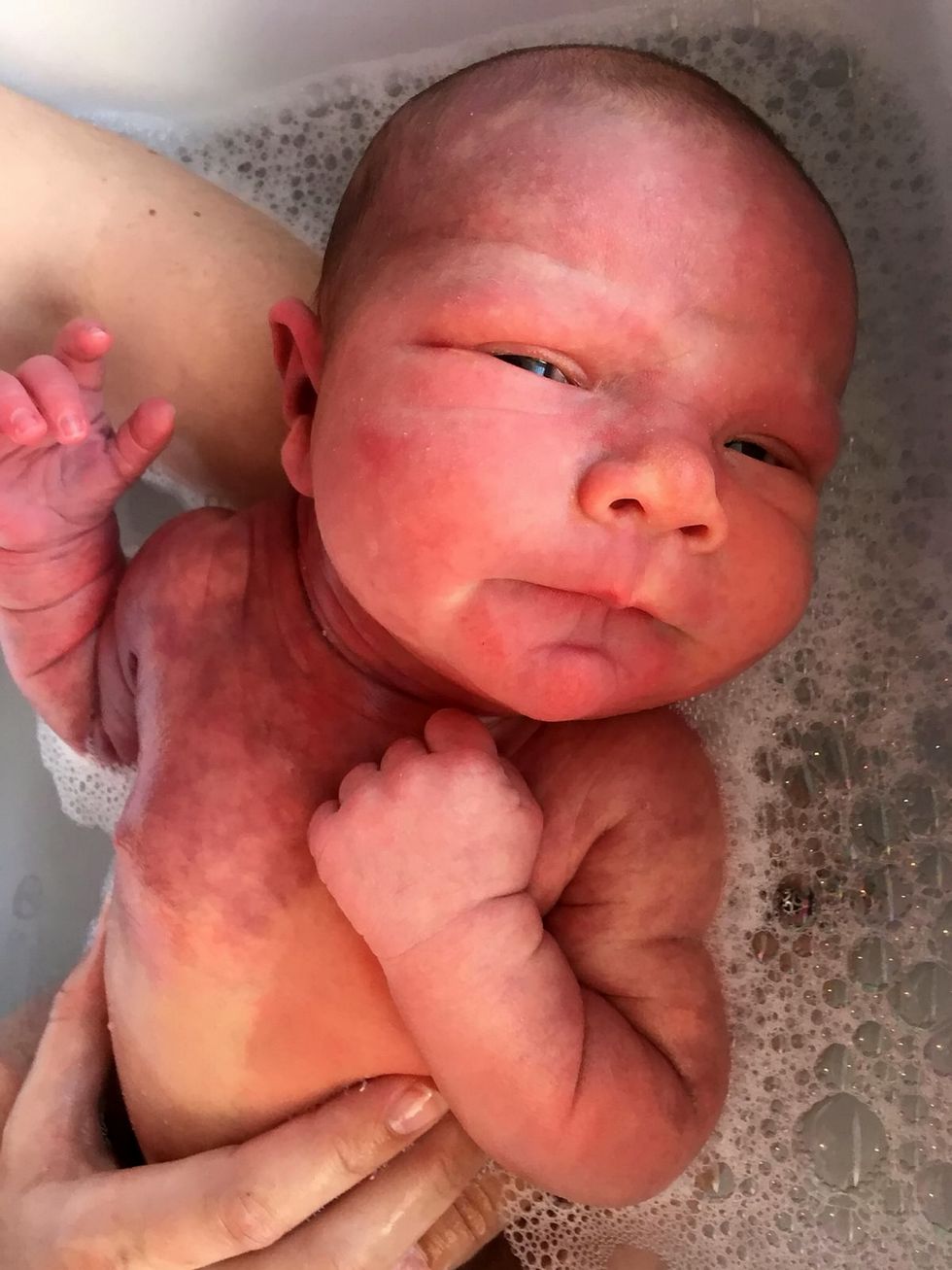 Sara Farrow /SWNS.COM
Within hours, the birthmark appeared in full on the surface of Lacey-Dee's skin and Sara said initially it was "hard to come to terms with."

Former retail worker Sara said:
"It was only on her chest at first and we thought it might be bruising. But after a couple of hours her whole body turned purple and blue. It was a real shock to be honest and I was really worried because doctors weren't sure what was wrong."
She was referred to specialists and diagnosed with port wine stains in October.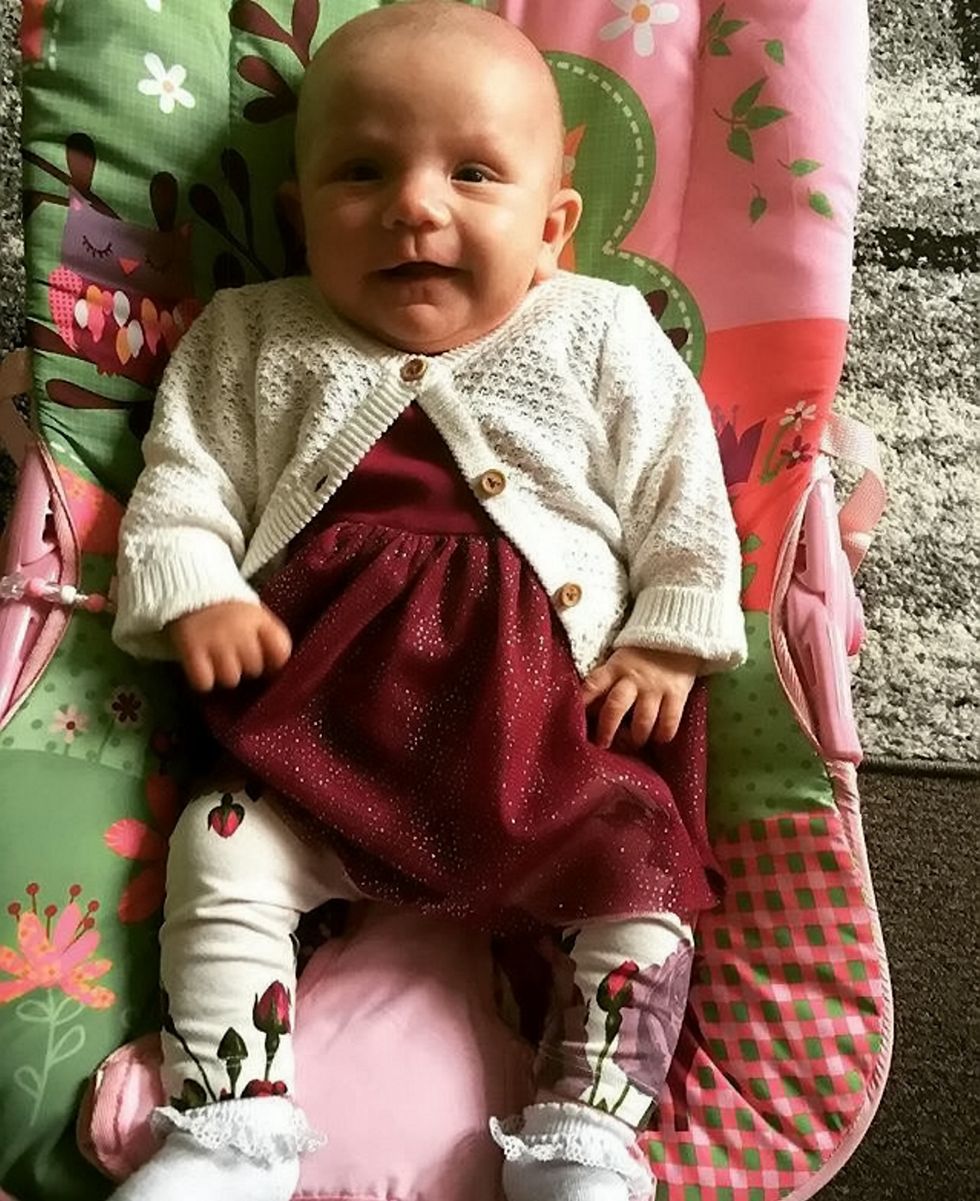 Sara Farrow /SWNS.COM
Only three in every 1,000 babies are born with the condition which occurs during pregnancy, and usually only appear on one limb or area of the body.

Sara said she covered up as much of her daughter's skin with baby blankets, long sleeved clothing or hiding her away in her buggy.
"I just thought 'oh god' and it was hard for me to come to terms with," she said, adding:
"I was most worried about her face and I'm scared for her future. But it got to the point where I didn't want her to look back on baby photos and see I wasn't confident enough or I was embarrassed."
"I had to get brave for her sake as much as mine. I had to come to terms with it. I'm worried for when she goes to school. I don't want her to be called names or to be bullied."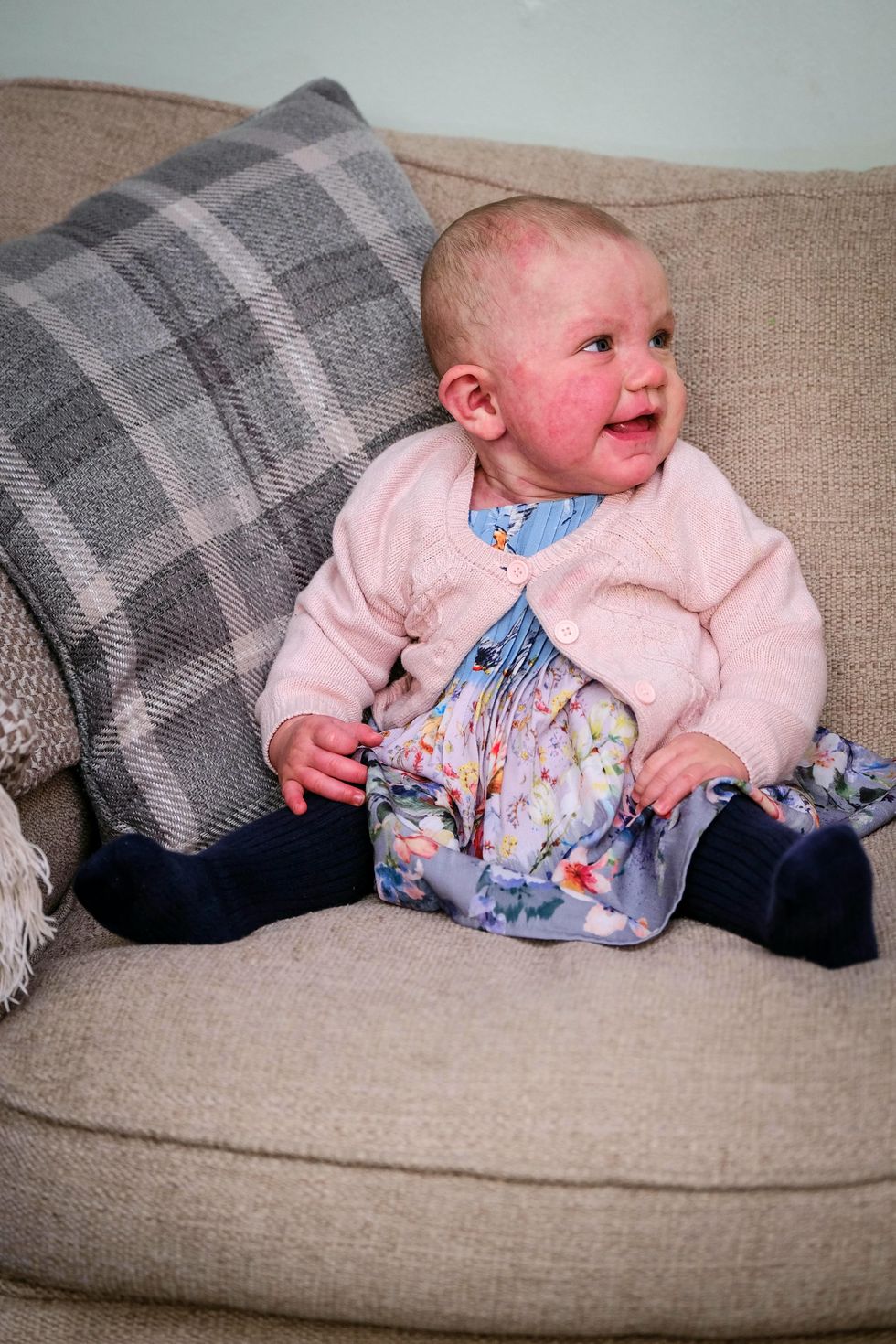 Tom Maddick/SWNS
The condition comes with no other side effects, and Sara said Lacey-Dee is a "very happy" baby.

But she said when she is out and about she faces having to explain her daughter's discoloration.
Sara said:
"We went to the GP and a receptionist there said she should be kept in another room away from children playing in the waiting room in case she's contagious."
"It makes me feel bad but regardless of the birthmark, it doesn't change who she is. We have seen so many dermatologists and they all said this is the most extensive case of Port Wine Stains they have seen."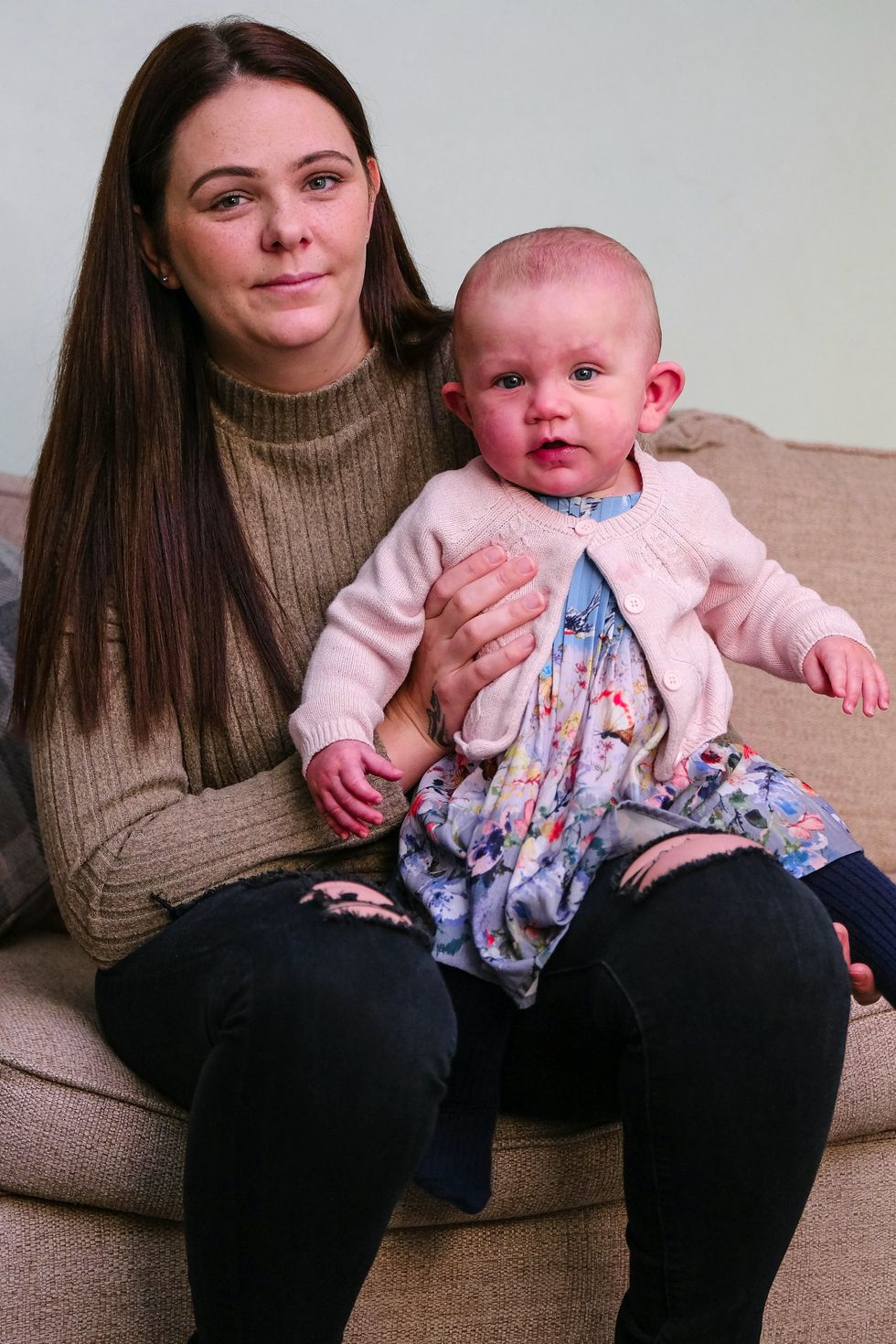 Tom Maddick/SWNS
Lacey-Dee will meet with specialists next month to see if she is eligible for color-corrective treatment.

A dad who recorded his baby son every day for a year has edited clips of his noises together to create a video which appears to show him singing AC/DC's rock classic 'Thunderstruck'.
And it's pretty impressive.
*Just a warning for anyone with seizure disorders, this video has a lot of fast-moving parts.
Matt MacMillan compiled clips of little Ryan making noises before splicing them together in time with the music.

Angus Young's iconic guitar riff from 1990 is instantly recognizable as the video begins - with the one-year-old also providing several other parts as song progresses.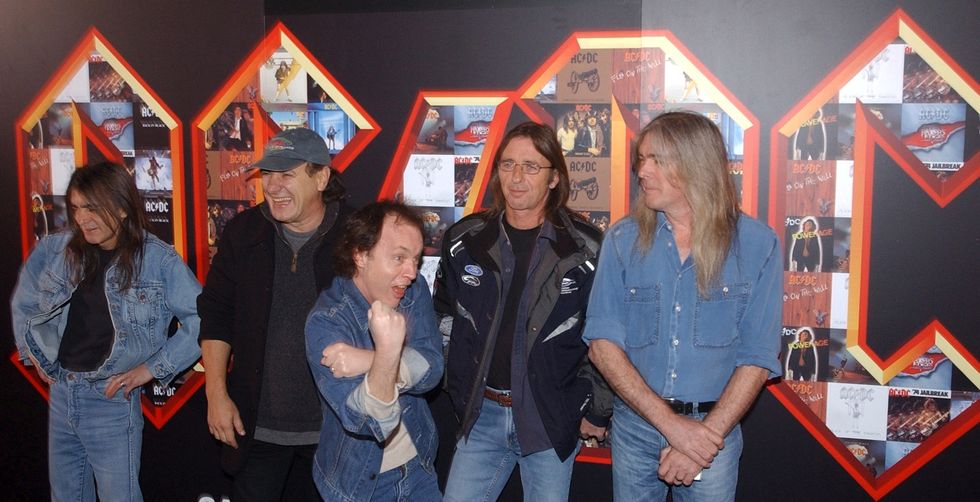 AC/DC (SWNS)
Matt, from New Jersey, manually sorted 83 clips according to pitch then organized each according to note to create the track.

He found 21 notes in total - enough to carry the tune.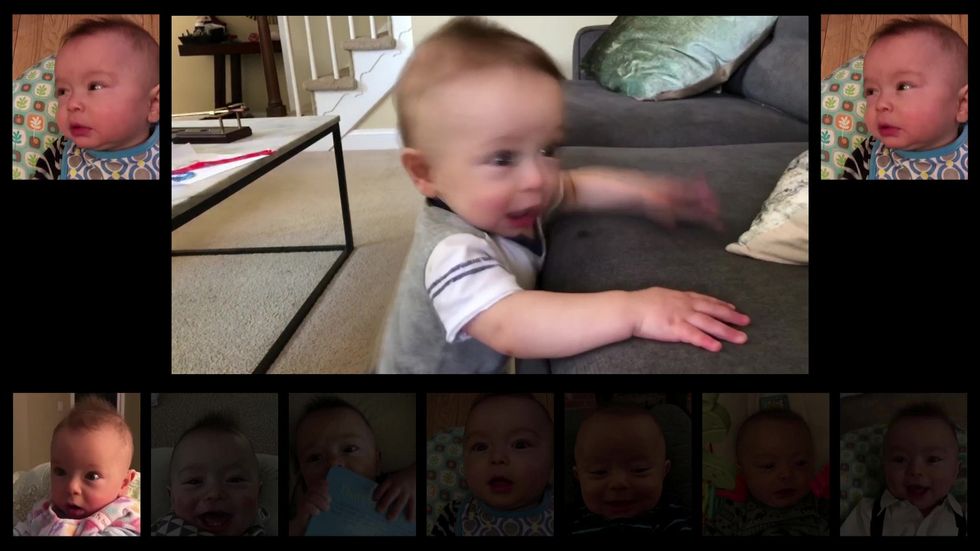 Matt MacMillan /SWNS
Angus then listened to the AC/DC track over and over again, figuring out the notes by ear.

He also used his son's sneeze as a cymbal, a clip of Ryan hitting a sofa with his hand for the drum and the child slapping the floor for the snare.
McMillan recently shared the video to YouTube, where it has already racked up over 25,000 views.