When searching for a hotel on Google Maps, the last thing most people hope to see is a swastika marking their destination on the map. Due to what appears to be a bug in Google's code, however, some internet users have found just that.
---
Twitter user Katie from Dublin, Ireland, found the error and took a screenshot so people online would believe her.
"I opened my maps and was looking for hotels in the surrounding area, when I noticed the swastikas. I thought it very strange so I took a screenshot. That's when I tweeted Google maps questioning it."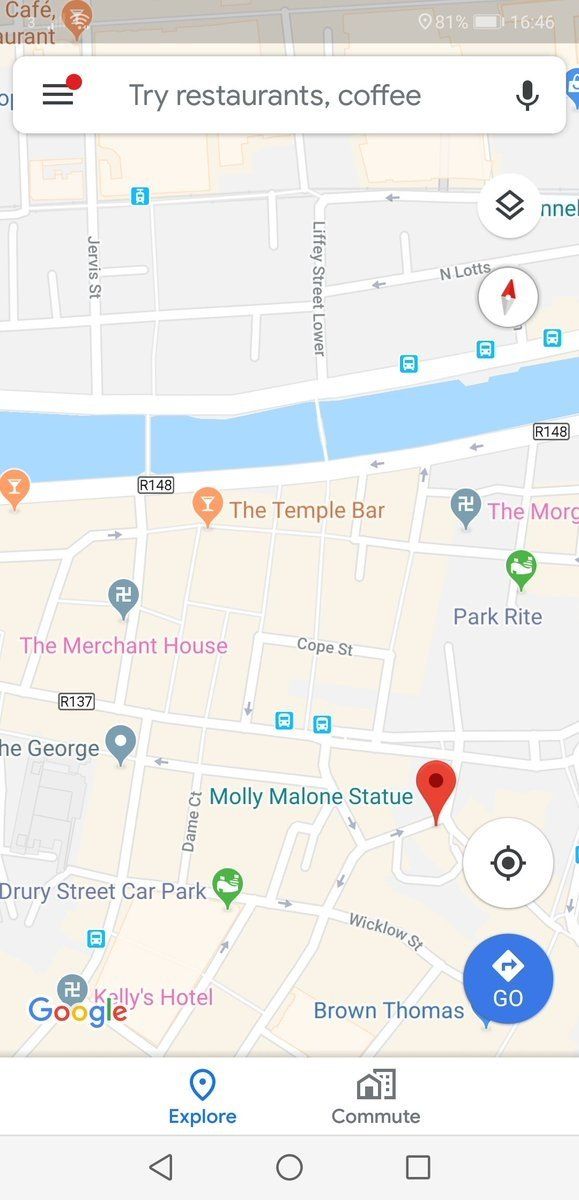 Twitter: @IrishKokolily
But after restarting her app, the swastika was gone!
"I've since closed the app and reopened it and it's back to normal with the bed. This is the only time I've ever noticed it."
She's not the only one to see something strange, however. Users in "West Covina, California [and] London, England," have also reported swastika sightings:
In the 1930s, the Nazi movement in Germany appropriated the swastika as a marker of white supremacy, but prior to that it was a widespread symbol of good fortune or divinity in several Indian and other Asian religions. It's for that reason Google maps offers the image as a possible marker for a point of interest. The company refers to it not as a "swastika," but as a "Buddhist symbol of worship."
Twitter had some feelings about the infamous symbol being used on their maps:
Google is aware of the malfunctions in their program and told Huffpost:
"We're aware that these religious symbols are incorrectly displaying for certain hotels, and are working on a fix to restore the correct hotel icon to these places."
So if you see a swastika while getting directions to your hotel, don't panic! Just restart the app and all will be well.