George Zimmerman, who was acquitted of second-degree murder and manslaughter charges in the 2012 Trayvon Martin case, sent a series of threatening text messages to Beyoncé and Jay-Z in December 2017.
The rapper co-executive produced a new docuseries, Rest In Power: The Trayvon Martin Story, based on the unarmed 17-year-old African-American who Zimmerman shot and killed in a Sanford, Florida, gated community in February 2012.
---
EXCLUSIVE: George Zimmerman threatened Beyoncé during the filming of "Rest in Power: The Trayvon Martin Story." https://t.co/5R8vcwFwLo

— The Blast (@The Blast)1536383822.0
While the series was in production, Zimmerman began sending crude text messages after Dennis Warren, a private investigator looking for participants for the documentary, contacted him and other family members to obtain facts and additional information for the series.

In screenshots provided by The Blast, Zimmerman sent texts saying:
"And I'm bringing hell with me."
"Oh yea and tell Jay-Z he's a bitch and his wife is a broke whore."
Zimmerman also indirectly threatened the couple, adding, that he'll feed them to a "13-foot gator" if he ever saw them in person.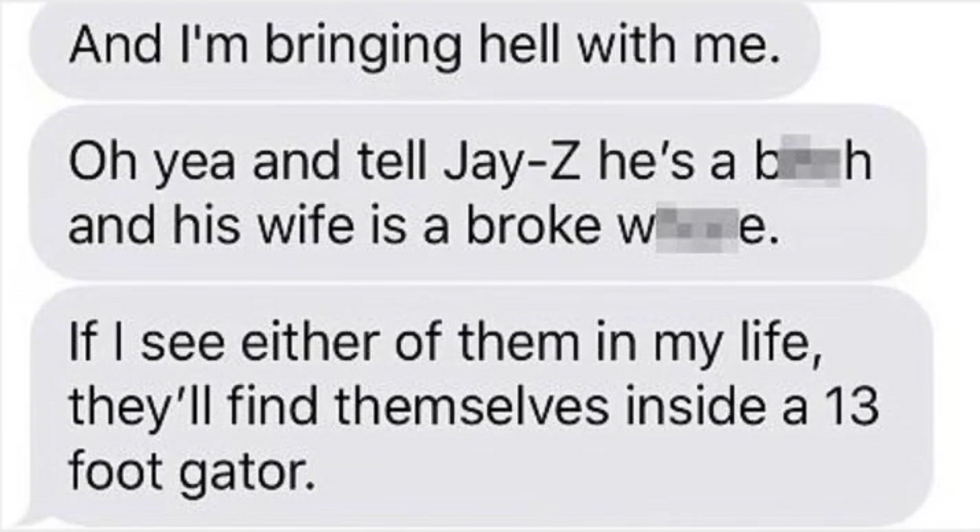 A screenshot of the text allegedly sent by George Zimmerman.(Fox News TV/YouTube)
"George Zimmerman" says In a series of text messages obtained The Blast, Zimmerman called Beyoncé a "broke whore" a… https://t.co/EMNpwj459c

— Maria Cebreco (@Maria Cebreco)1536416880.0
@TheBlastNews Please tell me he realizes that's a crime to threaten someone's life, please tell me he realizes that… https://t.co/IUE0bq6CC3

— FONZO-S (@FONZO-S)1536438481.0
@FonzoS @TheBlastNews Lets hope he continues to do it so he can be locked up where he belongs. He is a murderer & H… https://t.co/cu1fm3WVj6

— Tracey (@Tracey)1536443778.0
The texts confirmed what people have suspected about Zimmerman all along.
@PChippi1 @RayWorlboss @mariacebreco The snippet may be that's all available on here. But, the article details out… https://t.co/uuNmo6GxLM

— RisingVoices (@RisingVoices)1536460259.0
@PChippi1 @RayWorlboss @mariacebreco ....and, with his past actions, guaranteed he would be a person of interest. A… https://t.co/e9kqm741mj

— RisingVoices (@RisingVoices)1536460373.0
@FonzoS @TheBlastNews When you get away with murder, you become EMBOLDENED!!

— Verdel Jenkins (@Verdel Jenkins)1536519103.0
@mariacebreco @Pink22Karen This is a case where there was a genuine miscarriage of justice. Zimmerman should be in jail for murder.

— Liz (@Liz)1536441123.0
@mariacebreco Zimmerman got away with murder, beating his girlfriends, threatening law enforcement so he feels invi… https://t.co/Q5Zi3xqh1f

— GaryJGuru (@GaryJGuru)1536473176.0
According to the Orlando Sentinel, Warren was hired by Cinemart Productions to find participants for the docuseries. He visited Zimmerman's parents and uncle.

The visit allegedly prompted Zimmerman to threaten Jay-Z.

"What I said is I would beat him as if I was Solange, and he would find himself coming out of the south side of a gator if he comes to Florida and bothers my family."
Warren also received a barrage of harassment and threats after he visited the homes of Zimmerman's family members. The investigator charged Zimmerman with misdemeanor stalking.

The Florida State Attorney's Office issued a summons stating that Zimmerman "did willfully, maliciously, and repeatedly follow, harass, or cyberstalk" Warren in December 2017.
Zimmerman reportedly called Warren "55 times, left 36 voicemails, texted him 67 times and sent 27 email … over 9 days," according to the Blast.

Zimmerman pleaded not guilty to the charges of stalking Warren.

People were astonished that Zimmerman isn't already behind bars.
@mariacebreco Holy shit! This guy is fucked up. It's a miracle he hasn't killed another person yet.

— 𝕭𝖑𝖚𝖊𝖂𝖍𝖎𝖘𝖐𝖊𝖞 🥃 (@𝕭𝖑𝖚𝖊𝖂𝖍𝖎𝖘𝖐𝖊𝖞 🥃)1536434811.0
@mariacebreco Wtf why is he even still alive....he should have life for murder in the worst prison in usa.He should… https://t.co/1C0tEMa9qf

— Avamaria (@Avamaria)1536437597.0
In 2017, Zimmerman commented, "I know how to handle people who fuck with me, I have since February 2012."
His texts will be featured as part of the finale in the six-part series.
H/T - YouTube, Twitter, TheBlast, Buzzfeed, OrlandoSentinel