When it comes to art and childcare, both are highly exploited pastimes.
Many consumers believe there is little that goes into the creating of art beyond the purchasing of art supplies and that little beyond instinct goes into child care.
---
These same people will even argue that exposure is all an artist or care provider should really need: all of those pieces could go into a portfolio and those experiences with kids will surely help to spruce up that resume.
But artists and care providers are here to tell you that all "exposure" gets you is a hospital visit.
But one dad was able to exploit both service providers in one fell swoop when he refused to pay his wife's best friend for babysitting when she refused to create artwork for free.
A little backstory: a woman posted on the subReddit "r/ChoosingBeggars." She shared copies of her text message exchange with her best friend's husband.
The woman had just recently watched the married couple's children for four days and believed, according to the wife, that she was being paid for the time. Upon picking the children up, the husband observed some of the woman's art supplies that she keeps in her home, ready for inspiration or for commissioned work.
The husband came up with the idea, in a later text exchange with the woman, that she could use some of her supplies to create a family portrait of the married couple with their children, for free as a Christmas present to her best friend. When the woman showed resistance, explaining that those supplies and her time are not free, the husband tried to bargain with her, stating that he would consider paying her for the time she'd spent babysitting.
You can see the full exchange here:
First, there's the ask.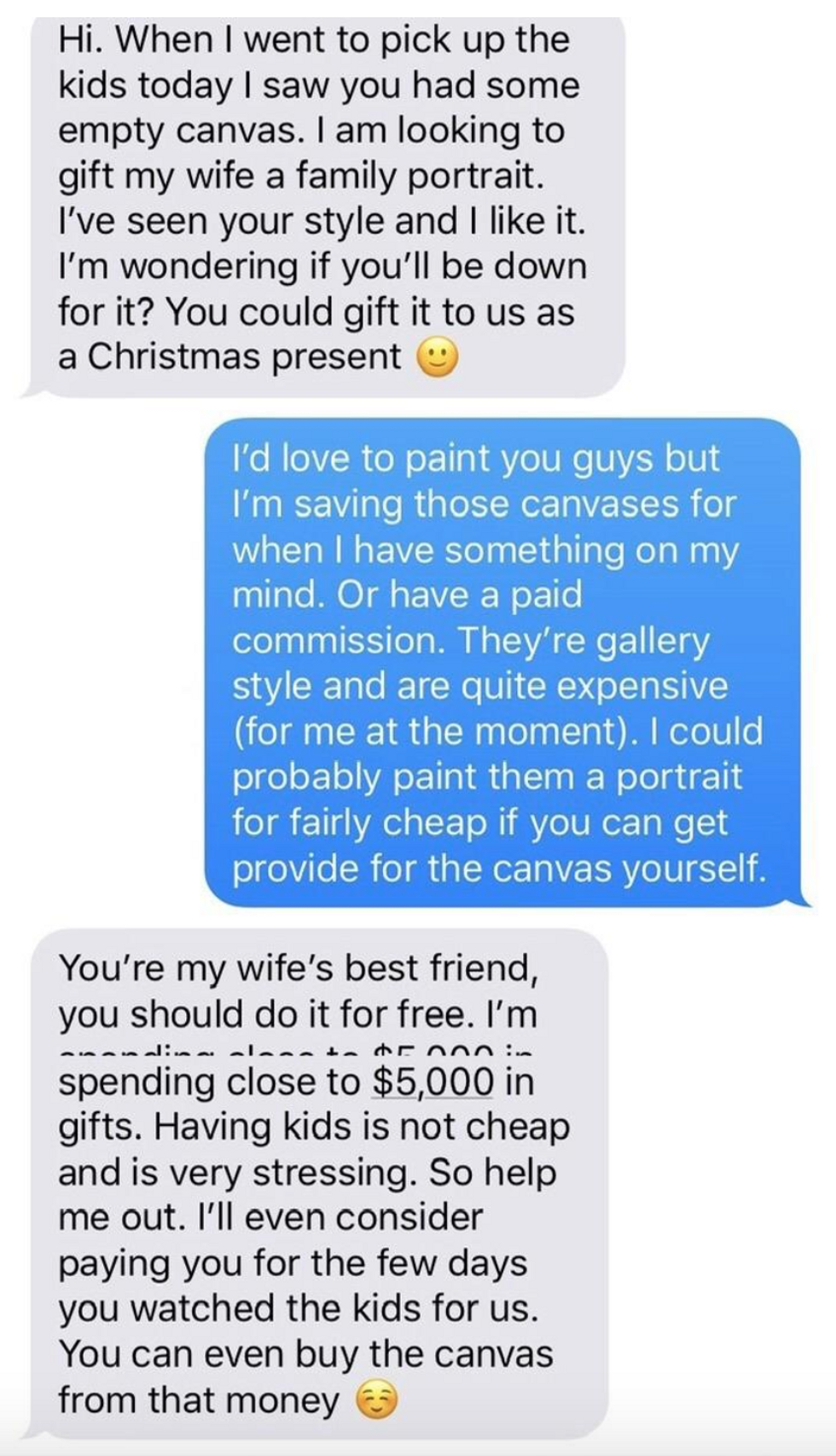 Choosing Beggars
Followed by the reveal he has no intention of paying for her babysitting services.
Which was news to her.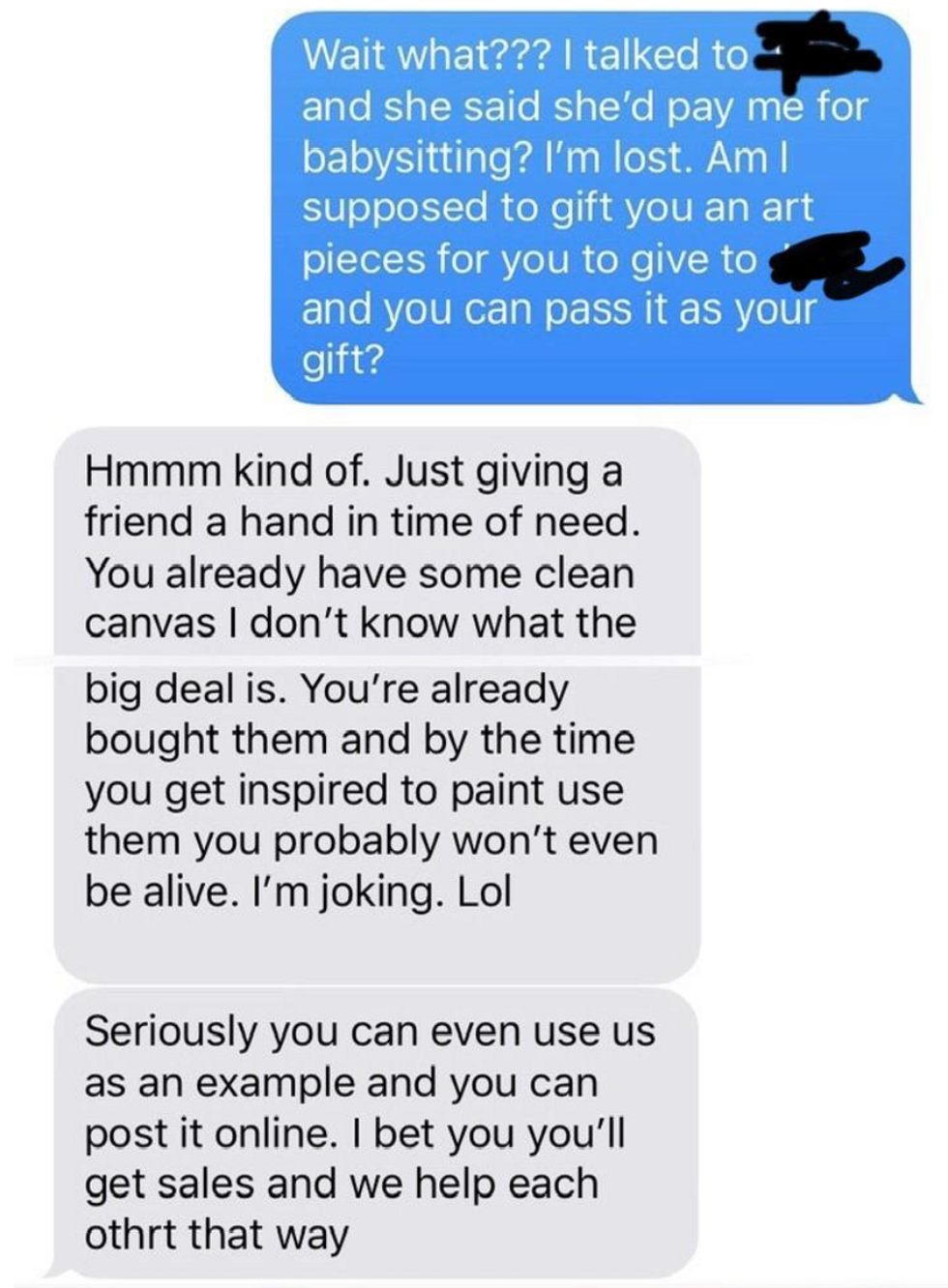 Choosing Beggars
Ah, yes, the ever helpful "exposure" angle.
Because that pays the bills.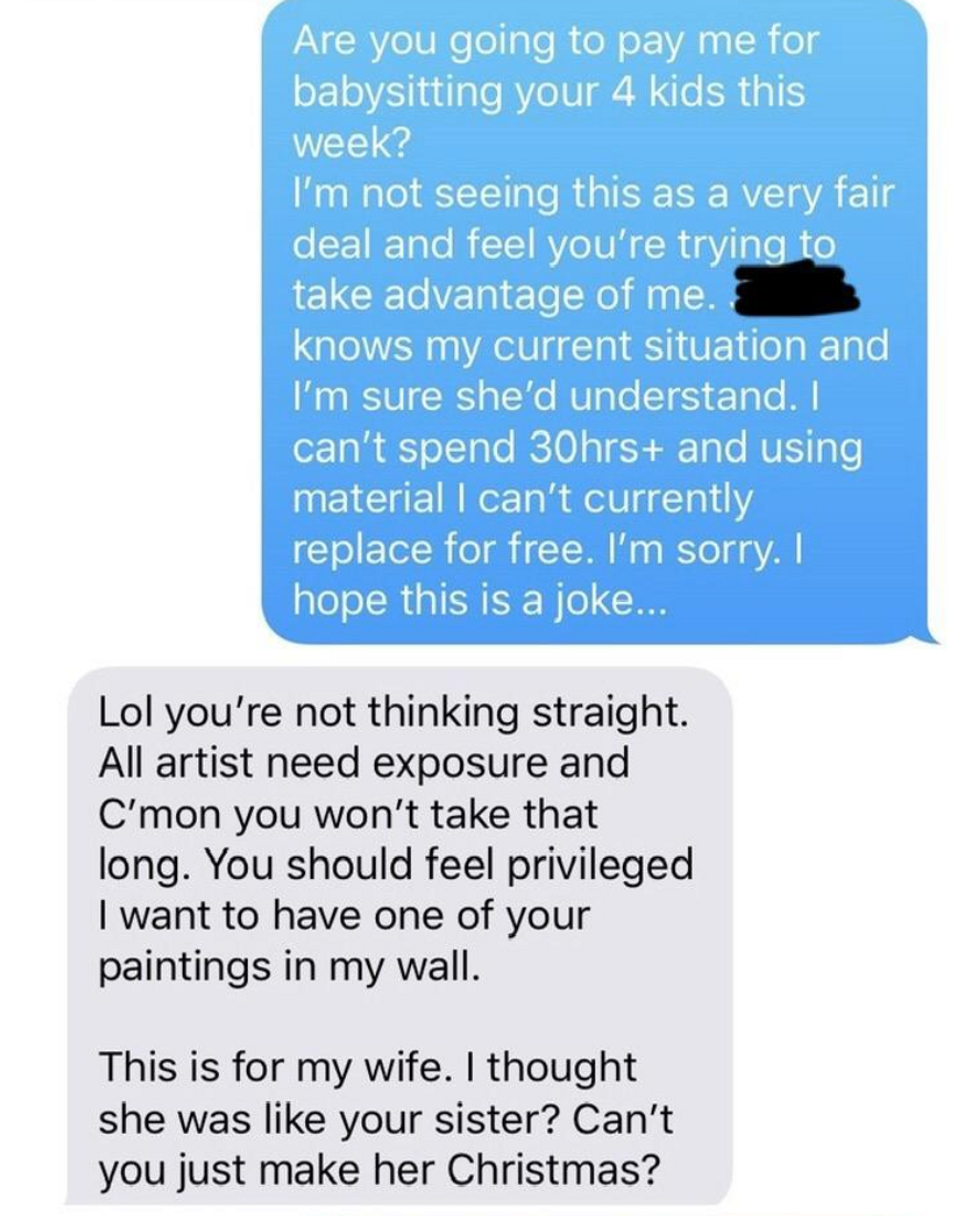 Choosing Beggars
Then the brush off.
Good for her!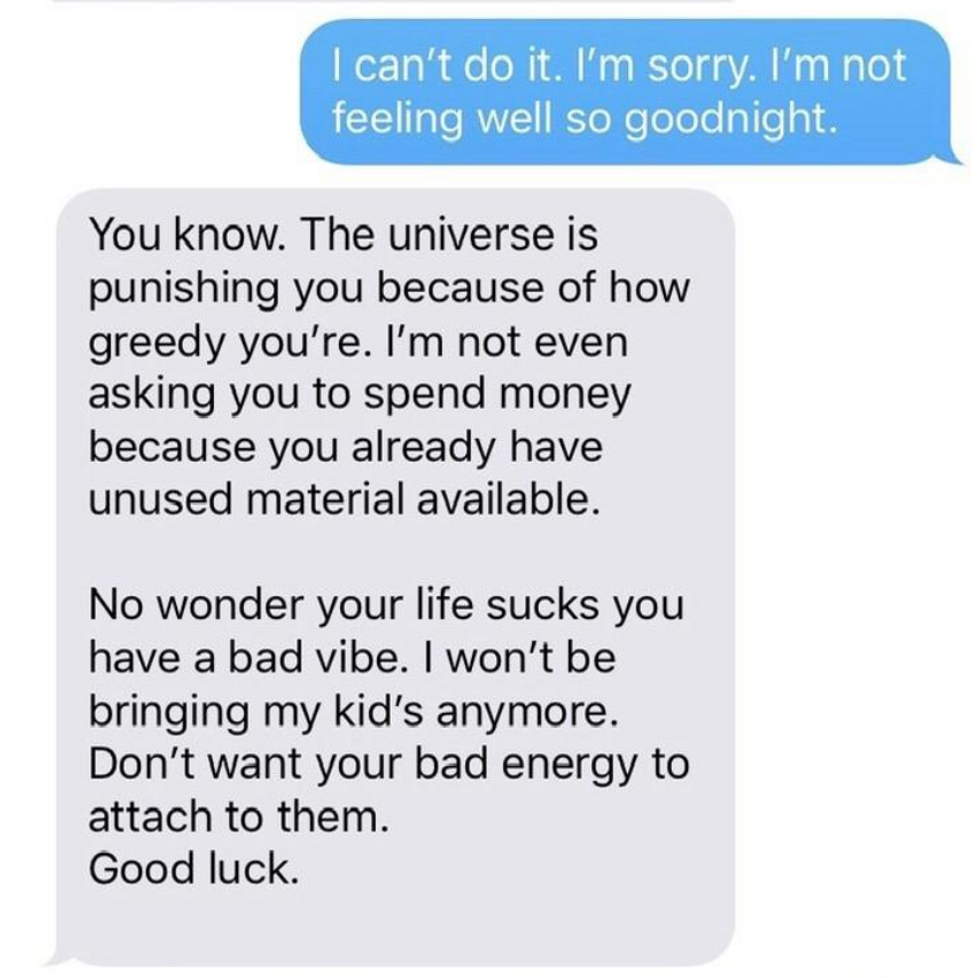 Choosing Beggars
But even after his parting shot, he just couldn't get the hint.
Seriously‽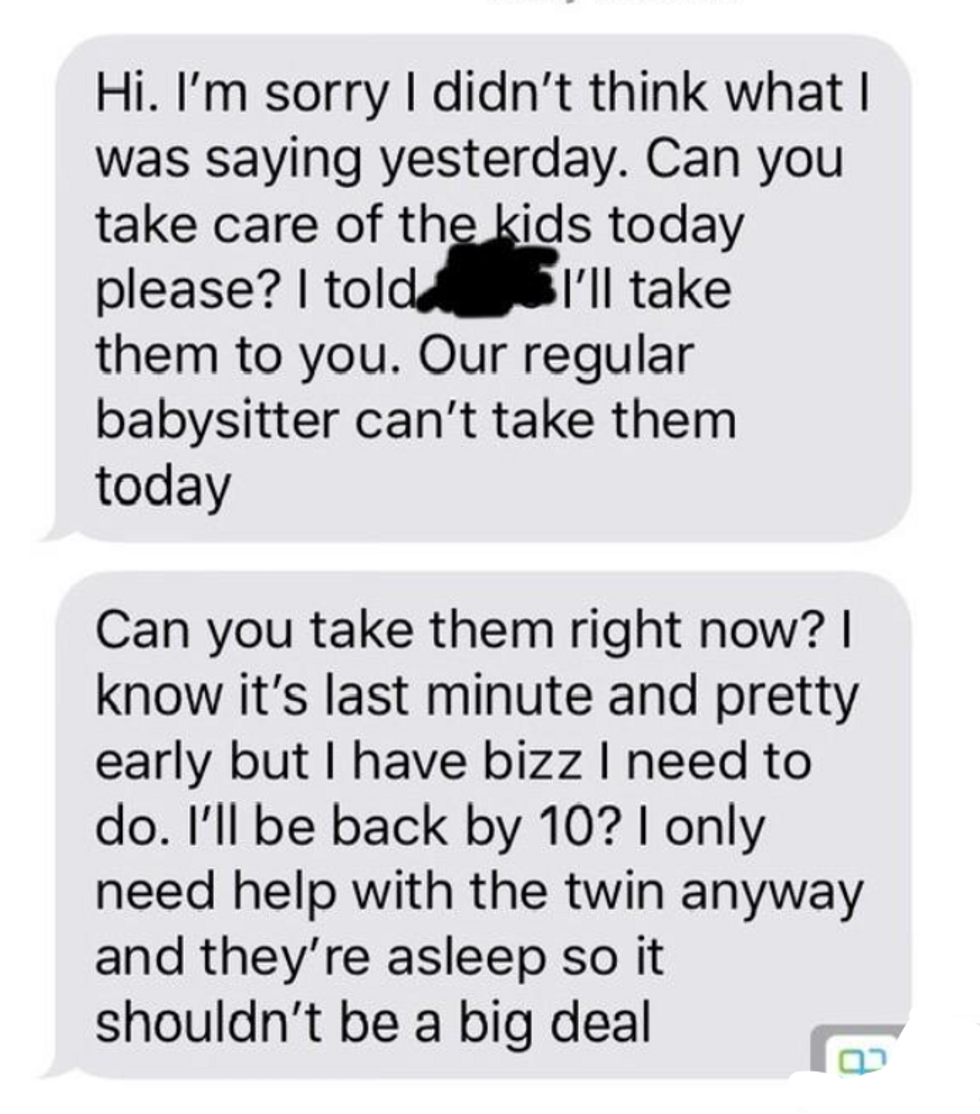 Choosing Beggars
The woman posted screenshots of the texts in the subReddit with no other comment, explanation, or updates on what resulted after the conversation (though we certainly hope she didn't say yes to watching the children that next day!).

The conversation alone sparked immeasurable interest, as countless people shared how they had been offered "exposure" in exchange for their art, time, or care services, as well as examples of how they'd completed a project and never been paid.
"Whoa that guy is a straight up a------. Hope you got paid for babysitting but I'd say never do it again and don't f------ talk to him again- he's a d---"
- zzthefrenchie
"$5,000 on gifts, can't even pay someone for 30hrs+ of work. Priorities for this dude are f----- up"
- CryptoSputnik
"'Hey your life sucks because your greedy I'm never bringing my kids around you! Oh wait my babysitter isn't available I'll have —— drop them off.' F--- that dude"
- Kraken74
"I like how he says "I'm won't be bringing my kid anymore" as if he thought having OP watch his kids for no pay was somehow a reward for OP and something to extort her with"
- nardsy43
"Seems to be a reoccurring thing on this sub. They think it's an honour for others to do their bidding for thy majesty."
"Seriously it must be some sort of mental disability from a class of narcissism."
- feelsogod808
No matter how this exchange eventually worked out, if the woman was paid for the babysitting or if she was eventually offered a commission for a family portrait, being treated this way at all isn't okay.
Whether or not someone perceives art or child care as a valuable product, it cannot be argued that it didn't take time to complete that piece or to care for those children.
At the end of the day, everyone's time is valuable, and when a product results from that time, they should be compensated, period.
Tired of dying from "exposure"? This shirt is available here.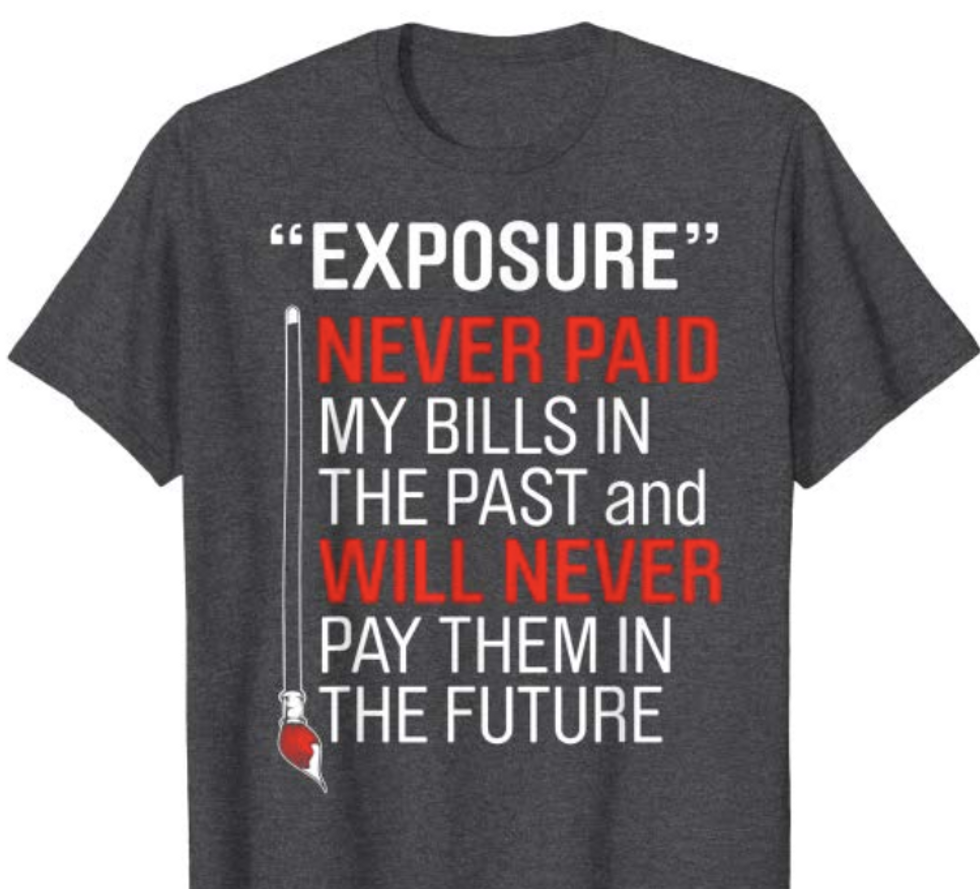 Amazon