People hard up for cash will do anything. But what about the other way around?
There are a ton of jobs or favors that don't require much skill, experience, or labor, and people who are fortunate enough to get hired walk away with a king's ransom.
Looking for those kinds of "jobs," however, is like finding a teardrop in the ocean.
Few who struck gold, at least temporarily, shared their experiences when Redditor NikTheNerdBoy asked:

"What's the dumbest thing you were paid to do and how much were you paid?"
Good luck finding these well-paying tasks.
Running Errands
"Had a WFH gig working sort of as a personal assistant for a rich guy on the opposite coast from me. I did all kinds of wacky sh*t for him. For example, one time I had to break up with my boss's girlfriend because he was too wimpy to do it himself. That was literally my job."
"One day, I bought him a new pickup truck. Meaning, I negotiated the deal and paid for the truck with his credit card. All in all, I'd say the process probably took about two weeks, for which I was paid my usual wage at six hours per day. No big deal."
"Somehow, his dad found out about the new truck and he decided he wanted a new pickup truck too. He called me about a week after I bought the truck for my boss and said he'd pay me $2,000 to buy a truck for him. I called the same dealership back, spoke to the same salesman, told him what was up and basically said give me another truck, same price as before. The salesman was only too happy to comply."
"It took ten minutes to make the phone call and then a day or two to get the title and other paperwork sorted out. So, depending on how you look at it, I made $2,000 for just ten minutes worth of 'work.'"
"Somehow, my boss's rich friend found out about all this. He decided he wanted a new SUV. 'OhYeahThrowItAway, you have to buy it for me!' I told him the last time I bought someone a vehicle, I got paid $2,000. The friend was basically like F'k it, I'll pay you $3,000, just get it for me' and then he emailed me his wish list."
"That deal took a little longer, maybe two weeks."
"I made $5k extra in just two months buying vehicles for lazy (or dumb) rich people."

Staying Out Of The Picture
"I was paid $300 to move my car for a movie that was filming by my apartment."
Pack It Up
"Got paid 10k to leave an apartment because it was sold and new owner wanted to move in. I was tenant (renter) under previous owner. I had 4 months left in my rental contract. This was in Spain (Barcelona)."
European Vacation

"I was flown to Paris to do a compliance audit, the systems weren't set up for the audit, couldn't get access so spent the week being taken to restaurants and shopping. On 1 of the days and at the last minute the company decided to send me to London for a meeting, literally just to meet people. I missed the Eurostar because I forgot my passport (totally blanked that I was entering another country), they had to rebook the Eurostar. Nothing was achieved out of this trip. No audit was completed. Nothing came of the meeting. The cost to the company 25k+ for me to do nothing for a week. Corporate money is ridiculous money."
Not much labor was required for these so-called "jobs."
Ten-Minutes Of "Work"
"I used to work for a PR agency. Every month one of our clients wanted a handful of photos re-sized for their website; nothing fancy, just setting the width to 500px in Windows Photo Manager."
"It was maybe ten minutes of work every month, but the contract said the minimum amount of time we would charge them for was one day - and this was for the full team too, not just me. It must have cost them several hundred pounds every month."
"I showed the client how to do it several times, and explained that they could save a lot of money doing it themselves. They didn't seem to mind."
"In the end I made sure I got it in writing that I'd informed them of their options and let them get on with it."
Thank You, Goodbye
"$175 to do some kind of user study at Netflix, I show up in the lobby and then they go, 'actually we got the data we needed from the studies earlier today, you're free to go!'. Still got paid!"
– Lycid

Hush Money
"I did an event for a national association for deaf people at which they did every presentation in ASL. I am an audio engineer, who specializes in live sound and concerts. I did nothing for 5 days of show, $450 a day."
– murter95

Paid To Play
"I got asked to do 2 hours of barrier watch (Guarding a barrier ribbon while a crew did x rays inside a power plant). This was asked last minute after a 12 hour shift so the bonuses of staying happening to be a Sunday, etc I was being paid $110 to stand and play on my phone and make sure sure nobody tried to pass all the DO NOT ENTER DANGER DANGER signs during a time of day with minimal personnel."
– Hotel29

Poultry Modeling
"I rented my chicken to a photographer for fifty bucks."
– slhopper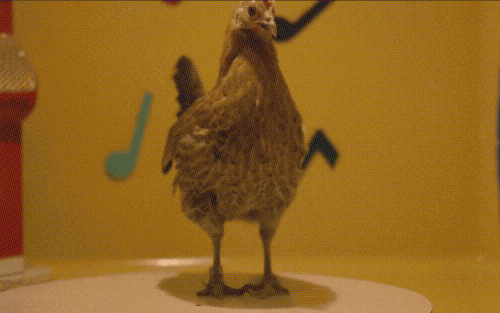 Movie Scene Dance GIF by Fandor
Giphy
Gotta Have Wendy's
"I was driving for uber. Picked up a bunch of drunks at like 2 AM. They were like 'Yo we gotta grab some Wendy' I go 'I'm sorry this is my busy period' they go 'Can we bribe you?' I go 'Absolutely you can bribe me.'"
"One the guys said I'll give you $100...I was shocked it was that high, another guy said '$150' and finally his wife said 'F'k it I want Wendy $200 and we buy you Wendy too.'"
"I finally said yes, FYI I hadn't said yes yet because the reality is $20-$40 would have gotten me to stop at Wendy."
"So there I sat at Wendy as those 3 drunks bought me wendy and paid me $200."
Substitute Chef
"One time I was at this super fancy dinner party. I'm talking servers and everything, I was in a freaking tux! It was outside and catered by a professional bbq company. I mean these guys had won international competitions. Well get this, they were double booked and didn't show. The other servers didn't know how to grill, and this totally smokin server in her 30s is just staring at the grill like a deer in the headlights. Well I don't want to be a hero but I ask if I can help. The entire staff spend the rest of the night bringing me drinks as I make this bbq and NOBODY realizes the award winning chefs didn't show up!"
Where Do We Apply?
"Ok this wasn't a job or anything.... But I got 10$ to eat half a watermelon."
Some opportunities present themselves.
When I was a kid, I hung out at a Japanese summer festival booth where you roll a bowling ball on a track that had two hills. The objective was to push the ball hard enough to get it over the first hill but not too hard to get it over the second hill.
I was fascinated with the challenge and stayed there for a long time as my parents were over by the food booths with their friends.

It was a slow day, and the dude working the booth wanted to peace out for a bit, so he offered to pay me $50 to "hang out" in his stead.
Of course, I said "sure."
No one ever came, and I earned fifty bucks rolling bowling balls for an hour. Was it the dumbest thing I ever did for money? Maybe, but I laughed all the way to the piggy bank that day.
That guy really must have despised his post enough to give a twelve-year-old kid $50.

Keep reading...
Show less
The labor of workers is what keeps the world running. As we entered into the pandemic in 2020 it became clear just how essential workers from even less glamorized jobs are to our everyday life.
While we had brief shows of appreciation and special weeks for different jobs, there are two basic things employers quickly forget would show the best appreciation of all—treating employees with respect and fair pay.

Knowing there were many people out there with horrible first-day experiences, Redditor redmambo_no6 asked the question:
"People who quit their jobs on the first day, what was your 'I'm outta here' moment?"
People from all different types of work shared the moments that made them nope right out of the job.

Abusing employee's need to work isn't ok. It's 2021 and past time employers step up and do better.
Want to "know" more? Never miss another big, odd, funny, or heartbreaking moment again. Sign up for the Knowable newsletter here.
Keep reading...
Show less
Our interactions with strangers can be pleasant – whether it's a fellow customer at a store smiling at us or talking sports or other mutual interests with a friendly bartender.

But then there are those who you just can't figure out but engage in a conversation with anyway until something in your gut tells you to abort.
Whether it's an ominous situation or a mysterious individual, your instincts telling you something is not right is usually accurate and what happens next depends on whether or not you act on what your inner voice tells you.
Curious to hear from the experiences of strangers on the internet, Redditor thenereidsofneptune asked:

"What is Your Best 'I'm in Danger' Story?
These predicaments could have resulted in severe consequences. Or not.
Bearly Escaped
"Driving through jasper on our way to leduc when my dad saw a family on the side of the road looking off into the bush off the side of the road. So we pull over and walk over to ask if they need any help. They say that they saw a bear in there and were throwing rocks at it to get it to come out so they could take pictures. My dad told us to get back to the car and we sped off down the highway. To this day i wonder what happened to those idiots."
Crash-Landing
"Not me, but a really close friend was going through flight school and they were going through emergency procedures and the instructor asked something along the lines of."
"What would you do if you noticed the power was lost?"
"And at that very moment, the aircraft lost power and my buddy said 'Well that's a neat trick and makes it feel real.' To which the instructor said 'No, that's not me. This is real.' Apparently, my buddy giggled and said 'oh no.'"
"And then they had to crash into the gulf and he swam away."
"I can't think of a better example than that."
The Thing In The Bushes
"When I was about 5-6, my mom and her best friend took us kids out huckleberry picking. We brought a battery power radio so we were making noise and would not startle any wildlife. We were all kind of spread out around these wild berry bushes. The adults heard this snorting, stomping, and sounds of a large animal moving through the dense overgrown areas coming towards us. They freaked out, screaming for us kids to run to them so we could run to the truck together. Moms friend threw her FULL bucket of huckleberries (5 gallon bucket, took all day to fill) at whatever was coming, hoping to distract it..."
"It was a cow."
You never know what strangers are capable of, especially where drugs are involved.
Sacrifice For The Devil
"I used to work in a group home. I was working a night shift and one of the residents was pacing by his room. I asked him what he was doing, he went into his room quickly. I assumed he was on meth since that's what he liked doing. Thought not much of it until a few hours goes by. I go to get some water and heat up my food, and he is standing in the hallway. Again, I ask him how he's doing and try to check in with him. This guy starts speaking in some made-up language in a loud whisper (think Harry Potter talking to the basalisk). He then takes like 4 steps slowly toward me then stops. He says 'I can't stop him forever.'"
"I call police for his and the the safety of the house."
"Police show up and talk to him for a bit in private. One officer comes back to my office and says 'yeeeah, he's not himself right now. Said the date was May 50, 2100.' It was January... and 2015. They took him away. They also found and took a pocket knife off of him and gave it to me for safekeeping."
"Now if that wasn't already messed up, I went back on the security footage and I saw him stand outside of my office door (outside my view) for like 30 minutes without me realizing. Standing still, like in paranormal activity."
"I checked the camera from when he was speaking the weird language, and he was standing there for like 20 minutes heavy breathing before I walked by."
"2 weeks goes by and he's released from the hospital sober and mentally present again. He decided to move out of the house. He came by to grab his stuff, and pulled me aside to apologize. I forgave him and tried to brush it off. Buddy looks me in the eyes and said that he was planning on killing me that night for a blood sacrafice since he was seeing some crazy stuff and he believed a demon was controlling him, but the police ruined his plan."
"I kept the knife as a morbid souvenir."
The following people these Redditors engaged with were very suspect. No drugs were apparently involved, but they were apparently quite mental.

Regionally Profiled
"So, just for context, I'm Scottish. I was on Holiday in Durham and it was late afternoon. We just arrived and we were going to visit the Cathedral."
"So these lads (likely students, they were obviously on a night out or something) came up to me and were like 'hey do you know how to get to so-and-so street' and I was like 'sorry, I'm not from here.' Suddenly the guy got mad and was all 'are you Irish, ARE YOU IRISH?!' And I was like 'No I'm Scottish' (but I was sure I was going to get beaten up because, let's be honest, if he's like this to someone who's Irish then he'll not exactly be hunky Dory with Scots), but when I said that his demenor did a 180 and he was all 'oh right, you're cool, sorry to bother you' and walked off."
"And that's the story of when I was nearly hatecrimed because someone thought I was Irish."
– OhHiGCHQ

Red Flags
"Went out for a drink with a pretty girl I got talking to on a bus. She was a bit awkward, but seemed kinda fun. She kept talking about her roommate, and the crazy hi-jinks they got up to. She even joked that we would have a threesome if I went back to her place."
"We went back to hers... at which point I found out that her roommate was a barbie doll that she talked to like it was a real person. Her place clearly hadn't been cleaned for years, and the toilet was full of green 'matter.'"
"The final straw for me was when I stepped on her cat's corpse..."
Not The Basement
"Couple of years ago I was picking up a chair I had bought from craigslist. I drove to this guys house and got a creepy vibe instantly when I stepped inside, for reasons I can't really understand to this day. After a minute or so of small talk, where he was mostly busy staring at me and not completely focused on the conversation, he asked me to follow him down to the basement where the chair supposedly was. As he went for the staircase he raised the volume of the music playing to a level that was distinctly louder than normal."
"I noped the f'k out and went straight home again."
In middle school, I was not a popular kid. So it surprised me when my fellow classmates who were viewed as "popular" actually engaged in a conversation with me during lunch when I was sitting by myself.
They asked me what my favorite food was and what TV shows I watched. I genuinely thought they were interested in me, but I was also skeptical about their forced friendliness.
My suspicions were confirmed when, in my peripheral vision, I saw their buddies dragging a trashcan over towards me.
I blurted, "gotta go!" and I darted. Those jerks were going to throw me in the garbage!
Chocolate milk hair and spaghetti sauce-drenched shirt was avoided that day, thanks to my gut instincts. Damn bullies.

Keep reading...
Show less
Speaking truths and being transparent in social and work situations are key to effective communication.
But I believe there is a line.

If your opinion of someone or what they do is something you find completely objectionable, there is a way to say it. You know the saying, "if you don't have anything nice to say, don't say it at all?" I stand by it.
If what you have to get off your chest is something that will ultimately hurt their feelings, I personally think it's best to just let it go. Of course, every scenario depends on the situation but it's good to examine it before acting accordingly.
But too often people normalize their behavior of insulting someone and then saying, "I'm just being honest," as if they've exonerated themselves of guilt.
Speaking of normalized behavior, Redditor handful_of_prozac asked:

"What shouldn't be considered as a normal thing in our society?"
The following are just bad business models, wouldn't you say?
Toiling Away The Hours
"Working 5 days a week for majority of our lives to retire sore, old, broken and financially strapped."
Marketing Fail
"Advertising products with pictures that do not accurately represent the product's manufacturing."
A Sweet Trap
"Also advertising sugary junk to children. It's insane when you think about it."
"In the UK there's actually rules against exactly this. The ASA (advertising standards authority) has all sorts of rules around what you can and can't do in advertisements. It's not a law per se but it's an industry guideline that all major channels follow, breaking the guidelines means your ad gets pulled."
Contagious Co-Worker
"Having to work while sick because you need the money."
– Embe007

These bad public behaviors need a serious reckoning.
Missing The Receptacle
"Littering."
"Yeah, I don't think people that litter realize that it's a crime to litter."
They Smell And Stick
"F'k everyone who throws their cigarette buds to the ground."
"and chewing gum. going to train stations most of the floor is filled with ancient black gum that just became part of the pavement."
– pgp555

A Public Forum
"Using speaker phone whilst in public. Nobody cares to hear your conversation."
Keep It In Your Ear, Bud

"And music. I will freaking give you earbuds if you can't afford them, just don't make 40 ppl listen to your music because they were unfortunate enough to ride on the same tram as you."
Many people are prone to committing these social behaviors and they are either unhealthy or potentially dangerous.
Blind Faith
"Politician worship is unacceptable. If you support someone then fine, support them enthusiastically if that's how you feel but when you refuse to admit their faults then you can't hold them accountable."
Living To Work Or Working To Live?
"Or just in general: The Hustle Culture. This idea that working hard, sacrificing all your time with family and friends just because you believe one day all your hard work will magically pay off and you never have to again."
"It's toxic in the end because it doesn't account for people's mental health, let alone physical health. You can't just keep working 24/7 six times a week and not expect burnout."
Pink Or Blue?
"Gender-reveal parties with ever escalating stunts. Send this cultural trend back into the abyss from whence it came."
– Berkamin

Going back to what I touched on earlier, I believe people should keep their brutal honesty to themselves.
A good theater friend of mine worked hard on a passion project that did not earn rave reviews on opening night.
Her friend saw the show and told her afterwards about all the things she thought was wrong with the production without sharing any positive points on her bulleted list of critiques.
Needless to say, my friend was gutted.
The pride she had working with a dedicated cast and team shattered after listening to her friend's scathing review that was irrelevant to her wonderful performance.

Still, if her "friend" was considerate enough, she would have kept her negative opinion to herself instead of wearing her virtue like a badge of honor.

Keep reading...
Show less
Flying can be enjoyable as you watch the world below shrink as you ascend above the clouds. It can also be difficult and a fair test of one's patience. If this writer has any flight advice it would be one—even though it looks appetizing don't eat the airport sushi during a layover.
Two—please keep your shoes on—the rest of us, including the attendants, can indeed feel our noses burning. They have to deal with enough during the flights, let's not add olfactory assault to the list. But seriously... leave the sushi alone, grab a nice-made pretzel instead.
Redditor theburiedsalmon asked:
"Flight Attendants and/or Pilots of Reddit, what are some things passengers do that get on your nerves?
Flight attendants jumped on this question ready to dish on their biggest pet peeves and worst experiences.

Gross...
"Leaving a ridiculous amount of garbage behind. Last week I had a grown a** couple spit huge globs of gum onto the floor and then step on it to try to rub it in. Like seriously? Why? And getting up to use the bathroom when we're already descending."
Keep it in your pants ya'll...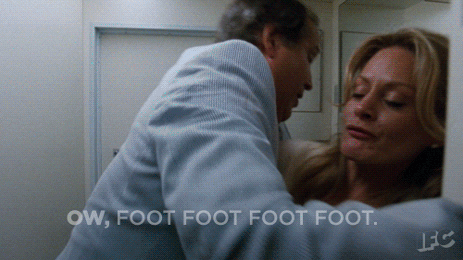 Flying Las Vegas GIF by IFC
Giphy
"As a former FA—Don't try to join the mile high club. Just, stop."
"Don't have sex in the bathrooms y'all. No, you aren't being very quiet and yes we will know and depending on the airline policy we'll also have to politely ask you to knock it off and keep it in your pants."
"Not to mention the obvious - airplane lavs are ridiculously tiny, to the point where once on one long haul we had to make an emergency landing because a large couple couldn't get out of the lav they had shoved themselves into once they were done."
"I'll add that this is THE grossest place to possibly want to do the deed, as lavs NEVER GET DEEP-CLEANED, EVER (between same-day legs)"
"I know what your hand motions mean and I will have to come over and shut it down, especially because in most cases there are families with kids sitting behind or near you."
15 years in...
"Former flight attendant here... 15 years I've seen it all! (and sorry for the formatting, on mobile)
Walking throughout the aircraft barefoot. Especially into the toilets... Those floors are not as clean as you think they are!
People who talk to us and treat us like scum. And yes, we'll provide better service to the ones who are nice or think of them first when a whole row is free and they need to lie down and sleep during an 11hr flight.
Parents that don't watch their kids during the flight. The aircraft isn't childproof and there's a surprising amount of things they can injure themselves on.
Passengers who do aircraft yoga during the service. By all means, if lights are off and it's quiet go ahead, but if there's a buzz of activity near the galley then maybe wait a while.
Speaking of which, assuming the galley is free for all. Sometimes we don't get provided crew food for work and bring our own. If we're busy attending to a call bell and can't finish out snack or whatever... It's not for you to just grab and eat... At least ask first!
Complaining about how rough the flight was. I've had some cuss out the flight deck about their abilities because the aircraft hit wake turbulence... If you can magically see wake turbulence on a tiny monitor and think you can do a better job then join a flight academy, pay several thousand dollars for the training and certification and do it yourself..."
"I left Aviation in August (because of you-know-what) but that's just what I can recall from the top of my head..."
"If you'd love to really show appreciation for your flight crew, particularly when many are so close to redundancy, a complement really makes a difference. A 15 min email to the Service Delivery department of the airline you flew with praising the crew who went above or beyond on your flight can do wonders for their career progression. I do it for service staff all the time at restaurants and the hotels we stayed at, and having them remember you after months or years due to your comments is simply priceless."
*screams in sarcasm*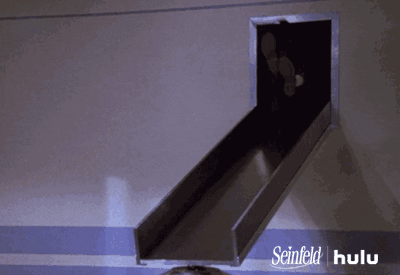 baggage claim kramer GIF by HULU
Giphy
"Did you know that the closer you stand to the baggage claim carousel, the faster your bag arrives? It's science. Look it up.
Warp speed for the ones that let their kids on the carousel!"
​You're going to want a buffer.
​"If you are booking a connecting flight and the connection times are 30min or 2 hours. Pick the 2 hour connection. I can't stand passengers who get all upset when they miss their connecting flight because they booked themselves a 30min connection."
"Your stressful travel day will be a little less stressful knowing you have a buffer. If you happen to land on time or even early, sit down at a restaurant, go for a walk, people watch, find your next flight's gate and watch a movie there, etc."
People Explain The Worst Thing That's Ever Happened To Them On Their Birthday
​Repeat after me: Keep your hands to yourself!
"Poking or grabbing at me to get my attention!! And it's usually on my @ss as it's eye level with most people haha. But for real DON'T poke people! Especially if I am speaking to another passenger."
"I can see you waving at me I'm not going to interrupt my assisting someone else because you want me to take your trash, just give me a second and I'll come to you next. I promise can hear you if you say 'excuse me!' Or 'Miss!' Or even wave a little in my direction. There's just no need to touch people or grab at them."
"Once I was so irritated at someone's incessant poking, I turned, looked them in the eye and poke poke poked them right back and said, 'what do you need.'"
"Slip me a twenty instead..."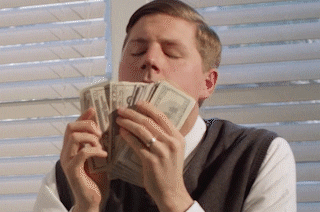 Turn Up Money GIF by Joel Byars
Giphy
"Stop expecting free alcohol because you handed me a three dollar bag of candy you bought in the airport. I'm a grown *ss man. You didn't make my day by giving me a Hershey's kiss. Slip me a twenty instead. I'll give you an open bar the rest of the flight."
"If you are nice I am happy to walk the extra mile for you."
​"Gosh where to start. I'd say one of the most irritating and annoying thing is when people ignore or fight our instructions concerning safety regulations. I do not enjoy telling you that you can't have your bag in an exit row, that you need to put your important laptop away for takeoff and landing and that you should stay seated when the seatbelt sign is on. And no it is not negotiable. No reason to get insulting or treat us like sh*t."
"Drunken behaviour. When you start getting aggressive for not getting anymore booze, we know it's the right call. It is neither fun for us or the people sitting in your vicinity. From harassment, cussing, aggressive behavior, throwing up, or loud terrible singing/howling on a long-haul night flight. Same for medications taken with alcohol."

"If you are nice I am happy to walk the extra mile for you. Having a free seat next to you, a drink I don't have in my cart atm, extra snacks, etc. But being an @ss for things I can't change won't help anyone. Yes, I do see you are flying with an infant and I would love to give you a whole seat row but the flight is fully booked."
"You have a certain allergy and can't eat any of the foods offered and have not ordered a special meal before flight? We have only the foods onboard which were loaded and I can't create or order any mid-flight."
"The bar carts are heavy and the airplane has basically always an incline angle. Please move out of the way and go use the restroom before we are blocking your way."
"Feet in the isles during night flights. The cabin lights are dimmed and i do understand your need for stretching your legs but it is a trip hazard for us. There have been colleagues which broke bones for tripping over feet and legs in the dark."
The list doesn't end there...
"Parents which let their kids do whatever they want. I almost had to cancel a takeoff once because a toddler was crawling in the isle just because mom said he won't sit still shortly before takeoff. Disregarding that on takeoff roll he could have gotten severely injured."
"And please bring everything you need for your kids. Diapers, food, milk. We have some items to help you out when you run out but not to supply everything for infants for the entire flight. And tray tables and seats are not changing tables. Gross. Please use the ones in the restrooms."
"And yes i cringe seeing ppl run around barefoot especially near/in restrooms. I sometimes can't understand what happened in there but its gross. And well I bet in almost every aircraft are restrooms where someone couldn't make it to it in time and vomitted right in front of it."

"You are a guest on board. A very valued guest. But please behave as such. You have passenger bins and your seat area. Don't open other cabinets or lockers. Don't help yourself to anything which isn't obviously on display for you. And if in doubt ask first."
"We had passengers eating the homemade lunch of a colleague in Tupperware. Someone took a bite from a piece of cheese which my colleague already had a bite from and placed it back, etc
"All that said I have had as well super amazing passengers. A lot of laughs, people who forgave me for drenching them with sprite or redwine, offering help to me in certain situations, etc."
"Flying since 2012"
"I am not your grandchild, I am your captain."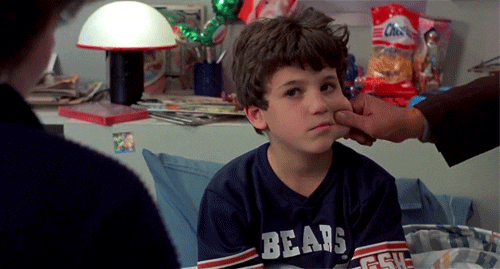 the princess bride cheek pinch GIF
Giphy
"After a flight I usually stand by the flight deck and say good bye to the passengers as they exit. I get a lot of people that ask how old I am. That doesn't really bother me (I'll probably be sad when it stops), but please don't touch me as you are saying it. Seriously, strangers trying to pinch cheeks and pat my head. Lady, I'm not your grandchild, I'm your captain."
General advice? Listen to and be respectful to your flight attendants...and seriously stay out of the bathroom unless you need it—don't be the couple that needs to be peeled out of the loo.
Want to "know" more? Never miss another big, odd, funny, or heartbreaking moment again. Sign up for the Knowable newsletter here.
Keep reading...
Show less