Couples Reveal How They Overcome Awkward Obstacles In Their Relationships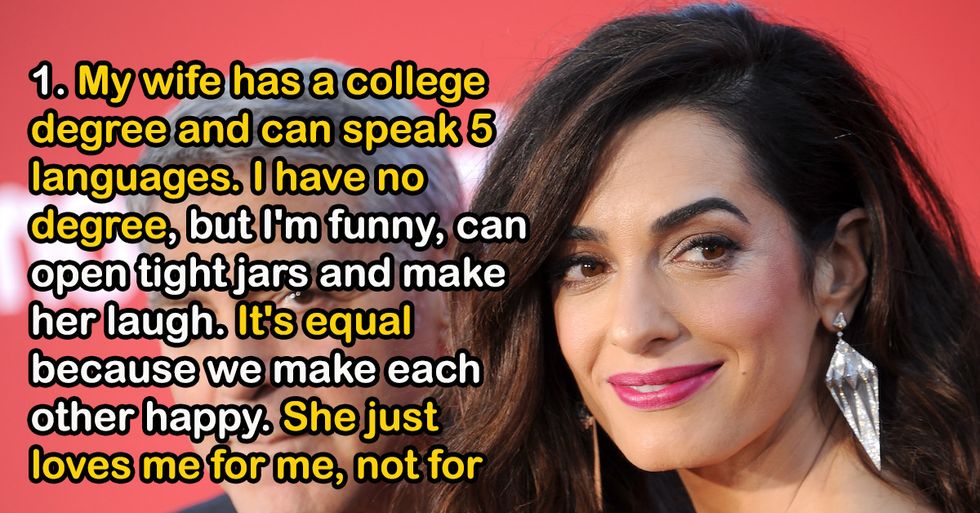 Team Players
[rebelmouse-image 18347565 is_animated_gif=
dam=1 expand=1]

I have 2 degrees and work as a lawyer. My husband never finished uni but has a job that he loves. He's a great father and husband. It doesn't really matter that I earn more than him because it's all just family money. We're both working hard and supporting each other and our kids.

Finding someone that you respect as a person is way more important than the status bullsh-t of degrees and cash. I'd take my husband over a hundred high earners. Just because he didn't get a piece of paper doesn't mean that he's not intelligent, and just because he doesn't earn as much doesn't mean he's not successful. Without his support I'm sure I wouldn't be where I am.

Just find someone who wants to be in your team. Forget keeping score.
The Shared Plan
[rebelmouse-image 18347566 is_animated_gif=
dam=1 expand=1]

I think being fair and honest with each other and taking care of which areas of the relationship you are better suited/equipped to do. The whole idea of a relationship to me is that you're better off combined than as individuals.

For example: in our relationship I work in IT and she's a teacher. I make four times what she does so we split all bills etc. by that ratio. She contributes in a meaningful but manageable way. I pay for most of the "extra" expenses (e.g. holidays) and I bought her a laptop, but she doesn't feel like a kid as she's still involved in the majority of "living expenses" expenditure (and it's not my home, it's ours).

Alternatively, she's at least 374 times smarter than I am and far better educated (bilingual with a top-tier Uni education). She makes the decisions around things like housing (her dad's an architect so she knows what's what) plus things like education for our future kids, as that's obviously an area she knows far more about than me.

The guilt of me knowing she works longer hours and is smarter but makes way less than me is a bit hard to stomach sometimes. I was lucky to fall into an industry which is in demand and has good rewards. We were both pretty poor when we met, so that helps.

Overall though, we have a shared long-term plan - the details of how we get there are less important. My success is her success, and vice versa.
Mutual Respect
[rebelmouse-image 18347567 is_animated_gif=
dam=1 expand=1]

I have a doctorate in my field and make almost 200k more than my husband yearly. He helped me get through school and pretty much raised our children on his own while I climbed up the ladder. It wasn't just my achievement, it was ours. I don't know many men that would have sacrificed as much as he did. Our marriage is strong because of mutual respect and admiration. If that doesn't exist, I don't see how the relationship can work.
Achievement Is Not A Factor
[rebelmouse-image 18347568 is_animated_gif=
dam=1 expand=1]

She has a very technical degree in a small field, and so she makes approximately twofold as much as I do. Fortunately, all that means is we, as a couple, do alright. Personal achievement isn't a defining factor in our relationship. What we do at work, what we did during school, personally, wasn't really a part of who we are. It's actually kind of weird to think that other people might view that as 'alien'.
Treat Them Like Your Equal
[rebelmouse-image 18347569 is_animated_gif=
dam=1 expand=1]

I make 2x what she makes. She refuses to let me pay her half of stuff so I'm basically just saving half of what I make because doing stuff alone is boring and I have to fit her budget. Lucky for her I love her so she is just saving for retirement by making me save. (She loves her job so I'll probably retire at 60 and do my own projects while she keeps working.)
Find Common Ground
[rebelmouse-image 18347571 is_animated_gif=
dam=1 expand=1]

I'm a cook. She's a doctor. We are both intelligent, share the same interests and love each other as people. Also, there's honestly more in common between the ER folks and Kitchen folks then I would have ever imagined. Both professions drink and smoke too much, cuss too much and generally f-cking hate people.
Complements
[rebelmouse-image 18347573 is_animated_gif=
dam=1 expand=1]

It's a partnership as much as a relationship. Love can't keep you together, but honest, kind, communication can. Part of being a partner is absorbing your partners bad days, and helping celebrate success.

My wife has a Phd. I have a high school diploma. She works for a really great job. I'm a stay at home dad. She's always out earned me (rightfully so. I'd be upset for her if I were making more in retail than she is with a phd).

I never put much thought to it. In her field she knows her sh-t inside and out, as you'd expect. But she can't cook, clean, or do yard work for sh-t. To the point I can't wrap my head around it. How you do char boiled eggs? Our talents and success are ours, but they complement each other. Even if we weren't married, we would be a good team.

Honesty it's only as hard as maintaining a happy marriage. Not that it's easy, but you use the same tools.

If you do feel resentment, you're gonna have to learn to let it go. Do that by finding out why you have resentment. Once you find out why, you may find out you can't ever change it and the opportunity you're pining for is gone forever. Gotta let it go. Whatever the problem is, you're gonna have to let it go. You can't live in resentment forever, and it'll fester and infect the rest of the relationship. Let it go.
It's A Partnership
[rebelmouse-image 18347575 is_animated_gif=
dam=1 expand=1]

I spent 30 years doing computer systems work and had some pretty high paying positions, as well as achieving a pretty high degree of personal and professional success.

My wife mostly babysat during the time our kids were growing up then had a pretty good career with the government although she never got very high, not starting till she was over 40.

She did express some jealousy on occasion at how "smart" I was and how well I was doing but I never, ever made that an issue. We're a team, she took care of the kids, I brought in the moola.

I've heard of people who think marriages are supposed to be 50/50 but that is so much bullsh-t, it's not even technically possible. Marriage is no a contest, like I said, it's a partnership, two people working toward a common goal. Sometimes you give more, something they give more, it's not worth worrying about.
We Love Each Other For More Than Our Gaps
[rebelmouse-image 18347579 is_animated_gif=
dam=1 expand=1]

We love each for other reasons than the key gap. So in the end we get past this.

Gap - she has an MSc Management - I have no degree and did not go to university.

Gap 2 - she is a lady of leisure - I work and earn a lot of money with no degree.

The only time it becomes an issue is talking about future child's education. She is adamant that we force our kid into university. I am against the forcing - if kid wants university great. If kid would rather do a private professional qualification/ apprenticeship then ok.

I am only going to stop my child from "doing nothing that could better their life".

Wife hates that, I think she sees it as a dig at her saying her degree is not worth anything. She is not from the UK so can't understand even after marrying me how a lot of people can excel in the UK without degrees.

So we either argue about it infrequently or do not talk about it. Tbh there is no point in talking about it until we have a sense of what child and their abilities they have.

Apart from that - we enjoy lots of the same things and share the same views and have the same life goals - our own home, a child, a pet, travelling to see the world a new place each year, taking care of Our families.
The Importance Of The Work
[rebelmouse-image 18345701 is_animated_gif=
dam=1 expand=1]

I have a Master's degree and make more than $80,000 in the Public Relations field.

My wife has no degrees - just a certificate from a community college and makes about $20,000 a year working part time.

But that certificate is in nursing, and she works in home hospice -- providing comfort to people as they die, helping their family members through the grieving process, etc all in the comfort of the dying person's home.

So while I make a lot more money, her work is inifinitely more important than mine is.
Always The Money
[rebelmouse-image 18347580 is_animated_gif=
dam=1 expand=1]

My wife currently makes a lot more money than me. I make some, but she does pretty well. She is also about to get her PhD and I didn't even finish college.

However, I work extremely hard at what I do, and I am getting better, and I know it will really pay off in the end. She sees that too and supports me. I support her in every other imaginable way. She is very type A and can get stressed, emotional, and overwhelmed, and sometimes just needs me to sit there and let her vent or hold her. We have become best friends, and as cliche as it may sound, we do complete each other in many ways.

On top of that, we share some things in common: we both love running, and we love our dogs to death (we met in a dog park). Good food and whiskey, lounging around reading, and hanging out with friends. I really don't know how I got such an incredibly beautiful and intelligent woman to marry me, but I will do all I can to support her and do my own thing so we can share a wonderful life.
Hard Work
[rebelmouse-image 18347581 is_animated_gif=
dam=1 expand=1]

I am 38 and my wife is 31. She has 3 graduate degrees in the STEM fields, 2 from ivy league type schools. She is now working on her 4th graduate degree in some type of computer science I do not understand. I never attended high school, and had to lie and make a fake high school transcript to get into college, where I have never completed even one full year. Mostly because I can not pass a math course which is 2 of my wife's degrees. We now have a kid, and have been married 7 years July 2017. We are very completely different people in completely different worlds.

I am not sure how we have made it work. She is somewhere on the autistic scale and I am very outgoing and social. I think we understand our own and each others limitations, and are understanding those boundaries more and more every day. She is a college professor and doing well at it, while I stay at home and play a support role. I never had a career or a future, so nothing really there to give up or miss. The best job I ever had was working construction for a low voltage company. 60+ hard hours every week with shitty pay and no benefits. Being a dad and a loving husband has given my life purpose I thought I would never have. I am pretty sure she feels and understands that she would not be able to work as hard and achieve what she has while having a family with out someone like me at her side.

Some tips; find something you both really really enjoy and force yourself to do it together on a very regular basis. For us it was video and table top gaming. We both love it, and play very differently so it makes for some interesting and heated gaming.

Use sex as a tool for bonding. Having a good line of communication is difficult for us, being so different. We have found for us that sex can be a good place for us to enjoy each other being each other. Levels of education or experience or history seems to melt away when passion rises.

The last one I can think of is listen and try and understand. Nothing makes my wife happier than when I make an effort to try and understand what shes talking about. There is also the extra bonus of over the decade or so of knowing her, I have learned quite a bit more than I thought I ever would about the STEM fields.

Now the bad. We do feel like aliens sometimes. We see things differently, and recently discovering how differently we parent. We do fight, maybe more than some. There are going to be things that will always be an issue, like having proper communication and understanding. Every relationship has to be built on compromise and hard work to make it last.
Gaps In Knowledge
[rebelmouse-image 18347080 is_animated_gif=
dam=1 expand=1]

My boyfriend is in a full time job in the type of work he studied for. I am finishing my degree, still.

It definitely becomes difficult with three major factors: Time management, money and maturity.

Time is uncomfortable because I feel like I have so much more free time than him, but then to counter that I work a part time job that takes all of my Sunday. This just needs to be organized around, and I think it's important for the person who's working full time to never assume the other is less busy just because they are not physically clocking in and out at the end of the day.

Money is self-explanatory. He makes money, I hemorrhage it out of my broke, broke pockets. For this I think there needs to be a balance of a show of self-sufficiency on my part, and a show of both generosity but also full belief I can do it "on my own" on his part. Talking openly about financial differences is good, and I personally appreciate when it's acknowledged that he lives a much less anxiety-driven life because money is not an immediate concern for him. This dynamic would change if I were to move in with him, but it would still be about willing to spend a "percentage of what we have" to make things work.

Finally, maturity. Sometimes I feel like I sound like a child when I talk to him about my university shit while he's out there actually being a person and having a job, and the only way this can be cured is understanding that your partner, well, loves you. They would not be dating you if they did not think you were a strong, capable person, especially if they are from a position with a lot more status/power/authority/what have you.

This is a valid question, and I have definitely struggled with it a lot in my own time.
Kindness Over Talent
[rebelmouse-image 18347582 is_animated_gif=
dam=1 expand=1]

My dad was a working-class genius. He didn't have any advantages in life (like the ones I have an frankly squander) but he quite literally is a hero, he overcame them and did some great things.

My mom is the most wonderful loving woman in the world, but on occasion not that bright. I don't think she ever made more than maybe 15 dollars an hour in her life slaving away in a job she hated, different kind of hero.

The difference between them was/is huge. But you wouldn't know it really, unless you got to know my dad.

Once my mom said something really stupid, and I was about the stupid age of 12 or 13 where I knew she was wrong, and I was arrogant enough to think it was cool to call her out on it. My dad heard me sort of arguing with her. He came in, asked what was going on, and then he said something like, "Bill just leave it alone." and he kissed my mom and gave me this look and a sort of head motion like "you better come with me or you're f-cked" so I did.

He told me something like, "Son, your mom is a good woman, I know she isn't the smartest woman but she's one of the best. Let her be happy. You have no idea how lucky you are to have someone who really loves you. Don't f-ck that up by arguing about shit that doesn't matter."
Adore
[rebelmouse-image 18347583 is_animated_gif=
dam=1 expand=1]

My husband is really really smart, and I'm not. He grew up with a very upperclass family, and I grew up under the bluest of collars and the strappiest of boots.

Over time we've had to have a lot of conversations, as I have felt insecure about my intelligence and class around his family in the past.

BUT! THEN I realized that I know how to change a tire, change our own oil, fix the lawn care equipment, clean every mess, and I'm generally a more organized person. I know how to put the work in until something is completed. So I stopped worrying so much, because my husband sure wasn't worried about it.

It's led to some stressful situations with my in-laws before, but at the end of the day, all you can say is f*** it. Plus, for some reason, my husband adores blue collar life way more.

It's give and take.
Again, Being Equals
[rebelmouse-image 18347584 is_animated_gif=
dam=1 expand=1]

I was a high school teacher and now I'm a SAHM. My husband is an environmental engineer who makes (low) six figures. When I was teaching, I brought home ~20k. We pooled all of our money and didn't differentiate. Even now when I'm not working, we have an equal amount of weekly "personal spending" money we don't have to explain or account for in our budget. I absolutely would not have agreed to stay home if my husband and I didn't share these beliefs about finances.

He values the domestic work I do as much as a monetary contribution to the household. The work I do at home during the week (cleaning, largely, but errands and cooking and so on as well) means that our evenings and weekends are straight-up leisure time for our family. When I was working, we often spent weekends playing catch-up on chores and errands (and grading!) instead of relaxing.

I'll go back to work when the baby is a few years old, but we both really value a few years of parent-controlled education and discipline in the home (vs. daycare or a relative providing child care).

Ultimately, it comes down to mutual values and a shared vision for our lifestyle, and understanding that our roles are very different and symbiotic. Moreover, though, he respects, appreciates, and admires my work as equal to his.
This Sounds Familiar
[rebelmouse-image 18347585 is_animated_gif=
dam=1 expand=1]

She is an immigrant aspiring model and I am a celebrity billionaire who is also the president of the United States of America. We don't always see eye to eye, but luckily she is always able to stay in our New York skyscraper. Also she wouldn't divorce me no matter what I did because when she looks at me she essentially sees a giant orange old gremlin standing in the way of her billions of dollars - and I'll be dead pretty soon.

It's a good system.
Make Someone Happy
[rebelmouse-image 18346617 is_animated_gif=
dam=1 expand=1]

My wife has a college degree and can speak 5 languages with actual fluency. She gets every job she applies for and tries to get.

I have no degree, speak English only with fluency, have struggled to find work. However, I'm funny, computer savvy, can open tight jars, I make her laugh and happy. It's equal because we make each other happy and i'm starting to work now and it's good pay and I'm doing very well. She just loves me for me. Not my resume.
Communication
[rebelmouse-image 18347586 is_animated_gif=
dam=1 expand=1]

My fiancé and I have lived together for a year now. We are very similar intellectually, but he's going into a scientific research field and is in grad school on his way to a PhD while I am doing my best to make it as a music teacher.

So we know finances are going to be very different in the future as it won't be practical for me to pursue a second degree for awhile. We knew this was going to happen, though, and we constantly communicate to check in about how we're feeling, if we are in need of more help, if I can do anything around the house to help with his long hours in the lab, etc.

As usual, communication is key. It's not perfect, and I'm self-conscious about my situation sometimes, but I have to consistently remind myself that a lot of the problems that I face with my career path are not my fault and I'm doing the best I can, and my fiancé is right there for me.
Amazing
[rebelmouse-image 18347587 is_animated_gif=
dam=1 expand=1]

Doesn't matter. My wife has art degree in photography and a PhD in microbiology but was making barely like $40k in acedamia. I have a HS diploma and dropped out of college. I've been doing backup and storage support for 15+ years and bring home $100k+. She's left academia and went into government contracting and is almost up to where I'm at now. While she was in academia she was doing the good work and I would happily have continued to support the household if she wanted to continue. She didn't and I'm happy that she's enjoying her new work and success. My willingness to contribute everything is the same as it always has been.
Making mistakes is part of life. Whether you've put your foot in your mouth, flubbed something at work, or lost a valuable item, we all know how it feels to mess up. But when it comes to these people, "mess up" doesn't quite cut it. These errors were more than simple mistakes—they were all out disasters. Sit back and prepare to feel your self esteem go up by 10000%. You may not be perfect, but you've got it together more than these poor souls.
Everyone, at some point in their lives, has managed to keep confidential information a secret.
Whether it was an individual's embarrassing past or someone else's behavior that you weren't supposed to witness but did, most people generally manage to show restraint by not revealing secrets.
Until they don't.
Sometimes it depends on how scandalous the secrets are.
But some are relatively easier to keep than others.
Curious to hear from strangers who've managed to be tight-lipped, Redditor MrBowls asked:

"What's a harmless/non-serious secret you've kept forever?"
These Redditors did what they could to keep up with appearances.
Covering Up Mom's Habit
"My mom was a meth addict. So my siblings and I grew up with very little. Normally she would pull her head out of her a** enough around the holiday season to sign up with a church or charity to get us a food box and some presents. However by the time I was 11 she was so far gone we could go weeks without seeing her leave her room or her be completely gone from the house. I entered a drawing contest at my school around this time. I won a $100 gift certificate to our local mall."
"One day after making sure my siblings made it to school I played hooky and walked to the mall(about 3.5 miles) I bought my three siblings some presents(almost forgot to get myself something ended up buying some discounted body wash) then had them wrapped there at the mall before trekking home. I hid the presents in the crawl space till the 24th (I was right our mom did nothing) when my siblings were distracted by a movie, I snuck out and put the box of presents on the front porch before knocking and running away. I snuck back in the back door by the bathroom and heard my siblings yelling 'someone left a box on the porch that says Merry Christmas' I had also spent the last week before winter break going door to door asking for canned food donations, saying it was for a food drive at my church (I didn't have a church) so that we didn't spent the whole winter break hungry."
"I'm so glad all 4 of us made it out of our childhood, and not one of us took the same path as the woman who birthed us Edit:spelling."
– Beautiful_Ad1219
Keeping Up A Ruse
"My friend is a major, major, Death Cab for Cutie fan. They came to our city a couple years ago, and I knew she wouldn't be able to afford the tickets to go. She was upbeat about it, but I know she was devastated by it."
"I bought tickets. Two days before the show, I told her that the friend I originally planned to take couldn't go, and would she please come with me? There was no other friend. Told her I loved the band and would be sad to miss them. She of course accepted, and had the time of her life."
"She's doing much better now, but every couple of Christmases or Birthdays, she gets me some Death Cab merchandise because 'she knows how much I love the band.'"
"I can't stand their music. I literally have them blocked on Spotify. But now it's gone too far where I can't tell her."
– chernygal

A Worthy Replacement
"First marriage to my late wife, on the day of the wedding, the ring got stolen out of my car. I was freaking out. My two best men went into overdrive and took a picture I had if the ring and went to I don't know how many jewelry stores explaining what had happened and if they had a ring that was similar."
"They went to this really great jewelry maker so said, 'I have something that is really close, give me a bit and I can make it perfect.'"
"He worked his a** off and got it done with about an hour to spare, plus the managed to get my window fixed."
"The three of us are the only ones who know. It stays that way! I ended up using that jewelry maker for any jewelry I needed and well I haven't stopped yet."
"He ended up telling my best men to not worry about the price and for me to come down after the honeymoon to work it out. I did and he gave it to me at the cost of the materials. He is a great guy. He retired during COVID."
– UtahCyan

Nobody needed to know. Sometimes, ignorance is bliss.
Crafty Dad

"My mum is a health nut (with probably disordered eating) who wouldn't let us have cheese in the house when I was kid. When I was mid 20s, I bought a unit and my dad was helping me fix stuff up so I provided lunch. I said to him - bet you're going to hate going back to work next week and not have any cheese on your sandwiches. It was then he told me his deepest secret, he had been buying blocks of cheese at work for years. I had no idea he was crafty. And my mum still doesn't. Poor dad has been retired for years though so not sure on the current cheese consumption status."
– rumblemumbles

Don't Pet Raccoons
"One day I came home late at night drunk and decided to walk my dog. Just when we arrived outside my house my dog attacked a racoon hanging around the area. I ended up wrestling my malamute and freed the racoon from his jaws."
"Here's the thing. I was drunk and the racoon kinda just stared at me infront of me and I decided to try and pet the racoon. I got maybe one pet in before it took a chunk out of my finger. I ran into the house leaving a trail of blood up to my brothers room for help. A sleepless night in the hospital and 4 consecutive rabies shots later was the result."
"Everyone asked me what happened and I just told them while I heroically wrestled my dog to save the racoon I got bit in the process. They still don't know the real story. It still gets brought up 10 years year."
– August-thecow

Saving Dad's Life
"I was about 10 years old and was pretending to be sick to avoid going to school. This was the 1980's so the old-school, glass tube, mercury-filled thermometers were still a thing."
"My dad was getting ready to leave for work as I worked my magic to convince my mom to let me stay home for the day. Neither one of them was having it. I persisted."
"Out of frustration, my mom grabbed the thermometer and put it under my tongue. I knew it would read 98.6 and this was my only shot to avoid school for the day."
"Both of my parents stepped out of the room for a moment. I looked over and saw my dad's piping hot cup of coffee sitting on the counter awaiting his morning commute. I quickly dipped the thermo into the hot java."
"It instantly shattered emptying the toxic mercury into the coffee along with tiny shards of glass. I panicked. In my mind, there were only a couple possible outcomes. My dad dies of heavy metal poisoning and a lacerated esophagus. Or, I fess up to what I did."
"I could hear them coming around the corner about to return to the kitchen. At the last possible second, I swatted my dad's mug off the kitchen counter smashing it on the floor creating a coffee explosion in my mom's freshly cleaned kitchen."
"They burst in the kitchen aghast at the mess I created. I reply with a flurry of sorrys and apologize profusely for being clumsy. My dad is furious because now he won't have coffee on his way to work. My mom is pissed and she starts cleaning up the mess."
"In the chaos everyone forgets about my claims of illness. I slipped the remainder of the broken thermo into the trash and went to the bus stop saving my father from a horrible death--at least in my mind at the time. Until this day, I have never told anyone about this."
– from_the_interwebz

These anecdotes will warm your heart.
Encouraging A Splurge
"I convinced my sister I had entered us both in a blog giveaway, I won a coupon but she won the grand prize , a $300 gift card to Lane Bryant. My sister was a size 16, and desperately needed new clothes but would spend money on her baby grandkids and thin adult daughters. This was the only way I could make sure she spent it on herself. It's been 10 years. She's doesn't know."
"Edit: thank you kind strangers. I'm glad she doesn't know what Reddit is, or she'd definitely figure this out !"
– Remarkable_Story9843

A Dying Mother's Legacy
"When my wife died, she had been working on 'special occasion' letters for all of our kids. Towards the end, the cancer had spread to her brain and she wasn't able to focus on writing much, and when she did, it was often unintelligible gibberish. I tried to help her by taking dictation but she said it would mean more if it was in her own handwriting and wanted to finish it. She slipped into a coma and died after only getting through a handful of letters for our eldest child, leaving addressed envelopes only for our other two kids."
"I knew this would be devastating for the three kids, and possibly create conflict, so I paid a woman who specialized in calligraphy to literally duplicate my wife's handwriting. I gave her the content, channeling my wife's comments she made to me about what I thought would be meaningful words to our three kids when I had helped her dictate a few. And, as she wanted, I have passed them out on special occasions of wedding dates, birth of first child dates, first day of college dates, etc."
"My kids don't know. They've even shared the ones she actually wrote with ones written by her surrogate and thus far the secret remains safe. I haven't told anyone else this but Reddit and hope it stays here a secret as well. I'll take it to my grave. I consider it harmless as it was her intent but cancer robs so much from people afflicted with it…including their best, most sincere attempts at helping others cope with the loss themselves."
"EDIT: Wow, thank you for all the awards and comments of encouragement gang. I'm humbled by some of the messages. Thank you."
– Walleyevision

As you see, secrets are complicated depending on the situation.
Some secrets are kept to not only respect the privacy of others, but also out of kindness to protect the positive illusion to disguise a cruel reality.
Can you be trusted with keeping a secret under any circumstance?

Certain foods are almost synonymous with being eaten a certain way.
For example, sushi is traditionally eaten with chopsticks and dipped in soy sauce seasoned with ginger and wasabi, while Moroccan food is believed to be enjoyed much more when eaten by hand.
Others are a bit more flexible in terms of how they should be served, such as the age-old debate as to whether ice cream is better in a cup or a cone.
Sometimes, however, people choose a way of eating certain foods in a manner that is anything but traditional.
In their opinion, however, what they're eating proves to be even more delicious in this unorthodox fashion.
Redditor chrispdx was curious to hear which foods people eat in wildly different manners than intended, leading them to ask:

"What's a food that you eat completely different than it's normally eaten?"
No Method, Just Eat!
"Unfortunately for my health I eat most food like Kirby."- gildorratner
Deconstructed Pizza

"Not me (because its bonkers) but a friend."
"Scrapes all the cheese/toppings off the pizza and eats the slice first."
"Does this with several slices then eats all the cheese/toppings at the end."
"It makes me insane."- FantasticPear
From Bottom To Top
"I like to flip muffins upside down, remove the wrapper, and eat them from the bottom up."
"It's less messy, and the top is the best part because it's got better textures."
"Obviously, this does not work when they're dusted with sugar or have other toppings thrown on top."- NoMoreMonkeyBrain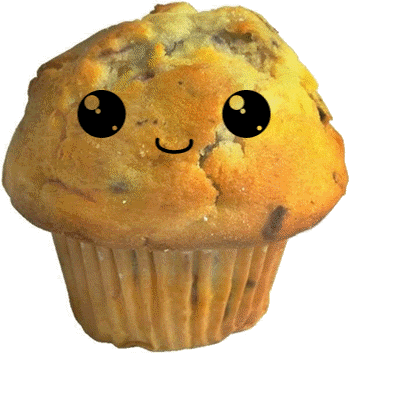 time muffin GIF
Giphy
No Time To Peel
"Not me but I saw someone go into an orange with the peel on and I almost passed out."- greenteaburnout
Fingers Be Damned
"I eat popcorn by darting my tongue at each piece the way a frog eats flies."- Lowerea
But Do You Eat The Crust?
"I eat sandwiches in a circular way.. like I spiral it."
"After 8 years together my wife finally noticed last week and asked wtf is wrong with me."- SkydivingSquid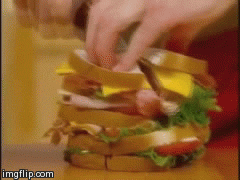 sandwich GIF
Giphy
ME TOO! (Honestly, I DO! And I Dip Them In Blue Cheese Crumbles...)
"I eat croutons out of the bag like chips."- Admirable_Cycle2
Saving The Best For Last
"Not in public, but when I'm home alone away from judging eyes..."

"...I eat the crust off my mozzarella sticks first, and then pop the whole blob of melted mozzarella into my mouth."
"So cheesey, so salty, so satisfying, and best of all: no sad flour flavor."- Fyraen
The Very Thought!!!
"I just... Eat an Oreo."
"Never a separation."- Dr-Eggs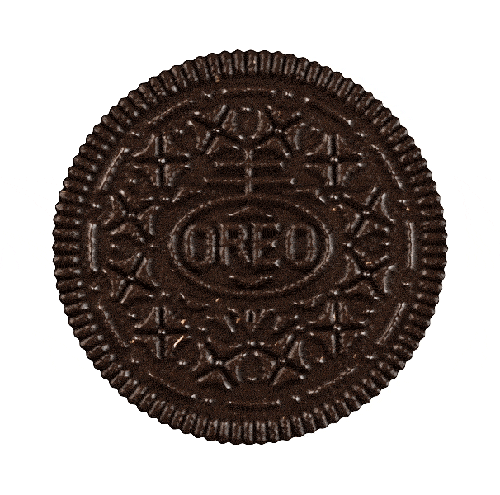 oreo GIF
Giphy
Honestly, Not A Terrible Idea
"I don't still do it because I have learned better but the packets of instant ramen that you cook in the Pan."
"I never knew it was supposed to be a soup with noodles."
"My dad taught me that you cook them down until all of the liquid is completely gone and you end up with flavored noodles."
"The noodles then would become a side for a liver sausage sandwich on rye bread, never anything else, just with that sandwich!"- mkrzemin
Much Less Messy
"I cut the corn off the cob with a knife."
"It all gets stuck in my teeth otherwise."- Plus-Statistician80
Personal Taste... Literally
"I prefer some fruits less ripe because I prefer sour."- BasuraIncognito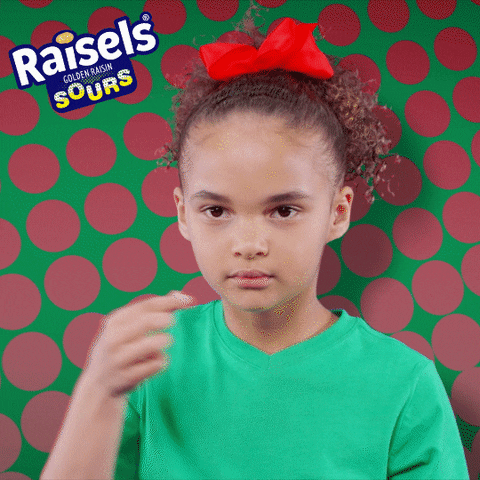 raisels fruit splash GIF
Giphy
Hold The Crunch
"Capt'n Crunch."
"I suck all the milk out of every bite, then chew."
"It's basically like trying to chew sandpaper, but the sensory effects of it are super satisfying."- cthulucore
Time Consuming, But Worth It

"I meticulously remove the center of a Reese's peanut butter cup, consume all the peanut butter first without breaking the chocolate ring, and then eat the ring by itself at the end."- PetersWolf4212
Crunchy Munchies!
"Dry cereal."
"Love the taste of just the cereal & I dislike milk."
"Don't like it when crispy foods get soggy, so I just eat dry cereal w/ a spoon & wash down with my coffee."- Confident-Bid142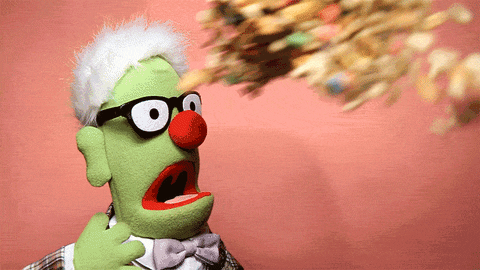 Hungry Lucky Charms GIF by Dark Igloo
Giphy
There's a more than likely chance that someone will give you side-eye, or even scoff at you should you eat your food differently than they do.
As long as the food tastes delicious, that's their problem and not yours.
And who wouldn't agree that the top is the best part of the muffin?
There will never be enough time to consume all the facts and figures life has to offer.

My favorite type of new info is strange and unusual facts.
They're great for parties and first dates.
And one should always be ready to be on a quiz show.
You never know when it could happen.
And knowing the length of a giraffe's legs could win you millions.
Or make you the most interesting chatterbox in a room.
Redditor Own_Championship7862 wanted everyone to share some off-the-wall facts, so they asked:
"What's an unusual fact that most people don't know?"
I have no odd and fabulous facts to share.
So teach me. I am a sponge.
Keep them All!!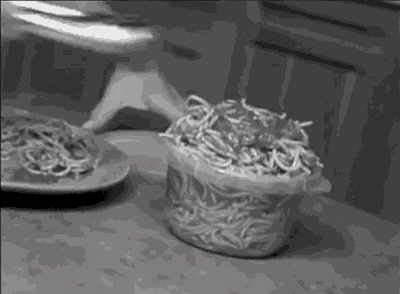 Friends Infomercial GIF
Giphy
"When someone gets a kidney transplant they generally just cram the new one in and don't take out the old ones. So the person ends up with three kidneys."
Optimal_Towel
"They continue this with multiple kidney transplants too. Had a patient recently on her third transplant and yep, there are five kidneys crammed into her abdomen. Too risky to take any of the other ones out."
baconboy73
Body Works
"When going to surgery for a gunshot, we don't typically search for bullets. The body will encapsulate it to protect itself."
New-Inspector-9628
"As I remember Rene Pretre a worldwide famous surgeon talking about this: There's a lot more about the decision to either leave the bullet or do get it out. It depends on a lot of factors. In the old times, as medicine was not that good, it was a thing that they could not get the bullets out when it was in a difficult position inside the bodies. Today, it's different."
"Also, it depends on the bullet itself, not every bullet stays solid - a bullet can be halfway shattered without having the effect of a dumdum bullet, later in the process of healing it could still be that fragments get off and make problems. Today, it's also easier to prevent and treat infections, this was a big killer in the old times."
Diacetyl-Morphin
Growing and Growing
"I have recently learned that Lobsters don't display senescence which is the deterioration of the body as it ages. Their bodies are continuously growing and their exoskeletons get heavier and heavier, hence when they molt into a new exoskeleton it takes more and more energy to take off the old one."
"Eventually they die because one day they just go, 'Yeeeeeaaaah sooo like this exoskeleton is too heavy so imma just go meet Lobster God and head out from the mortal world.'"
"Now a thought... If a group of people helped a lobster shed it's exo- skeleton... And if said lobster kept growing... Technically, a giant lobster could be brought into existence should the lobster not die from old age."
FunnyComedian8290
Get Out
"More eels swim out of the Bermuda Triangle than swim into it."
Optimal_Towel
"Most eel species breed in the Sargasso Sea - aka the Bermuda Triangle. There's a type of seaweed that lives on the top of the ocean called Sargassum that turtles, eels, and a bunch of animals use as a breeding ground. Eels go there, lay their eggs, little silver eels babies pop out and go back home."
roseygrl98
Revolutions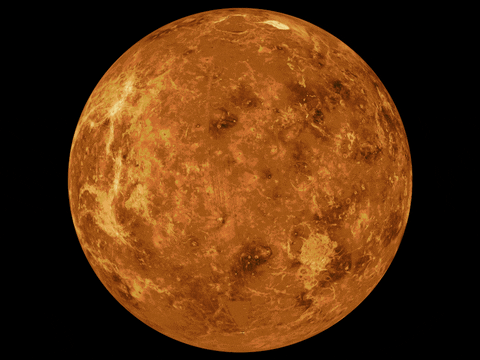 Venus GIF by The Telegraph
Giphy
"A day on Venus (one complete rotation around its axis) is longer than a year (a complete revolution around the sun) on Venus."
GRL_1151
The galaxy is too cool.
We'll never know enough.
Head Butt Time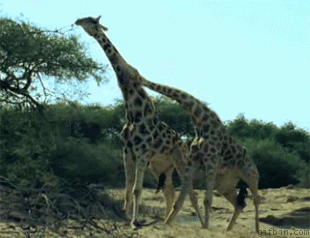 giraffes fighting GIF
Giphy
"The male giraffe will continuously headbutt the female in the bladder until she urinates. The male then tastes the pee and that helps it determine whether the female is ovulating. If she is, it's business time."
hornypandey
Go Vanillla
"Wearing white wedding dresses only came into fashion after Queen Victoria started the trend. White isn't meant to have any other meaning or represent purity as many people think. Before this trend, most brides just wore their best dress of any color as it was expensive to buy a dress just for the occasion."
week7
Active Ingredients
"I love when this question comes up because I get to talk about the thunder clappers."
"When the Lewis and Clark expedition was exploring the west of North America, their diet of dried meat left them constipated. They were all taking these pills called thunder clappers to make themselves sh*t. The active ingredient in thunder clappers is mercury, and historians can track the expedition because they left increased deposits of mercury in the soil."
KerchBridgeSmoker
Color Schemes
"Pink used to be a masculine color."
"During the height of the British Empire, the soldiers in the far reaches of the world donned their red coats in battle and patrol. The newer recruits would look especially sharp with a bold red color. The rugged war heroes though? Their coats were faded and worn into more of a pink color."
"If you saw a guy wearing a pink coat, odds are they have stories to tell with a thousand-yard stare. This became a desirable thing to show off your experience and grit. Hence pink was associated with combat prowess and ruggedness and became a masculine color during that time."
ChristIsLordAlmighty
War Incentives?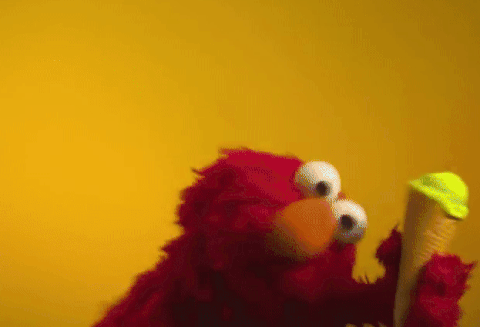 Ice Cream Elmo GIF by Sésamo
Giphy
"In WWII, the American navy had barges with ice cream bars on them to visit soldiers in the Pacific after battles as a way of boosting morale."
​Not-sure-wtf-I-am
Yuck!
"McDonald's engineered bubblegum flavored broccoli in an attempt to get kids to eat more vegetables.
"They still didn't want to eat it."
cmad182
I love broccoli.
I love gum.
I would not eat them as one.