There are many wonderful things about being life on earth, but as astronaut Christina Koch recently discovered, the love of a dog is simply out of this world.
Koch just returned home from her record-breaking 328-day spaceflight—the longest ever by a woman and the fifth-longest in history—and nobody was more excited than her dog, Sadie Lou, who simply lost her ever-loving canine mind as Koch came through the door.
The reunion melted hearts all over the internet.
---
Koch posted a video of Sadie Lou—who Koch and her husband have nicknamed LBD, for "Little Brown Dog"—to her Twitter and Instagram feeds, where LBD's palpable excitement instantly went viral.
Prepare yourself for cuteness overload.
Not sure who was more excited. Glad she remembers me after a year! https://t.co/sScVXHMHJn

— Christina H Koch (@Christina H Koch)1581621972.0
What a good girl. There's simply nothing better than when a dog gets so happy they run around not knowing what to do.
And that tail-wagging that shakes her whole body... What a good girl.
Of course, LBD's effusiveness only makes sense—328 days is approximately 6.29 years in dog time.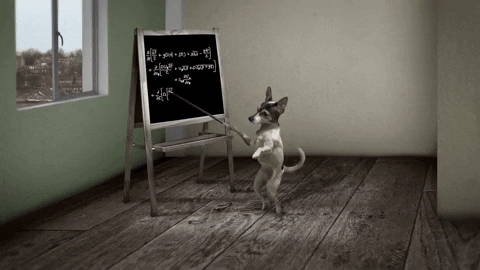 Giphy
In any case, it seems certain that Koch needn't have worried about LBD forgetting her.
Pretty sure the velocity of that tail-wagging is some kind of land-speed record.

Speaking to reporters at Houston's Johnson Space Center after her arrival, Koch addressed her tear-jerking reunion with LBD:
"She was very excited, I was very excited, I'm not sure who was more excited!"
Speaking to Houston's KPRC News, Koch also spoke of how she stayed focused and motivated while away from home—and LBD—for so long.
"You have to become a mental cheerleader for yourself...It helps you to recognize every day how special what you have is, which then, in turn, makes you feel you need to bring your best to meet that every single day."

The internet was over the moon, if you will, about this adorable reunion.
@Astro_Christina That is pure joy

— LorettaFaucher🌊🌊🌊🌊 (@LorettaFaucher🌊🌊🌊🌊)1581629172.0
@Astro_Christina https://t.co/pfV7134K4l

— NASA (@NASA)1581622601.0
@Astro_Christina @NASA_Astronauts This is so precious. https://t.co/Ly3KlBhRmL

— Codie West (@Codie West)1581622127.0
@Astro_Christina this video is EVERYTHING 😭

— Sarafina Nance (@Sarafina Nance)1581624743.0
@Astro_Christina There are three kinds of happy: 1. Regular happy. 2. Dog happy! 3. Insane dog happy!!!

— William Singourd, 🌈 #BLM #RESIST #ImpeachTRUMP (@William Singourd, 🌈 #BLM #RESIST #ImpeachTRUMP)1581629177.0
@Astro_Christina This is one of the most pure expressions of joy in history.

— Mary Robinette Kowal (@Mary Robinette Kowal)1581655614.0
@Astro_Christina Never underestimate animals. When a pet is well cared for and loved by someone, they reciprocate… https://t.co/F4M1XUeCuh

— Nazo (@Nazo)1581629501.0
Astronaut Christina Koch returning to her dog after her record-breaking stint in space is *truly* delightful https://t.co/MbQNqD0GxH

— Colleen Hagerty (@Colleen Hagerty)1581622791.0
dogs are just the best. even Twitter can't ruin dogs. https://t.co/sQKMkkuAP2

— amateur Zamboni driver of "extraordinary talent" (@amateur Zamboni driver of "extraordinary talent")1581652795.0
someone hold me i'm crying so hard https://t.co/yqNM9q4QN0

— Eli Loren (@Eli Loren)1581693101.0
@Astro_Christina Welcome home @Astro_Christina... that's one small step for woman, one giant leap for woman's best… https://t.co/EfpBqTI05R

— David Schneider (@David Schneider)1581639517.0
Koch launched into space on March 14, 2019, where she conducted six space walks and conducted hundreds of experiments. She landed back on earth February 6 in Kazakhstan, before returning to the U.S. and her beloved LBD.
Welcome home, Christina!