Even death could not stop their love, but now it looks like the honeymoon is over for an Irish woman and her 300-year-old pirate ghost husband.
---
It might not have been love at first sight but, when 46-year-old Amanda Sparrow Teague met the ghost of an 18th century Haitian pirate named Jack, she knew it was love.
So the pair were legally married in a ceremony held in international waters off the coast or Ireland.
But their love couldn't last forever, and now Amanda says she wants a divorce.
The woman who claims to have married a 300-year old pirate ghost wants a divorce https://t.co/mAsVAFSVuO

— The Independent (@The Independent)1544461872.0
It seemed like the perfect love story. Amanda had a soft spot for swarthy buccaneers. She was Northern Ireland's only female Jack Sparrow impersonator and spent £5,433 to legally change her last name from Large to Sparrow.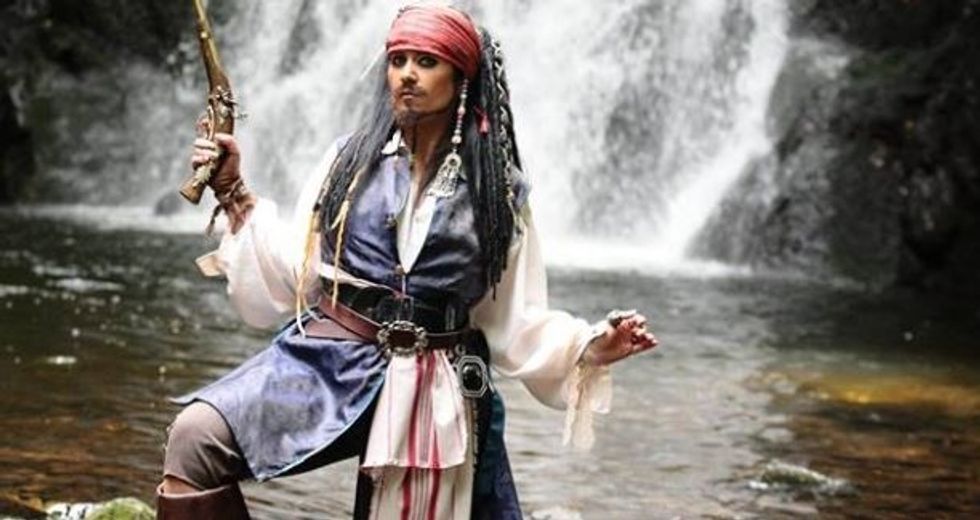 Amanda Sparrow Teague/Facebook
Then one night lying in bed Amanda felt a presence. It was the spirit of Jack Teague, a Haitian sailor who was executed for piracy in the 1700s.

After the encounter, Amanda soon developed "strong loving feelings" for Jack, who she says looks a lot like Johnny Depp's Jack Sparrow. "He is dark-skinned and has jet-black hair, so he tells me."
But Amanda wasn't just looking for a fling. "I told him I wasn't really cool with having casual sex with a spirit and I wanted us to make a proper commitment to each other."
In January they married in a private ceremony with the help of a shaman and a medium who spoke Jack's vows for him.
Woman Marries 300-Year-Old 'Jack Sparrow'-Type Ghost Pirate www.youtube.com
Amanda made headlines for her unusual marriage, but told people they should consider marrying a ghost themselves.
"There are a lot of people out there who don't know about spiritual relationships, but it could be right for them. I want to get the message out there."
Later, she even had a pregnancy scare, but in the end it just turned out to be menopause.
"I had a pregnancy scare... With a ghost" 👀 #LooseWomen https://t.co/yVh8EWPRug

— Paights 👸🏼 (@Paights 👸🏼)1518617266.0
Sadly, it seems the whirlwind romance has come to an end.
According to the Irish Mirror, Teague posted about the end of her marriage on social media.
"So I feel it's time to let everyone know that my marriage is over. I will explain all in due course but for now all I want to say is be VERY careful when dabbling in spirituality, it's not something to mess with."
After such a gripping love story, people wondered would could have broken the couple apart.
Was it infidelity that tore them apart? Or perhaps the challenges of existing in separate dimensions? https://t.co/vmm9LlnPlD

— New York Magazine (@New York Magazine)1544513385.0
@NYMag He was never really there for her...

— Arqahn (@Arqahn)1544513576.0
@theirishpost @AstonshngLegnds Well... I guess he's dead to her now.

— Fiddleback (@Fiddleback)1544422778.0
@Independent She wants to get off the hook

— An observer (@An observer)1544466502.0
@Independent She found out he had a girl in every portal.

— Weldon Thomas (@Weldon Thomas)1544462614.0
@Independent I guess he married her for her booty.

— James Day (@James Day)1544466778.0
@Independent She must have seen right through him

— Ben Cerinus (@Ben Cerinus)1544465188.0
Breaking up is hard to do, but it might be even harder when you're married to a ghost. Amanda says she's worried Jack might not want a divorce and she might need to call an exorcist.
That might not be the only complication with divorcing a pirate ghost, though.
@Independent good luck getting alimony

— Randall Swanson (@Randall Swanson)1544467436.0
@theirishpost @AstonshngLegnds But who got to keep the parrot? 🤔

— 𝓔𝓵𝓵𝓮 (@𝓔𝓵𝓵𝓮)1544450256.0
@Independent But what about the kids?

— Neil Quinn (@Neil Quinn)1544462781.0
It was beautiful while it lasted, but it seems all good things must come to an end.
@Independent So much for "Til death do us pAAARRRRRt" *deletes account"

— Phil Lewis (@Phil Lewis)1544462025.0