Australian social media personality Newsha Syeh was prohibited from entering the Louvre because her outfit was deemed inappropriate.
---
Syeh attempted to enter the world-famous museum earlier this week and took to Instagram to vent her anger after being barred from entering.
She posted about the incident on her Instagram story saying,
"Yesterday at the Louvre, I was stopped at the entrance by a guard for my outfit. He made the most disgusted and horrible gestures and facial expressions, swore at me to cover up, with hate filled eyes stopped me entering. I was heartbroken, because I thought the Louvre enforced this archaic rule [sic]. Turns out it does not."
On Saturday she posted a picture of the outfit in question with the caption,
"Picasso would have loved my outfit"
Several people have pointed out the fact that Picasso's work is not featured in the Louvre.
The Louvre's rules only state that guests cannot wear swimsuits, be barefoot, bare-chested, or naked. There is nothing in their regulations about women wearing plunging necklines.
However, some people think that Newsha's outfit was, indeed, inappropriate and that she was rightfully denied access to the museum.
Blogger slams Louvre museum and claims she was BANNED from entering for her 'revealing' outfit  | Daily Mail Online… https://t.co/OdpsMrjgkX

— Cat C (@Cat C)1541717813.0
@GuerrillaGsOT Good as it IS NOT about her for damn once! It's the Louvre! Show some respect and class!

— MWarner (@MWarner)1541887279.0
@GuerrillaGsOT hey newsha the world is INSULTED by your dress at a https://t.co/QrEMpKKBDn think we don't know you… https://t.co/rmnL21fWeE

— dwtx (@dwtx)1541944439.0

Instagram
However, many people feel as though the Louvre's behavior only perpetuates a misogynistic attitude.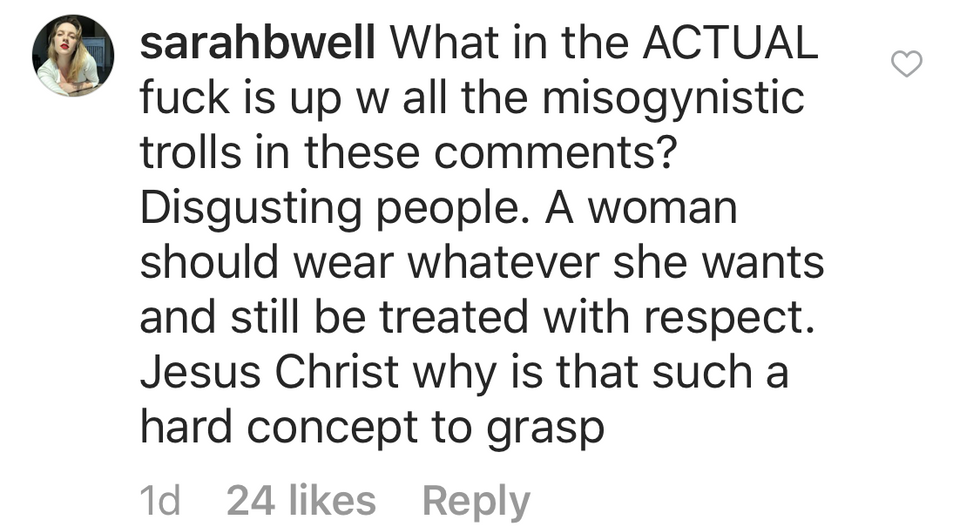 Instagram
@hyperallergic ridiculous 😵

— elisa pritzker (@elisa pritzker)1541828084.0
@hyperallergic @MuseeLouvre hey https://t.co/iP6r98jW7B

— Galaxy Express 555 (@Galaxy Express 555)1541827988.0
France! Enough already with this misogynistic policing of women's bodies. Don't be the pile of shit your rooster… https://t.co/O4fKuDABgK

— Adrian Duran (@Adrian Duran)1541898709.0
@jerrysaltz We like our art full frontal but our visitors in les turtle necks.

— Seema Rao __ Brilliant Idea Studio (@Seema Rao __ Brilliant Idea Studio)1541824957.0
@jerrysaltz I guess the nudes hanging in the museum didn't want any competition.

— MARK C COLLINS (@MARK C COLLINS)1541869992.0
@jerrysaltz Museums love women, but there's a dress code for women who might talk back https://t.co/WnDSq3wl2l

— Nell Ruby (@Nell Ruby)1541890269.0
@jerrysaltz but but but... she looks just like the paintings inside !!!

— crippled old yippster (@crippled old yippster)1541827393.0
This was not Syeh's first trip to the Louvre.
H/T: Hyperallergenic, DailyMail, Instagram