The Obamas are no strangers to being the subject of many a conspiracy theory, but the latest is somehow even more preposterous than its predecessors: that former First Lady Michelle Obama is a trans woman.
This whole ridiculous notion originated on an Evangelical radio show called Up Front in The Prophetic, according to LGBTQ Nation.
---
The show's host, Francine Fosdick, recently held a prayer call during the show. About halfway through, she turned the call over to an intercessor, a person designated to pray on another's behalf, identified as Jamie.
Jamie proceeded to pray to God for President Barack Obama to be "exposed" as having been "involved in child trafficking" and for it to be revealed that his wife is transgender, among other less than neighborly requests.
"I am asking you, Father, that the general public would see all of the stealing and all of the dirty things that Obama has been involved in."
"How did he get this $15 million home in Martha's Vineyard? Father Lord, I'm thanking you that every bit of money laundering, that he is involved in child trafficking, all of that would be exposed."
"Father, I thank you for exposing all of the corrupt book deals, not only Obama's, but Joe Biden's, Michelle's."
"And speaking of Michelle, today ABC just had an article saying that she's been named the most admired woman in the world for the second year in a row."
"Father, I am asking you that whatever plan they have to have Michelle or Hillary [Clinton] run for president, we call that canceled in Jesus' name."
"And I am asking you Father that the true identity of Michelle—Michael—would be exposed. Father, I am asking you that that whole family, that those children—they are not their children, they're the children of Obama's best friend—Father, we ask you that that whole lie would be exposed for the everyday person to see it, in Jesus' name."
Conspiracy theorist and Infowars host Alex Jones has been spreading this idea that Obama is trans for a while—with predictably ridiculous results.

Jones published a 12 minute video clip of himself criticizing photos and videos of Michelle and Barack. In the clip, Jones cited her "very wide shoulders" and "very masculine" face as supposed evidence.
He also played clips of Barack saying the name Michael and claimed that this was proof that Michelle was once called Michael, despite the fact that there is no way to know from the clips who he was actually referring to.
The video also featured a racist and otherwise problematic cartoon at the beginning of the clip which compares caricatures of Michelle Obama and Melania Trump.
Jones claimed:
"This is a funny cartoon. It's not racist to say she looks like a man."
Black women have long been the targets of accusations that they are too masculine, those racist claims are not a new concept.
Jones went on to make inappropriate comments about Michelle's genitalia and claimed that he'd "had doctors on about this."
In true Infowars fashion, Jones couldn't leave it at that, though.
No, he had to up the ante.
"I'm sorry, it's true. It's a giant viral video phenomenon for like eight years that she's a man. All I know is, Obama was raised by a tr***y in Indonesia. They're into all sorts of stuff."
"I think it's all an arranged marriage, it's all fake. It's all just a big sick joke because [Barack] is obsessed with transgender [sic]. It's like some weird cult or something."

This is far from the first time Jones and Infowars have targeted the Obamas with their conspiracies. Jones is also an advocate for the "Birther" conspiracy theory, which posits that President Obama was not born in the United States, despite the fact that his birth certificate clearly shows he was born in Hawaii.
All of this vitriol clearly misses the fact that being trans isn't a bad thing. It shouldn't be seen as an scandal—and to be clear, Jones and the like were almost certainly trying to insult Michelle—to be trans.
Any people were having none of it.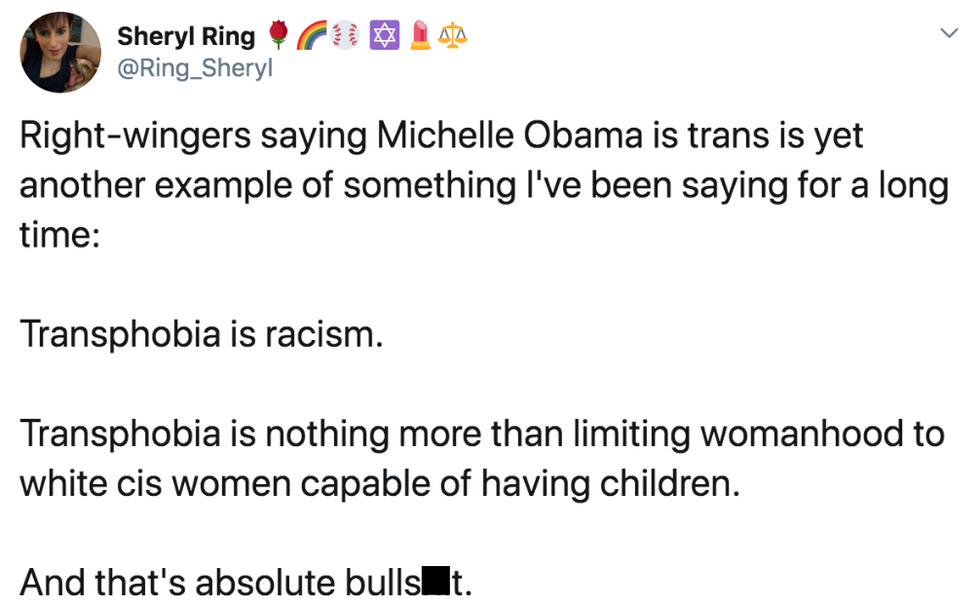 @Ring_Sheryl/Twitter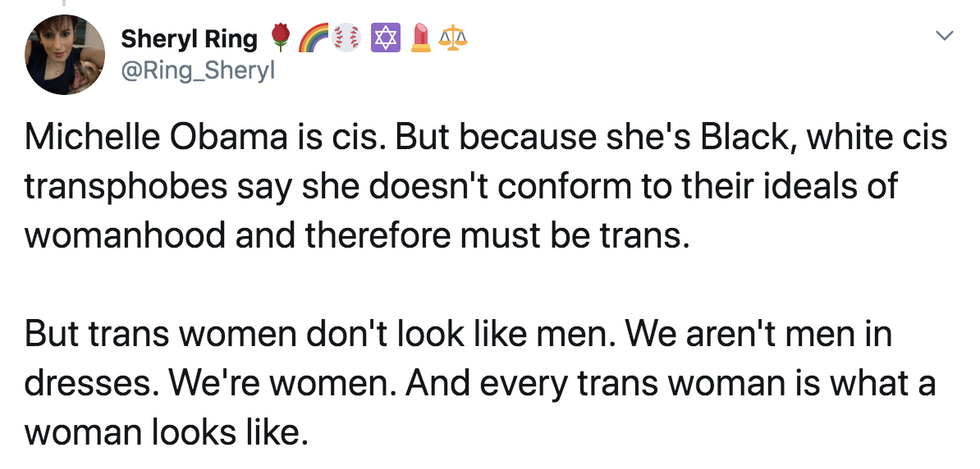 @Ring_Sheryl/Twitter
Michelle Obama happens to be one of the most beautiful women in the world. That's not because she's cis - trans wom… https://t.co/RkEZMrxf0b

— Sheryl Ring 🌹🌈⚾️ ✡️💄⚖️ (@Sheryl Ring 🌹🌈⚾️ ✡️💄⚖️)1578759132.0
The evangelicals aren't praying for peace in the middle east or for the people of Puerto Rico. No, because that wou… https://t.co/3F3kfVzBXb

— Eleanor McDonough (@Eleanor McDonough)1578746678.0
If god exists, he's gonna have a weird one once he checks his e-mails. https://t.co/dRLVFFtvMB

— Gregor Schwayer (@Gregor Schwayer)1578780387.0
So far these right wing Christians think - Michelle Obama - Megan Fox - Kim Kardashian - Jessica Simpson - Sandra… https://t.co/rLk1doDHe1

— Kellylicious (@Kellylicious)1578697569.0
So no, Michelle Obama is not a trans woman, but what would be the problem if she were?

The book Why I Still Believe: A Former Atheist's Reckoning with the Bad Reputation Christians Give a Good God is available here.