If you've watched any of the three seasons of Netflix hit reality series Queer Eye, you know what to expect from the Fab Five.
But the one who everyone seems to go gaga over is Antoni Porowski, the Fab Five's resident chef, who helps the show's subjects learn how to take care of themselves by cooking simple but delicious meals.
(Hot take: It's usually guacamole.)
---
Porowski has a style all his own. He has a rather disaffected manner of speaking. He sometimes seems like he's drifting off somewhere else. Is he high? Who knows? Maybe.
That hasn't stopped him from amassing an enormous following on social media.
And if imitation is the sincerest form of flattery, then Antoni can rest easy knowing he has someone like comedian Benito Skinner to impersonate him. Skinner, who posts on Instagram under the username @bennydrama7 of Antoni taking on Seattle.

"I'm here at Pike Place Market in this gorgeous town of Seattle," he says in that sleepy drawl. "I absolutely adore it."
Oh, but it gets better: Skinner proceeds to gush effusively over flowers picked at the "gardens of Kanazawa, Japan"... among others.
It's all so... what's that word he used? Precious. Utterly precious.


That's true, he did forget those.

But no matter: It's uncanny.

We love Antoni, but this is hilarious. #QueerEye https://t.co/zfWoYONYTN

— PRIDE (@PRIDE)1553643392.0
Idk who needs this but I haven't stopped laughing for 5 minutes @QueerEye https://t.co/Iot0ZVNwVJ

— Jenny🐠 (@Jenny🐠)1553583226.0
It's the voice! 😂😂😂 https://t.co/OQNVki2n3b

— FM104 (@FM104)1553596691.0
love Antoni to death... but... OBSESSED and PLEASE MAKE MORE https://t.co/mJZ2tk32fI

— Rog (@Rog)1553559821.0
We will never be able to look at Antoni the same way again.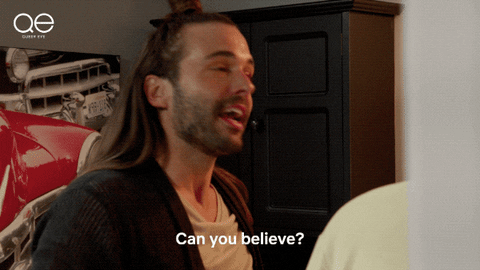 media1.giphy.com