There are times when it seems sexism pervades every aspect of a woman's life, even their visits to the doctor.
Many women who suffer from chronic pain find that doctors won't take their symptoms seriously, misdiagnosing the issues or claiming their female patient's discomfort is all in their heads.
---
Writer Suzannah Weiss began a Twitter thread urging women to come forward with stories of their misdiagnoses, bringing into sharp focus the way women are regularly mistreated by their physicians.
Weiss' original tweet recounts her own 11-month, 17-doctor process of receiving treatment for her condition.
Women with chronic illnesses: how long & how many doctors did it take you to get diagnosed? I counted 11 months & 1… https://t.co/3L6pNUzLAA

— Suzannah Weiss (@Suzannah Weiss)1539710712.0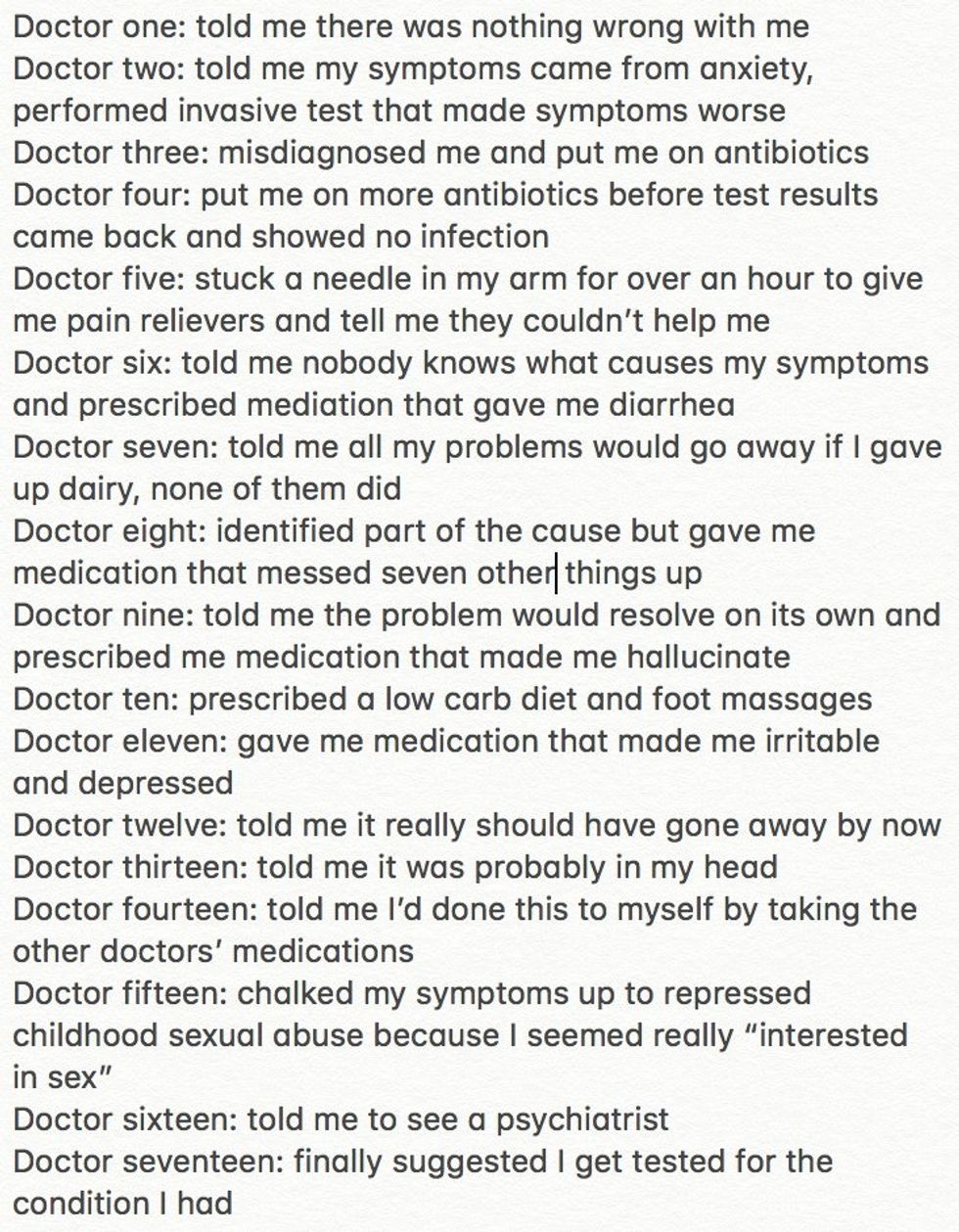 @suzannahweiss/Twitter
Weiss discussed the sexism women face at the doctor's office with HelloGiggles:
"When I share my story of doctors dismissing my health concerns, shaming me, and not being able to figure out what's going on or how to help me, I'm always blown away by how many women can relate. Research shows that doctors are less likely to treat women's pain and take longer to diagnose women (the average time it takes for endometriosis to get diagnosed is six to 10 years!). Women, like the ones in my thread, often describe doctors attributing their symptoms to anxiety or depression—or, worse, telling them they somehow brought their illnesses on themselves."
She went on:
"On top of that, medical research primarily uses male subjects and neglects health issues that disproportionately affect women. The end result of all these problems is that women and other oppressed groups are more likely to be living with chronic health problems, often without appropriate treatment. Since health care is such a basic necessity, this disadvantage sets women back in every area of their lives and stops them from attaining the power in society that they deserve and that the world needs."
Many women could not agree more and began sounding off in the comments with stories of their own.
@suzannahweiss @ashatenbroeke I think 8 years. Two GP's, 3 physical therapist, a shrink, alternative therapy and th… https://t.co/bZtoRyQ0No

— lindarusconi (@lindarusconi)1539891643.0
@suzannahweiss 17 years, 12(ish?) doctors, not including ER. Random google search pointed to Endometriosis. Found a… https://t.co/rpIiKDvXnn

— Katie Muggs (@Katie Muggs)1539901958.0
@suzannahweiss 19 years and dozens of doctors in multiple cities and that's only when I began demanding answers, re… https://t.co/kh177NiYNr

— Capricious Lestrange, The Zebra Pit (@Capricious Lestrange, The Zebra Pit)1539911301.0
@suzannahweiss Six years. A dozen doctors. I made a comic about it here: https://t.co/nJKoZ4Komv

— Aubrey Hirsch (@Aubrey Hirsch)1539916842.0
@suzannahweiss It took me from 2002 until 2012 to get diagnosed with fibromyalgia. Over all that time I was repeate… https://t.co/zJr64PqCNZ

— Lisilla Karnstein (@Lisilla Karnstein)1539984985.0
@suzannahweiss not diagnosed with anything per say. started getting debilitating headaches with an increase in join… https://t.co/hoQXh76fcD

— lani (@lani)1539893751.0
@suzannahweiss - told me to be less stressed. lol. i got pain meds that were opioid level addictive. they helped. i… https://t.co/QaGBB6RZ2W

— lani (@lani)1539893861.0
@suzannahweiss joint specialist (osteoporatic something?) this week 5th doctor ruled out anything allergen related… https://t.co/Eqpylo3j8B

— lani (@lani)1539894000.0
Weiss followed up on her thread, expanding on her thoughts.
[Thread] Women, PoC, NB folks, & LGBTQ people w/ chronic illnesses are criticized for self-diagnosing, but the reas… https://t.co/4I6aXUow6T

— Suzannah Weiss (@Suzannah Weiss)1539883132.0
[4] We get called hypochondriacs when what we really are is empowered & determined to love & care for ourselves.

— Suzannah Weiss (@Suzannah Weiss)1539884135.0
[5] We're deemed irrational for turning to alternative medicine, but conventional MDs rush us out, dismiss our conc… https://t.co/xd6LICKCd8

— Suzannah Weiss (@Suzannah Weiss)1539887167.0
Weiss told HelloGiggles:
"Another part of the problem is a widespread view of the female body as inherently defective, leading to the normalization of symptoms like painful periods, pain during sex, and sexual dysfunction. These issues should not be considered normal, as they compromise women's quality of life and point toward underlying problems that need addressing."

[6] This is a feminist issue. We are sick, suffering, & even dying because people still can't trust our knowledge of our own bodies.

— Suzannah Weiss (@Suzannah Weiss)1539889980.0
It is time doctors began taking women's pain seriously.
H/T - HelloGiggles, Teen Vogue