Stockholm, Sweden is a fairly large city, and it is the capital of a country known for its efforts to improve the human condition within its borders.
It may not come as a surprise, then, that Sweden is making some important changes to the electronic billboards throughout the city.
The billboards, the kind that you see on the streets and on the side of bus stops, will change their function during dangerously cold weather. When it is cold enough, the screens will display directions to the nearest shelter where homeless people can get out of the cold.
The average low temperature in Stockholm is 22° Fahrenheit. Though it can dip much lower than that, especially at night, when businesses where people who are homeless may go to escape the cold during the day aren't an option.
This program is a partnership between Clear Channel, who owns the billboards, and Stockholm's city government. In addition to maps, the screens will display information for those who want to help: how and where to volunteer or donate necessary supplies.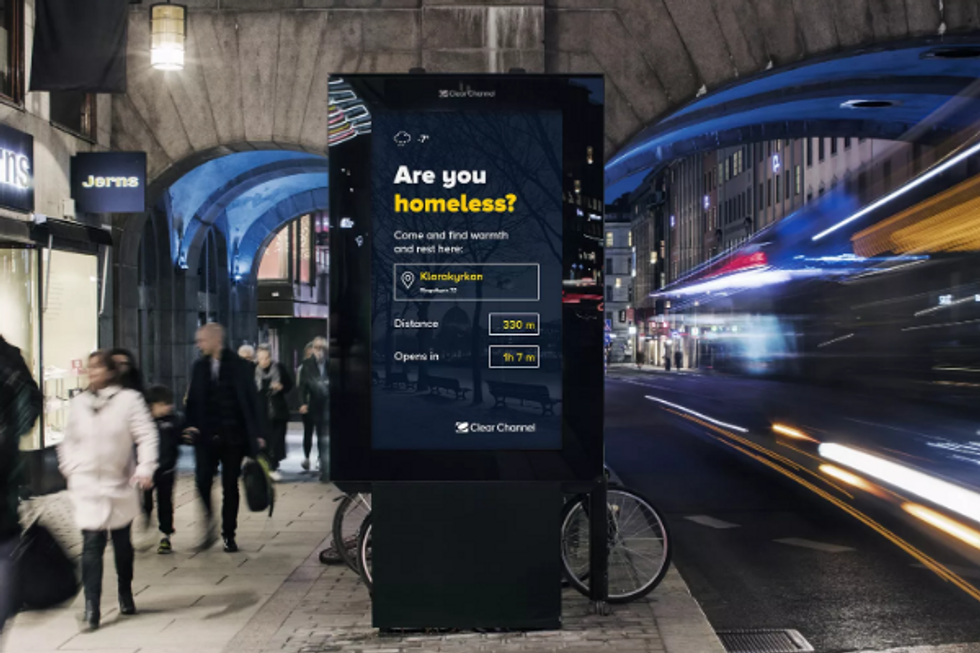 Courtesy of Clear Channel
According to Curbed, the billboards will change from advertisements to public awareness information of the temperature in the city drops below 19° Fahrenheit. When it gets that cold, the city works with local organizations to open emergency shelters, but "information about the establishment of the emergency shelters often does not reach the homeless in time."
Fifty-three of the city's billboards will be repurposed during dangerously cold weather, covering the streets that see the most traffic in an effort to reach as many people as possible.
They are internet-connected devices, so are able to retrieve location information and show detailed directions from a particular billboard to the nearest shelter and show when that shelter will be open.
Stockholm introduced the program in December of 2018, and it will run until the end of January 2019. During this time, Clear Channel will decide if it wants to expand the program to other Swedish cities.
Social media reactions were very positive, with many hoping the program would come to their area of the world.
Some pointed out that advertising and public service are not mutually exclusive; it is possible to find a balance.

Meanwhile, some criticized the practices of their city towards the homeless population, especially "hostile architecture."

Small, simple changes like this can make all the difference in improving the lives of people in a city, especially those who need help the most.