The Swedish are ahead of the game when it come to microchip ID technology, but the concept might get under other people's skin.
Those willing to set their fears aside are having rice grain-sized microchips that store one's personal identification injected into their hands. It's the way of the future.
According to Agence France-Presse, the procedure, first introduced to Sweden in 2015, is done with a syringe and causes a sensation similar to a "slight sting."
Today, there are over 3,000 Swedes who walk around with the embedded chip in their hands.
In Sweden, over 4,000 people now have tiny microchip ID's the size of a grain of rice embedded in their hands to ea… https://t.co/ppcnNnHJJ0

— The Guardian Nigeria (@The Guardian Nigeria) 1540839414.0
Ulrika Celsing is a 28-year-old employee of media agency Mindshare and is chip-enabled.
She uses the identification technology to enter the work space simply by waving her hand over a small scanning box.
After entering a code, the doors open to allow access.
Biohacking is on the rise. An implanted microchip in the body is doing away with key cards and IDs to make lives ea… https://t.co/VAb4AJ1EVd

— Robert Mandelberg (@Robert Mandelberg) 1553030111.0
Biohacking is a term used to describe the modification of bodies through technology, according to Business Insider, who cited Apple Watches and Fitbits as examples.

The Swedes are all about trying the new technology. The country has a population of 10 million people with most of them willing to share personal information that is already shared with the country's social security system.

Celsing expressed her enthusiasm for the microchip tech.

"It was fun to try something new and to see what one could use it for to make life easier in the future."
You can watch AP's report on the new technology in the YouTube clip, below.
Swedish rail operator accepts microchip tickets www.youtube.com
Celsing's chip doubles as her gym card, and she also uses it to book railway tickets through Sweden's SJ national railway company's microchip-enabled reservation service.
Since 2017, SJ conductors have been scanning the hands of passengers with the biometric chips to collect fares.

Sweden national rail carrier ushers in #privacy nightmare #RFID #microchip human implants - @dwnews… https://t.co/EFfG6Prlg4

— Liz McIntyre (@Liz McIntyre) 1497285949.0
Despite the technological convenience and protection from hacking, Celsing still remains a little cautious.
"I don't think our current technology is enough to get chip hacked. But I may think about this again in the future. I could always take it out then."
While the implantation procedure could threaten the immune system with infection, Ben Libberton — a microbiologist working for MAX IV Laboratory in the southern city of Lund — is more concerned about the possibility of one's data being compromised.
"At the moment, the data collected and shared by implants is small, but it's likely that this will increase."
"If a chip can one day detect a medical problem, who finds out and when?"
The researcher told
AFP
that "the more data is stored in a single place as could happen with a chip, the more risk it could be used against us."
@SBSNews It is coming! Society's worst nightmare

— Tor Frømyhr (@Tor Frømyhr) 1422578132.0
And that is something the general public is shivering about.


Business Insider/Facebook

Business Insider/Facebook

Business Insider/Facebook

Business Insider/Facebook
Exactly.


Business Insider/Facebook
Hannes Sjöblad, founder of the Swedish biohacking group Bionyfiken. noted Biohacking's increasing demand.

He said "The human body is the next big platform" and sees the future of wearables like the Apple Watch becoming a thing of the past.
"We are updating our bodies with technology on a large scale already with wearables. But all of the wearables we wear today will be implantable in five to 10 years."
"Who wants to carry a clumsy smartphone or smartwatch when you can have it in your fingernail? I think that is the direction where it is heading."
Great strides come with greater responsibilities. But not everyone outside of Scandinavia is on board.
@trtworld That does not tempt me.

— Joanna M Meyer (@Joanna M Meyer) 1526536266.0
@BBCBreakfast One day we will NOT have a choice. This is coming people ... New World Order. This will govern everything we do in the future

— DazzaG (@DazzaG) 1422605083.0
Libberton told AFP that the Swedes are more open to the invasive technology.
"In Sweden, people are very comfortable with technology and I would say there is less resistance to new technology here than in most other places."
America, are you ready for this?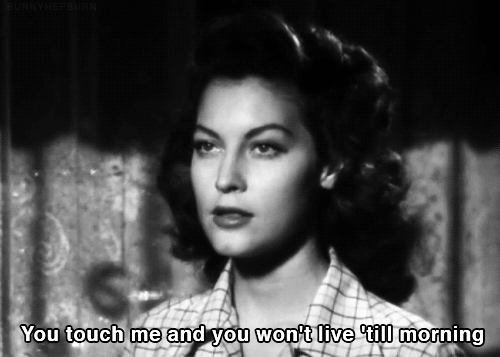 media1.giphy.com
Keep reading...
Show less
Stockholm, Sweden is a fairly large city, and it is the capital of a country known for its efforts to improve the human condition within its borders.
It may not come as a surprise, then, that Sweden is making some important changes to the electronic billboards throughout the city.
The billboards, the kind that you see on the streets and on the side of bus stops, will change their function during dangerously cold weather. When it is cold enough, the screens will display directions to the nearest shelter where homeless people can get out of the cold.
The average low temperature in Stockholm is 22° Fahrenheit. Though it can dip much lower than that, especially at night, when businesses where people who are homeless may go to escape the cold during the day aren't an option.
This program is a partnership between Clear Channel, who owns the billboards, and Stockholm's city government. In addition to maps, the screens will display information for those who want to help: how and where to volunteer or donate necessary supplies.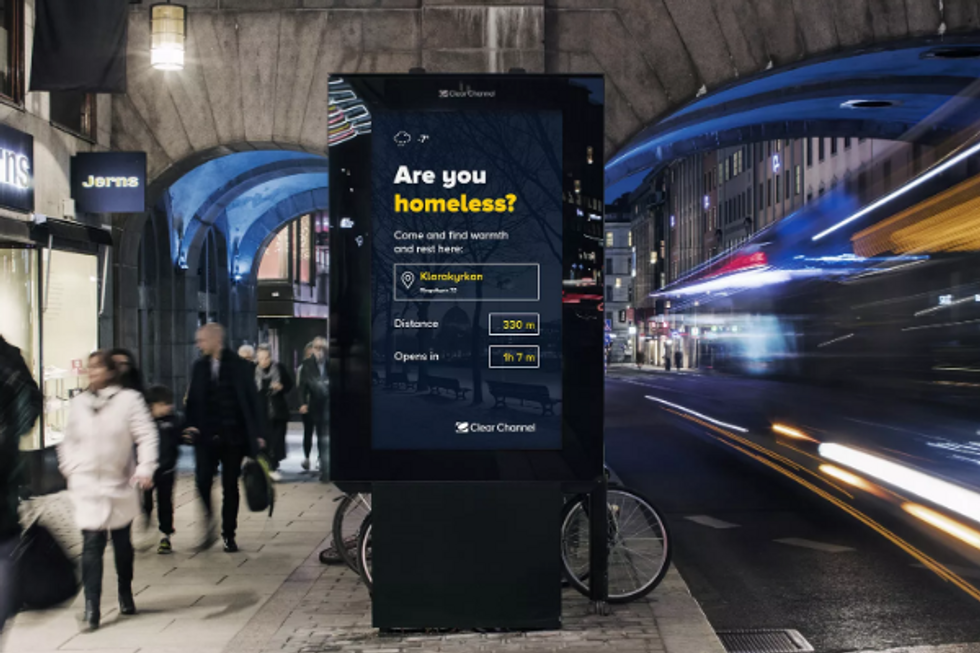 Courtesy of Clear Channel
According to Curbed, the billboards will change from advertisements to public awareness information of the temperature in the city drops below 19° Fahrenheit. When it gets that cold, the city works with local organizations to open emergency shelters, but "information about the establishment of the emergency shelters often does not reach the homeless in time."
Fifty-three of the city's billboards will be repurposed during dangerously cold weather, covering the streets that see the most traffic in an effort to reach as many people as possible.
They are internet-connected devices, so are able to retrieve location information and show detailed directions from a particular billboard to the nearest shelter and show when that shelter will be open.
Stockholm introduced the program in December of 2018, and it will run until the end of January 2019. During this time, Clear Channel will decide if it wants to expand the program to other Swedish cities.
Social media reactions were very positive, with many hoping the program would come to their area of the world.
Some pointed out that advertising and public service are not mutually exclusive; it is possible to find a balance.

Meanwhile, some criticized the practices of their city towards the homeless population, especially "hostile architecture."

Small, simple changes like this can make all the difference in improving the lives of people in a city, especially those who need help the most.