Now that Game of Thrones is a closed chapter, cast members are free from their bonds of secrecy and revealing behind-the-scenes footage from the production.
Gone are the anxieties from leaking any spoilers.

Let the candid photos with Starbucks cups and water bottles flow freely.
---
Emilia Clarke, who portrayed Daenerys Targaryen, posted a cast photo and signed off from the show as if writing in a yearbook without wishing everyone a "rad summer."
"Finding the words to write this post has left me overwhelmed with how much I want to say but how small words feel in comparison to what this show and Dany have meant to me."
She added:
"The mother of dragons chapter has taken up the whole of my adult life. This woman has taken up the whole of my heart."
Gwendoline Christie, who played Brienne of Tarth, expressed her gratitude in all caps.
"THANK YOU. There is no other way to start this. @gameofthrones has changed my life beyond anything I could have comprehended. Playing Brienne of Tarth has redefined the way I look at the world, women and particularly myself."
She is seen in the photo giving one of the show's ADs a fond farewell.

"This photograph was taken on my very last day saying goodbye to my friend Ciaran, he worked on the show from the beginning as an AD and was the first person I met on 'Game of Thrones' - he treated me with respect, kindness and great humour every single day."
But one on-set photo taken in between takes really outshines them all.
Sophie Turner, who played Sansa Stark, didn't have much to say in her post, except:
"The pack survived."
That's all she needed to say, because the photo says it all.
Sansa is pictured vaping with Arya (Maisie Williams) being too cool for school and with Bran (Isaac Hempstead Wright) grinning and...baring his legs.
This is rich.

With one brilliant snapshot, it seemed much of the angst about the finale was forgotten.

@sophiet/Instagram

@sophiet/Instagram

@sophiet/Instagram

@sophiet/Instagram
Those legs, though.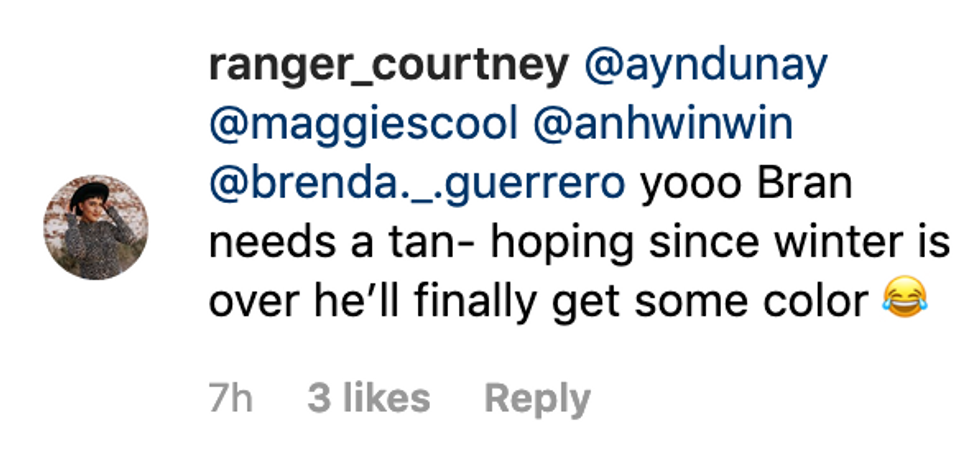 @sophiet/Instagram

@sophiet/Instagram
Final thoughts.


@sophiet/Instagram
We stan with those shades.


@sophiet/Instagram
@enews The JUUL queen back at it again! Should have used a #PHILTER around King Bran for all that secondhand smoke! 😎 @SophieT

— Philter Labs, Inc (@Philter Labs, Inc)1558466946.0
Turner did post a heartfelt goodbye for her alter ego, Sansa, with whom she grew up.

"Sansa, Thank you for teaching me resilience, bravery and what true strength really is. Thank you teaching me to be kind and patient and to lead with love. I grew up with you. I fell in love with you at 13 and now 10 years on.. at 23 I leave you behind, but I will never leave behind what you've taught me."
The actress, newly married to Joe Jonas at an impromptu Vegas wedding that did not end in blooshed, also shared her takeaways from being a part of the GoT phenomenon.
"To the show and the incredible people who make it, thank you for giving me the best life and drama lessons I could have ever asked for. Without you I wouldn't be the person I am today. Thank you for giving me this chance all those years ago."
She showed her fans some love.

"And finally to the fans. Thank you for falling in love with these characters and supporting this show right through till the end. I'll miss this more than anything."
Whatever your thoughts on the series finale, this is the end of an era. Game of Thrones will forever reign as a defining icon in the annals of pop culture.