When was the last time you really examined the label off the side of a Jif peanut butter jar? Probably never, since all consumers are really interested in is the goodness that is inside. Fair enough.
But if you look closely at the logo there is an embedded secret that would even baffle fictional professor of symbology, Robert Langdon.
At least the Internet thinks this latest discovery is a revelation.
---
Twitter user Charlie realized something when he looked at the logo from two different perspectives.
Jif upside down still says Jif.. my entire life is a lie. https://t.co/TSu4PlcSxj

— Charlie ⚡️ (@Charlie ⚡️)1523897027.0
Since the curvature of the "J" resembles an "F" without the serif – the dash projecting from the stroke of a letter, Jif looks like the same word when viewed upside down.

The Internet agreed with Charlie's eye-opening discovery.
@SeeDeng illuminati: stay right where you are

— MustachesRCool (@MustachesRCool)1524430966.0
@SeeDeng MIND BLOWN! Yeah mine too

— Spider-Man (@Spider-Man)1524013730.0
@SeeDeng OH MY GOSH! YOUR SO RIGHT!

— ☆Harmony☆ (@☆Harmony☆)1523900832.0
Others saw a marketing opportunity for Charlie.
@SeeDeng @Jif sponsor @SeeDeng

— Florin (@Florin)1523974147.0
However, a representative from the J.M. Smucker company demurred that the cryptic reading of Jif was never an intentional design.
The spokesperson told This Insider, "We have no information in our archive that suggests the logo was intended to look the same upside down."
People were just seeing what they want to see.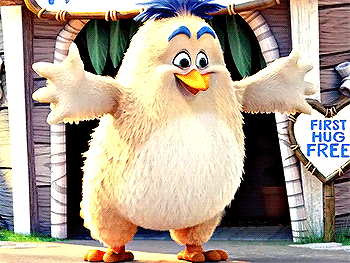 media3.giphy.com
However, another popular assumption surrounding one of America's favorite peanut butter resurfaced.
Consumers were convinced that Jif peanut butter was called "Jiffy" at one point.
However, that is false.
Insider referenced a 2016 Reddit thread in which people shared their memories of calling Jif, "Jiffy," when the product's name was never changed.
u/TheAlbinoRaccoon thought for sure Jiffy did exist, and heard about evidence of it.

"So this is possible residual evidence. I was browsing youtube and stumbled across this gentlemen who claims to have found evidence of Jiffy peanut butter existing. It's at restaurant in Sacramento called Fanny Anns which apparently has a drawing of the Jiffy peanut butter container on their menu. What do you guys think? Personally, I used to remember Jiffy Peanut existing before Jiff years ago."
"Yup. I remember Jiffy. But I also just ate a peanut and jelly sandwich with Jif peanut butter and thought nothing of it. I'm torn." - GnosticKnowItAll
One reader presented an interesting theory.
"Actually, jiffy' has long been a unit of time, both informally like in that phrase and formally in a number of technical fields. So I think it's likely the corn bread makers and, speculatively, the peanut butter makers would have played on the phrase rather than creating it." - level 28daze
People may have confused one product with another.

"For those of you remembering Jiffy, did you not have the Jiffy brand corn muffins in your timeline? That is the item that has been trademarked "Jiffy" since the 1930s." - Singasong70
The Jiffy paradox was chalked up as being a victim of the Mandela effect – a psychological phenomenon in which people create false memories.

The J.M. Smucker representative told Insider that the false product name may also have been the result of an old marketing campaign touting that the condiment can be used to make a meal "in a Jif-fy."
Now that makes a lot of sense.

H/T - ThisInsider, Reddit, Twitter