Anyone who grew up in the Midwest or the South knows that a salad can pretty much be anything your heart desires.
No vegetables necessary.
For anyone who might be unfamiliar, a staple at any gathering is the Jello salad, which usually has little bits of fruit or nuts in it, maybe some whipped cream on top, and whatever else you need to get rid of from your fridge.
---
But one Twitter user recently stumbled upon some classic "salad" recipes in an old southern cookbook that really push the boundaries of what a salad can be.
Lizzie O'Leary, a contributing editor for The Atlantic, shared her discovery in a Twitter thread for the ages.
First off, Coca-Cola salad, which sounds simple enough.
I have found an old southern cookbook with some truly fantastic "salad" recipes. https://t.co/H9elAGMaAb

— Lizzie O'Leary (@Lizzie O'Leary)1561218501.0

@lizzieohreally/Twitter
The fact that the salad naturally separates into three layers is a bit unsettling, but it actually sounds palatable.

Next up is Florida salad, and it's fittingly all over the place.
For #floridaman https://t.co/TmL1XvX4De

— Lizzie O'Leary (@Lizzie O'Leary)1561218603.0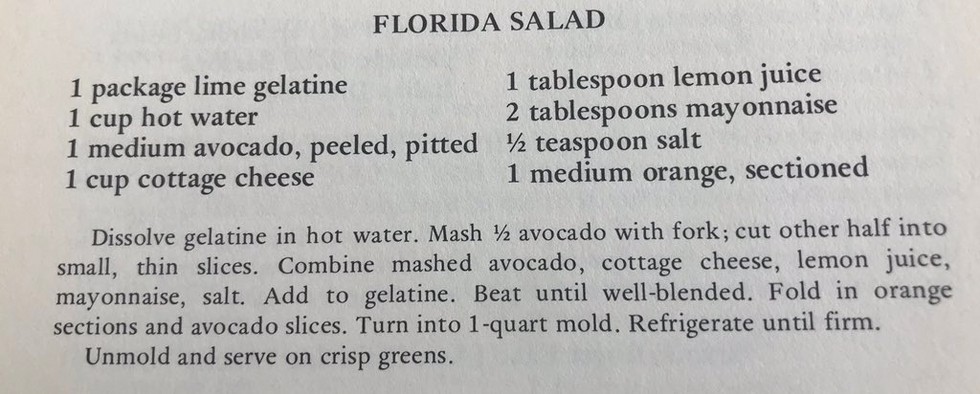 @lizzieohreally/Twitter
Avocado and jello sounds like a strange combo, but millennials love their avocados, right? Plus, you get them both mashed and sliced.
And this one at least slightly attempts to be a salad by suggesting it be served on "crisp greens." Delicious.
The next salad is the white salad, and oh dear.
Sure https://t.co/DPpMyOIsTU

— Lizzie O'Leary (@Lizzie O'Leary)1561218704.0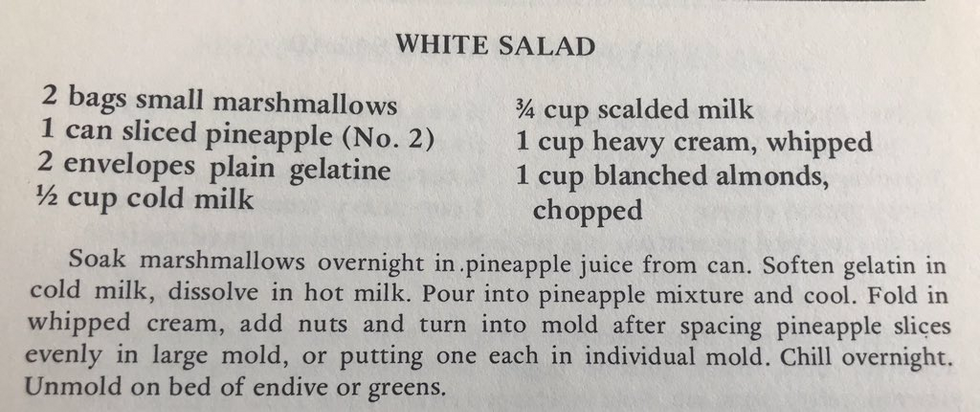 @lizzieohreally/Twitter
First of all...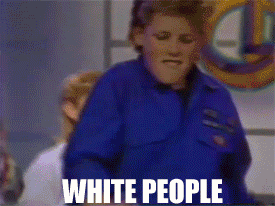 Giphy
Also, what is "plain" gelatine? (Also, since when did we add an "e" to gelatin?) Does it have no discernible flavor of its own? Sounds fitting enough.
This salad is all over the board, especially since it requires both "cold" and "scalded" milk. And don't forget to serve it on a bed of delicious endive.
This next one takes the cake for most unappetizing salad name right off the bat.
Lost me at congealed https://t.co/L2BnMxdMKT

— Lizzie O'Leary (@Lizzie O'Leary)1561219141.0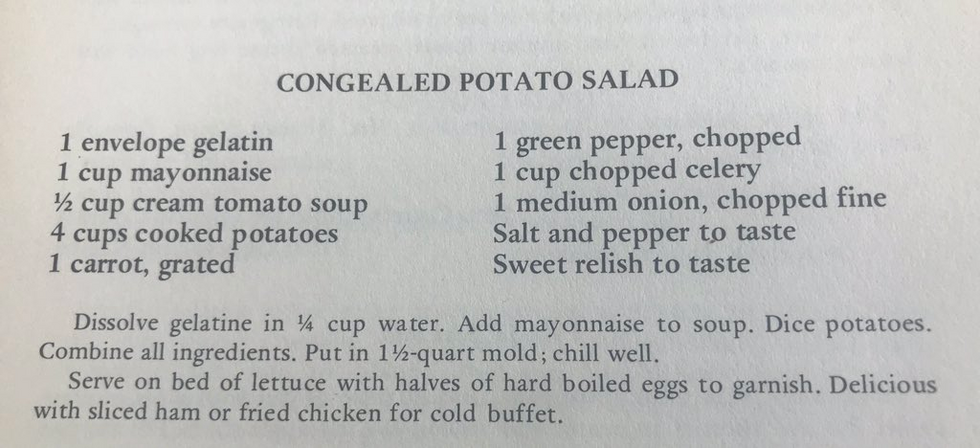 @lizzieohreally/Twitter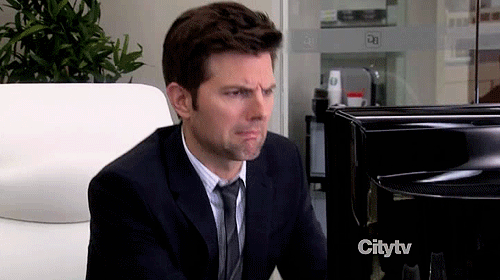 Giphy
If you were looking for some nice variety of vegetables, this is clearly the salad for you.
Maybe just don't tell all your friends the name of the recipe.
The cookbook did its best to make up for that last one, with this "delicious" salad.
Delicious https://t.co/vUaWkHxG2T

— Lizzie O'Leary (@Lizzie O'Leary)1561219314.0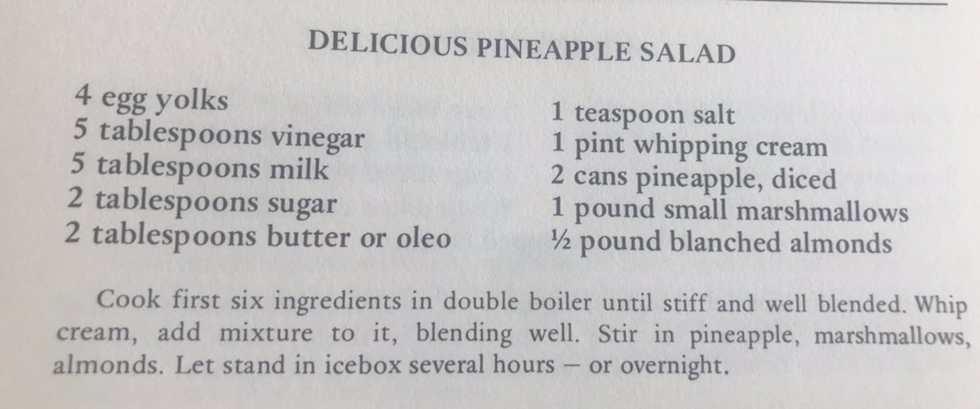 @lizzieohreally/Twitter
Delicious or disgusting? You be the judge.
O'Leary added in a note about another riveting section of the cookbook...
To be clear: the pickles and jellies section of this book is wonderful.

— Lizzie O'Leary (@Lizzie O'Leary)1561219420.0
...before finally finishing off with everyone's favorite, the olive wreath mold salad.
Shoot me into the sun https://t.co/NIRrozc9qh

— Lizzie O'Leary (@Lizzie O'Leary)1561219526.0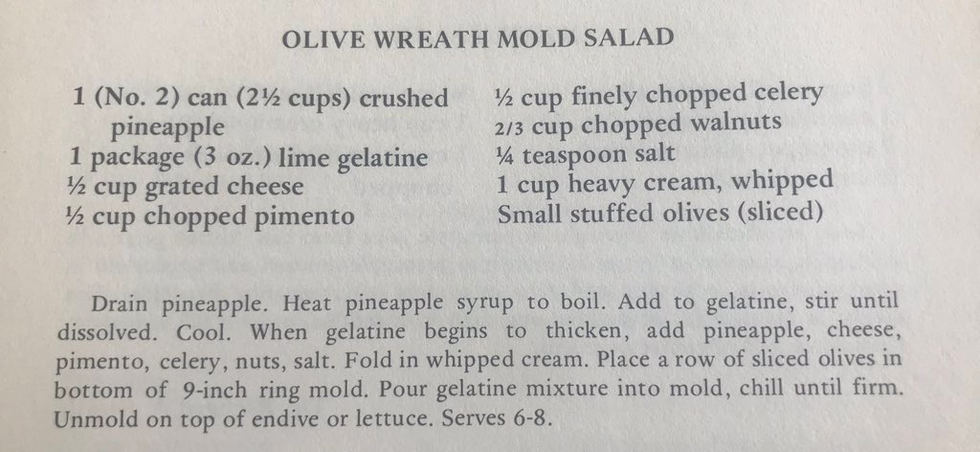 @lizzieohreally/Twitter
There's some of that delicious pineapple again.
This salad has something for everyone, with almost every food group represented. All it's missing is the kitchen sink.
People who came across the thread were clearly both disturbed and thoroughly entertained.
@lizzieohreally If this thread doesn't make people see the need for immigration, I don't know what else to tell you. https://t.co/d2YlFvGUFa

— Sanho Tree (@Sanho Tree)1561221009.0
@lizzieohreally Murder recipes! Priceless. Anything that separates into three layers all by itself wins the Internet.

— Julie (@Julie)1561280846.0
@lizzieohreally https://t.co/fPf7hSljQl

— Not Today A-hole 🍩👩🏽💅🏽 (@Not Today A-hole 🍩👩🏽💅🏽)1561301856.0
@burnschade @lizzieohreally Jello Nuts Despair

— Mrs. BACCV (@Mrs. BACCV)1561219435.0
@lizzieohreally @vanetti Those recipes don't scare me, I lived through the era of these WW monstrosities! 😬🤢🤮 https://t.co/QovocmOuSA

— Lyn Adams 🌈🕵🏻‍♀️🔍📚🌈 (@Lyn Adams 🌈🕵🏻‍♀️🔍📚🌈)1561220652.0
@lizzieohreally "dust jello into cream cheese" is a more elegant sentence than i expected out of this

— Jaya Saxena (@Jaya Saxena)1561224785.0
To those brave enough to attempt any one of these recipes, we salute you.
Just don't expect anyone to eat more than a single bite.
@lizzieohreally https://t.co/0SueiCaDHT

— Phoenix🇺🇸 (@Phoenix🇺🇸)1561266993.0
If you'd like to try some nostalgic lost recipes that are guaranteed to get a better reception, a home cooking iconic brand created Betty Crocker Lost Recipes: Beloved Vintage Recipes for Today's Kitchen, available here.

"Betty Crocker Lost Recipes is the ultimate treasure for the most devoted Betty Crocker fans, as well as cooks who are interested in recipes with a retro/nostalgic twist."
"Eighty percent of the book includes tried-and-true recipes that simply aren't in today's cooking repertoire—mainly from-scratch recipes that are hard to find. Twenty percent is a fun look back at some of the cooking customs of the past that may not be worth repeating, but are worth remembering."