When the 2017 adaption of Stephen King's It was released, it quickly became a smash hit.
---
The movie breathed new life into the classic story, taking a different approach to the book and the 1990 miniseries. Instead of alternating between the characters as children and adults, the movie focused on the adventure of the kids only.
The film brought the chills, the scares, and most importantly, the memes: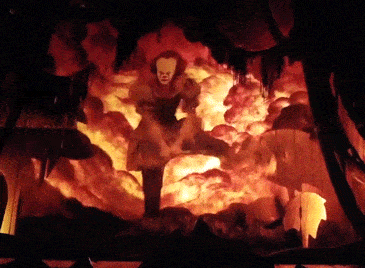 This is somehow both hilarious and terrifying at the same time.Giphy
It's only natural that fans would be excited for the next film, which will focus on the adult story. In the two years since, the adult cast has been announced with the child actors even meeting their future selves.

Everything was in place.
Then Stephen King set the mood.
Thursday finally came, but the trailer wasn't released right away. Instead, we got a teaser for the teaser.
Several media companies received an unexpected package in the mail. The boxes were shipped by DHL and appeared unexpectedly light.
Almost like they could float.
The boxes each had two red balloons filled with helium. Upon opening the box, the balloons would fly out, startling the opener.
These are a reference to the creature from the movies the kids know as Pennywise the Dancing Clown. The titular It would use these balloons to lure children, announce his presence, or inspire fear.
And I'd say they got the same reaction in real life.
Considering how scary the first movie was, this kind of extra tension was probably unnecessary.
Shortly after these videos were shared, the first trailer for It: Chapter 2 was released. It has received praise, with many talking about how excited they are for the new film.
But there is only one deep cut that will make some of us happy.
It: Chapter 2 will be released on September 6 of this year. It stars James McAvoy, Jessica Chastain, Bill Hader and Isaiah Mustafa.