Security Guards Reveal The Spookiest Thing They've Ever Seen On Their Monitors
Security can be a tough job, and it's easy to get a bit distracted when a large part of your shift is spent staring at CCTV monitors.
Sometimes, though, things will happen that snap you right back to reality—and totally freak you out.
---
Reddit user u/Supreme Hydrostatic asked:
"Redditors who have a security job watching monitors, what's the creepiest thing you've seen?"
10.
Someone once came into the gym at 1:00 AM and got naked and started rubbing themself. I made my presence known and stopped watching
9.
There was a guy who would stand just off property dressed in a dark clothing and a hoodie with the hood pulled up and stare into one of the cameras for long periods of time.
This was always after midnight in a poorly lit area, so all you could ever make out was the outline and you could tell it was always the same guy because of the body language.
You could also tell that he was staring in the direction of the camera because of the angle his head was tilted at and there's literally nothing else there of interest but blank brick walls.
This would happen sometimes 1 night a week or sometimes 3-4 nights in a row and sometimes went on for hours at a time. Never saw him move.
It was especially creepy running patrols past that area because there's a wooden fence that you can't see through but the camera is on the second floor and can see over it, so you walk past that area every hour knowing there's a creepy nutter staring at the camera who could literally walk 30 feet and come around the end of the fence at any point in time.
You never saw him arrive or leave either. Go out to patrol, and when you come back he's there. Go out on patrol again, he's gone when you get back.

8.
I frequently spend nights alone in a building by myself, sorta not really watching a camera feed.
Really haven't seen anything weird, but I did get a chuckle this one time. It was spring, and apparently we had some kind of fruit-bearing tree on the property. Some suburban mom pulls into the lot, jumps out of her minivan, and looks at the tree. She sends a text on her phone, and starts picking fruit off the tree.
Within 30 seconds, there were five more suburban moms in the parking lot. Then eight. Then ten. They brought a ladder.
That tree was STRIPPED in four minutes flat, and they all jumped back into their cars and disappeared. You could have gone to the bathroom and missed the whole thing.

7.
It's not what I saw on the monitors, but what I didn't see.
You see, I'm a security guard at a distribution warehouse. Sometimes I have to work the graveyard shift.
During this time the only people on the premises is me, and a rare truck driver bringing in a late load.
Our guard shack is concrete, with sliding glass doors on the sides (no locks) and big windows in front and back.
Sometimes when I'm the only person on the premises, I'll see a reflection of someone walking past the shack in the windows or the doors.
Every inch of this shack and the yard is covered by security cameras. No one has shown up on the footage when I see these reflections.
It's not a reflection of me, as I'm usually sitting down.
6.
Worked security for a few years at a rather major electronics company/distribution center in the Midwest for a few years.
During off-season, we'd close the warehouse down for the weekend and only myself, and my boss would be there.
This was a pretty big warehouse consisting of 5 buildings connected together so if you heard ANYTHING, it would echo throughout the entire warehouse.
One night about 2:30 in the morning, I'm on my hourly patrol of the warehouse and was just getting back on post when my boss called from the surveillance room asking me to check outside behind a semi trailer as he thought he saw someone.
I went out there with my flashlight and checked the surrounding area but didn't see anything out of place or anyone.

About 15 minutes later, it was dead silent, only the slight hum from the computer where I was playing solitaire was making a noise when all of a sudden I heard violent banging on one of the loading dock doors (think a metal single car garage door. That very distinctive metallic/aluminum banging). Scared the absolute sh!t out of me.
I ran back outside again and checked the area once more and again came up with nothing. I called my boss and told him to check the cameras and didn't see anyone. We couldn't find a draft and there wasn't any wind that night.
The next time I worked I requested to be put back on days.
5.
I dunno about creepy but definitely horrible. I was security at a company that makes electronic parts for space shuttles and military planes. We had PTZ camera's that scanned not only the outside of the building but that could also be used to check out traffic on the highway. There was this one incident where one truck driver hit a parked (he had broke down) deadheading truck driver at about 70mph. Impact Killed the sitting driver and busted the conventional Cab all over the road, truck and body parts were picked up By the first responders. PTZ caught it all....that was about the creepiest most horrible thing I have ever seen on the PTZ cameras at work.
4.
I worked security at a local convenience store. they'd close at midnight and were allowed to stay past closing to clean and do chores. The worker and I locked the door at midnight as per the usual. About an hour later I come out of the bathroom an there's an old lady standing at the counter with items. I go get the employee and he even freaked out. He checked her out and everything. I ran to the door to open it for her and it was locked. I gave it a push and it didn't budge. I had to physically put the key in. It was theoretically locked since we locked it about an hour before. He mopped the entire store. Did chores and there was never a lady in the store. Mind you this place was tiny. You could see the entire building from the cash register. We checked the cameras and we never seen her enter.
It bugs me to this day.

3.
I've been called in to review security tapes on a piece of machinery that was apparently starting up by itself and running for the longest time, like someone was fucking with it to sabotage it, or just to be a troll. Nonetheless, it was draining money while it was running at night off the electrical bill.
Plenty of the workers had watched the tape, same as I did. Sure enough, the thing just started up like someone had pressed the On switch. No sign of anyone in the area.
"Is it haunted?" and, you know, I still have enough curiosity about the supernatural to have wondered, too.
Called an electrician in with the maintenance crew to take it apart during off-hours, right about the window of time the machine normally started itself. Had to be out there myself, in the dark, to be on the lookout for a possible return of the possible saboteur. Or, hey, an actual ghost.

You ever heard about spaghetti electrical wiring, where you turn on your light in your apartment and it somehow turns on Grandma Sander's garbage disposal in her home? The electrician that came out identified that it was hooked to a neighboring company's grid, and that their night shift people were apparently turning something off or on that was turning the machine on, somehow.
Didn't ask him to go over and figure out what on the other side was doing it. It wasn't supposed to be hooked into our neighbor's system, but I suppose in the past it was, so we had to get city utilities out to sever the two properties completely. Some old system configuration from at least the 40's. I just had to take the electrician's professional opinion on the matter as the last word. That's not my expertise.
Machine never started up by itself again, so, hey, fixed that ghost's wagon.
2.
​When I graduated from college I was having trouble finding a job. I ended up deciding to take a seasonal job (in this area summer was considered a higher risk because of local kids not being in school) at a warehouse that had various items of value (mostly electrical parts which said kids would try to take and sell). Anyway I was tasked with watching the security cameras. Pretty dull for the most part. They were usually just dark screens because while the cameras were always on, the lights were motion sensor so often they werent on. When the lights did go off, usually it was just an animal. However, one time the light came on but I couldn't see anything. I sat there for about a minute until the light went off. Then another light on the other side of the warehouse went on. Again I saw nothing in the camera. Half an hour or so passed and I saw nothing. I assumed that a bird had just flown close to the light or maybe they were faulty. I called the security guy and let him know that the lights had come on but I hadnt seen anything. Then around 30 minutes after the second light came on, I saw the light in the back of the warehouse come on. We didnt have any entrances by this side but I was still concerned. I looked and saw three figures about 20 feet from the side of the building. They looked really confused and looked really rough. I called the security guy and let him know what I saw. The lights went off after a minute or so and I couldnt see the people. Security guy went out there and the light came on because of him. The people werent there anymore after this.
At this point I was feeling pretty freaked out. Then you could hear some noises that sounded like gunshots come from the back side of the warehouse. Guard came running back in and we called the cops. Cops came and looked around for half an hours before saying they couldnt find anything. Next morning out first truck gets to the warehouse and we find that the side entrance had 3 bullet holes in it. I have no idea what was going on and Im not sure I really want to know.
1.
My cousin is a night shift security at a bank on a pretty sketchy street. This is the creepiest thing he says he's seen before. When the first Purge movie came out this guy came dressed in full black with a lit up rave mask came up to the storefront at 3 a.m. He just stood there and stared at the outdoor security camera, tilted his head kinda like a dog. Then he left after about 6 minutes of just staring at the camera. My cousin says he was lucky that this wasn't some type of organised robbery bc apparently people do this to distract guards. It was just some guy trying to be creepy.
Reddit user motivetodayy asked: 'People born before 1980, What are some obsolete household items or gadgets from your childhood that younger generations may not even recognize?'
Technology has grown by leaps and bounds in the last few decades.
A lot of formerly everyday gadgets are now completely obsolete.
For example, unless you grew up when 8-track cartridges were a common music distribution medium, the very sight of a cartridge might be confusing.
Reddit user motivetodayy asked:
"People born before 1980, What are some obsolete household items or gadgets from your childhood that younger generations may not even recognize?"
TV Tech
"Those GIANT projection TVs the size of a closet that only looked good if you were sat in the EXACT right spot. That one kid whose parents let him hook up his Nintendo to it was king."
"The same family probably had one of those satellite dishes in their back yard that were absolutely massive and made your house look like you were trying to spy on the Russians."
- nailbunny2000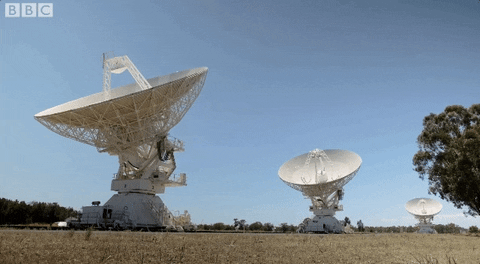 Giphy
How To Keep In Contact
- fidelkastro
"Wow, you just brought back some memories of me playing with one of these as a kid!"
- ajlm
"I worked for a large, billion dollar company in 2007 and the CEO/founder, 70+, who I had to meet with occasionally, insisted on having that exact phone book. He had a computer on his desk, and an executive assistant, and still HAD to have that mechanical phone book to access his phone numbers. Much to the dismay of the office manager when his old one wore out. By god, she found one. Edit for detail."
- -mopjocky-
"We still use this where I work...."
"And we are the ones supplying the natural gas to your homes and businesses. Till next time"
- braize6
Party Lines
"Phone lines that you share with a few neighbors. It was called a party line. Don't confuse this with the party line of the 90s where people could in a talk with several strangers at one time."
- Cultural_Standard_58
"I remember these! Knowing what series of rings was your phone number, and picking up quietly when the old ladies up the road were gossiping lol"
- cinkiss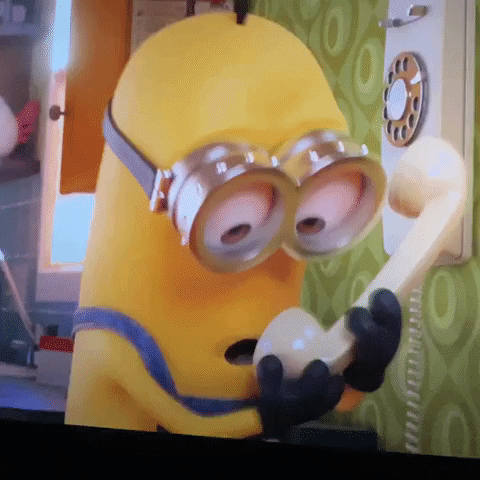 Giphy
Pause So You Don't Get The Commercials
"The VCR recording clicker to pause the recording during commercials."
"Single button with a long cord to the VCR"
- queuedUp

Be Kind, Rewind — With Your Model Car
"VHS rewinder. Ours was shaped like a race car. Be kind, rewind."
- EddieRando21
"Ours was a red sports car!"
- fire_fairy_
"Whoever started the rumor that rewinding videos ruined your VCR made a lot of money in the late 80s."
- Peemster99
"My memory was that it took 10 minutes in the VCR player. Not in the Race Car Rewinder though."
- postmaster15
Home Intercoms
"The house I grew up in had an intercom system."
- Geek_off_the_streets
"Yep, wired intercom systems that could also play AM and FM music to all the rooms were a big fad in 1970s new home construction"
- Xyzzydude
The Origin of CC
"An actual carbon sheet that was placed between two sheets of paper to carbon copy the bottom paper from the top paper."
- tranquilseafinally
"Fun fact, this is where 'cc:' on emails comes from. ('bcc' is blind carbon copy, since the recipient can't see other recipients.)"
- vandezuma
"And that's how I learned to copy my mother's signature on to bad school stuff."
- MickCollins
Smoking Was Everywhere
"'Floor model' ashtrays. Short stands that sat on the floor, and the top was an ashtray. Back in the day when people would just walk into your house and fire up a dart without asking, and nobody thought twice about it."
"The only place you didn't smoke was in church."
- Joseph_Bloggins
"My Grandparents had ashtrays with places to hold cigarettes, when I asked, my mom said it was normal to provide cigarettes at parties, along with alcohol and food. 1950s and 1960s"

- Jbruce63
"No one in our family smoked, but we had a stash of ashtrays Mom would have us set out for company."
- mustbethedragon
"Remember the ones where you push a button and the floor of it hinges open to dump all the ash and butts into a compartment below?"
- GozerDGozerian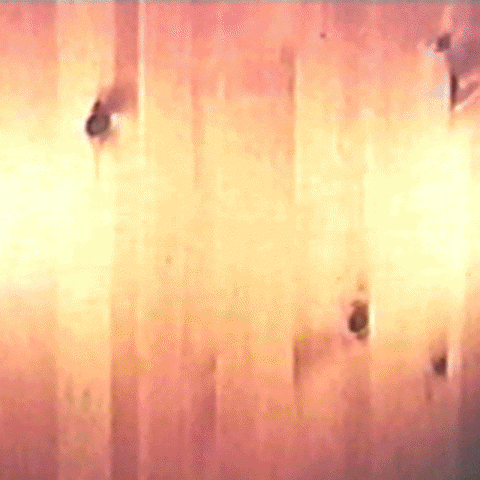 Giphy
Ergonomics Are Important
"A neck phone holder."
- modshavenopenis
"Those things always drove me nuts, it seemed like they were always made for giant people."
- Rokhnal
"We have these at my work for employees who have to spend a lot of time on the phone - though now that I think of it, maybe everyone's transitioned to headphones. Hmm."
- froglover215
"Grandma had one of these all throughout my childhood. I never "got" it until I hit 40...."
- Glum_Time3479
Milk Doors
"A milk chute built into our house. The milk man would leave the milk in the chute in the morning from the outside and we would pick it up from the inside."
"I am beginning to believe that this is a good idea again, albeit with a good sturdy lock on the inside door, so packages and food deliveries can be left out of sight but available to the homeowner from the inside. If I were building a house now, I would add that in to the plans."
- aeraen
"I would love to just have the whole fresh milk delivery thing again."
- dblshot99
"Growing up, our house had a milk chute. Never had milk deliveries, but we had cats."
"The milk chute became the cat door, which they learned and taught each other to open. Came in handy for when I'd lock myself out of the house."
- residentialnemesis
"I could contort my upper body through ours since I'd forget my keys a lot and could open the back door. Ah the latchkey days I remember them so fondly."
- raylab810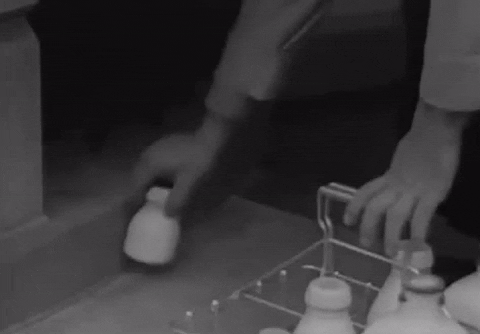 Giphy
So Many Antennae
"My six year old daughter and I were walking through the parking lot of Auto Zone and she started laughing pointing at this like early 90s truck that had an old, aerial antenna sticking three feet out of the car hood and started laughing:"
'"Daddy that car has a whisker! It has a kitty whisker!'"
"She'd never seen an old antenna like that before."
- SeaTie
"My dad had a Mercedes back in the day and when you started the car, the antenna would extend up."
- lzwzli
"Now there's no where for an antenna ball. Makes me sad."
- jburton24
Video Games Were Very Different
"Computer games that were loaded on cassette tapes"
- PrincessTusi
"Even before the cassette tape, they'd publish the games' code in a magazine and you'd have to type it all in without any mistakes. No editor. No debugger."
- sapientia-maxima
"R…U.…N Enter. And pray to god you didn't miss a colon somewhere"
- LadyGreyNoJoy
Mr. Yuck
"Mr. Yuck"
- Bmc00
"Child safety: Should we lock up these absolutely lethal chemicals? Nah, let's just put this green sticker on them!"
"This is also why the number for poison control was always on the first page of a telephone book, and often written as one of the emergency numbers on your telephone."
- MrHyde_Is_Awake
"As of a few years ago, you could still contact your local poison control office and request a sheet of these."
- ThatsABunchOfCraft
Analog Doorbell
"A doorbell that uses pipes to make sound. Most contemporary doorbells are just a box on your wall, a buzzer, or an app. That's if you even have a doorbell."
- Sigseg
"We would switch the pipes around at my friend's house. It would drive his mum mad when the doorbell would ring and the time was all wrong."
- badpuffthaikitty
What now-obsolete technology did you grow up with that you think the young people around you would be confused by?
When it comes to insults, clever is better.
Anyone can go the obvious route of simply calling out a person's physical appearance or intellectual capacity.
But if you really want to be remembered, you've got to be creative.
The playwright William Shakespeare was fond of clever insults.
And Ballroom culture made reading and shade into artforms.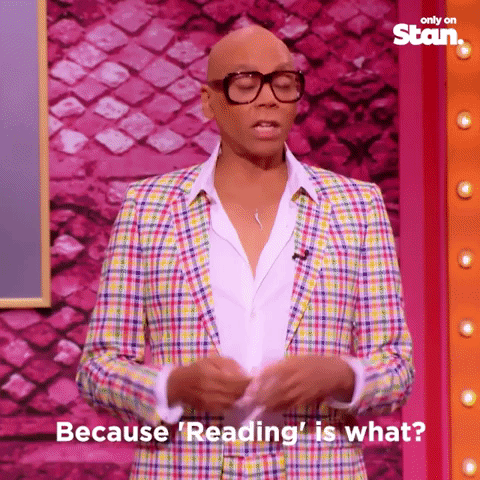 Giphy
Reddit user No_Throat_1574 asked:
"What is the most creative insult you've ever heard?"
Baked
"An employee of mine told me that I was the raisin in his day's chocolate chip cookie."
- SellingMakesNoSense
Not so artistic
"Your face looks like something I'd draw with my left hand."
- weshric
Talking out your butt
"'They ruined a perfectly good bum when they put teeth in your mouth.' - Billy Connolly."
- That80sguyspimp
"Growing up, my best friends mother used to say 'it's a shame God put so many teeth in your mouth…ruined a perfectly good a**hole'…"
"Same energy. Shout out Tia 🖤"
- ends_and_odds
We all deserve a break
"You have your entire life to be an idiot. Why not take today off?"
- rip1980
Green with envy
"I envy people who don't know you."
- StalinsPerfectHair
Right in the childhood
"'You're not being the person Mr. Rogers knew you could be.' Emotional damage"
- couch_hammer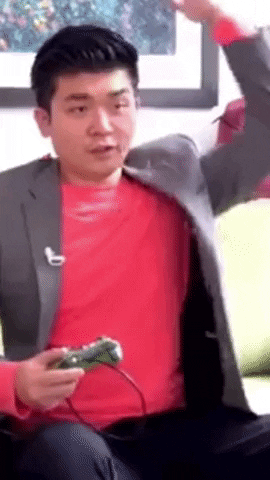 Emotional Damage GIF by Jennifer Accomando
Giphy
Slow down a bit
"Knowledge has been chasing you, but you have always been faster."
- Bright-Baker8267
Common loot energy
"You look like you drop common loot when defeated."
- GeorgeCauldron7
A bit bland
"I've always enjoyed 'If she were a spice, she'd be flour.'"
- Toren8002
No excuses
"I bumped into a homeless guy. I said excuse me."
"He said 'There is no excuse for you!!!'"
"With his leathered vigor, he's probably right."
- LOGOisEGO
Pain in the foot
"One time a third grader who was very annoyed with me told me 'you're a rock in my shoe' and I've never forgotten that"
- madagascarprincess
Reap what you sow
"I hope your day is as lovely as your personality."
- montanagrizfan
"This works as both an insult and a compliment"
- Yezzzzzzzzzzzz
"'If my dog had a face like yours, I'd shave it's @ss and teach it to walk backwards'"
- WteMxy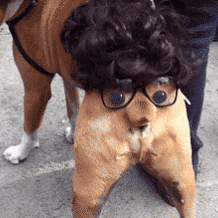 boxer dog gifofdogs GIF by Rover.com
Giphy
I would consult my own
"'If I wanted to hear an a**hole's opinion, I would have just farted.' Learned this one a month ago and don't know how I survived 40.5 years without it!!"
- ITSBRITNEYsBrITCHES
I'm not that flexible
"I'm trying to see things from your point of view but my head won't fit up my arse."
- Horrorbmoviepunk
It's generally better to try to play nice with others when you can but, if you're going to be mean, at least get creative.
By the time we are in high school, we tend to try and keep track of our classmates and see what they are up to as we progress in our own lives.
Some of our classmates end up extremely successful, and sometimes, wealthy. Redditors know this all too well. They know how their old classmates became rich and are eager to share.
It all started when Redditor Ivl231889 asked:
"How did that person in your class become rich?"
He Was A Skater Boy
"He dropped out of high school at 15 to be a pro skateboarder. People laughed, he's now worth 50 mil."
"Rick Howard"
"Yeah it's pretty cool, went to school together and a bunch of us started skating around the same time, he just took it to the next level. Thankfully I wasn't of those laughing as I knew he'd make it but damn, numerous businesses and 50 mil later, well done my man."
– tekhed303
A Hell Of A Life
"Started online gambling sites back in the 90s, dropped out of high-school, millionaire by 20 Overdosed by 25."
– waltwalt
"What a life. That 5 year run would have been wild"
– superfresh23
Coders
"Sim for me- my friend wrote code for the online sites that was really good in some way (beats me how I'm no programmer) and they paid him through the nose for it. Next step he modified the code to work for stock market prediction and he runs a hedge fund. Owns like 8 houses in 6 diff countries and his own jet. I'm smart but not in that specific kind of way - I'd be jealous except he was a good nice dude before and remains. Couldn't have happened to a nicer guy and it was all through work and smarts"
– Remarkable_Green_566
Bitcoin
"I went to school with a kid that was all in on bitcoin from the get go. He was a hustler out of the womb, and held two jobs along with a couple different side hustles. He didn't have much in the way of a social life, so he invested probably 75% of his income. He was buying bitcoin when it was like $1. He went on to buy a number of gas stations/ convenience stores and apartment buildings. He went from a McDonald's fry cook to buying and selling classic cars as a hobby."
– Waffle_Maestro
"One of my former co-workers did something fairly similar. When he upgraded to new servers (we were self-hosting), he asked our owner if he could use the old ones to mine BTC. The owner said it was fine as long as he took them home to do it. Similarly to the kid in your story, he also spent some of his income buying up BTC (between the years it moved from ~$10 to $200 per coin), and then also was part of some BTC trading thing online."
"Fast forward to 2019, he sells off most of it at $16k per coin. He wouldn't tell our friend group (mostly old colleagues) how much exactly, except to confirm it was more than 1,000 coins. He did pay taxes on all of it... still bought a giant house outside of Boulder and now travels all over and is getting a Ph.D. for fun."
"Obviously he could've held longer, but I think he was just tired of obsessing over its value bouncing all over the place when he already had more than enough to retire comfortably in his mid-thirties."
– asmodeanreborn
"Not my close friend but a kid in my English class, really f**king smart kid. He entered a coding/robotics competition and got third place. He was pretty bummed out for a while. First prize was a scholarship for a pretty big university. And third place got a lousy 500 bitcoin. He kept the 500 bitcoin despite people telling him to cash it and get the $100 or whatever it was worth. Anyway he cashed it at the peak of bitcoin and is now living pretty f**king well with his $30mil."
– Sploshta
He Was The One
"A guy skipped class to MUD enough times that the best high school in the Midwest kicked him out. He rarely showered and smelled like death."
"He went to college at 25 and sold Volcano vaporizers from his dorm room. Over the next decade or so, he built that business into a large head-shop wholesaler. He cashed out eight figures liquid just before the pandemic."
"20% of our class are engineers today; 10% are doctors and 10% are lawyers. Ol' stinky is more successful than any of us."
– mzanon100
The Tech Field
"She started working for a little company called Microsoft in the mid-1980s. She retired at 40."
– dma1965
"My classmate worked at LinkedIn before it got big. Retired at ~30 by pouring everything into buying a house. Helps that he likes eating plain foods (bread, rice, porridge, potatoes, broccoli, carrots) and doesn't really spend that much money."

"He's basically been traveling 10/12 months a year since retirement."

– WeeBabySeamus
Stock Guru
"Smart guy. A little socially awkward but was a swimmer and in top classes."
"Went to UCLA, became a doctor (maybe a surgeon). Started to play the stock market for fun. Ran a bulletin board to talk stocks."

"Turns out he had Asperger and was able to read the stock market signs really well."
"Made $300M when the market crashed as he bet against it. Christian Bale played him in the movie about him, the Big Short."
"Mike Burry. Class of 1989. We knew each other. Not friends but acquainted. Couldn't be happier for the guy. Truly, happy he's done well. Not seen him since we graduated. If I did I'd totally (and jokingly) ask him for some cash. I'd try to make him laugh. He'd probably still be awkward."
– MW240z
Rich By Accident
"There's a lot of them that became rich. For most of them they graduated as engineers or medical doctors and simply did their jobs and were reward handsomely."
"But that friend became rich through trades. He took his student loan and bought a piece of very inexpensive land just outside of his city limits. Just by an absolute fluke the city announced shortly after that it planned to expand city limits to include his vacant land.... and suddenly it skyrocketed in value. This was at a time before any real internet and before everyone had a cell phone. And there's all these property developers trying to figure out who owns this land so they can buy it."
"Eventually his mom opens his mail and finds a past due property tax notice and an offer for about 20x what he paid for it."
"He took the first offer he got (and regretted it) and went to a bank and directed them to invest entirely in dividend stocks and for the dividends to be deposited directly into his bank account."
"He used that money to stay a student for life and basically never worked a day in his life. There was one point where it got close to him needing to get a job... but then one of the companies announced increasing their dividend."
"I have rich friends, and then there's him... just living off of his wealth. He doesn't have a great life, but he also doesn't work."
– garlicroastedpotato
I Knew Him Before
"I went to school and was friends with the guy who founded Uber. He offered to take my SATs for me for $500 as we looked alike and he is very smart. He was always "that guy.""
– ReflectionsGo2Ways
Don't Judge A Book...
"Big-time stoner who I always thought was a lazy scumbag who would never amount to anything.
He went on to start one of America's most successful marijuana edible companies. Classy billboard ads in multiple cities. My mom bought their CBD gummies for awhile. Every year he donates millions of dollars of his company's profits to bail funds for people of color who've been arrested for marijuana possession.
He is more successful and has done more objective good for the world than I ever have or will. Turns out I was a bitter judgmental loser in high school!"
– UOLATSC
Do With It What You Will
"Guy's parents told him in middle school, we're giving you $20k right now and that's all you'll get from us. He was told he can use it for college if he pleased or a car when he was old enough to drive. He started studying stocks like a madman, invested most of that money, and now he's a millionaire."
– maru_badaque
I need to start studying stocks...
Do you have any similar experiences? Let us know in the comments below.
Everyone hates hospitals, and rightfully so. They can be downright scary places with a lot going on. Sometimes, a hospital stay goes smoothly, but other times, it can turn out to be a complete nightmare that leaves you scarred for life. Here are some of the most unnerving encounters people have had while at the hospital.