Anyone who watched Crazy Rich Asians will know what I'm talking about when I reference "the emerald ring".
It turns out that the epic piece of jewelry is not only real, but it belongs to none other than Michelle Yeoh.
---
For those who haven't seen Crazy Rich Asians yet, be warned that there are spoilers ahead. But you can catch up with the rest of us because the film is now available on 4K, Blu-ray and DVD here.
The end of Crazy Rich Asians was pure romcom perfection when Henry Goulding's character, Nick Young, chased down Rachel Chu (Constance Wu) to propose to her with his ever-disapproving mother's ring.
Nick's mother, Eleanor, is played by Michelle Yeoh, and she refuses to accept Rachel until after Rachel confronts her during an epic game of Mahjong.
As a token of her approval, Eleanor gives her gorgeous emerald ring to Nick to propose to Rachel with.
The audience never sees Eleanor give Nick the go-ahead, but we all understood that she accepted Rachel when Nick opened the ring box and the epic emerald was revealed.
In an interview with BuzzFeed News, Michelle Yeoh revealed that the ring is, in fact, real.
PROFILE: Michelle Yeoh On The "Crazy Rich Asians" Ring youtu.be
Not only that, but the ring belongs to Michelle Yeoh, herself!
When asked if the ring was a gift or if she got it for herself, Yeoh responded like the boss that she is.
"I don't wait for people to give me presents. If I want flowers, I'm going to send them to me."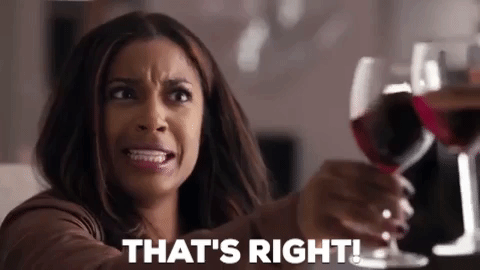 GIPHY
People are all about Yeoh's style of self-love.
YOU GUYS - THE CRAZY RICH ASIANS MASSIVE EMERALD RING IS MICHELLE'S OWN RING. https://t.co/zTt3rZCRZZ https://t.co/5fw8W4tvDJ

— Grace Prasad (@Grace Prasad)1547189850.0
Damn bloody awesome...I have an amazing blue topaz ring...cannot afford the natural emerald I want...yet! 😈… https://t.co/9PPwmpa8Kj

— Lady Lancelot ⚔ (@Lady Lancelot ⚔)1547180087.0
@jonmchu @kenjeong @DailyMailCeleb Love her!

— jagks73 (@jagks73)1547011186.0
This is the energy that I am owning in 2019. I love Michelle Yeoh. Badass women buy their own diamonds and I am tot… https://t.co/GPBbFAUjLC

— lionessmom76 (@lionessmom76)1547161002.0
Okay so what everyone was saying was Michelle Yeoh's "engagement ring" was actually a treat yo'self - oh man I ador… https://t.co/aORFD6NdyX

— Trash Addict (@Trash Addict)1547180483.0
The cast of Crazy Rich Asians won the red carpet last night and @gemma_chan won all the fashion awards with the gow… https://t.co/oXjzjxhWYx

— Paris (@Paris)1546889228.0
I totally missed #GoldenGlobes shebang. But easy to pick my best dressed women Phoebe Waller-Bridge and Michelle Y… https://t.co/Y7IFKrE13h

— Natalie (@Natalie)1546888561.0
Imho, the only GGlobes jewelry to talk about is Michelle Yeoh's emerald ring. Because it is her ring. She owns it.… https://t.co/ES3Nr0Uhjz

— VicenteAgorPrecious (@VicenteAgorPrecious)1546883083.0
I love that #CrazyRichAsians star Michelle Yeoh bought that fabulous emerald ring featured in the film for her self… https://t.co/622Dcs3ojc

— Courtney O'Moore (@Courtney O'Moore)1546876829.0
Listen. the queen owns her own damn jewelry. https://t.co/PImgdJyqsp

— Kimmy Yam (@Kimmy Yam)1547155804.0
Goals.