Retail Workers Admit The Worst Customers They've Ever Had To Deal With
Crazy retail stories are so common that Reddit actually has an entire subreddit called "Tales From Retail."
Here are just a few of the most ridiculous happenings.
Chip On My Baby
I was bagging groceries last night when a lady came through with a baby in a car seat in the basket of her cart. She had a LOT of groceries that I'm assuming she'd had under and around the car seat, so when I bagged them I was putting them back under and around the car seat. I wasn't sure where else to put them if not there, right? It's not like I could put them on top of the baby, right?
Well. As I'm placing stuff carefully under Baby, Baby's mom says "oh hon, you can just put some of this stuff on top of him" and pats the canopy.
The phrase "but ma'am that's a baby" almost escapes me but I choke it down, nod, and continue putting stuff under the baby, under the cart, in the seat of the cart, etc. At this point the cashier (my favorite cashier) is trying and failing not to laugh at both the absurdity of me being told to put groceries on a baby, and my increasingly desperate attempts at finding places for the bags.
I got all but a bag of chips squared away, and there was just no more room, so as they walked away I set the bag of chips on top of the car seat, turned back to the cashier and whispered in horror "I put the chips on the baby." Which I believe is the most absurd thing I've said on the job so far. occipital_spatula
Mean Girls
I'm a cart pusher and I don't deal with tons of customers. I did have a woman flip out and call me an idiot, but honestly I feel this was worse.
I saw these two girls, probably 17-19 years old, putting their cart up on the curb instead of a corral. I went over and said I would take it. What does one of them do? She shoves the cart so it rolls full speed, and I have to run after it while they stand there, watching me, laughing at me. One of them said "Haha you really did that!!" to the one who shoved the cart.
I was embarrassed and felt hurt by this. It ruined my night, that they decided to just make a joke out of me and my job. I am trying to feel better about it, thinking they are super immature, but this still was hurtful. :( sweatycat
GIPHY
Petty Logic
I worked as a bagger at a small, family owned grocery store while I was in high school. One day a man came through the checkout with a full cart of groceries.
Me: "Paper or plastic?"
Customer: Id like double bagged paper and Id like you to make each bag as heavy as you can.
Me: "Sure thing!"
A bit of a strange request, sure, but anything that broke up the monotony of the day was welcomed. I managed to load his entire cart into three fairly heavy bags and bring them out to his car.
Customer: "In case you're wondering - I just had a fight with the wife and it's my turn to pick up the groceries."
Me: "Uh-huh."
Customer: "It's also her turn to unload the car."
How To Embarrass Your Tween
I work part time in a mid-sized retail store, pretty close to a local school, so we get a lot of school kids in around 12 buying snacks and candy and what not during recess. A lot of the same kids, so over time i've come to recognize a lot of them. One of the groups were quite loudly talking about dabbing, and about how fun it would be to see an employee dab while working.
I could have taken the easy route and just dabbed right there and made his day, but i didn't, and it would turn out to pay off.
A few days later the same group of kids come in, but this time with the dab-kid's mom as well. They're still talking about dabbing, and getting an employee to dab, probably hoping i overhear it. I was about to do it, but then their mom walks towards me, with the kind of mischievous grin only a mother can muster. The kid, the mom, and myself share a moment - we all know whats about to go down. The mother and i with mischievous grin, and the kid with a mortified look on his face.
"Wanna Dab with me?" She plainly asks.
I dab.
She dabs.
The kids friends are looking in awe.
dab-kid is mortified, then hangs his head in shame, as his friends start to laugh.
A plan that started out as a way to get a little bit of street cred suddenly backfired, as his friends watched his mom commit the ultimate act of embarrassment.
Made my day though. jQuaade
GIPHY
A Respite
Not me, but an older lady I work with told me this story from yesterday (when our store was observing Veteran's Day.)
A little back story: We have a regular customer who is a Korean War veteran and he'll often come into the store (like every other day) I guess to pass time and talk to people. Whatever, he's no bother, and a genuinely nice person to talk to.
So yesterday, there was a huge line at the front of the store, so he walked back to the customer service desk where my coworker was, and asked if he could buy his shirt there instead of waiting in line for 15+ minutes. She said she could absolutely do that for him. He was dressed in his navy uniform for Veteran's day (I think he had gone to some event in the morning) and there was a couple standing nearby. When my coworker read the total ($19 or something like that) the husband from the nearby couple walked up and put a $20 bill on the counter and said "I'll take care of that. Thank you for your service, sir." and the old veteran said "oh thank you, you really didn't have to do that." and the guy replied "well you didn't have to do what you did either. It's my pleasure."
It was a nice little interaction within the craziness of the store yesterday and it brought a smile to my face :) jmb555666
Hello 911? This Lady Is Crazy
I work for a car rental place. I am the only employee at a location in a very small town. I often have to leave the store to go pick up customers, pickup/drop off oil changes, etc. etc. When I do, I leave between reservations, lock-up, and put up a sign on the door with a number where customers can reach me immediately.
I usually never get any calls.
However, yesterday a woman called while I was out dropping off a customer to a body shop. She seemed perfectly reasonable at first.
Me: Thanks for calling *****. How can I help you?
Her: Hi. (Apparently having read my notice) Will you be back soon? I don't have much time.
(For the record, she had no reservation and had not previously contacted the store.)
Me: Yes ma'am. Just dropping off a customer. It should be about 5 to 10 minutes.
Her: I'll be waiting . . .
hangs up
Literally 2 minutes later she calls back.
Her: Sir, I just can't let you do this.
Me: Do what
Her: You abandoned the store and I am going to call the cops if you don't show up soon.
Me: laughing from confusion
Her:
Me: That won't be necessary ma'am. I'll be back very soon and the cops aren't . . .
she hangs up
I show up 4 minutes later and swear to god, THE COPS WERE WAITING WITH HER, visibly unsure about why they were there. If you're counting, she waited a total of 6 minutes MAX after I knew she existed; which is no longer than I've waited for fresh nuggets in a drive through. She had no reservation, with not having previously contacted a business that operates based on reservations and literally called the cops.
Cops: What's the problem here?
Me: astonished I have no idea. You'll have to ask her.
Cops: having already talked to her and unable to seriously address her, they look at us and back at each other, then back at me we hope you have a better day.
She doesn't even try to come in. Maybe she realized she had just gone through a manic episode and decided to give herself some time. hppruettreddit
GIPHY
Underwear Bandit
I work at a clothing store, we have packs of underwear hanging on a wall near the front of the store. The wall is split into two sections, the bottom is single pairs of underwear that go for $2, and then there's packs of 8 that cost $20. They are no the same brand, they are different materials, they look different, and are on different parts of the wall. On the part of the wall that only contains single pairs, is a sign that says "5 for $5"
A woman walks up to our register with five 8-packs of underwear, I make casual conversation before presenting her with her total.
Me: That will be ~$100.00
Her: No, that will be $5.00
Me:...Well, no, that'll be ~$100.00
Her: No! They're five for five it says so on the sign!
At this point I know what sign she saw, and I know what mistake she's making, but in an attempt to show her the error of her ways I ask her to show me the sign
Her: Look, there it is right there it's 5 for $5.
Me: Actually, the 5 for $5 is referencing these single pairs that are only $2.
Her face lit up with anger and disgust as if I had defecated on the floor and asked her to clean up with her tongue.
Her: Well why is that sign there?! Why are those packs with these packs?! These packs are on this wall and that sign says it's 5 or $5 and I'll take them at that price.
Me: Usually I could adjust your price, but I can't sell you $100 of merchandise at $5
Her: Well you need to remove that sign then because that's false advertising.
Me: No
Her: No?!
Me: Yup, no.
At this point my heart was in my throat and I actually could have gotten in trouble for how I spoke to her (depending on which manager she spoke to) but instead she just kind of walked out of the store.
Even if the sign was ambiguous, assuming a sale of that magnitude is just silly. AloeRP
Secret Mission
So I work in a store where we use short range radios with headsets to communicate with each other. It's a huge help to us and helps us be more efficient.
Earlier today my boss sends me next door to the grocery store to buy donuts for the crew. While I'm waiting in line a young boy (maybe 7-8) is shooting daggers at me. I'm wearing my sunglasses inside with my earpiece still in as well. As I'm leaving he yells to grab my attention. Here's the convo we had:
Little kid (LC): Hey! 
Me: uhh, yeah? 
LC: Whats that for? (pointing to my ear piece)
By now I know where this is going
Me: (I cross my arms) I use it for work.
LC: come here, I have another question.
Mom looks at me with an eye roll because her kid is eccentric and that seems to annoy her. Not me, weird kids always give me a laugh. I bend down to his level to hear then he whispers:
LC: do you work for the government? 
Me: (I put my finger over my ear piece) Eagle this is condor! Cover blown! I repeat eagle, our cover us blown!
Then I take me and my donuts and run out of the store as fast as possible while the mom is dying of laughter and the kids jaw is on the ground because he just met a secret agent. Highlight of my day. And_The_Full_Effect
Drive By
This literally just happened.
I work at a higher end clothing store and I tend not to get too many out-there customers, but this guy took the cake. A man came in with about 3 small children, shopped around for about a half hour (while running me completely ragged in the process) and then went to pay for his items. He has a store credit card with us, but he didn't have it on him. I said, "No problem, I can look it up with your drivers license or a state ID."
"Oh, I don't drive. Here, I'll show you my passport."
"Sir, our computer does not scan passports as a valid form of ID. The scanner only responds to drivers licenses or state IDs."
"But a passport is a better form of ID than a drivers license. This is Uncle Sam right here!"
"I understand, but our computer system only scans drivers licenses or state IDs."
"But a passport is a government issued ID!"
"Yes, but our computer physically cannot scan a passport. I can only scan a drivers license or a state issued ID."
"Well I'll just take my business elsewhere then!"
He proceeded to storm out of the store, and honestly I was a little bit relieved, until about 5 minutes later he comes barging back into the store.
"Here, I found my ID, now please look up my credit card!"
He pulls out his passport.
"Sir, I cannot accept this as a f-"
"Scan it! This is my ID! You are discriminating against people that don't drive!"
"Would you like me to call customer service and see if there is anything they can do for you?"
"No, I don't want you to call customer service. I want you to scan my ID and look up my credit card!"
At this point, my manager sees the commotion going on, comes over to help me out, and tells this guy exactly what I've been repeating to him for the last 10 minutes. We apologize to him for the inconvenience, and even offer him a coupon, but he just keeps yelling and ranting and raving. Finally he takes his kids, swears he will never shop with us again, is reporting us for "discrimination", storms out of the store for a second time...
And gets into a car and drives away. xandrenia
Shoe Drama
Hello TFR! I come bearing a tale that is one of the most ridiculous customer encounters I've had in my almost 17 years of retail experience. So buckle up, kids. It's gonna be a wild ride.
The characters:
Me: Assistant Manager/slave
SW: Senile Woman, as there's really no other explanation
Relevant to the story: We are unable to take orders over the phone. Credit cards must be physically swiped/inserted at the register and we have absolutely no way around this.
The setting: a shoe store. Just a few days ago. I had just clocked in for my closing shift. The phone rings.
Me: "Good afternoon, thank you for calling ShoeStore, how may I help you?"
SW: "Oh hi. I was in your store earlier today looking at a pair of shoes, and I'm just kicking myself for not buying them. I'd like for you to ship them to me." 
Me: "Unfortunately we are unable to take orders over the phone, but I'd be glad to put them on hold for you." 
SW: "But I live alllllll the way in SameStateInWhichMyStoreIsLocated and I can't make the trip alllll the way out there again!" 
Me: "uh... I'm sorry about that, but I have no way of taking payment over the phone." 
SW: "Can I order them online?" 
Me: "Possibly, which shoe were you looking at?"
SW: "I don't know."
A little back and forth ensues, with her attempting to explain what the shoe looked like and where it was located in the store. I'm somehow able to find it. It's a single pair of sandals from last year that are on super mega clearance because, well, they're old.
Me: "unfortunately you won't find these on our website, they're from last year." 
SW: "well what am I supposed to doooooo??!!" 
Me: go back in time and buy them when you were here? "I'm not sure, ma'am." 
SW: "OH! You can ship them to me, and when I get them I'll mail you a check!"
 Me: "Sorry ma'am, I can't send out merchandise that has not been paid for." 
SW, getting increasingly frustrated: "Is there anyone else there I can talk to? A manager?" 
Me, trying to suppress laughter as my manager is staring at me, shaking his head at hearing my side of the conversation: "No, I'm the only manager here right now." 
SW: "Well then, you can buy it for me and I'll mail you a check." 
Me: "Excuse me?" 
SW: "They're not even $20. You pay for it and I'll send you a personal check. I'm good for it." 
Me: "I'm not going to do that."
SW: "Well is there anyone else there who would?" 
Me: "No ma'am, no one here is going to buy your shoes for you." staring from my manager intensifies, we both exchange the 'I can't wait to talk about this one' look 
SW: "Well I mean this is ridiculous. All I want is those shoes and no one will help me. So there's nothing you can do?" 
Me: "No ma'am, I'm afraid there isn't." SW: "Well then THANKS A LOT."
I burst out laughing and regale my manager with the full conversation. A nearby customer overhears and also starts laughing. I spend most of my remaining shift hiding in the back room, I feel like I earned it. ironsprite
Baby Come Back
I was working drive thru and this man pulls up to the second window for me to give him his food.
He has the cutest little baby boy in the back seat, so of course, after the greetings and handing off the food, I said hi to the baby.
He had been staring intently at me and when I said hi, he immediately starts laughing and waving. He was just the cutest thing!
His dad turned around and looked at him and said, "Son, you're too young to be flirting. Stop it."
Me: D'aww, honey, I'm sorry, but I have a boyfriend. If you were like 15 years older, you could fight him for me, but right now I think he'd crush you.
And so we shared a laugh, he left, and I continued on with my work.
About an hour later, they return!
The Dad: Oh, he insisted on coming back to see you! turns around and says to his son now remember, no more flirting because she has a boyfriend.
The baby just laughed and waved his chubby little arms around.
It was a good day. firelight2
Doctors Vs. Jewelers
This happened a few years ago when I worked in a bead shop. We did jewelry repair too. Mostly simple stuff like reattaching clasps, restringing beads, or pearl knotting. Occasionally, when we weren't busy we would do repairs on the spot. Our minimum charge for any repair was $4 plus the cost of the materials.
So one day a lady comes in and she needs this necklace repaired ASAP because she wants to wear it that night at a dinner party. I saw that the necklace just needed the clasp reattached, which is something I can do in under a minute. I told her the store policy and said I could fix it for her while she waited. She seemed cool with that, so I grabbed a jump ring and reattached the clasp for her.
I rang her up and she took her necklace, leaving without a word.
The next day we got a call from the lady asking to talk to "the manager". She told the bead shop owner she was upset about having to pay $4 for the jewelry repair because I fixed it in under a minute. Her words, "Last time I checked only doctors made $4 a minute."
It's something you didn't know how to do lady. I did it quickly because I've done it five hundred and sixty two million times. If you didn't want it fixed professionally then do it your damn self. JennIsFit
GIPHY
Helping Each Other Out
I have removed myself from the retail game about 6 months ago, but I still think fondly of this one...
I was the manager of the returns and exchanges area of a smaller computer and electronics chain (some would call it the ultimate), and I was called over to the returns area by one of our associates. I approached and saw a young college age girl with a MacBook that had an obviously cracked screen, and looking at the receipt it was less a day old. I asked her what happened and she admitted to dropping it as soon as she took it out of the box, and that she didn't get any warranties to cover the damage because she was a broke college kid and asked me if there was anything I could do for her. I told her that I was going to walk away and come back in a minute and when I did she should tell me it was broken as soon as she took it out of the box. I came back she told me that, and we swapped it out for a new one for no charge.
The best part was this young lady came back in about two days with a tray full of the most delicious brownies and kept saying how much she appreciated everything we did for her. undercoverRavenclaw
Three Years Gone By
So this story begins in a locally owned jewelry store. The jeweler has been repairing and selling high end jewelry for 52 years. He is over 70 and still works like a madman. His business is efficient, resonably priced, and high quality, allowing him to stay in business as long as he has.
For repairs, the customer must leave their piece of jewelry with us for several weeks to place it in line. When the jeweler is reayd to do the repair, we call the customer with a price quote, and if they approve, the repair is completed within 24 hours. If they decline the quote, the repair is marked as "did not repair" in our computer system, filed in the "completed repairs" bin, and the customer can pick up the repair at no charge.
Now, when the customer leaves a piece of jewelry with us, we give them a claims ticket that says "Not responsible for pieces left over 60 days from completion of repair". We also take down their name, address, and phone number (multiple if possible) to ensure that we contact the correct person when the repair is complete.
Enter customer. The year is 2014. The month is February. She leaves her ring with us to be repaired. When the jeweler looks at it several weeks later, he finds that the original ring is too fragile and cannot be repaired. We call the customer, and she says she will come get it.
Now obviously jewelry is something you don't just THROW OUT after 60 days. The warning on the ticket is just to encourage customers to pick their items up as quickly as possible so that our safe isn't full of jewelry all the time. We also keep a clear record of phone calls to and from the customer including the date and time as well as whether we reached the customer or left a voicemail.
Fast forward. The date is now January 2016 We are doing a bi-annual "call everyone who still has jewelry here." I notice that this repair has been here a LONG time, and we have called her more than 6 times. I give her a ring and the number is disconnected. We decide that after two years, this woman may be dead/ill and no one knew to come pick up the piece. It was a piece of junk anyway, and on top of that it was broken beyond repair, so we got rid of it.
The date is now April 2017. Enter a woman to the jewelry store. She says she is here to pick up a repair, but when I look it up in the system, it says it was picked up in January 2016. Now obviously this woman is furious that someone else could have picked up her repair, so we dig through our paper receipts from over a year ago and find our note that the repair was discarded.
We explained to the woman that the repair had been disposed of and our reasoning for doing so. We apologized, but there wasn't anything to do. My favorite part is when she says:
C: But why didn't you call me?!?! 
Me: Ma'am we did call you. We spoke with you several times as I see here in our notes, and you kept saying you would come pick it up. But after two years your number was disconnected and you did not leave another method of contact. If you look at our ticket, you will see that there is a warning that we are not responsible past 60 days. We did you the favor of keeping your item for two years, but there is nothing else I can do for you.
Honestly I'm not sure what she even wanted with that item anyway. radiolady93
GIPHY
Back On The 12th Of Never
I'm only 16 but work at a local pharmacy/gift shop in my town. The customers are generally pretty chill, older folks. Yesterday was a special exception.
We close at 3 on Sundays, and around 2:58 I stand by the door waiting for the "all clear" to lock the door. There's still a man in the back having trouble filling his prescription, but it all good because he's apologetic realizing it's nearing close. Well 3:00 rolls around and my boss give me the thumbs up.
Usually, if there's someone like the guy in the back, I just wait for him to finish up and unlock the door for him, and that was my plan today. But, as I lock the door, a car comes speeding into the parking lot, and parks right out front. Seeing as we have closed, I know I'm gonna have to tell this already pissed off looking old lady that she's gonna have to wait till tomorrow. Let her be referred to as RB (Raging B*tch) henceforth.
I unlock the door and poke my head out.
Me: I'm sorry ma'am but we just closed, if there's something in particular you're looking for it possible they have it over in (neighboring supermarket).
RB: What the hell do you mean you're closed? It's 3 o clock in the afternoon!
Me: Yes ma'am, we close at 3 on Sundays, I'm sorry for the inconvenience.
RB: can't you let me in to get my prescription really quick?
At this point, I can tell it's not gonna be good.
Me: Ma'am, I'm sorry but we have closed and are no longer legally allowed to process prescriptions. You're going to have to wait until tomorrow.
RB: what about the man who's in there now? You don't seem to have a problem with him. let me in!
Me: He walked into the store around 2:45 and we are having trouble processing his prescription. As soon as he's done he will be leaving as well.
RB: it's only 3:05! Let me in!
Me: closed is closed, ma'am, I'm sorry
At this point I close the door and relook it, waiting for the man in the back to finish up. RB begins pounding on the door ordering to see my boss. Luckily he and the man just finished up, and they both walk up to the front door. As I unlock it for the man, RB tries to FORCE HERSELF IN to get her script. At this point, my boss steps in
B: Miss I'm sorry but we are closed now. You'll have to come back tomorrow for your prescription
RB: what the hell is wrong with you people, you're denying me my medication! I need it!
B: how many doses do you have left?
RB: enough to last through Tuesday but I
B: Great, see you Tuesday
He closes the door in her face, which prompts more shouting. As we leave and lock up the door, she continues screaming at us until we all drive off.
She was back today and got her prescription, somehow she survived through the night. hiturtleman
Don't Mess With The Rules
So, way back in college, I worked a summer job flying a register for a grocery store. This chain had a policy with your loyalty card; if there was an X-number on the back, you could cash checks at our stores and cashiers could use that number as an ID on checks for buying groceries. If it had a Y-number, then it was just a card that someone had and had almost no information on file.
It's my last shift before I go back to school. I'm standing at this register, counting down the last half hour when this woman rolls up with a big cart full of stuff. I get started, beep beep beep, and give her the total. She hands me a check with a Y-number written on it. I ask to see her card, thinking maybe she's just written it wrong. Nope, it's a Y-number.
Me: Ma'am, do you have your drivers' license with you?
Her: No, I don't have it.
Me: Okay, well, I can't take this check.
Her: It's got a Y-number on it.
Me: I know, I can't take the check if it has a Y-number, only if it has an X-number.
Her: Every other cashier always has.
Me: They shouldn't have. I'd lose my job if I took this. (that was my go-to answer to someone trying to pull this crap on me.)
Her: (starts screaming) Then YOU can go put ALL THIS BACK YOURSELF or you can TAKE MY DAMN CHECK.
Now, I'm twenty minutes from being done here. The managers love me, they think I'm funny, they're actually not happy I'm leaving. So, I figure, well, let's just have some fun with this.
So, I whip off my vest, throw it on the floor and scream back.
Me: DON'T TALK TO ME LIKE THAT, I QUIT!
I storm off to the office, take a seat and one of the managers looks at me, confused. I ask him to go out and talk to the woman at register 2, who's still standing there with her mouth hanging open.
He came back a few minutes later smiling.
Me: How'd that go?
Manager: Well, I told her you were right, and that she had just cost my best cashier.
Gross-ery Shopping
This happened a few weeks ago. Over the summer before I head off to university I've been working at a grocery store to have enough money to live on. My job entails quite a few responsibilities but I'm mainly at the tills.
So I'm sitting at my till, halfway through a 10 hour shift. I'm about 15 minutes away from my break so that's pretty much all I'm thinking about. A pregnant woman walks up to the conveyor belt with a full cart of shopping. She has two young kids, one walking alongside and the younger one in the fold out seat in the cart. It's obvious that she is in a rush and has her hands full with the kids, so I offer to take the bags that she brought and pack the items as I scan them. She is very thankful but I tell her that it's no big deal.
This is where things got interesting.
She began to lift the younger child out of the seat because he was in the way of her getting the shopping. She turns him around to put him down and he proceeds to projectile vomit directly over all the shopping. I'm not talking a little bit of baby sick; more like Charlie in the limo in Always Sunny. This stuff just keeps coming, completely covering her shopping.
The woman was almost in tears, apologising as much as I think is humanly possible. I tell her that it's not her fault, after all there is no way to predict when your baby will be sick.
Now usually my team leader (pretty much my boss) would be there to help in a situation like this, but it was a very busy day and she was away dealing with something else, so I had to take charge.
Firstly I called the in-store cleaner to clean the sick from the floor and I closed down my till. Next I got a hold of my friend who was stacking shelves and got him (after some persuasion) to take the hazardous waste container that the cart had become through to the back of the store. I led the woman to some seats near the door and then asked if she had a shopping list, so I could go around and collect her shopping again. She said she couldn't let me do that, but I insisted.
So I grabbed another cart and raced around the store completing her shopping list. I'd been working there for about 6 days a week for 3 months by then, so I knew where everything was. I got everything in about 10 minutes and was back at the checkout. I got my friend back to help me unload and pack the stuff back up. All in all it took me about 15-20 minutes from taking the list to getting all of her shopping scanned through and packed.
I went to get the woman and told her that everything was packed and ready to go, she just needed to pay. She couldn't believe it! It was great to see the relief in her face after seeing her so close to tears. She paid for her shopping and thanked me about a million times before she went on her way.
I went for my break.
Fast forward to the present day. My team leader comes up and tells me that a lady wrote a letter to her about how I had gone above and beyond the call of duty just to help her when she was stressed. My team leader told me that if I ever asked her for a reference, she would just forward that letter, as it was the better than any reference she could ever give. I was just glad to make someone's day. baconandeggs17

Don't Care...Don't Care.
I watch over the self-checkouts at my store.
For a bit of background, my store has two sets of circulars with coupons people can get. One you have to sign up for and it gets mailed to your house. The other we have stacks of in our store that anyone can take. The one you get in the mail often has a coupon to get you two times as many rewards points which can be used to save on gas.
So on this day a woman came through self-checkout and at the end of her order she brought her mail flier up to me and asked me to scan her double points coupon. So I scan it and start tearing it out when she asks me to give it back to her so she could use it another time.
I told her I can't do that and have to take it from her after it's been used, even pointing out the text saying "LIMIT 1 PER HOUSEHOLD" on the coupon. But she starts arguing with me saying I can do it and that she does it all the time. I happen to see our store manager walking by so I flag him down to come help me out.
As I expected he tells her pretty much the exact same thing. I don't remember everything that was said but this is pretty much how it went:
Store manager (to me): What seems to be the issue? 
Lady: I just asked him to- 
SM: Hold on let me hear his side first. What's going on?
Me: She wants me to give back her double points coupon after I already scanned it for her. It says limit one per household on it though. 
SM: It does say limit one per household. He has to keep it and be accountable for all his coupons. 
L: But I do it all the time at [other location]! They even hand them out at the registers!
SM: Well they're not supposed to be doing that. 
Me: Yeah it's just company policy, we have to go by what the coupon says.She argues some more, and the store manager says he'll go check the fliers we have stacked by the door to see if there's one in there she can have. We all know there won't be but he'll check anyway.
So at this point she's still with me while I'm trying to help people at self-checkout.
L: You know, the whole reason I shop at [store] is for the savings I get on gas.Me: okL: I mean, really, I just spent $150 here.Me: okL: But honestly after this I don't think I'm going to shop here anymore.Me: okL: *looks at nametag* No, [MY NAME], don't just stand there and say okay!Me: ...okL: Can't you just give my coupon back?! They really let me do this all the timeMe: no, sorry
I crumple up the coupon to hopefully make it more clear to her that it isn't going to happen. Store manager comes back and of course there wasn't another coupon in the circulars by the door. He asks her to come to the service desk with him and they'll see if there's anything we can do.
I thought that would be the last of it but I work in retail so of course it's not.
About 10 minutes later she comes back to me with one of the circulars from the door and shoves it in front of the screen I'm trying to do my job with.
L: I just want you to know that all of these coupons in here say one per household too.

Me: ok

L: Yeah but I bet you just zap them with your gun all the time and let people keep them!

Me: ok

L: You know what? Where's the boss? Call him over again!

So I pick up the phone to call him and as I'm talking to him she just walks away. Store manager comes down a few seconds later asking where she is and I shrug telling him she walked away. I tell him the general direction she went and he goes to look for her. He didn't find her.
I heard from one of my coworkers that the next day a woman matching her description came in asking cashiers at the registers if they had any double points coupons in their drawer. en256
Bookstore Blues
I worked at my university's bookstore for two years as a register monkey. I say register monkey because "cashier" didn't cut it: we had to do anything our handlers team leads told us to do, like trained monkeys. Our "bookstore" was about 30% textbooks and 70% "anything we can put our logo or school name on and sell for a 200% markup."
So, one slow summer day, I'm sitting and talking with the other monkeys, when an old man walks into the store. He looks to be about 80 years old, his back is bent and he can't stand up straight, and he's got a little crumpled piece of paper that he apparently tore out of one of those pocket notebooks held up to his face so he can read what he scrawled there. He starts looking in our apparel section and I leave him be--no one wants someone bugging them right when they start looking--but note that he doesn't seem to be finding what he's looking for. He looks for about 10 minutes before my handler tells me to go help him out. The following conversation takes place between me (ME) and the old man (OM):
ME: Can I help you find something, sir?
OM: Oh, yes, thank you son! I have these shirts I'm looking for... (He fishes out the crumpled piece of paper)
--He then lists six or seven styles of shirt, complete with SKUs from our website.
OM: And for each of those I need one in a 4XL and one in a 5XL.
ME: Oh, I'm sorry, sir, I don't think we carry those in those sizes.
OM: Well, could you at least take a look?
ME: Of course. Give me a few minutes to check the stockroom.
So I head to the stock room, knowing damn well that the largest size we carry is 3XL, and not many of those to boot. I actually do check, and sure enough, no 4 or 5X. I walk back out to the sales floor and see the old man on his cell phone. Almost like a cartoon, I can hear this high-pitched voice talking loudly even from about 15 feet away as I walk up to him. He excuses himself without hanging up and asks me if I found them.
ME: No sir, I was right. We don't carry anything that size. I'm sorry, can I help you find anything else?
OM: Well, I've got my boss on the phone--(He sheepishly gestures with his phone)--and she's a bit upset that you don't carry the shirts. Could you explain to her?
ME: Um, sure.
He hands me the phone, and I try to greet the woman on the other end, henceforth referred to as Cranky Fat B*tch (CFB), but she cuts me off before I get two words out.
CFB: Alright, I'm going to take this very slowly so you understand what I'm looking for. I need these shirts--(she lists the SKUs painfully slowly, asking "Did you understand that?" snootily each time). Now, do you think you could go get those for me?
ME: Yes ma'am, he told me what shirts you're looking for. As I was explaining to him, we don't carry those shirts in 4X or 5X.
CFB: Oh I'm sure you do. Now I need you to go get them for me.
ME: Ma'am, we don't carry those. We only carry up to 3XL.
CFB: Then I need you to order them for me. This really shouldn't be this difficult for you, you know. My husband and I would like to buy your shirts, and you should have the sizes your customers request.
ME: No ma'am, these shirts are not made in 4X or 5X. It's not just that we don't carry your size.
CFB: Okay, I'm going to explain this slowly again, you don't seem to get it. I need, four XL and five XL to fit me and my husband.
At this point I'm trying to restrain the rage building inside me like this woman restrains basic human decency and dietary regulation.
ME: Yes ma'am, I understand what you're looking for, but we don't have it.
CFB: Can I talk to someone who isn't slow?
ME: Unfortunately no, ma'am. We exclusively employ slow people. Can I help you find something else?
CFB, giving over to anger instead of her holier-than-thou attitude now: Alright listen here. I'm getting annoyed with you. Give me my shirts or let me speak to your manager.
ME: We do not carry your size, ma'am.
CFB: Now that is just rude! How dare you discriminate against my weight? Where is your manager! I--
At this point, the old man reaches out and plucks his phone from my hand. He's heard the whole conversation, because CFB had been screaming in my ear basically the entire time. He briefly tells CFB that he's coming back to the house, and they'll have to find something else, then shuts the phone.
OM: Sorry about that, son. She gets like that sometimes.
ME: I'm sorry if I've caused you any trouble. She seemed like a real treat. She always treat her family like that?
OM: Oh no, I'm not family. I'm her gardener.
ME: Oh.
OM: Yeah, and I'm done. The next time she wants to buy a shirt, she can roll her own fat *** down here and get it herself.
He walked out of the store as I laughed like a loon. My manager got a call that afternoon from CFB, and told her exactly what I had. She eventually filed a complaint with corporate about "fat discrimination" and was told to special order the damn shirts. I never saw the old man again, but God bless him, I hope he's somewhere her shrill little voice will never reach him again. NawtAGoodNinja
A Nice One To Round It Off
Anyway, some background information; one of my coworkers (C) and I get along super well. Like, we're the same person with similar senses of humor so when we work together the atmosphere is friendly and light. My manager tries to schedule us together because there's a legitimate rise in sales when me and C are together lol.
Like I said in my previous post my store is basically dead between holidays so I'm able to follow customers and help them one-on-one without having to worry about a line.
One day this lady (N for nice) came in and you could tell she had money. She held herself confidently, smelled like leather and flowers, and had designer clothes, and she was beautiful. So I greet her and ask her if she needs any help. She says yes and me and C walk over to help her.
We learned she's buying for a retirement party and a work anniversary party so we help her pick stuff out based upon her color scheme. I make small talk and learn her son is learning about noble gasses and his favorite gas is sulfur hexafluoride (makes your voice deeper. Opposite of helium) and I reply, "my least favorite gas is my dads." I know, it's a dumb joke but everyone loved it.
N was fairly short so she thanked us for helping her (I'm 6'0 he's 6'4) and asked where the retirement and gag stuff is. I point it out and offer to keep her two carts of stuff in the front which she thanks me for.
I stay up at the registers now because somehow a small line formed and I heard more chatting and laughing coming from C and N.
N comes up and cashes out. Nearly $450 worth of stuff! Our average purchase is around $30 so this was a godsend. I get to the end and scan a coupon (25% off entire purchase) and brings her total down about $120 and she almost hugs me she's so happy (she would have but she couldn't reach me lol).
I offer to help her take everything to her car and C holds open the doors for us and she talks the whole time about how she's doing all the errands today so she's sorry if the truck is a little messy. I say it's fine with a little laugh.
Guys, I'm not a car person but this thing was huge. It was the same size as a pickup truck with a cool hatchback trunk! AND IT WAS SOOOOO CLEAN. I climbed in and played Tetris around dry cleaning and groceries. Like, I legitimately climbed in at least 4 feet into the trunk.
She kept thanking me and complimenting me and C and asked for the number to corporate so she could compliment us. Unfortunately it's not on the receipts and I don't know it off the top of my head.
She ended up googling it herself and my district manager came in a few days later to thank us because the lady left a stunning compliment about us! mangoisNINJA
GIPHY

Reddit user finnjakefionnacake asked: 'What things do men do that are sexy that they don't realize are sexy?'
More often than not, when men try to do something "sexy" in an effort to impress a woman, it tends to backfire on them.
Perhaps it is the visible amount of effort behind what they're doing or the fact that they don't do it as well as the movie star they took inspiration from.
Either way, despite their best efforts, women tend to find this sort of behavior anything but sexy.
In fact, more often than not, men have a way of turning people on without them even realizing it.
As it's often the little things that can make someone blush, anything from opening a door or slicing into a ripe tomato.
Redditor finnjakefionnacake was eager to hear all the sexy things men do without their even realizing it, leading them to ask:

"What things do men do that are sexy that they don't realize are sexy?"
When They Don't Even Know Their Own Strength

"Was getting busy with a girl one time and her head was too close to the headboard, trying to save her a potential concussion, I moved backwards and grabbed her under her hips and pulled / lifted her about two feet down the bed towards me."
"The sound she made and the look she gave me is still in my head lol."
"Afterwards she brought it up and said it was incredibly sexy how I could just handle and move her around so easily with so little effort."- Mage2177

So, So, Hot...
"I once changed a radiator in my house and that, without doubt, got me more attention and flattery from the women in my life than anything else I've ever done."- Jasper-Packlemerton
It's The NOT Knowing...

"It's a trap fellas, just live in ignorant bliss."
"Once you realize something is sexy, you will become a self-conscious dork about it and it will no longer be sexy."- PMMeUrHopesNDreams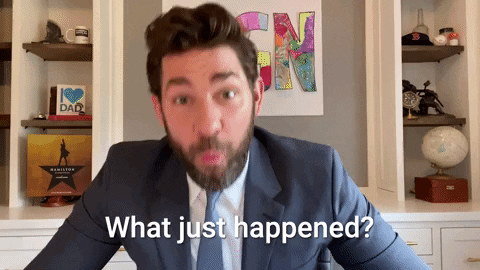 What Just Happened Wtf GIF by SomeGoodNews
Giphy
Magic Fingers

"My bf and I went to eat at this restaurant before we knew we had feelings for each other."
"While I would talk he would either laugh or smile and once while doing so he circled the rim of his glass with his finger."
"I later found out that he did it unconditionally but I short-circuited while he did it."- AsasLowkey
To Each Their Own...
"An ex of mine once got turned on when I told her I put a hand on the wall when I pee."
"I'm not sure I fully understand that one."- PaleAleDale
One Hand, One Heart...
"My wife has told me taking my shirt off with one hand is a thing."
"That kind of blew my mind."- trugrav
"One- handed steering wheel grip, reverse parking with their arm resting behind the passenger seat."- getupandstudy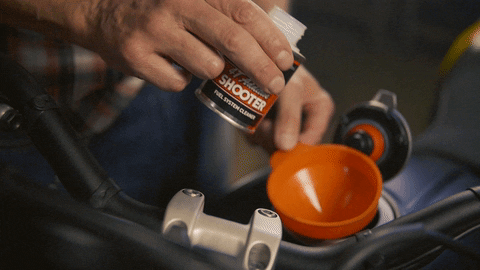 motor oil shot GIF
Giphy
Doing It For The Thrills... And Then Some...
"My girlfriend was locked out of her apartment and I picked her lock."
"I picked the hell out of that lock."- paulo39Atati
Hits The Spot...
"My heart does a little flip each time my significant other, ever so slightly puts his hand on my back when we're walking (to guide me), or if he's trying to squeeze by behind me."
" I don't know why that gets me fired up lol."- princess19977
Knowledge Is Power!
"Being booksmart."
"If I ask my boyfriend a history question and he randomly knows the answer to it or if I ask about a math problem and watching him figure it out is the hottest thing, like yea you divide those numbers baby."- maneaterlex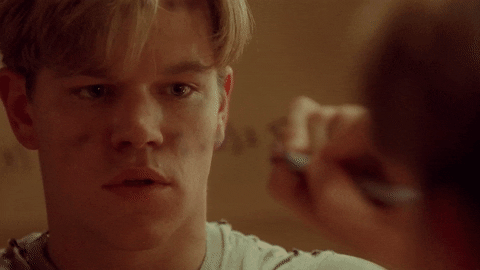 Matt Damon Math GIF by MIRAMAX
Giphy
Nice And Oily...

"An ex said it was hot watching me change her car's oil."- SafeAndSane04
Compassion Is Always The Answer
"Caring for helpless things."- Maleficent_Scale_296
Speed Can Be A Turn On...
"There was a study done in Japan to see what school-aged ladies saw as attractive in their male counterparts and 'running fast' was like number one or two for elementary and middle schoolers."- Embershot89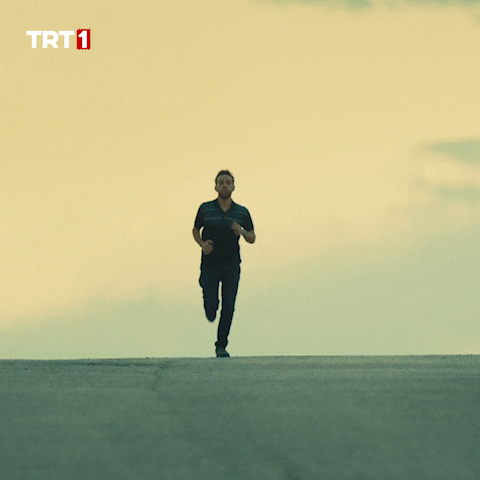 Run Fast Running Man GIF by TRT
Giphy
There's Someone Out There For Everyone
"I heard one million power in 'Rise of Kingdoms' gets you any girl you want."- Key_Vermicelli_3138
Strong And Efficient...
"Carrying as many folding chairs as you can at once."- KbossDPT2019
Most of the time, the sexiest things are also the most unexpected.
That being said, any good boyfriend knows that a wet t-shirt now and then can't hurt...
Most people think that by the time they're in their 30s, they'll have their life together.
It's only when they get to that point that they realize that's not totally true.
Maybe those in their 30s have a job, are in a serious relationship, and have a home. Perhaps they're married or have kids.
However, that doesn't mean they don't make mistakes.
According to Reddit, people in their 30s make all kinds of mistakes, and Redditors are ready to share what those mistakes are.
It all started when Redditor cthulhu34 asked:
"What's a common mistake people make in their 30s?"
Toxicity
"Stay in unhealthy toxic relationships."
– Lavenderplatte
"Alternatively, leaving healthy relationships because you're bored and want to have fun."
– numenik
Too Scary
"Romanticizing your 20s and fearing your 40s. (live where you are)."
– theresites
"This is so good. So easy to romanticize the past and fear the future. Life is organic and so are we. We will keep changing and often times in a good way (stronger, wiser, more confident etc.). I'm so happy to be who I am at 37."
– iamnottheuser
Compare and Contrast
"Comparing their lifestyle to other 30-somethings."
– Affectionate_Item_51
"This is a good one. Your peer's success can seem perfect from afar and make you feel inadequate."
"But if you sit down and talk with them you will learn all sorts of shortcomings and difficulties in their life that will make you appreciate something about yourself and your situation."
"In other words we all just out here tryna function."
– ThunderBobMajerle
It's Never Too Late
"Thinking they are too old. Never too late to switch career paths or look for a new relationship or start taking care of your health."
– Mans_Got_Cheaks
"Almost 40, just started my MBA. Never too old!"
– AbsoluteCP
"It's absolutely never too late. I'm 42 and honestly feel like everything is getting better, ESPECIALLY dating and relationships in general. It's a relief to finally know myself and what I want."
"Also, I'm returning to study next year and looking forward to a career change. Having a beginner's mindset, always curious and learning. My dad is an inspiration, her had a stroke in his 60's and changed his life. After he recovered, he got a divorce, moved countries and decided to study medicine. He's now in his 70's living this dream and working as a doctor. It's never too late!"
"I feel and look younger than when I was 30! I know many people well into their 60's and 80's with this growth mindset and I'm determined to be like that until I die."
– Tank_Grill
Healthy Living
"Not exercising enough and eating a crappy diet. You can't get away with those things anymore like you did in your 20's."
– DeathSpiral321
"My doc told me at the end of last year that I'm not 16 anymore and now is the time in my life where I get to decide whether I want to see my daughters grow up or whether I wanna die of a heart attack in my 50s. Sh*t cut deep but I got the message lol."
"Dropped 40 pounds since January and might be in the best shape of my life tbh."
– Misdirected_Colors
Friends Forever
"Your 30s is when you are really in the thick of "adulting". It's easy to loose focus on what is really important to you among all the demands and responsibilities."
"Not Fostering Friendships: As you enter your 30s, maintaining and nurturing friendships becomes more challenging. It's a time when connections can fade, and forming new ones becomes harder. It's very important to invest effort in the friendships you currently have. Edit: A few people have commented about what to do when people don't reciprocate? My advise - keep trying! Everyone is under water in their 30's, they likely won't be able to make every attempt at outreach you make. But over time as things become less hectic they will remember you kept trying (without guilt) and will appreciate it and come back to you. But toxic people, yeah cut those out!"
– hyperside89
Romance
"Not Nurturing Your Romantic Relationship: Responsibilities increase in your 30s like careers, parenthood, and caregiving for aging parents. It's common for the most crucial relationship – your romantic partnership – to be inadvertently neglected. Avoid taking your partner for granted, assuming they'll always be around, or treating them as an outlet for your worst moments."
– hyperside89
Be Who You Are
"Not Preserving Your Identity: Similar to the previous points, your 30s come with a whirlwind of conflicting priorities that can lead you to lose touch with your identity. It's easy to forget what truly brings you joy and satisfaction. Maintain a hobby that gives your life purpose and regularly reflect on whether your job still fulfills your needs in terms of purpose, financial stability, and overall satisfaction."
– hyperside89
"I'm 33 and in the process of rediscovering who I am, what I like doing beyond just 'filling in time' and how I like to present myself. It's scary to be caught off guard by the realisation that you don't know you and just as scary trying to start down a path to change that."
"I'm happy with my job and my role as a mother. But as an individual... I just feel like a crusty 90's kid, wearing 00's fashion and focusing on everyone else's needs because it's hard to find a direction for me that will 'spark joy'. I want my wonder and whimsy back!"
– Makasaurus
Change Always Happens
"Thinking you're a finished product, not likely to change all that much."
– kat_Folland
"Have you tried not moving in the ocean? It's damn impossible. You can't be stagnant in the turmoil of this world."
– quanoey
NOT Forever Young
"Biggest mistake I made in my 30's was not enjoying them more."
"Young enough to party, still play some sports, and perfectly in place in any bar. You have energy, you have a circle of friends (that will get smaller, trust me)."
"Try to carpe a diem every once in a while, the decade passes VERY quickly."
– hockeynoticehockey
"Do whatever you can while you are young. 30s is a peak time. I'm 64 now, forced into early retirement, and I can't do half the things I "thought" I would be able to do in "retirement". Can't bend to do gardening, can't climb the ladder to get into the pool, can't handle a walk for more than a few minutes due to arthritis and more. I'm mentally "still young" but my body is telling me otherwise."
– saywhat1206
Life Is Tough
"Got laid off at 32? Just said F it, got 2 degrees in different fields (37 now). But I kept expenses really low and saved/invested a lot of money when I did work. I went from medical research, to analytics, to education, to computer science now."
"30's...uhhh not starting investing by 35, because that's the last stop on the compounding train."
"Also, I see people get wrecked by bad marriages/relationships. That's probably one of the biggest wealth and happiness destroyers I've seen."
"Also, waiting over the fertility window. People tried to have kids later on and it looks like an absolutely expensive brutal experience with the OBGYN visits and the $15k USD IVF rounds (multiples). Then dating over your thirties seems like a hopeless market from what I can see. I never really tried so I dunno (data analyst in me looked over the stats as a 5'7 East Asian male in North America, I'm out!)..."

"Oh yeah!!! Health! Working out is crucial. After 40 it gets super tough to achieve any exceptional fitness goals. That's the best case scenario. Some people come down with nasty metabolic diseases like diabetes, and the CVDs - hypertension, cholesterol, and heart disease - these are very difficult to reverse and they kind of stick to you with more aggressively the longer they persist."
"Also, daily brushing/flossing, apparently dentists are expensive in older age. Brushing avoids cavities, flossing avoids gum disease and cavities."

"Also, not constantly learning about economics and economic/social/technological/political trends, because the pace of technology will wipe out people's economic opportunities faster than their head can spin. I see a lot of people get broad sided by economic malaise because they didn't get their financial house in order before a crisis hit. Life can be rough!"
– Deleted User
I'm not 30 yet, but I sure will learn from these stories!
When people are out in public, it's sort of implied that we all stay on our best behavior.
But walk down any street on a New York day, and you quickly realize most of the world missed the memo on this matter.
Or they got it and just crumpled it up and tossed it in the garbage.
This makes us all spectators to some serious nonsense.
Oh the things we can never unsee!
Redditor Defaultuser9148 wanted to hear about the most messed up things they've witnessed others do, so they asked:
"What is the most f**ked up thing you saw someone do in a public place?"
I try not to look at people in public too much.
I've already witnessed more than my fair share of crazy.
WHAT THE ACTUAL F??!!!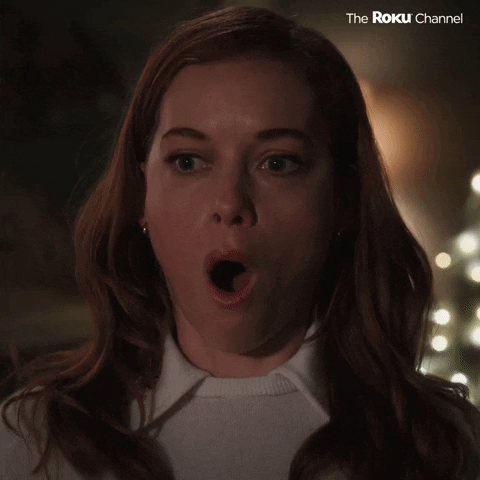 Oh My God Wow GIF by The Roku Channel
Giphy
"Saw a coworker take off his shoe and sock, pull up his foot, and bite his toenails DURING A WORK MEETING AT THE OFFICE."
hyteck9
"Covid is over, they said. Return to the office, they said. The exposure to corporate culture will be good for you, they said."
johnwalkersbeard

Look Away
"I used to deliver janitorial supplies to businesses. Part of my route was in the Kensington section of Philadelphia it's basically zombie land there and the whole neighborhood is filthy, idk how people can even live there. Needless to say, I've seen A LOT. But the one thing I saw that really stuck with me was seeing a naked man covered in his own excrement... He was clearly very disturbed. No one paid him any mind either. It was surreal."
Jawnson765
Rinse and Repeat
"I once saw a homeless man rinse his mouth out with water from the windshield cleaning 'bucket' at a gas station."
theAdvancedBeginner
"Just saw something similar here in San Diego on Friday. Pumping gas and a homeless guy in a trench coat in 90-degree heat asked me about my dog in the car as he dunked his head in the windshield bucket. Asked me for a dollar right after too while dripping."
H3rrPie
Rough
"I was waiting for a bus in the 'rough' part of town when I heard two men having a full-blown argument on the other side of the bus stop… one was being extremely aggressive whilst the other sounded confused at the verbal lashing he was receiving. It went on for a couple of minutes and the meeker one was nearly in tears, so I decided to walk around the other side of the bus stop to take a look at what was going on."
"When I poked my head around the corner the poor guy was crying but his aggressor was nowhere to be seen, I asked if he was okay to which he said 'Yeah, don't worry about him, he's all talk.' I nodded and turned around just as the nastier man re-emerged to berate his victim… only it wasn't another person, it was the same guy shouting at himself with an alternate personality. Until you see these things up close you don't realize how disturbing it must be to suffer from such mental health issues."
BarraDoner
It's heartbreaking to see people like that.
The Disturbed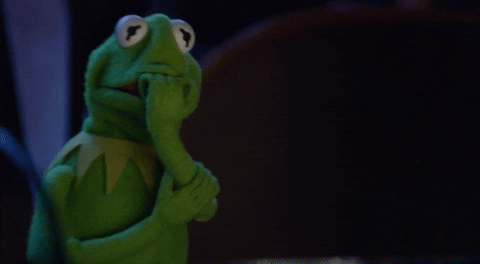 Scared Kermit The Frog GIF
Giphy
"Saw a kid follow around a toad at a state park for a bit, pick it up, and ground it against a tree, eviscerating it in an instant. An adult immediately grabbed them and took them off yelling as the kid didn't look bothered by the interaction at all. It was surreal and disturbing."
Capn_Yoaz
Disgusting
"A scary a** woman was yelling at people in a store. The manager told her to leave. She screamed insults at him as security escorted her out. When I left the store, she was still screaming at him. He was blocking her from going back into the store."
"Then she did something I never thought I'd see in my entire life: She reached into her pants, pulled out a bloody tampon, and threw it at the manager. She missed but it stuck to the glass door. She laughed as she ran off. I wanted to vomit. I never want to see anything like that again."
RiffRandellsBF
All is Well
"21st B-Day at a Festival in FL called Langerado. Was incredibly drunk but I'll never forget this... unfortunately."
"So, we're listening to a band called Umphrey's McGee and everyone is having a good time. All is well. Heaven on Earth. Until I turn around."
"There's a guy, late 30s or early 40s by himself and he was having quite a time."
"He kept shoving his hand [in his pants] and licking his fingers afterward. At some point, he started chasing people and then some poor souls working security had to deal with him. Ewwww."
DylanV1969
In the Bathroom
"A woman at my old retail job I used to work at came in dry heaving to our restroom. It sounded like she was about to give birth. Nope, much worse. She goes into our restroom and shi*s all over the stalls, the floor is coated. It became a complete swamp. This woman proceeds to take off all her clothes and leave them there. She walks out of the store nude, screaming."
AdReady528
Stop It!
"Woman recording a mother and her two children after the mother collapsed and was unresponsive in a Costco. Asked her to stop, but she looked at me and scowled, so I amplified my request which was 'Stop recording, you completely demented, witch!' and the immediate unfavorable attention that got her compelled her to stop. The woman who collapsed, and her small children were terrified, screaming and crying, and it was awful. Can't imagine why you would want footage of such a thing. Just remembering makes me sad and hope that everything turns out alright."
Freechickenpeople
When you gotta go, you gotta go!!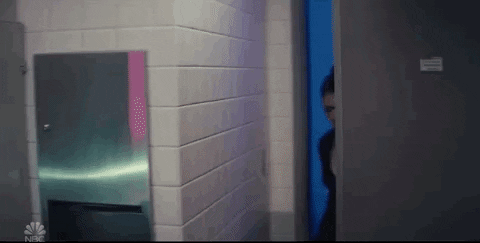 Peeing Ladies Night GIF by Saturday Night Live
Giphy
"In my hometown, I was using the mall food court bathroom which is usually a bad idea... but I had to. While I was taking the worst poop of my life, the people in the stall next to me were getting on the whole time. I can't image someone being that horny next to me in my worst time."
​Breze
Some people will do it anywhere.
I would run to another restroom if I could make it!
Do you have any wild stories for us, let us know in the comments below.
Whether or not we liked going to school growing up, we can likely all agree that we had one of those teachers who really didn't belong in the classroom.
From terrible tempers, little patience, and other bad behaviors, there are qualities that absolutely shouldn't be exhibited by a teacher.
But at least in some cases, the teacher gets caught in the act.
Redditor Ok-Discipline-4312 asked:
"How did that teacher get fired at your school?"
Creepy Phone Calls
"In the early 90s, a female student at my high school was receiving obscene phone calls."
"When police interviewed her, she told them, 'He sounds kind of like my history teacher.'"
" The police put a tracer on her phone, and the caller did turn out to be her history teacher."
- mythrowaweighin
Passing the Torch
"My high school had a notoriously stoney gym teacher, who was also hilarious. Every year, he did a miscellaneous object raffle during a random lunch hour. He basically just gave away whatever was in the lost and found box."
"Well, my junior year, one of the objects was a large and elaborate 'vase.'"
"Basically, he handed a student a giant f**king bong. He retired a few days later."
- Forever_Man
Rolling with the Punches
"A teacher used a sick day rather than a vacation day to fly to Japan to fight in MMA. He got caught and was fired for improper use of time off."
"He lost his fight and chose a different career path afterward."
- flickmypoodle
Questionable Drinks
"They used alcohol on the job. They had a bottle in the top left drawer."
"It took years to catch them, though."
- ray458
"I had a few teachers like that. One lady had a can of Tab every day (remember Tab soda? laughing out loud)."
"Some kid made a mark on the bottom with a pen or something and found out it was the same can every day. She was refilling it from a bottle in her car."
- AdWonderful5920
One Word: Embezzlement
"Embezzling from the students. For quite a few years, she would collect money for this 'senior trip' that never seemed to materialize."
"She was arrested a few years after I graduated. I wonder if she's out of prison yet?"
- Aeolian78
"Holy s**t, I just had a repressed memory pop up in my head. We had a 'ski club' when I was in 8th grade, and the teachers constantly collected money from us for our 'ski trip' that we never took. I wonder where all that money went?"
- whimsy_xo
All for the Prom Queen
"S**t, there was a vice principal that wanted her daughter, who went to the same school, to be the homecoming queen super bad."
"So she hacked into dozens of parents' district portal accounts and stuffed the ballot for her daughter."
"Not quite 'steal the money' or 'embezzle' bad, but still 'go to prison and never work in education again' and also 'your daughter isn't going to college now' bad."
- thewrongbakedpotato
A Sweet Future
"My middle school choir teacher was a closeted gay man. He had a long-term boyfriend but none of us knew about it, until one day a parent saw them at a HOUSE PARTY making out."
"They spread rumors throughout the school and multiple parents immediately removed their children from his class. The parents complained to the school and got him fired."
"The good news is, he eventually quit teaching and opened up a bakery with his partner, which did very well and got featured on 'Cupcake Wars.'"
- xain_the_id**t
Sprinkled with Annoyance
"A teacher threw a donut at an annoying student."
- AdEffective3077
"What a waste of a perfectly good donut!"
- No-Swing-2099
Possible Repercussions
"Because of me, I think. Once in primary school, I was messing around with a classmate, and she threw a sponge at me, making me chase her around the classroom."
"The teacher tried to stop me and grabbed me by the neck, making me fall on my back. It didn't hurt, but I was surprised."
"I don't remember how, but the principal and my parents got involved, and we never saw the teacher again after that. He was sort of a substitute teacher, and from what I can remember, he was pretty well-liked even by me."
- jeremydeoderant
Incredible Road Rage
"He cut off my grandpa in an explosive road rage incident, pulled him out of his truck, and beat him to the ground so bad that my grandpa was in the hospital for weeks."
"Thankfully, my grandpa was okay, but his job (and his marriage, and social life) didn't survive."
- NykxMarie
High School Drama
"At my school, the new French teacher started screwing the old computer teacher, who was married to the geometry teacher."
"At the end of it, just the geometry teacher had her job and all the other two teachers' money because she divorced the computer teacher and managed to sue the French teacher as part of an alienation of affection suit."
"Then she hooked up with the metal shop teacher."
- mama_bear_740
Three Strikes, You're Out
"The teacher called up a female student to work a problem on the blackboard. The student didn't want to participate. After some verbal back and forth, the student went to the blackboard and muttered something under her breath."
"The teacher grabbed the student's hair with both hands and proceeded to slam her head into the blackboard. 'You (slam) will listen (slam) to me (slam)!'"
"About three seconds later, the teacher realized what she was doing and released the student's hair. The student looked at her, said, 'You are sooooo fired,' and left the room."
"We had a new math teacher the next day."
- reference999
The Dispassionate Teacher
"My memory of this is kinda hazy since this happened 10 and a half years ago."
"She was telling at us, I don't remember if anything specific triggered her episode but she said s**t like, 'I don't give a rat's a** what you think,' and 'I wish I could use the paddle.'"
"Although the one thing I'll always remember was before she sat down, she said, 'I'm going on Facebook, I don't care what the h**l you do.'"
"I guess she got fired the same day, because we had a sub after lunch, and we had a new short-term sub every few days before we got a long-term sub for the rest of the year."
- mariofan426
That Would Do It
"He taught me physics for three years and became principal for two years."
"Then they realized he didn't even have the teaching qualification."
- pol9500
It's obvious why these teachers were quickly removed from their roles as teachers and unable to ever teach again.
But the thought that these things ever happened in a classroom are deeply unsettling.