It may have been April Fools' Day but a New York fire lieutenant wasn't joking around when he proposed to his firefighter girlfriend during a drill.
---
Members of an upstate New York fire department got together this week to hold a very special drill for one of their own.
On Monday volunteer firefighter and EMT Becca Pelletier was in full gear for her weekly training with the Barneveld Fire Department.
Pelletier was in for a big shock though when she finished the exercise and came out to find a surprise proposal from her boyfriend Lt. Kelby Ueltschi with the help of their fellow firefighters.
One managed to capture the moment on video and it's the sweetest thing we've seen all day.
The video begins as Pelletier is crawling out from underneath a door as she completed her mask confidence training drill.
Pelletier starts gathering gear when a voice off-screen shouts to her, when she looks up and sees what's happening Pelletier drops everything.
Behind two fellow fire fighters holding a hose with the message "Will you marry me?" her boyfriend Lt. Kelby Ueltschi is down on one knee holding out a ring.
Pelletier quickly sheds her gear and rushes over to him shouting "yes." The pair embrace as the rest of the team cheers on the newly engaged couple.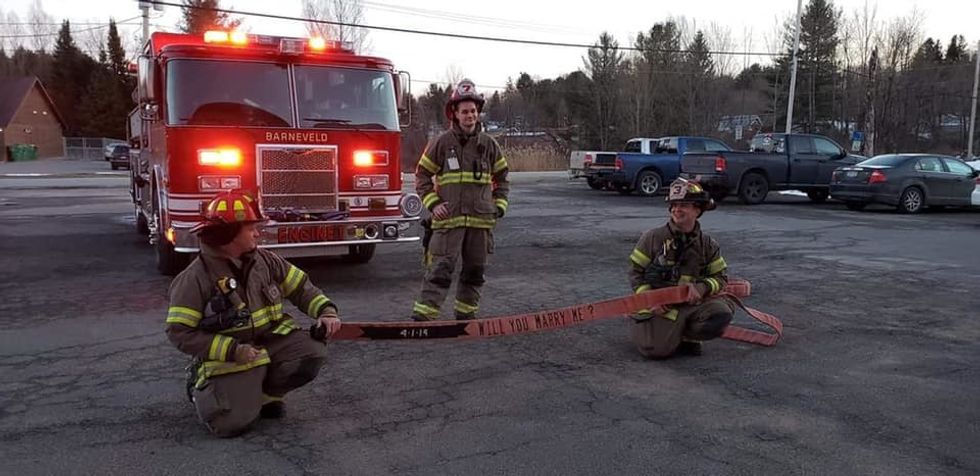 Barneveld Fire Department/Facebook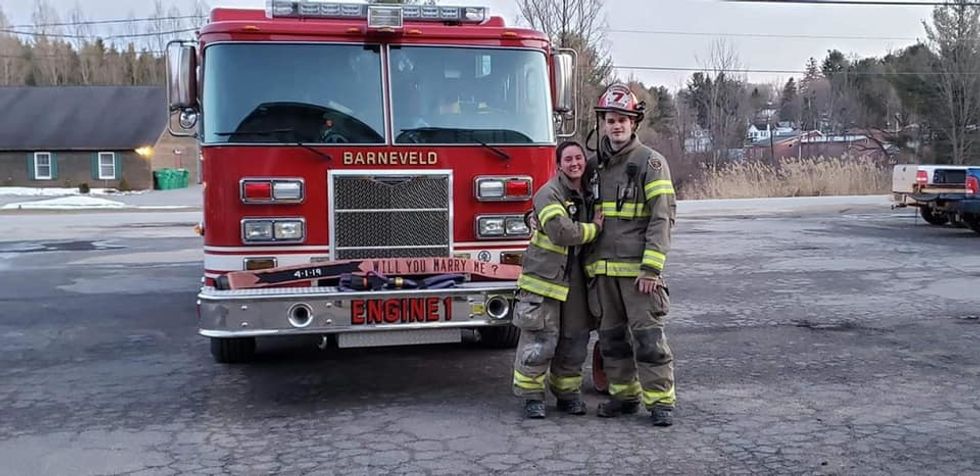 Barneveld Fire Department/Facebook
The video was later shared on Facebook where others joined in the celebration for the happy couple.

Christina Pointon/Facebook

Carey Lindfield/Facebook

Sandi Gerrish Hartsough/Facebook
As far as proposals go people seemed to think Lt. Ueltschi had come up with a winner.

Marcia McKinney/Facebook

Shirley Hart Branch/Facebook

Tricia Cutright Boyd/Facebook
And based on Becca's reaction she thought so too.
@CBSNews @alexanderjaso1 @foxx_loveee look how fast that glove came off for that ring lol

— SyRok Foxx (@SyRok Foxx)1554378580.0
@CBSNews The speed at which she took off that left glove, there was never any doubt.

— Michael Pechar (@Michael Pechar)1554327060.0
The rest of the Barneveld department wished the couple well, saying they were glad to be apart of the moment.
"Our fire department is like a big family and we were excited that we could assist with the proposal. Congratulations and Best wishes to Becca and Lieutenant Kelby Ueltschi."