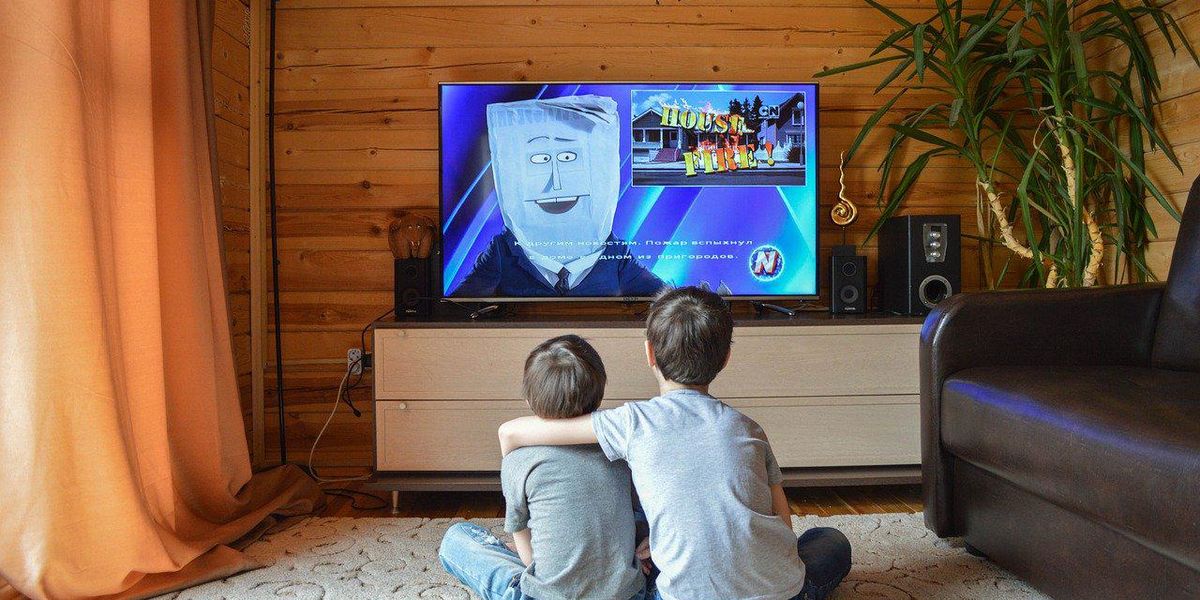 Sometimes kids' shows have the absolute opposite vibe you'd expect from a show for younger viewers. Generally, kids' shows contain a mixture of gentle humor and a learning experience--although, this is by no means the only thing you can find.
---
The shows that give the opposite vibe and creep you out? Well, it turns out that as you get older, they don't creep you out any less. If anything, now that you can understand the deeper implications of a darker theme, you probably are stressed out on more layers.
So when Redditor Diamond-Pamnther asked:
"What 'kids' show gets more disturbing as you get older?"

People had their answers ready to go.
Stupid Dog
"Courage the Cowardly Dog. It was always scary but once you grow up and can better interpret what's happening… holy crap it's dark."-That_bi+ch445
"Remember that moon-faced dude or the mummy who keeps on saying 'return the slab or face the consequences?' Even when that old lady (can't spell her name. Myurial?) was possessed by some ghost thing."
"And don't even get me started on the ugly a** human-sized fly."-Aj_Bad@ss_6969
Football Head
"Hey Arnold. Great show overall. Had some really dark things in it. You don't realize that until you watch it as an adult."
"The cool thing about it though is it takes some very real and heavy concepts and displays it in a way that kids will get it. It also respects what kids can handle understanding. Now I realize why adults also loved that show."-AverageSizeWayne
"I remember the episode in which they talk about Mr. Hyuhn's daughter, and how he gave her daughter to a helicopter of American soldier rescuers."
"I didn't completely understand it back then (I was like eleven and I'm not American so I didn't know about the Vietnam conflict) but it still hit me hard because I still remember it approximately 20 years later."-LumosLupin

Gotta Blast!
"Looking at youtube videos of Jimmy Neutron now as I turn 21, I'm really appalled at how unsettling and off the animation really is. I don't remember it being that bad!"-narv2001
"Jimmy Neutron had a budget of a half eaten bagel and apparently the creators all remember their time on it like a fever dream."
"Speaking of fever dreams, anyone else remember Planet Sheen?"-princecaviar
It may explain our generation's tendency toward gallows humor.
Not Your Average Quarter Gumball
"I've just recently seen episodes of The Amazing World of Gumball and oh my god some of the things they talk about don't seem appropriate for kids but it's super funny"-ImplementVegetable43
"I love Gumball! My 8-year old actually introduced me to it when he found small clips on it on YouTube, and I asked him what it was that made him laugh until he cried."
"We found it on Hulu and I was shocked at how funny it was. I'm a sucker for sarcasm and word play and this show's got tons of both."
"Plus, the animation style when the characters experience something extra shocking (like bare monkey a**), hilarious, or infuriating always cracks me up. There are so many good episodes!"-MangoSchnitzel
TDI: Totally Discombobulated Intelligently
"Not sure if disturbing is the right word, but anytime I re-watch Total Drama I'm amazed at how much they got away with."-waffleclaus
"Honestly, that show along with regular show could've been broadcasted on adult swim as well and no one would've batted an eye"-TheStrangestOfKings
Teletubbies, Yet More Disturbing
"Most Aussies would know the show 'In The Night Garden.' The other day I was looking through old toys from when i was like 2-5 years old."
"I came across a creepy toy and I realised it was an into the night garden toy. I look back at it now the garden is a forest and the characters are creepy af."-WeirdW0lfie
Teachers Describe The One Student That They'll Never Forget | George Takei's Oh Myyy
"The Misadventures of Flapjack. When I was younger I didn't think anything of it. It was a weird but fun cartoon to watch. I liked it well enough."
"Watching clips of it now it's a horror show full of dark things that I did not remember."-ShiftingSands1
And the other option is that we honestly just never noticed before this.
It's Pee-Wee's Playhouse, But It's My Prison
"Pee-Wee's Playhouse certainly gets a lot weirder with age. Where is Puppet Land? Is the King of Cartoons a hereditary position?"
"Was Jambi trapped/enslaved by Pee-Wee to do his magical bidding? Why was Pee-Wee on a scooter in the end credits when we know he had a sweet bike for which he was basically willing to die in order to recover?"-LemursRideBigWheels
Much Like The Real Dinosaurs
"I think it was just called dinosaurs. I remember the little yellow baby dinosaur hitting his dad on the head 'not the mama' anyway the last episode where they're waiting for death f**ked with me."
"Also the deeper part of the planet that was accessed through a tunnel under the baby's crib. It's mostly hazy but I remember a few episodes not exactly giving me nightmares but definitely keeping me up."-Liljdb0524
"I remember that one episode where they were dealing with drug addiction in such a slap-stick way. That show definitely had some darker topics."-Arcades_Samnoth

So all these things clearly had an impact on us in one way or another. But were those things because of or in spite of their inherent darkness? And as we continue to get older, will other things we once thought fondly of reveal more dark layers?
The only thing to do is to keep gaining life experience and finding out how it measures up to our media.