Oprah Winfrey shaped the lives of many young women since 2002, thanks to her South Africa boarding school for girls.
Now that another class of women has graduated, enrollment in her Leadership Academy is the gift that keeps on giving.
The TV magnate and philanthropist just dropped $10,000 on a wedding dress for one of her former students and posted a photo of the bridal shopping spree in Beverly Hills on Instagram.
---
"I've known these girls since they were 12 and 13 coming to my school," she beamed.
The photo includes her and three other girls from the school with the bride-to-be, Glori, holding up an exquisite Berta beaded gown.
"Graduating from college. Grad school. Now our first wedding. Looking for the perfect dress."
Saks Fifth Avenue was closed to the public so the women could shop without interruption.
According to the Daily Mail, the girls' afternoon activities kicked off with dinner at the posh eatery, Spago, owned by Wolfgang Puck.
I'm soooo blessed it's mindblowing. Your girl is getting married soon! 💍👰🏾💕😁 https://t.co/9KXu2d8097

— Glori R (@Glori R)1556444565.0
One of the women on the private shopping spree was former student Morgan Mpungose, who holds a master's degree in architecture from the University of Southern California.

She shared some photos from their romp around the store.
So too did Mpumi Nobiva, who shared a video of herself frolicking around the salon while holding up one of the dresses.
"Practicing for when my turn comes? ... lol helping pick a dress was SO fun," she wrote on one of her posts.
"Now... we wait for the groom to arrive in about ... 10 years - at least - I hope (or more) #monatempolaye."
Here is a YouTube clip of Nobiva's rehearsal for her someday fairy tale wedding taken from her Instagram page.

Video: Oprah goes wedding dress shopping with a student from her school www.youtube.com
No confirmation was given on whether the bride said yes to the pictured dress.
@Oprah shutdown Saks in Beverly Hills to find a wedding dress for a graduate from her South Africa school https://t.co/naIHzK7Egm

— Early Today (@Early Today)1556529461.0
Nobiva is an international speaker who was 9-years-old when she lost her mother to an AIDS-related illness.
She holds a master's degree in strategic communications.
People were moved after seeing the former students as grown women.

@oprah/Instagram

@oprah/Instagram

@oprah/Instagram

@oprah/Instagram
How many people can say Oprah is sharing a milestone moment with you?


@oprah/Instagram

@oprah/Instagram

@oprah/Instagram

@oprah/Instagram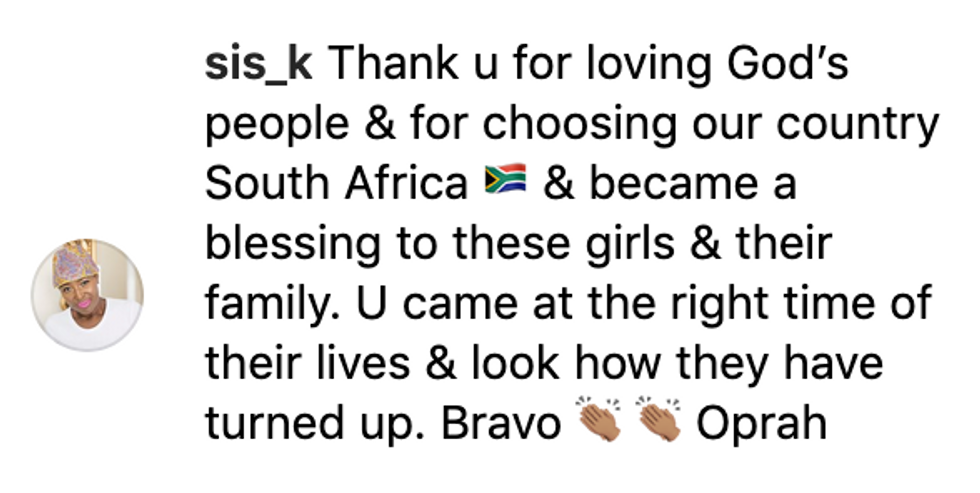 @oprah/Instagram
How gratifying it must be to see lives changed because of you.


@oprah/Instagram
The Oprah Winfrey Leadership Academy for Girls opened in 2007 and provides educational and leadership opportunities for gifted girls, grades 8-12, who come from underprivileged backgrounds.
The school was inspired by Oprah's own disadvantaged childhood.
The boarding school's inaugural class of 72 women, including the three girls, graduated in 2011.
Winfrey made a promise to South African president Nelson Mandela back in 2002 that she would attend the inaugural class' graduation ceremony.
Since following through with that promise, Oprah also witnessed some of her former students go on to receive their master's degrees, and now, shopped for a wedding dress.
Here is a photo of Oprah attending Glori's graduation last year.

Thank you Oprah, for being who you are!