Oprah is many things to many people. A powerful media mogul. A philanthropist of the highest caliber. Auntie.
What Oprah is not, is here for anyone calling her out for supposedly not doing enough. A commenter learned this the hard way when they tried to give her advice on her own Instagram page.
It started with Oprah sharing a great photo with a recent Colorado College graduate.
She wrote:
"I don't know who this guy is but he sure is happy to graduate! I shook hands with all 571 members of @coloradocollege's Class of 2019 and gave them a copy of The Path Made Clear. 📸: Jerilee Bennett/The Gazette"

At the commencement, she gave a speech to the new graduates, telling them to build on smaller steps to change the world. She also gave the entire graduating class copies of her latest book The Path Made Clear.
This, however, didn't appear to be enough for one commenter.
Instagram user spiritualceo1111 tried making a joke about what Oprah could have done.

Oprah/Instagram
They say:
"Should have paid off their student debt"

Oprah was ready for it.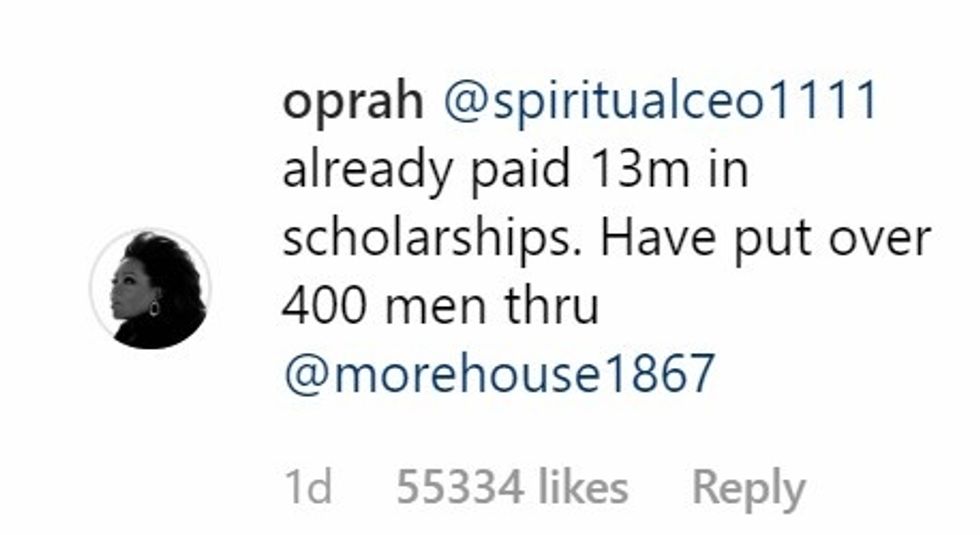 Oprah/Instagram
"Already paid 13m in scholarships. Have put over 400 men thru @morehouse1867"

People were ready to defend the queen.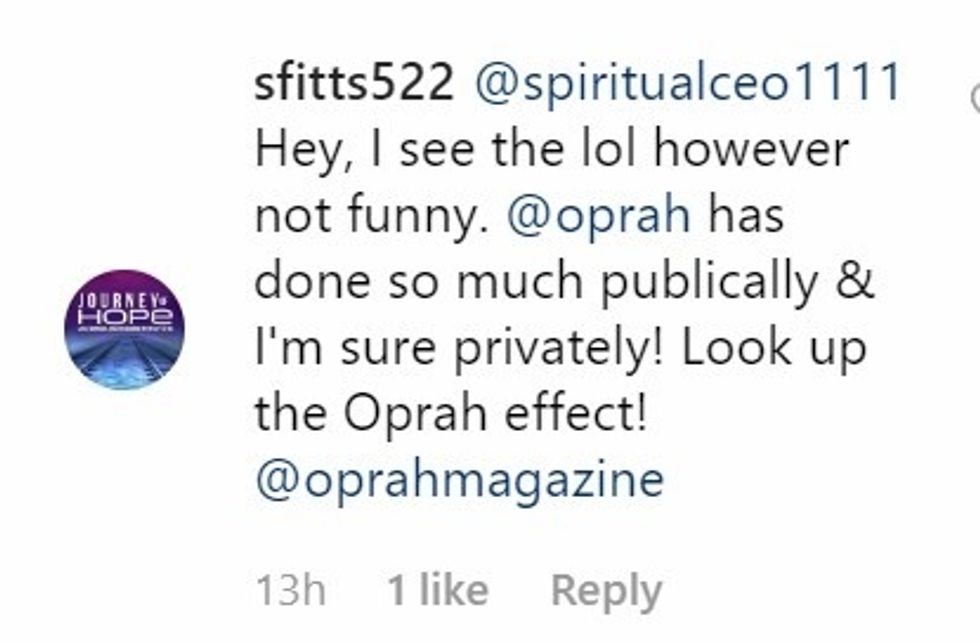 Oprah/Instagram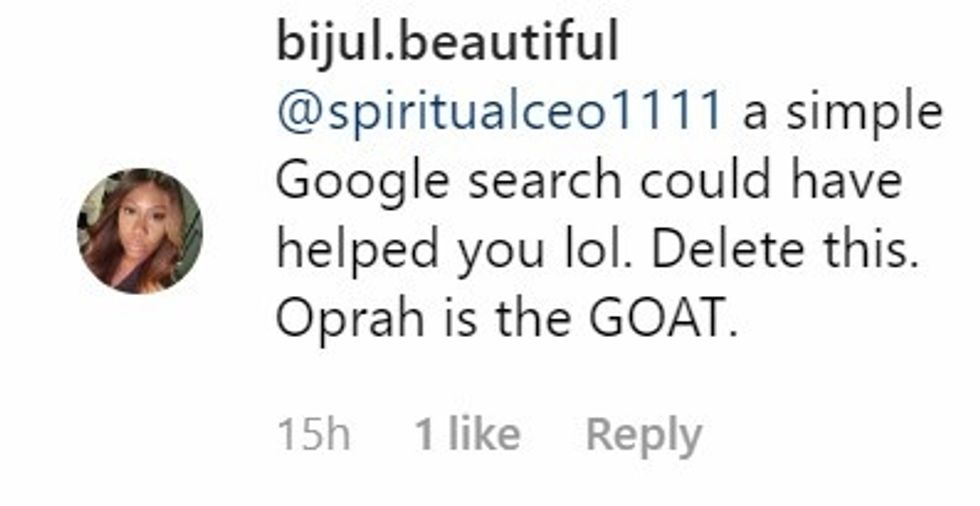 Oprah/Instagram
As her tweet says, Oprah Winfrey has given $13 million to scholarships for Morehouse students, helping over 400 young men get a quality education.
Morehouse is an all-male, private historically black college in Atlanta, Georgia. It is often compared to Ivy League schools in terms of the high-performing students accepted.
Not that you need to know all that to cheer on Oprah.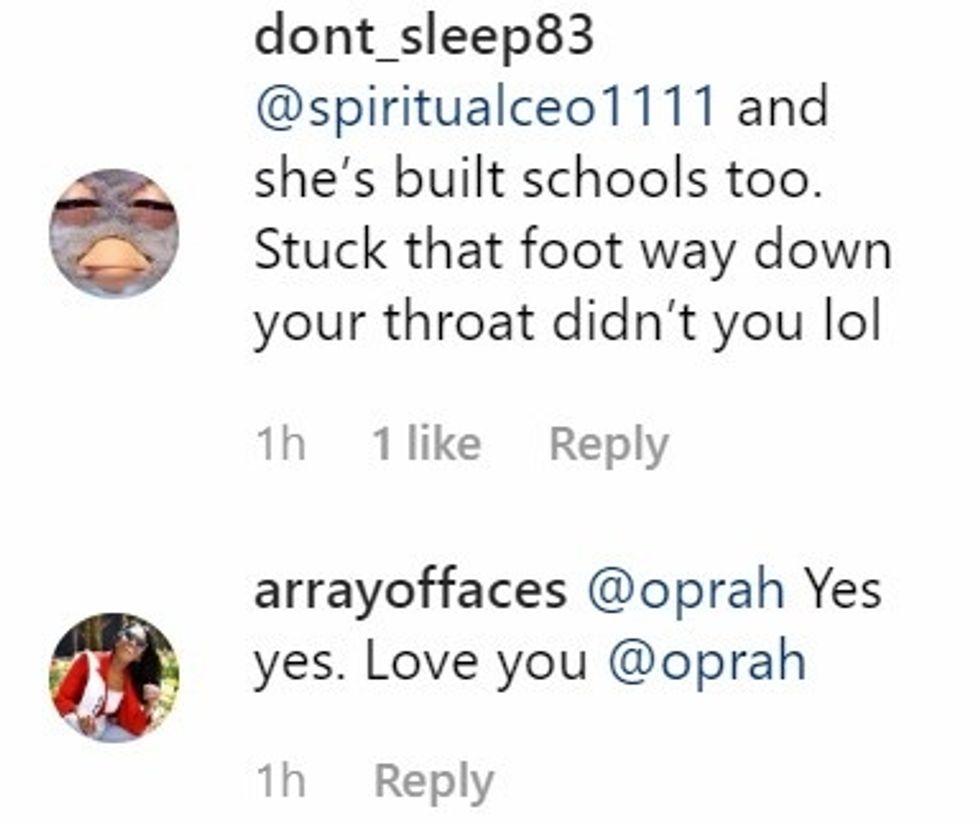 Oprah/Instagram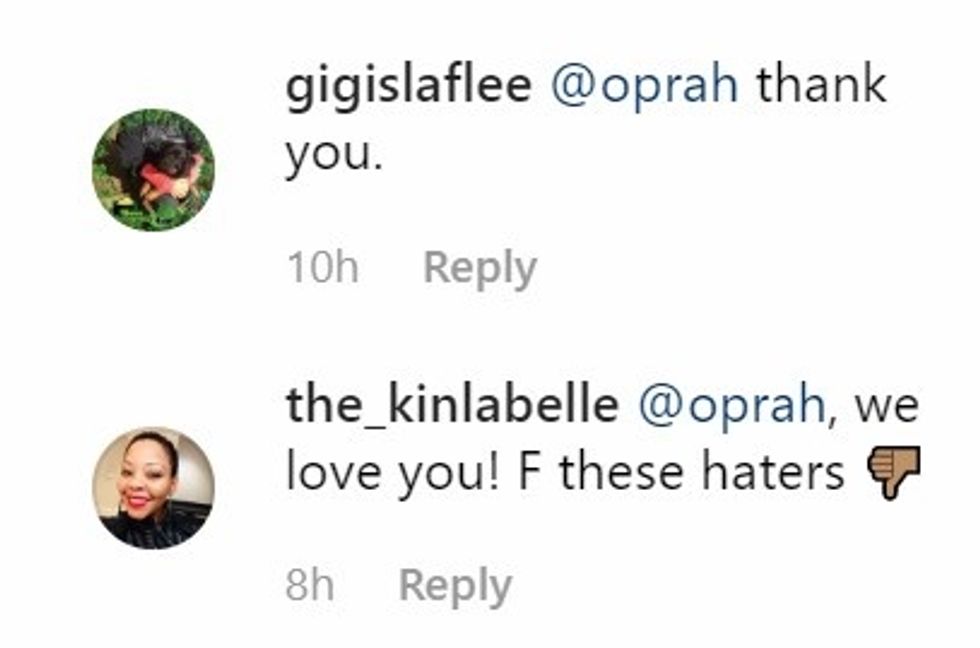 Oprah/Instagram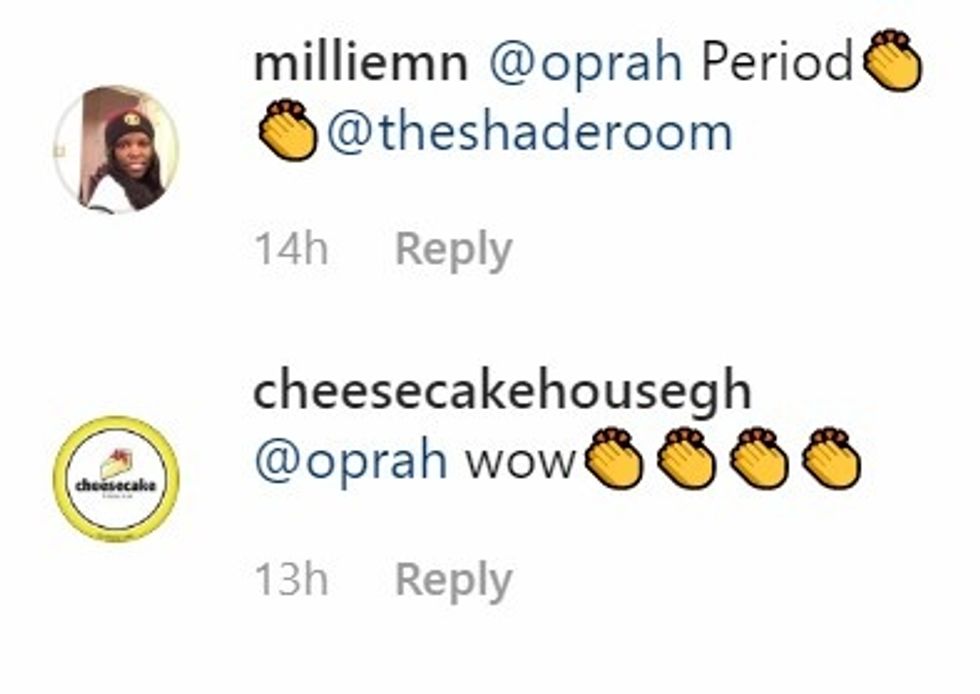 Oprah/Instagram
In their defense, the original commenter explained themselves, stating it was a joke in reference to billionaire Robert F. Smith pledging this past weekend to pay off all the student loans of Morehouse graduates for 2019.
They also brought up the crushing weight of student loans and how proud they are of Winfrey for everything she does.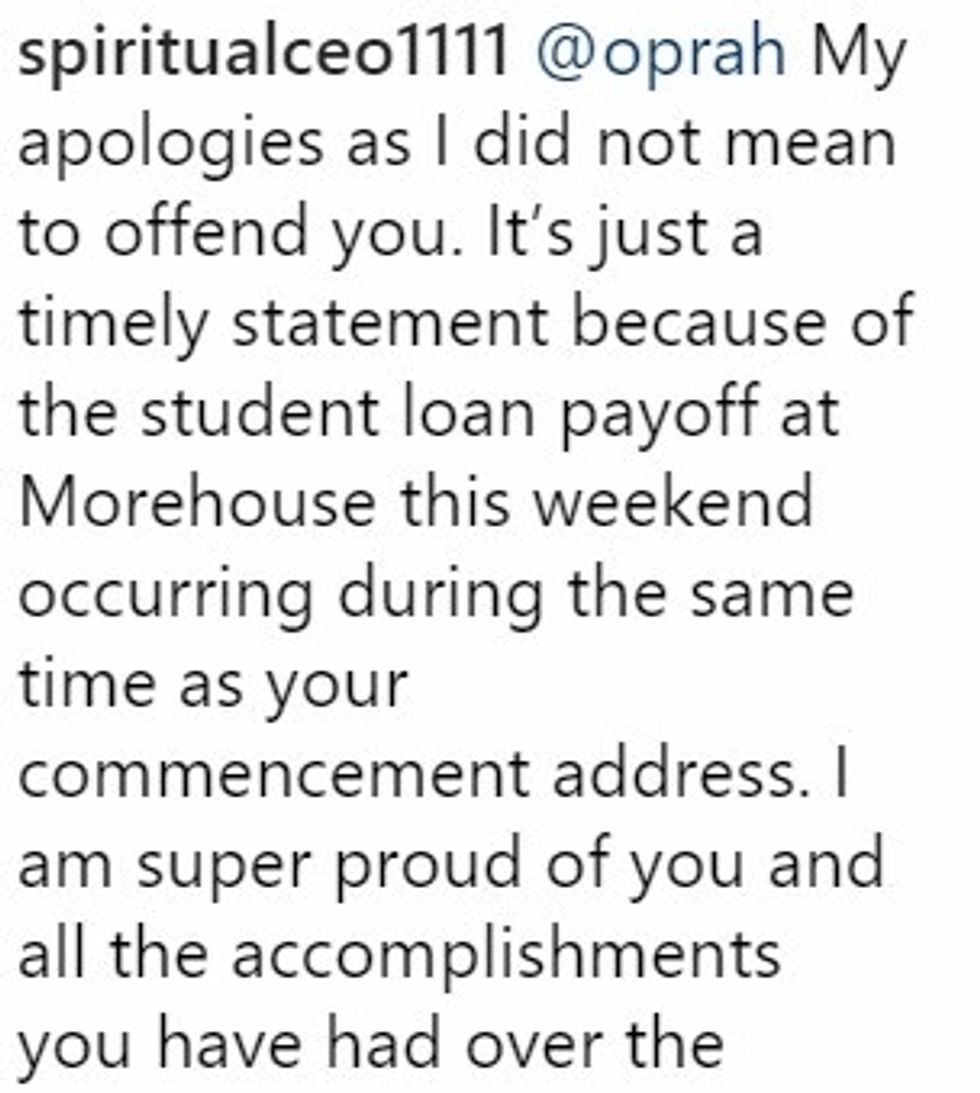 Oprah/Instagram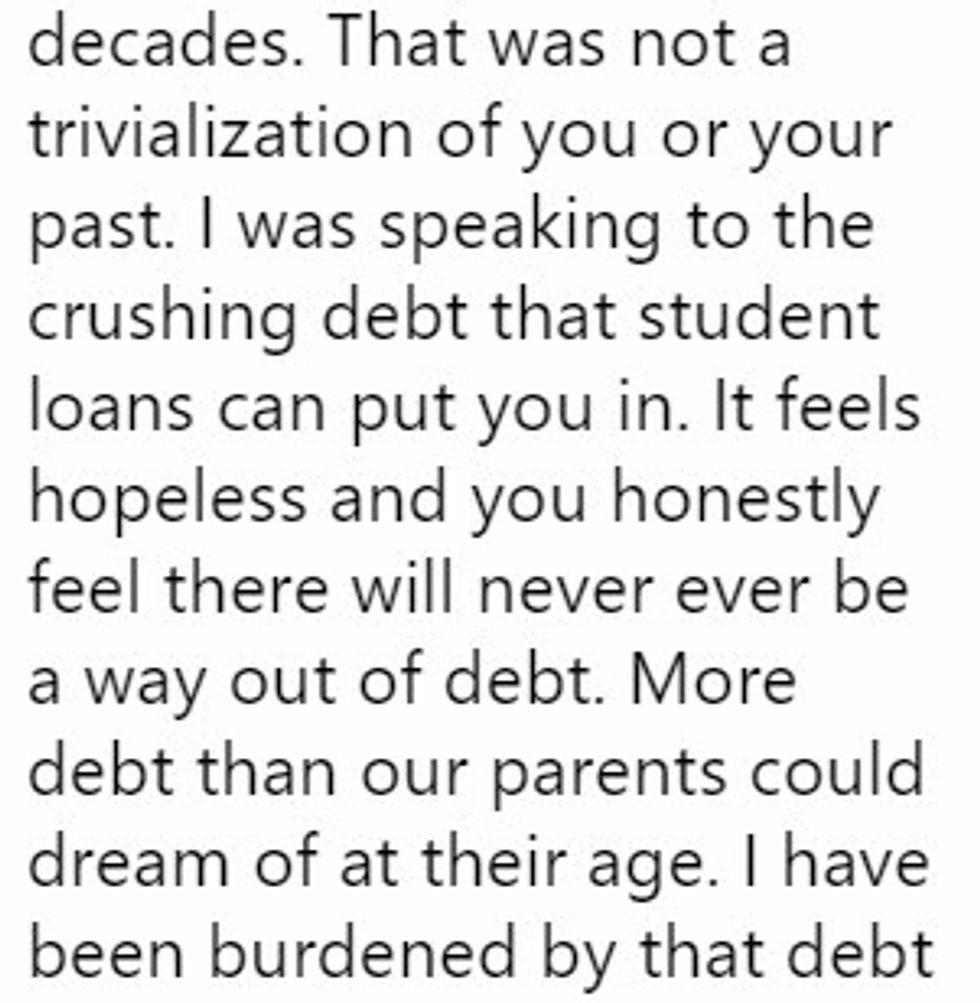 Oprah/Instagram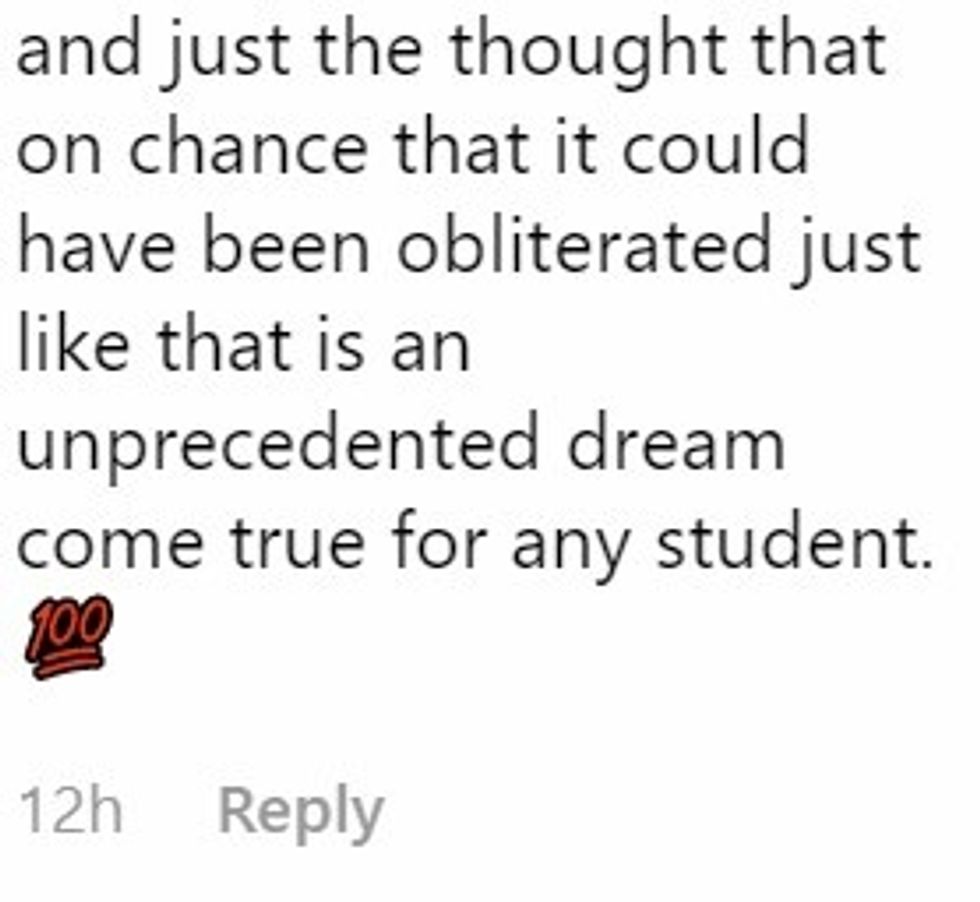 Oprah/Instagram
Student loans are a big topic lately. While many Americans feel the crushing debt of loans every day, people are trying to find solutions.
Elizabeth Warren, a presidential hopeful, has outlined a plan to cancel 95% of student loan debt. Meanwhile, the late stage capitalism solution involves selling your vacation days to try and help pay it down.
Keep reading...
Show less
Oprah Winfrey made it very clear that she will not be running for president, despite everyone's wishful thinking.
She did, however, give her endorsement of Mayor Pete, a.k.a., the South Bend Mayor and 2020 presidential candidate, Pete Buttigieg.
However, the Queen of all media referred to him with her own nickname, and it's sticking.
During an interview with The Hollywood Reporter, the 65-year-old media executive and philanthropist discussed upcoming projects and commented on the crowded list of Democrats running in the race.
And while on the topic of Democratic candidates, Winfrey mentioned she was doing some research by reading up on the presidential hopefuls to determine how she will use her voice in support.

Among her required reading materials was Pete Buttigieg's latest book.
"Right now, I'm studying the field. I'm reading Shortest Way Home by [Pete Buttigieg], I call him Buttabeep, Buttaboop."

"The name's either going to really hurt or [really help]—I think it's going to help, actually."
THR cover: @Oprah Winfrey talks '60 Minutes' exit, 'Leaving Neverland' backlash and Mayor Pete "Buttabeep, Buttaboo… https://t.co/dw59zk8ZfA

— Hollywood Reporter (@Hollywood Reporter)1556629211.0
Oprah, the name is sticking.
@merica @SBILaura @PeteButtigieg You know you're *in* if Oprah has given you a nickname. #PeteForAmerica

— Eastside LA For Pete (@Eastside LA For Pete)1556649770.0
@merica @PeteButtigieg Thank you Oprah, very cool!

— PHIL (real) (@PHIL (real))1556645169.0
As a part of her new collaboration with Apple to bring original content to the upcoming Apple TV+ service, Winfrey told THR that she visited their headquarters.
Steven Spielberg was with her, and it was there when she first tried to introduce "Buttabeet, Buttaboop" into parlance.
""Just the other day, I was at Apple with Spielberg and we were in the hallway talking about, 'What are we going to do?' And I said, 'Have you heard of this Butta guy?' He goes, No, Butta-who?' I go, 'Buttabeep, Buttaboop. Look him up.'"
Oprah: "Just the other day, I was with Steven Spielberg and we were in the hallway talking about, 'What are we goin… https://t.co/ngF2K3xk3R

— Future POTUS Pete (@Future POTUS Pete)1556650610.0
@pete_potus That should be his campaign slogan from now on - "Buttabeep, Buttaboop, Buttigieg"

— EVAQUI (@EVAQUI)1556651566.0
@pete_potus Who would mind that? It's a nickname just as adorable as the one to whom it was given!

— Kitt Richards (@Kitt Richards)1556716987.0
The former talk show host, who was notorious for giving away cars like they're going out of style, said she occasionally has the itch to interview "people who are of the culture."

"Last year, I would've wanted to sit down and have a conversation with Christine Blasey Ford. Right now, I'd probably want to sit down and talk to Butta."
Winfrey may not be running for president, but she sure is channeling a lot of that potential energy towards someone else.
So far my favorite thing today is that @Oprah calls Mayor Pete "Buttabeep, Buttaboop" ❤️❤️❤️❤️❤️

— Busy Philipps (@Busy Philipps)1556647491.0
@merica @tsteph92 @PeteButtigieg @PeteButtigieg is there a new T-shirt in the works?

— Val (@Val)1556674109.0
Looks like Mayor Pete is on a list of Oprah's Most Favorite Candidates! #PeteButtigieg2020 https://t.co/xUi4VlYP0g

— SCRIBEMOON (@SCRIBEMOON)1556687233.0
So what does Buttigieg think of his new moniker? He doesn't seem to mind one bit.
Buttigieg, who recently had lunch with Winfrey at the home of a mutual friend, told WGBH in Boston on Tuesday:
"In the car on the way over, somebody just said that Oprah mentioned me, which is arguably a bigger deal than coming in second in a poll."
With Oprah's adorable endorsement, "Buttabeep, Buttaboop" could close the gap in the tightening race to Washington.

Keep reading...
Show less
Oprah Winfrey shaped the lives of many young women since 2002, thanks to her South Africa boarding school for girls.
Now that another class of women has graduated, enrollment in her Leadership Academy is the gift that keeps on giving.
The TV magnate and philanthropist just dropped $10,000 on a wedding dress for one of her former students and posted a photo of the bridal shopping spree in Beverly Hills on Instagram.
"I've known these girls since they were 12 and 13 coming to my school," she beamed.
The photo includes her and three other girls from the school with the bride-to-be, Glori, holding up an exquisite Berta beaded gown.
"Graduating from college. Grad school. Now our first wedding. Looking for the perfect dress."
Saks Fifth Avenue was closed to the public so the women could shop without interruption.
According to the Daily Mail, the girls' afternoon activities kicked off with dinner at the posh eatery, Spago, owned by Wolfgang Puck.
I'm soooo blessed it's mindblowing. Your girl is getting married soon! 💍👰🏾💕😁 https://t.co/9KXu2d8097

— Glori R (@Glori R)1556444565.0
One of the women on the private shopping spree was former student Morgan Mpungose, who holds a master's degree in architecture from the University of Southern California.

She shared some photos from their romp around the store.
So too did Mpumi Nobiva, who shared a video of herself frolicking around the salon while holding up one of the dresses.
"Practicing for when my turn comes? ... lol helping pick a dress was SO fun," she wrote on one of her posts.
"Now... we wait for the groom to arrive in about ... 10 years - at least - I hope (or more) #monatempolaye."
Here is a YouTube clip of Nobiva's rehearsal for her someday fairy tale wedding taken from her Instagram page.

Video: Oprah goes wedding dress shopping with a student from her school www.youtube.com
No confirmation was given on whether the bride said yes to the pictured dress.
@Oprah shutdown Saks in Beverly Hills to find a wedding dress for a graduate from her South Africa school https://t.co/naIHzK7Egm

— Early Today (@Early Today)1556529461.0
Nobiva is an international speaker who was 9-years-old when she lost her mother to an AIDS-related illness.
She holds a master's degree in strategic communications.
People were moved after seeing the former students as grown women.

@oprah/Instagram

@oprah/Instagram

@oprah/Instagram

@oprah/Instagram
How many people can say Oprah is sharing a milestone moment with you?


@oprah/Instagram

@oprah/Instagram

@oprah/Instagram

@oprah/Instagram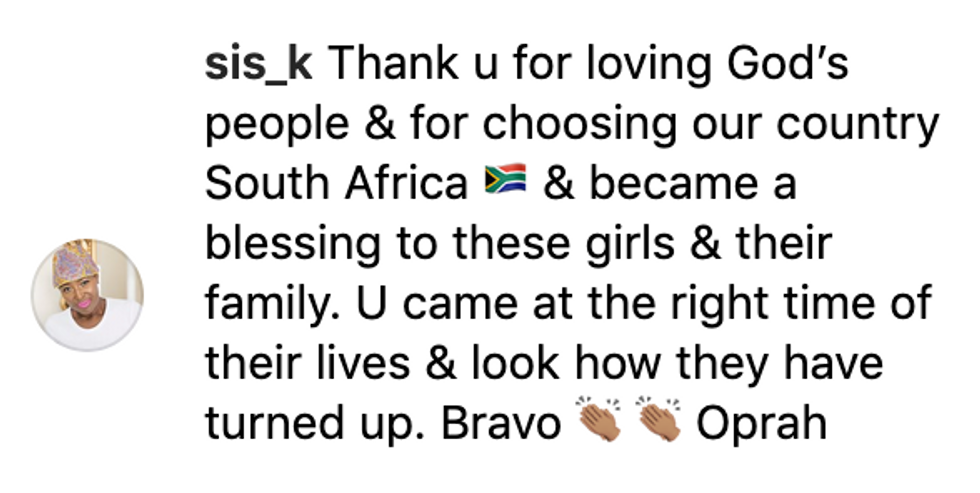 @oprah/Instagram
How gratifying it must be to see lives changed because of you.


@oprah/Instagram
The Oprah Winfrey Leadership Academy for Girls opened in 2007 and provides educational and leadership opportunities for gifted girls, grades 8-12, who come from underprivileged backgrounds.
The school was inspired by Oprah's own disadvantaged childhood.
The boarding school's inaugural class of 72 women, including the three girls, graduated in 2011.
Winfrey made a promise to South African president Nelson Mandela back in 2002 that she would attend the inaugural class' graduation ceremony.
Since following through with that promise, Oprah also witnessed some of her former students go on to receive their master's degrees, and now, shopped for a wedding dress.
Here is a photo of Oprah attending Glori's graduation last year.

Thank you Oprah, for being who you are!
Keep reading...
Show less
Oprah Winfrey could do no wrong. Not only is she an influential media producer, but she is also a philanthropist who has inspired millions of viewers to be the best human beings they could possibly be.
She's the real deal. Why wouldn't we want her to run the country?
After rumors about a possible run for president swirled after her powerful "time is up" speech at the 2018 Golden Globes, she set the record straight, once and for all, on the The Daily Show with Trevor Noah.
Oprah Winfrey on The Daily Show with Trevor Noah | 11 April 2019 www.youtube.com
Noah asked what we were all wondering about.
"Is Oprah Winfrey running for president?" he asked, eliciting cheers and applause from the audience.
As viewers crossed their fingers and waited for an affirmation, Harpo said:
"You don't even want that to happen."
Oh, yes we would, Oprah. Alas, our wishful thinking did not manifest in the way we had hoped.
This interview making my heart so happy @Oprah and @Trevornoah ♥️🥰 https://t.co/jghwNLQsYt

— Matuba Mahlatjie (@Matuba Mahlatjie)1555012402.0
"Why would you say that?" asked the host.
Oprah's reason for not taking over the White House lay in a conversation she had with close friend and co-anchor for CBS This Morning, Gayle King.

"You know, Gayle, my dearest friend, I thought she was actually serious. Like 'I think you should do it. You should do it for the country."
"I said, 'You don't want that to happen because I have such a beautiful life! I have such a beautiful life! Why would I want to put myself in that?'"
"Oprah: 'I have such a beautiful life', why on earth would I ever run for president?" via FOX NEWS… https://t.co/vfmPk98lNB

— Citi-Digests (@Citi-Digests)1554970393.0
@Trevornoah @Oprah @ruminasean This right here gave me goosebumps 😭🙏🏾🔥 @Trevornoah https://t.co/jyIbO8BtIe

— Thato Moshoeshoe™️ (@Thato Moshoeshoe™️)1554999553.0
I was happy today, and even more happy when I saw this picture of Trevor Noah and Oprah. They make me happy just lo… https://t.co/qEPERD5QU5

— Lindiswa Jan🍒🍐 (@Lindiswa Jan🍒🍐)1555008365.0
She remained adamant about continuing on her own trajectory in life.
"I know my path and my path isn't that. But whenever I decide whoever I want to support, I will get behind that person."
@Oprah @Trevornoah @TheDailyShow Oprah is such an true inspiration. I agree that she shouldn't run for President, b… https://t.co/cvlv9Iudi7

— Tamara Boyll-Olah 🌊 (@Tamara Boyll-Olah 🌊)1554993725.0
Oprah Winfrey's interview on The Daily Show with Trevor Noah was 🔥🔥🔥🔥🔥🔥 I don't know if it will be available on th… https://t.co/I9YyAXLdNM

— André Moore (@André Moore)1554989296.0
Some remain hoping against hope.
@Oprah @TheDailyShow @Trevornoah @Esther188rod DEAREST OPRAH ❣️ PLEASE RUN FOR PRESIDENT YOU WOULD WIN ❣️ NO ONE R… https://t.co/FlAqI40Ywo

— Esther Rodriguez (@Esther Rodriguez)1554942693.0
@SpencerAlthouse @TheDailyShow That was great! I still think she should run for POTUS in 2020.

— Andrew Hall (@Andrew Hall)1555009042.0
Oprah stuck around for the online "Between the Scenes" segment on the show to participate in the Q&A session in which we learned she has an avocado orchard and has the edge of her toilet paper folded into a triangle on the rolls in her bathrooms at home.
She also said she is planning to open a school in the United States in the vein her South Africa academy.
Keep reading...
Show less
Mind games. Life's survival is based on the best of the best of mind games. Sometimes you just gotta get someone to do what you need, like diffuse a dangerous situation. Is it always right or morally ethical? NO. But please, let he is without sin cast the first stone. A little trickery goes a long way... often for good.
Redditor u/PM_ME_UR_PUPPYDOGS wanted us all to fess to some shady yet clever mind games we've all played.... What is the most effective psychological "trick" you use?
Keep reading...
Show less