Trump Is Lying in His Political Ads. Here's Why Facebook Doesn't Care.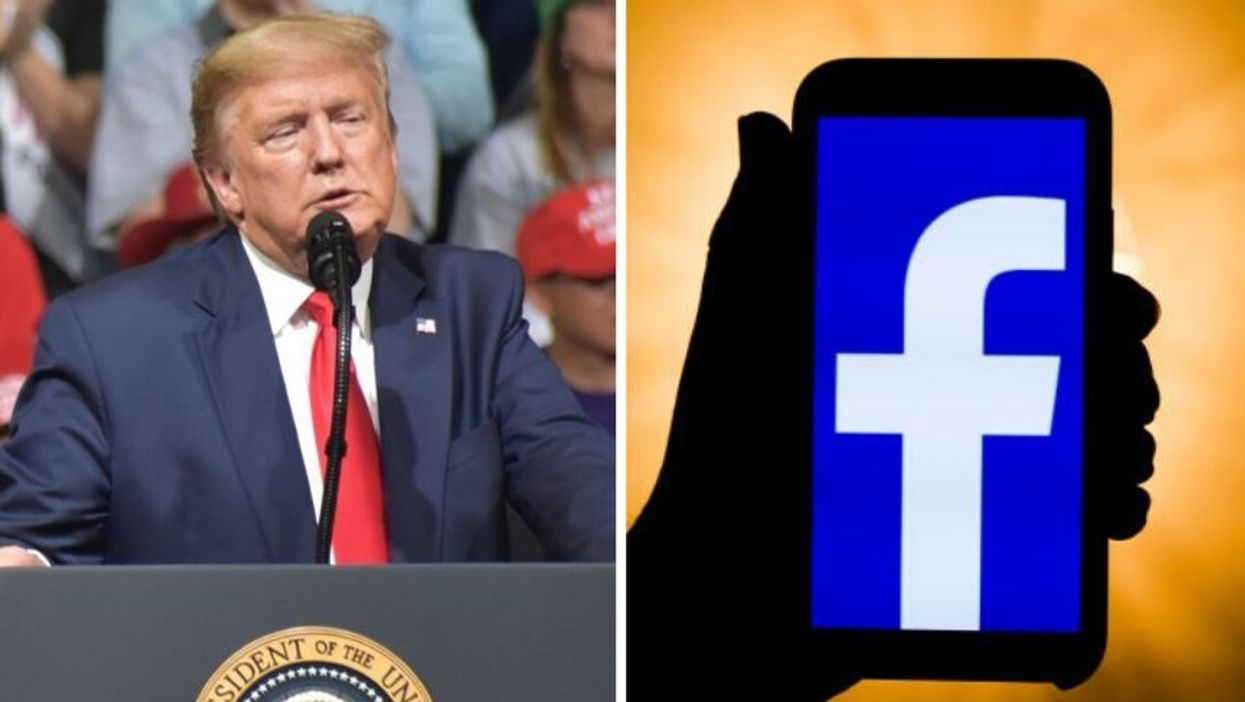 Kyle Mazza/Anadolu Agency via Getty Images // Jakub Porzycki/NurPhoto via Getty Images
On this episode of the "Oh Myyy Pod!" podcast, host George Takei and co-host Todd Beeton explore the ways our data was weaponized against us during the 2016 election and how the Trump campaign continues to exploit digital tools to spread disinformation in 2020.
Listen below to hear Judd Legum discuss Facebook's policy not to factcheck Trump's dishonest political ads.
And listen to the rest of our second season here:
Reddit user pizzabagels1994 asked: 'What caused your last break up?'
There's a saying about needing to kiss a lot of frogs before finding Prince Charming. Most people date more than one person before settling on a life partner.
And even then it doesn't always work out.
Most of us have at least one breakup in our past. The reasons things don't work between people vary greatly.
But we all have our breaking point.
Reddit user pizzabagels1994 asked:
"What caused your last break up?"
Lack of Empathy
"I had just been diagnosed with Stage 4 metastatic cancer. All the attention I had been giving her I didn't have the energy to maintain while getting Chemo and avoiding Covid."
"My final straw. She yelled at me on the phone while I was in intensive care with pulmonary embolisms."
"Just that light bulb moment, and I was done."
"That was 3 years ago. All good now. I'm in remission, and thinking about dating again."
~ Owlflight317
Unhealthy
"I got into an argument with a crazy ex that was about 8 years older than me when I was 19 and we were screaming and chatting at each other and I remember she grabbed this vase that I had just bought her some flowers in and chucked it at my head and barely missed.
"It's hard to remember what kind of insanities I was yelling at her after that but she came around the corner with two brand new butcher knives from a knife set we had bought earlier that day and chased me around the house in circles."
"The house had bars on the windows and you had to have a key to open the front and back door it did not just have a manual lock."
"I ended up putting myself in the bathroom and holding the door as hard as I could and she actually stabbed one of the knives through the door."
"The whole knife did not come through the door only about two inches of it but that's plenty enough to still scare you."
"It was around 2010 and I had one of those prepaid phones in my pocket and I called her dad to come get her. He lived across the street."
"After her dad got her calmed down he took me on a ride to the duck pond at like 2 or 3:00 in the morning and was feeding the ducks old pizza and was just telling me that I needed to chill out and trying to give me some kind of a life lesson."
"He was probably pretty intoxicated himself but usually managed to hold himself together."
He really wasn't a great guy but came in during his daughter's mental crisis."
"The duck pond adventure started to end as the sun came up and I went and locked myself into the bathroom at the house and just went to sleep on the floor."
"I was going to get my things and get out that morning but she begged me to stay and at the time I thought that was what I really wanted."
"I think she kind of was mentally unwell at the time and I wasn't my best either."
"I did not call the cops on her and we reconciled for a time."
"Unfortunately I seem to have a pattern of not realizing I'm in a major mentally abusive situation due to growing up in one."
~ SnooCalculations8038
"Wife and I were attending couples therapy."
"The therapist said she was being literally abusive to me. My then-wife demanded a new therapist."
"Second therapist said she was being abusive to me. My then-wife filed for divorce.
"While my life right after was hell, it's come back around and I'm doing better than ever."
~ wjmacguffin
"My drinking, lies about drinking, and sh*tty finances because of drinking. 107 days sober today."
~ No_Step_4431
"Finally, someone who admits it was their fault. Me too brother."
"Past exes all was because of my drinking. Thankfully, I found someone who helped me quit."
"I'm 1yr 8m sober. We got this."
~ taizzle71
Infidelity
"She cheated."
"We had our home, our plans and were preparing to marry in about three months when we separated."
~ PGabrielSL
"Thank goodness you found out before getting married."
"I know it must really hurt and maybe even keep you from trying again with someone new but you really dodged a bullet."
~ krasavetsa
"Yep, my wife cheated and it's costing me about 100k between legal fees, buying out her equity in the house (which she paid none of), give her a chunk of my retirement and liquid cash."
"Honestly I think everyone should have a nasty infidelity clause in a pre-nup at this point."
"I can also look forward to sending her 70k in child support over the coming years. And I'm gonna take a wild guess that most of it won't be spent on the kid."
~ Throwawaysi1234
Something is Missing
"It took some time but we both realized that we weren't giving each other what we needed."
~ 2ByteTheDecker
"Same! He saw it first so he was the one to leave me, but thank God he did, we were so incompatible!"
~ Obvious_Ari
"Leaving my last relationship was rough—it was my first ever relationship and lasted 7 years—but I was so relieved at the same time when I got dumped."
"It was a very healthy breakup on both sides, and we kept in touch on and off for just under a year afterwards until she began seeing someone else and I felt it would be best to leave it be out of respect for her new partner."
"We honestly just both grew up (got together when I just turned 18; both young) and eventually fell out of romantic love."
"I still hold her to the highest respect and will always have a place in my heart for her, but I was so glad when she bit the bullet and broke it off. I would've felt too guilty to do so; I owed her so much."
"We had a very tumultuous relationship for the first couple years—we were very much in love but I had a lot of unresolved mental health issues, had a nervous breakdown, etc..."
"I still hate what I put her through but hope I was able to make it up to her in the last couple years of the relationship."
"Anyways, I wish her the best. My life and mental well-being has gotten SO much better in the last few years of being single; in a way I owe that to her too."
~ knoxollo
"He wants to get his life together."
"We still love each other and he thinks he needs to do this on his own but I want to be here for him, I promised him when we first started dating I'd be here for him as much as I can."
"It just hurts because he thinks I'm not strong enough to still love him and be apart from him when I am. It's complicated."
~ coffincowgirl
Not enough time
"Her not having enough time for both grad school and a relationship."
"She did make the right choice though."
~ Formo1287
"Oof, yeah. Grad school is a real drain, emotionally."
"Like, you need the support of a partner while you go through it, but you don't really have anything to give back."
"It's an awful time."
~ Economy-Mission6933
"Just broke up with a girl halfway through a medical degree. I couldn't do it. I had been supporting her financially for 8 years and even another four I couldn't do. She also wanted me to cook, shop more than her."
"I started telling her I wanted her to contribute more towards the relationship. She grew distant but then really leaned on me when she needed financial and emotional support."
"She gets through her exams gets admitted to the doctorate and then cheats on me on holiday with a Swiss rocket scientist."
"He's now supporting her finanically in a long distance relationship. Feels like I dodged a bullet. Still 8 years is a long time."
~ nevaehenimatek
It's complicated seems to be the mantra of relationships in the 21st century.
Are we no longer as loyal or loving as we were in the past?
Or do we just have more options and an unwillingness to settle.
We could all use a little love and care, but sometimes kind gestures come from the most unexpected places. Whether it's a friend showing up at our door to give us the present we didn't know we needed, or a complete stranger helping us out in a time of need, these stories about the nicest thing someone has ever done will warm your heart.
Like many people, I spent my time in retail. Customers were by far the hardest part of the job.
In college, I worked as a "bookseller"—our official title—in a mall for a national chain of bookstores. Without fail, every shift one or more customers would ask for something like "that book, the red one, by the guy."
When we'd ask for more information—like genre or if it was new or where they saw it—they'd just repeat, "red book, guy, you know which one I mean."
We most definitely didn't know which one they meant, but customers thought if we worked in a bookstore we should know every book in print from even the vaguest of descriptions. And they'd get mad when we didn't.
Anyone who has worked with customers has war stories.
Reddit user j-rock292 asked:
"What is the dumbest thing a customer has gotten mad at you about that was not your fault?"
Were they blind?
"They asked me to cut a blind."
"When I asked for the dimension they wanted it cut to, it was larger than the original blind length."
"Said I can't make it longer, only shorter and she lost her sh*t."
~ LatishaASpray
Tag, you're it.
"Back when I worked at Target, some guy came in about 30 minutes before we closed, and wanted to buy a laptop."
"He wanted to run some obscure software on it for his laser ttagarena and got really nettled when I told him I was unfamiliar with the software and so I couldn't give a definitive answer."
"Then he started going on about how much he made in a week compared to my paycheck."
"So I told him something along the lines of, 'Well then buy this laptop and if it works, it works. If it doesn't, it won't hurt your wallet'."
"He really didn't like that and after some colorful language, was escorted out of the store."
"In an odd twist of fate a few months later the mother of one of my best friends bought his laser tag arena because he ran it into the ground."
~ gradualpotato
Credit where credit is due.
"Not me but a friend of mine worked customer service for a credit card company."
"She said a young guy called and asked why he couldn't use his card. She told him because he had exceeded his $15K limit."
"Dude was like 'yeah but that was for last month. Don't I get another $15K limit this month?'."
~ _eviehalboro
Can you hear me now?
"Customer got mad at me because I could barely hear her over a bad connection."
"I was on a landline, she was not."
"After disconnecting the call because it was going nowhere, she immediately called back and complained to me about the a**hole she'd just been talking to, saying, 'He said I was bad at making connections. Why the f**k was he talking about my love life?! You are much more helpful, though'."
~ Dapper_Interest_8914
No, I can't help you.
"I wasn't even working at this shop, I was just another customer. I didn't even wear a shirt similar to an employee's."
"A woman comes up to me and says, 'Excuse me, do you work here?' But before I can say no, she asks where something is."
"She sounded polite enough so I responded just as politely, 'Sorry, I don't work here. The people with the blue shirts do'."
"She got slightly upset and said someone else had pointed at me when she asked for a worker."
"I look to my side, and literally less than a couple feet away, there was an actual worker. I told her 'I think they meant that guy right there'."
"She then completely lost her cool, screaming various things at me and calling me all sorts of names."
"The employee tried to intervene but she just kept screaming. She eventually stops with, 'I want to see your manager!'."
I told her to f'k off. The employee laughed and she stomped off, then I just went back to shopping.
"Didn't see her again."
~ FearMeImmortals
Maybe if you hum a few bars?
"I worked at a Music Store in a mall around Christmas."
"A lady came in and wanted to get the album of whatever was playing at the store she was in earlier."
"She got mad when I didn't know what music they played in other stores."
~ MelScarn
Full service doesn't include time travel.
"In the '60s I worked at a gas station that also did repairs."
"A customer drove in with a flat right rear tire and no spare. I pulled out the nail and plugged it."
"She was good to go and left happy."
"She drove in about 2 months later with a flat left front tire."
"I pulled out a screw and plugged it while she screamed that I should have checked it last time she was there."
~ VosTutZich
"She has every right to be mad."
"You're obviously a terrible tech because you didn't make a time machine to go into the future and prevent her from getting another flat."
"You must feel terrible that she takes her car somewhere else now."
~ 1questions
The call is coming from inside the house.
"A long time ago I serviced someone's Internet connection at their house."
"When I left, my supervisor called to let me know that I had been accused of theft at this house."
"This crazy lady thought I stole a handset for her landline phone, not even the base with it, just the handset."
"She called later to report she found it in between her couch cushions."
~Reddit
I control the weather, but work here for minimum wage.
"Got yelled at for ruining his family's vacation at Disney world because the rides shut down due to the storm."
~ conker1264
"The summer right out of high school I worked at an amusement park."
"We had a massive severe thunderstorm ( heavy rain, lots of lightning, 50+mph winds, whole deal) one day, because giant metal structures and lightning dont mix we had to shut down all of our rides."
"Well this dipshit accused ME of starting this storm just to ruin his day."
~ j-rock292
Maybe she didn't want to wash it.
"I was refusing her a refund on a kids' duvet set."
"This woman threatened my colleague, so I (manager) stepped in."
"Protocol states we had to check and repack before giving a refund, so I took it to the stock room only to find that she had folded it back into the packaging, complete with the vomit chunks!"
~ Outrageous_Zombie945
Florida is hot in May
"So, I worked at a chocolate shop in Boston MA."
"Someone called to place an order, for shipment, to Florida."
"I said, 'okay, we do require next day shipping and an ice pack on shipments to Florida, so the chocolates don't melt. The shipping Will be $30 and the ice pack and insulated packaging will be an additional $8'."
"It's my standard spiel."
"The person's like 'the chocolate is only $22. No. I'll pay for the shipping but not the ice pack. It will be fine'."
"'Yadda Yadda warning. Yadda Yadda. When it shows up melted it won't be our fault I'm noting it in the system'."
"So, what phone call does my manager get 2 days later?"
"Oh? Person got melted chocolate? Oh it's our fault is it?"
"But look? There's a note in the system they refused to pay for an icepack."
"WOMP WOMP."
"Did I warn them the chocolate would melt? Yes I did."
"Do they now have nothing for mothers day? No they dooooon't."
"Poor them."
~ biddily
I also sold mattresses and appliances. Maybe because they were a major investment, I had far fewer bad experiences with those customers.
My worst experiences were working a customer service phone line for a Department of Defense agency.
People were almost always angry before they picked up the phone.
Have you had a customer go off on you? Share your experience in the comments.