New York City often gets a bad rap for being a tough, callous city.
But every once in a while something happens that cracks that facade, revealing the humanity underneath.
For one New Yorker, that magical moment recently came on a busy subway.
---
Civil rights attorney Joel Wertheimer was minding his own business on the 4 train Sunday night after what he described as "a really tough week" when a shirtless man with a speaker entered his train blaring the Backstreet Boys' classic 1999 hit "I Want It That Way."
Wertheimer managed to catch a bit of the singalong that followed, as his fellow New Yorkers decided to belt it out together in a joyous, cathartic release.
In an interview with the Huffington Post, Wertheimer revealed that part of his week had involved attending the funeral of Layleen Cubilette Polanco, a trans inmate at Rikers Island who was found dead in her cell earlier this month. So his mood was understandably subdued.
The mass karaoke session on the train worked to bolster his spirits and soon after he posted the video online, it quickly spread garnering nearly 1.4 million views.
Wertheimer, who once worked as an associate staff secretary for former President Barack Obama, was thrilled by the response, saying:
"I'm just happy it gave so many other people the joy it gave me."
He also used the video's popularity to try to raise some much-needed money for the less fortunate in New York.
The viral post soon caught the attention of the Backstreet Boys themselves, with their official Twitter account tweeting that they "live for moments like this."
We live for moments like this 🙌🖤 https://t.co/30ghKwteA5

— Backstreet Boys (@Backstreet Boys)1560819356.0
Backstreet Boys member also Nick Carter chimed in with his reaction.
Amazing!! https://t.co/yzasob54IL

— Nick Carter (@Nick Carter)1560855103.0
Needless to say, people all over the world continue to want it that way.
@nickcarter NYC is the best!

— Ali Minotti (@Ali Minotti)1560862924.0
@nickcarter Music is the universal language and your music brings us together! 👏👏❤️ @backstreetboys

— Laura (@Laura)1560855878.0
@Wertwhile Seeing complete strangers, of all different races and backgrounds, bonding together in this fashion puts… https://t.co/DrYvD5HTLC

— Sergio P (@Sergio P)1560746532.0
Even hardened New Yorkers were feeling the love.
@Wertwhile I used to feel public music was really intrusive. A friend told me they loved it, "it's like I'm in a mo… https://t.co/lwsmcEsnTF

— LisaK 1190 (@LisaK 1190)1560776081.0
@Wertwhile @BlueSeatBlogs Part of what makes NYC special. Easy to hate it but also easy to love it!

— Maibs (@Maibs)1560735562.0
@Wertwhile Perfect. Everybody from different places and we all get along. That's how we New Yorkers do. ❤️

— Maria Hinojosa (@Maria Hinojosa)1560773021.0
So thank you, Backstreet Boys, for continuing to unite people from all walks of life with your music.
@backstreetboys -Fellas, I've noticed this a for decade now: Your (not so) little pop song consistently brings peo… https://t.co/2Aqw5TxFAF

— Josh Cohen - ESPN WP (@Josh Cohen - ESPN WP)1560953261.0
If you want it that way, The Essential Backstreet Boys is available here.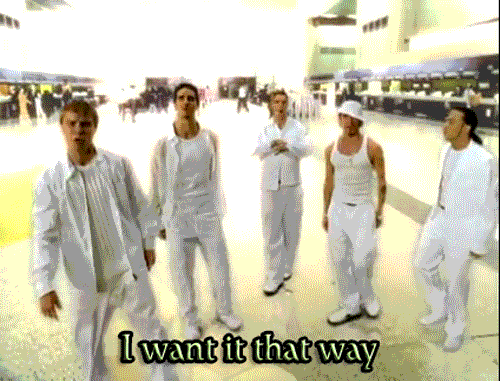 Giphy