Canadian crooner Michael Bublé went for a spin riding shot gun with James Corden in the Late Late Show host's famed "Carpool Karaoke" series.
The drive began with much levity as the pair joked about their fluctuating body sizes and Bublé's disdain for saxophones, which he reconsidered after a scat battle with Corden's father jamming on the woodwind from the backseat.
Obligatory karaoke moments included tunes like "It's a Beautiful Day "from Bublé's upbeat songbook. Corden even challenged the singer's voice projection skills by having him wail out an order of espresso from inside the vehicle.
Their drive took an emotional turn when Corden asked the singer about his five-year-old son, Noah, who was diagnosed with liver cancer in 2016.
---
Michael Buble Carpool Karaoke - Stand Up To Cancer www.youtube.com
Bublé said:
"It's so hard to acknowledge it because it's so painful to talk about. But obviously we got the diagnosis and that was it man, my whole life ended."
He struggled to find words:
"It's too hard to talk about man. Basically they just said that it wasn't great. And so we took it day by day."
Bublé said the whole family moved to California to get Noah the best possible treatment.

@JKCorden @jackmorris14 @StandUp2C @michaelbuble Whole night was mint.. Cried laughed and shared the love big man 😘

— Adrian Rawden (@Adrian Rawden)1540623303.0
When Corden asked how the family helped each other stay strong through it all, Bublé said:

"When this all started, I became the strength to somehow pull us and lift us and to be positive. When they got [the cancer] out and the chemo was done and they said, 'We did it, it's good, he's okay,' I fell, I just fell. My wife picks me up now."
He said both he and his son, who is now in remission, love superheroes. He told Noah, "Spiderman's amazing. Superman's amazing. But they're fake, they're not real. You're a superhero. You're my hero, my real superhero."
Bublé encouraged everyone to please call Stand Up to Cancer. "There's nothing better in the whole world when you give that way that the universe give right back to you."
@JKCorden @StandUp2C @michaelbuble I donated. An excellent show & an amazing cause. Thank you both for your… https://t.co/MGj6uxM2DQ

— LAM (@LAM)1540618087.0
The pair carried on and lifted viewers' spirits with a heartfelt rendition of the singer's emotional ballad "Home."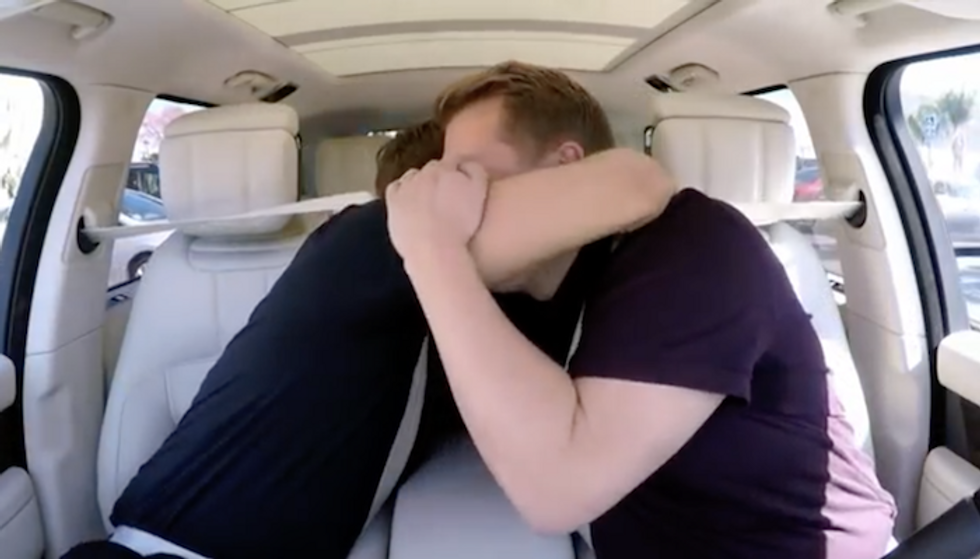 YouTube
People were moved by the episode and how Corden didn't pressure his guest when he struggled to articulate his emotions about Noah.

And audiences appreciated the singer for sharing his deeply emotional story.
@JKCorden @StandUp2C @michaelbuble What a truly beautiful Man,Michael Buble was in sharing his very personal story… https://t.co/mFHCFCf4Qn

— Louise Tierney (@Louise Tierney)1540626474.0
@JKCorden @StandUp2C @michaelbuble This absolutely destroyed me! Sobbing!! Can't even begin to imagine how hard thi… https://t.co/8DdbrfZ09Z

— Claire (@Claire)1540622711.0
@JKCorden @StandUp2C @michaelbuble It was a really tender moment - You were both brilliant and your Dad is a legend!

— David Wilson (@David Wilson)1540621882.0
@JKCorden @StandUp2C @michaelbuble One of my all-time favourite Carpool Karaokes. I laughed, I cried, my heart brok… https://t.co/gh9qupMIeY

— Jacki (@Jacki)1540624116.0
@JKCorden @StandUp2C @michaelbuble no words...you made my day🙏

— Salome ferreira da costa violante (@Salome ferreira da costa violante)1540632359.0
If you can, please support @StandUp2C I found the whole experience of doing this with @michaelbuble incredibly movi… https://t.co/rObYsJh2LB

— James Corden (@James Corden)1540617842.0
You can contribute to Stand Up To Cancer on their website and make a difference in a person's life.

H/T - YouTube, Twitter, HuffingtonPost, Deadline