Open relationships are a minefield.
Lesson number one: always be on the same page.
There is nothing wrong with being open in love, but know you're doing it for the right reasons.
If not, there could be consequences.
One Redditor wanted to hear about the reactions people had broaching the topic, so they asked:
"What would you say if your partner asked you to open the relationship?"
I'm not adverse to an open relationship, but I'd like to start just the two of us and then we'll see.
Up Front
"This is something I screen for and discuss upfront. It's not for me, but I would not want to stifle someone who feels an open relationship is good for them. I know we would not be happy together."
Choice_Tangelo1933
14 Years In...
"I've been married for 14 years now. We're both very happy and we regularly talk about our desires for the future. I think I know and understand her fully. If she dropped a bomb like this on me it would be the first sign our interests are misaligned beyond repair. And I'd probably never fully trust anyone ever again."
spiderfarmer
Red Flags
"From my experience. 9/10 times if the relationship started monogamous and this conversation pop up they already have someone in mind and want the go ahead to go after them and if it fails they'll cry about wanting to close it back up. If it was something on the table as a possibility at the beginning of the relationship, sure. If it wasn't then no."
Vroomy_vroom_vroom
FWB
"Was dating a girl a few months and we went on a road trip for the weekend. Great time, etc. On the way back she spent a solid hour talking about how she couldn't settle down with any single guy, always wanted side pieces, stuff like that. I just listened, we weren't super far into the relationship but I thought it was going well."
"Anyway, I started talking to other girls since I didn't feel priority and slept with an old FWB. 'Gf' came over and saw a used condom in the trash and went apesh*t. I recalled the conversation about her wanting to date multiple guys, and explained I didn't feel like we were exclusive due to that. Breaks up with me, lol."
thermal_shock
Tell Me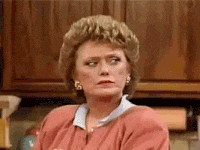 suspicious GIF
Giphy
"I'd want to know who my partner met that made them consider this as an option."
tormentrock
Options are always going to be there. Might as well ask now.
Whoops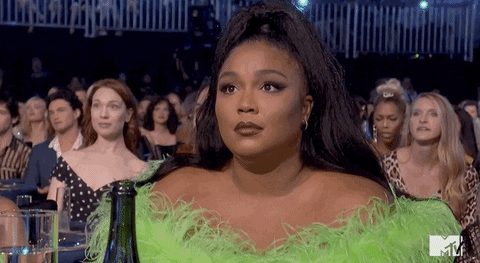 I Have No Idea Reaction GIF by MTV Movie & TV Awards
Giphy
"My ex husband asked me to do this. I was upset and uncomfortable but he kept asking so finally I relented. Then I had way more people interested in me than him and he got super bu**hurt super fast."
WesternOld3507
So Poly
"Not a chance. If they want to f**k around I'll sever ties with them faster than the flash."
Ivanhunterjo1991
"Yep. Friend of mine did that. His gf at the time said she wanted to have an open relationship. He gave her one chance to stop and never bring it up again. She pushed it and he immediately broke up with her and kicked her out within 10 minutes. Litterally pushed her a** out the freaking door. (he was paying the rent and bills and his name was on the lease)."
"Ran into her a few months ago. Their breakup was about 5 years ago now, she said it was the stupidest thing she ever did. She sure as s**t doesn't identify as 'poly' now, apparently she wound up on the other end of things when her new bf suggested their relationship be open, and within a week he brought another woman home."
Kaidiwoomp
Non-Starter
"Absolutely not. We've agreed we're for each other and he knows I'm monogamous (as I know he is). Even the thought of him meeting someone else that makes him go 'I wanna see what it's like to be with her,' makes me angry. Our relationship would be over at that point."
"I'm a jealous person by nature. Now that doesn't mean I can't handle myself if he has friends who are women. But the jealousy will always loom in the back of my mind. This is why I know the poly lifestyle is not for me."
redvelvetcakebatter
Struggles
"Wanting an open relationship tells me I'm not enough for them. The very suggestion would make me question our relationship then and there. Maybe I'm just insecure, but I'd probably struggle to see them the same way and likely end up breaking things off."
ayylotus
"Completely agree. And I'd be deeply, deeply hurt by the suggestion. We have been together 15 years, married for 8, and suddenly he wants a radical change in the most basic nature of our relationship? I'd be heartbroken."
Sp4ceh0rse
Ugly Thoughts

No Way Bird GIF
Giphy
"I'd say no. Then I would constantly be thinking about the fact that they wanted to sleep with other people while they were in a relationship with me (or maybe they already acted on those desires), and the ugly thoughts would lead to me ending the relationship."
Flailus
This is never an easy topic. Be sure to speak openly and honestly while considering all the possible ramifications.
Do you have any relevant experiences to share? Let us kow in the comments below.
Threesomes sounds like a good idea at first.
They are fun.
I'm not gonna lie.
But they come with consequences.
They can be crazy and they can be a disaster.
Always be ready for the fallout.
Try to be the extra if it's a relationship.
Then it's not your drama.
Redditor Tebi1003 wanted to hear from everyone who has dabbled in the more than two sex realm, so they asked:
"[Serious] How would you react if your partner told you they want to try a threesome?"
Threesomes are not the best idea. Unless you're on the same page.
Stop Thinking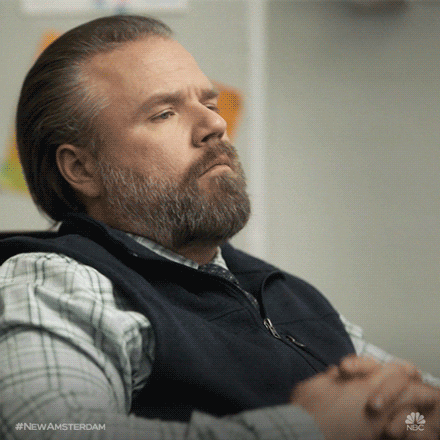 Think New Amsterdam GIF by NBC
Giphy
"Overanalyze it and eventually let my thoughts ruin my marriage."
Beard341
Pressure
"Did this with my ex & my pal on a wild night out. Ruined our relationship and my ex & my ex friend ended up being together, they have a kid together now (was about 12 years ago)."
"Probably wouldn't do it again, never say never though If opportunity presents itself. Been with my current partner 10 years and neither of us are that bothered but have both had them before we met."
"As a guy, I'd honestly say it's a bucket list for some of us (was for me) and wasn't that great. Loads of pressure and my pal had a bigger d**k than me.
"Anyway, back to Harry Potter."
Geezer_Flip
Hate Her
"Had a girlfriend ask me this when I was about 20. I simply asked what her boundaries were and she showed jealousy from just that. I think she was trying to justify having sex with other men by allowing me to with another woman. I said no immediate and she cheated a few months later with someone in the friend circle."
F**k you Stephanie. You were a real c**t."
mfcfbro
The Squeeze
"I'm a guy, partners in the past have asked to have threesomes with girlfriends of theirs and I always say no. It ends up getting messy and jealousy creeps in. I have had them before and everytime after the dust has settled it always comes up in an argument."
"'I saw how you were looking at her' - 'you were really enjoying yourself' - 'you don't enjoy yourself with me like you did with her' - 'I bet you want to sleep with her again don't you.'"
"The juice isn't worth the squeeze for me."
SakeBomberman
Basics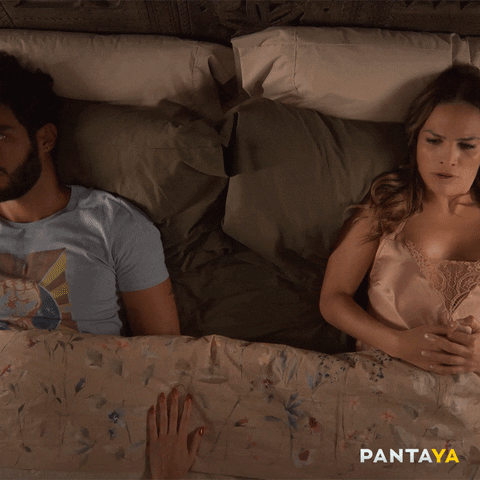 Bedtime Threesome GIF by Pantaya
Giphy
"If I wanted to disappoint 2 people at the same time I would just call my parents."
Foggy_Prophet
It's all gonna be a letdown.
No Thanks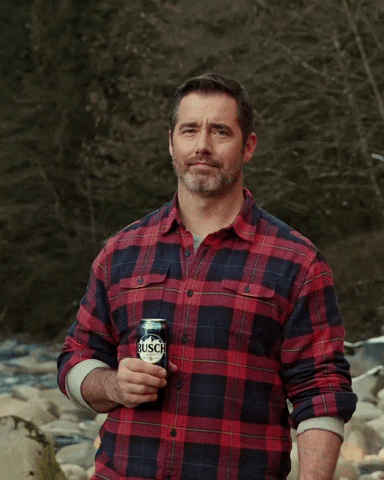 No Way Beer GIF by Busch
Giphy
"I'm bi, but I still don't play with that sh*t. Not if I'm in a serious relationship. It would be a massive red flag in my book, especially if they already had a person lined up or in mind. Now if I had someone I didn't really have a romantic attachment to make this offer, maybe. Like if it was just a FWB."
lobster-overrun
Just Shut Up
"My first husband would not stop talking about his burning need for a FFM threesome."
"It got so bad that i hesitated to even have female friends because he would start 'hypothetically talking about us seducing her.'"
"He legit would not STFU about it, even though I said no about 1000 times. Yes, I dumped his a**. Then he moved back in with his mama."
Outside-Flamingo-240
Fantasies
"We talk about this a lot, tbh. However, I don't think it will ever go beyond sexy fantasies because that's a bell you can't unring. One person is always going to like it more than the other and I would imagine that it causes problems more often than not. Having said that, it sure is fun to talk about."
motormouth08
Remix
"I honestly would need to discuss details. I need to know if she genuinely just wants to mix things up or if there's an underlying sexual dissatisfaction with our relationship."
"If she wants to mix things up and explore more of her own sexuality, I'll keep an open mind and we'll discuss boundaries."
"If there is a sense of dissatisfaction going on in the relationship, then it's time to be honest and find out if it's something that can be fixed or if it's time to break up."
YoureInMyWaySir
SURPRISE!!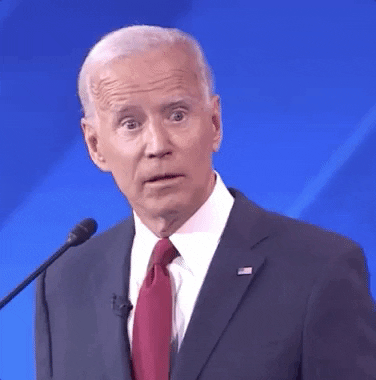 Joe Biden Shock GIF by GIPHY News
Giphy
"First, I would be very, very surprised. My wife is very socially anxious and gets nervous around other men. She's never expressed any interest whatsoever in other women. Second, I'd be down for it, as long as there was some serious communication and boundary sharing ahead of time."
Behind_A_Facade
Sometimes sex is more drama than we need it to be.
Being in a romantic relationship can be hard work.
You're constantly navigating highs and lows.
There is so much compromise involved it can feel like political warfare.
And one of the main factors that keeps romance alive is the spice up.
You want to try to keep things from getting stale.
So that is when new sexual ideas emerge.
Often this is when secret fantasies come to light.
And a lot of the time... the requests don't go over so well.
Redditor MuchLoveWaffleGirlwanted to hear about how to navigate romantic requests of a partner. So they asked:
"What would you do if your SO asked you to have an open relationship?"
I tried open. Didn't really. Could be because I'm a jealous loon. Maybe.
Uh No.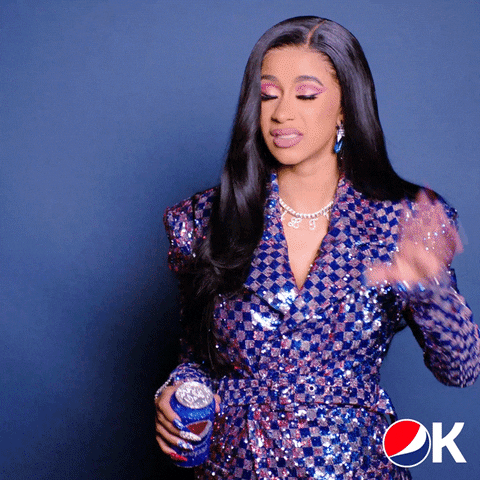 Super Bowl Ok GIF by Pepsi
Giphy
"I was asked. I said no. Things carried on as normal for a few months. Then I found out that the reason she asked was because she was cheating on me. Bye *itch."
swingrider
Not for everyone...
"Related to someone that has been married for like 18 years now with an open marriage. Not for everyone, but they seemed to have found some way to balance it that works for them. I don't have details on how they made it work, because I don't really want to know, but it seemed to be from the start more or less."
vercertorix
blindsided...
"My ex brought it up once, we were a bit wine drunk so I thought it was just a one off fun chat. A while later she mentions how we're still very young and she's not sure what comes next, getting married and then that's it? But life rolled on and we moved and lived together etc."
"In January she tells me she wants to break up. At the time I was blindsided, but looking back now it's so clear what she was hinting at. I don't have a problem, I get it, I wish her well, but I sure wish I hadn't been strung along for two years before that point."
Newbarbarian13
Dumped
"I actually said yes, and it killed the relationship very quickly. It was not that much of a stretch for us. We would participate in group scenes but we always came as a pair. There were never any issues, and it even brought us closer together. We were able to flirt as a team and explore our sexualities."
"There was never any jealousy. But when she requested we open it up, she also started ignoring our explicit, agreed-upon terms. More than any physical act, that felt like cheating. And when I spoke up about it, I got dumped."
partywalrusXL
Rocks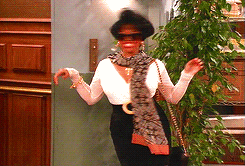 Living Single Goodbye GIF
Giphy
"Mine asked me 7 months ago and I stupidly accepted (I'm monogamous still) and it hurts, even on the best days I think about it. I've told him how I felt about it, but he said he loves the other person too much to end it. My boyfriend and I have been together for almost 3 years, and it hit like a rock."
"Edit: I've discussed with my boyfriend again how awful it feels and what you guys have said and I am happy to say that he is going to break up with the other person. He said it's going to take sometime but as soon as he can he will! Thank you all so very much for your input and helping me get this sorted:))."
Hungry_Bandicoot8355
Trust in this issue is paramount and it feels like it's always the one thing lacking most.
The Other Person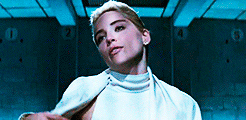 sharon stone GIF
Giphy
"Say its not for me and if they want to go ahead then we have to end things. I was briefly the other person in an open marriage, after a few months it was difficult to know if the husband or myself was more miserable. Might work for some people but not for me."
rabbit_toe
My Person
"I'd say no, but I would want to sit and have several conversations about why they wanted that and how we can retool our relationship if that's what's needed. It could ultimately lead to an ending, but he's my person - I'm not throwing that away when it could be salvaged."
pamplemouss
Happy with Me
"I would ask them why they suddenly want an open relationship after dating me for so long, and be honest with them. I would tell them that open relationships aren't something I'm comfortable with because I like monogamy. If they can't be happy with me in a monogamous relationship, then it would be over."
sunshinerose32
It broke me.
"Well I agreed, but only out of fear of losing her. It broke me. And I lost her anyway to a guy she met in a swinger club and who basically could be her father. Never again. Also everyone I know who did it learned the hard way shi* like this doesn't work out in like 99 percent of cases."
NervousGarlic1
Issues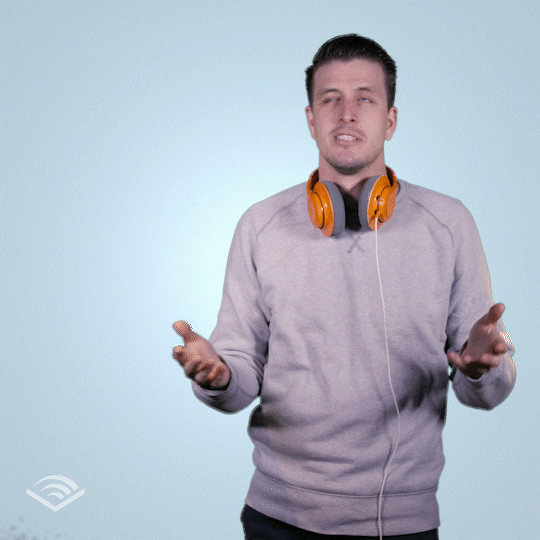 Which One Reaction GIF by Audible
Giphy
"If that's what they want and nothing else would make them happy, break up. I don't have the mental health fortitude to deal with the anxiety and insecurity I know I would feel for not being enough."
HotCocoaBomb
Problems
"I had been in this situation two times. First time I was young and had no experience it was my first boyfriend and I had a lot of family problems so I was afraid of being alone. I accepted it and was a mistake. We broke up six months in to the 'Open relationship' deal and I was left feeling really empty. Funny how he got married with one of the girls he met in that period. He now is recently single after a nasty divorce. Domestic abuse, cheating, etc."
"About five years later a boyfriend tried to pull l the same one on me. I just ended things right away and saved myself from the pain. This guy is still single to date, and older than 40. So, I would stay away from any guy who wants an open relationship, especially if it started as monogamy and he wants to change the rules of game."
princess_akuna
issues First
"I've wondered if it would work for my partner and I at some different points, but obviously we'd need to work on fixing any serious issues in the relationship before really considering that. If we were in a healthy place in our relationship, we'd discuss the idea and what sort of boundaries we'd have, sit on it for a while to make sure it's something we wanted, and then proceed as we've decided after a particular amount of time. I've got some poly friends that have done it successfully for years, so I don't think it's impossible if you're going about it in a healthy way."
yerfdog1935
Dealbreaker
"Tell her to take her stuff and go. She can open up her sex life in her own space and without pretending that she's in a committed relationship. An 'open relationship' is a dealbreaker, and I won't have a relationship with a woman who indicates that might something she wants."
thatrightwinger
Hell No!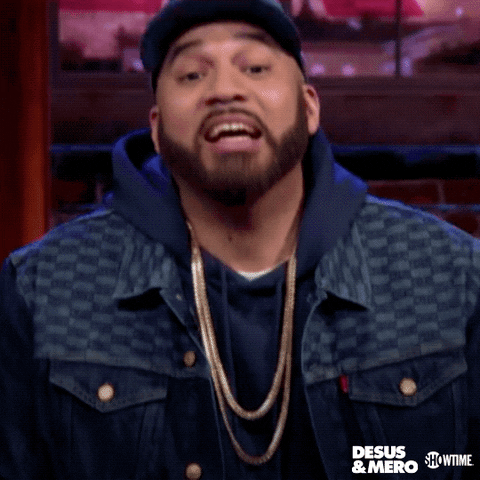 Fuck Outta Here No Way GIF by Desus & Mero
Giphy
"Break up, I'm a monogamous person, and the thought of anyone else sleeping with my SO turns my stomach. Nothing wrong with people who like open relationships, but it isn't for me."
is_anyone-out_there
Good Luck
"Have a long, serious talk with them about why they want it, and what their plans for our future include. I'm actually all for polyamory so long as everyone involved is there for the right reasons and is being completely open and honest about it. Do keep in mind though that the vast majority of relationships that 'become' open, usually fail. It really is the type of thing you have to enter into from day one with everybody on the same page. Regardless of what you decide, I wish you the best of luck and hope you both end up happy."
robyngoodfello-
Zero Respect
"I agreed, tried it out but realized that 1). it wasn't for me and 2). I was secretly just hoping he'd f**k off and leave me for someone else. So eventually I worked up to breaking up with him and life's been great since. I had pretty much zero respect left for that guy by the time the relationship breathed its last."
munkymu
Truth Tellers
"I've been in one before. Another man and a woman. So long as all parties are honest, have their boundaries set and respected, and we're participating clean and safe, it's a good time. Communication is key."
Surprise_Corgi
"It's a good time. Is it sustainable? Is it like, if you want to have lots of sex in your life you maybe do poly. If you want to be career/family focused, you have finite resources you're working with?"
StupidImbecileSlayer
Sometimes you gotta go...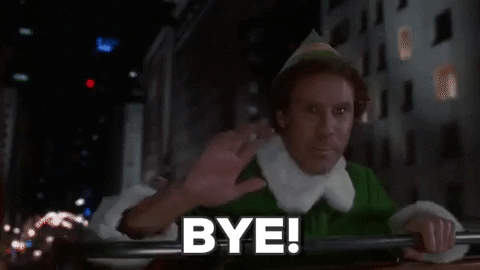 Will Ferrell Goodbye GIF by filmeditor
Giphy
"If it's an open relationship or nothing at all, I'd bail. After establishing the communication, trust, and loyalty for all these years I just couldn't switch to being open. Another reason - I don't have the energy to be dating all over again. I wouldn't even get the benefits of being open. I'd just rather be alone for a while."
failtos
Discussions
"I'd agree and see what happened. We haven't had sex in close to a year now anyway. Maybe id be able to find some idiot who might enjoy my company. The problem is we have discussed it and discussed it. I'm just not the kind of person who is going to be like 'we are married and I want sex so you have to do it even if you don't want to.'"
"After so long I've just gotten used to the idea that I take care of myself when she's not home and wait for the rare chance she's in the mood. I've given up on trying after being shut down so much and perhaps thats my fault as well. Meh. Enough complaints to the void today. Thanks."
Brilliant_Succotash1
Don't do it if you're not 100% sure everyone can handle it. Otherwise it's just a mess.
Want to "know" more?
Sign up for the Knowable newsletter here.
Never miss another big, odd, funny or heartbreaking moment again.
In theory, threesomes sound like a good idea and a grand ole time.
And every once and awhile, yes they can be. But eight times out of ten (I'm not admitting to that being my actual number) they all deteriorate into a mess.
The biggest issues stem from the most important rule when engaging in this kind of activity.
Rule #1 - EVERYBODY HAS TO BE ON THE SAME PAGE!
This is should be obvious, especially if two of the participants are in a relationship. I'll never understand why that rule is so overlooked.
If you're not into it, speak up now, or forever hold your peace.
Redditor u/PsghettiToeswanted to hear all the saucy deets about those times we've dabbled in the adventures of sex, by asking:
Those who've participated in a threesome gone wrong, what happened?
***WARNING THE FOLLOWING IS FOR 17 AND UP ONLY!! YOUNG EYES NEED NOT CONTINUE!!***
I've lost track of the number of tales I've been told horror stories about sexual escapades gone wrong. Threesomes are particularly dramatic. There are always lies, jealousy, and underlying deceit. It's all too juicy.
Inches and Inches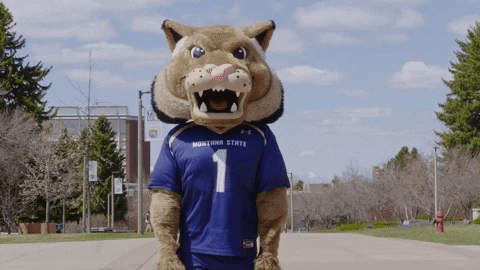 Shame Reaction GIF by Montana State University
Giphy
"A co-worker invited me to join him and his gf. He pulls out his monster member. I whip out my 4-inch Vienna sausage. It was awkward for me. She wasn't impressed either."
The Knockout!
"He stormed out of the shower because he wasn't getting enough attention. She got out and they talked in the living room. I slipped and gave myself a concussion banging my head on the tub, they had no idea. I came to after a few minutes and we had a very foggy conversation about boundaries."
- JtheGallant
Anger Issues
"MMF. The other guy and girl were exes, and the threesome was just a roundabout way to get together with each other one last time. I sat on the edge of their bed for 20 minutes while they hate-doing each other. The other guy drove, so I had to wait for them to be done. Eventually I just got my clothes back on and sat in the living room."
- Whats_In_My_Room
Whoops...
"Someone slipped and I ended up getting kneed in the face. Got a massive black eye and a concussion. Doctor wrote in my chart "sex accident?"
- flamaxblanca
"I work in a family medical practice. There are always stories. Funny because any notes become part of your legal medical file and cannot be removed. So if you change physicians, do not ask for the contents of your file when you transfer records. Well, I guess you could. Up to you. 😳".
- TinktheChi
Best Wishes?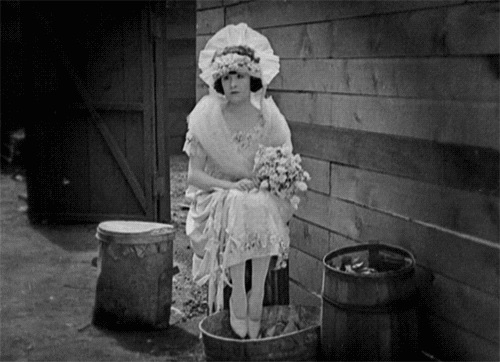 buster keaton bride GIF by Maudit
Giphy
"He (my then boyfriend) married the other girl. They started dating a few weeks after we broke up and married after college."
- littlethrowawaybaby
See now I forget about the danger aspect. Sex can lead to tons of injury and we are never fully prepared. And honesty seems to be an afterthought. How common...
Rude!
"Me (M) with couple (MF). Partway through, other M runs out of bedroom crying. F calls him a "whiny b**ch", refuses to follow him out to console him and wants to keep going. Awkward all the way around."
- Reddit
"Dude! There are some things you just don't talk about in public."
- Smokin_Hashrates
"Similar experience with my ex and another couple. We were game, she was game, but he ran out crying. She wanted to carry on with us. Until he started screaming in the street."
- Wookie301
"it's not what it looks like"
"Actually posted this in the "it's not what it looks like" thread but, was having a threesome with one of my buddies and a girl. For some reason she said she had to get something. When she came back, she turned on the lights, pulled all the covers off, and took a Polaroid of me and my buddy naked on the bed with condoms on, lol."
- Yournamehere7523
Three's Company Too
"Was fine during the act. Great fun but the shame the next day was too much for us all. We are still good friends now but no threesomes and it was shaky for a while. Was about five years ago. I lived with two women (the dream for a guy, I know) and we had been friends for years and years. Since high school so about 25 years now."
"Two of us were single and the other housemate split with her bf a day before so we decided that drinks and a good night with some board games would be a good idea. So the drinks were flowing and the game ultimately turned into a game of spin the bottle (cliche, I know). Clothes came off, people kissed and before we realised it I was doing it with my housemate that had just split with her bf."
"Other housemate joined in on the sofa. We moved to the bedroom. We did it for what seemed like hours and then went to sleep as the sun was coming up. Next morning we were all very hungover and a bit mortified. We went about out day but we didn't really mention it for a few days."
"Eventually we agreed it was a silly mistake and never to speak of it again. One of the housemates moved out and we were a bit distant for a year or so. All good friends again now though, two of us are married to other people."
- NewWorlds84
Why Me?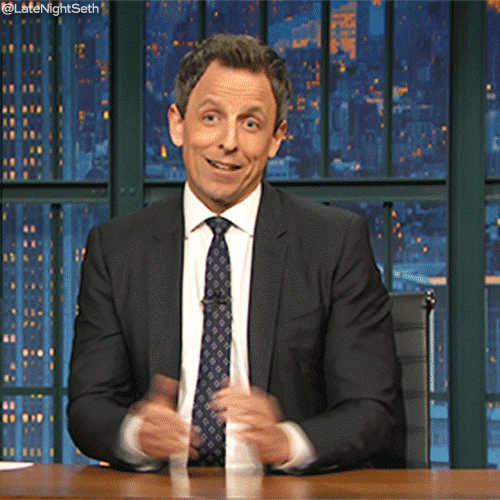 Seth Meyers Whatever GIF by Late Night with Seth Meyers
Giphy
"I've been in FFM and MMF. Both times the other two were more into each other and pretty much left me all by myself. Stuff is rough, yo."
- nobodyelse_care
Three too many...
"I wouldn't say it was disastrous, but once I was in threesome with two guys, and one guy had a really big penis, the other one had a slightly smaller-than-average penis. Well, the less endowed guy ended up feeling really sad and insecure about his size and we ended up cutting the threesome short and spent the rest of the time consoling him to try and make him feel better."
ProductiveRaven
"secret signal"
"I was in a drunken MMFF. Ex boyfriend, his friend, my girl friend. The men decided to come up with a 'secret signal' when they wanted to switch partners. It was a loud, obnoxious bird call. Also, the next morning when I was sober, I noticed the other man was wearing a wedding band. Crap."
chut2906
Tough Times
"It was a foursome actually, with another couple. The other guy can't get a hard on and we were just making out while his girl and my boy were enjoying sex. Never met with them ever again."
ButterflyLarge6526
"It's tough out here sometimes. Little guy just won't get up, then you realize 'oh crap, I might not get an erection' then a huge wave of anxiety comes over you which in turn ruins every chance of getting hard."
col3man17
Meow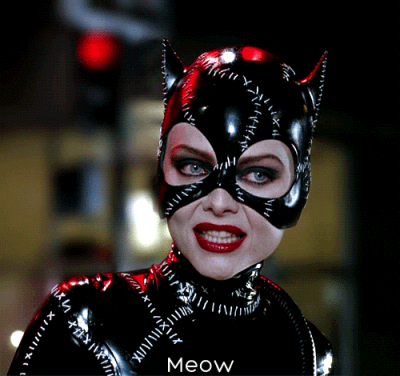 Michelle Pfeiffer Batman GIF
Giphy
"Was having sex with a chick and her husband was watching, then their cats got into a huge fight with each other and they had to go deal with them. Took like 10 minutes and by the end of it I was thoroughly unaroused and left soon after."
MeyoMix
Behind my back...
"When we were done I'd gone to sleep on the couch cause it was too hot with three people on the bed. My then-boyfriend had sex with the other girl and they tried to hide it from me. I only found out cause girl left her FB logged in (with the message with then-bf where they talked about hiding it from me) before she left. Writing this out it dawned on me that she could have left the message open on purpose."
code_momode
No Touch
"GF felt inadequate despite it all being her idea (she was interested in exploring her bi side) but once we all started touching each other I could feel her energy change. Got the silent treatment afterwards. every time I wanted to talk about it she just got angry We split a year later. I'll never do another one."
JimmyJTJ5
Bad Idea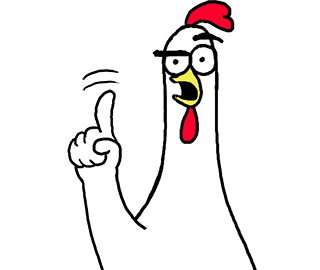 Oh No You Didnt GIF by happydog
Giphy
"They were actively doing meth during the session, and I was just drunk enough not to realize it was a bad idea going in. It eventually just kind of derailed and I left because the sex just slowly stopped."
jhxcb
"wild oats"
"I think we all thought it was going to be porny, since we were all early twenties and hormonal as hell. And for a while we were young, buzzed and excited enough to carry that along. Then it became kinda awkward because we were all trying to keep equal attention paid to each person/genital."
"Conscientiousness started to turn it more into cuddling and petting. Which is ok. It was sorta obvious that this was a one-time thing. Only ever saw each other a couple more times. No regrets, and since I trend more towards long-term relationships I think I got the 'wild oats' aspect of it out of my system."
Dangercakes13
Don't be Angry
"Not me, but my girlfriend has told me that she had sex with two guys that were best friends. She was dating one of the two and it was her ex's idea to have the threesome. It happened and afterwards when the best friend went to shower, she and her ex had sex again and while it was happening, he started strangling her. She found out later it he did it because he was angry that she was dong his best friend and enjoying it."
saarelaian
I had to free myself...
"My husband started using degrading language as in porn (I hate humiliation and degradation), and also he and our male friend left me tied up on the bed and went downstairs to play cards. I had to free myself, feeling devastated and abandoned."
SereniaKat
Life lesson... be adventurous and try it all. But be smart and emotionally prepared. Sex is fun but it's not a game, unless you agree to play some games. Then be game.
Want to "know" more?
Sign up for the Knowable newsletter here.
Never miss another big, odd, funny, or heartbreaking moment again.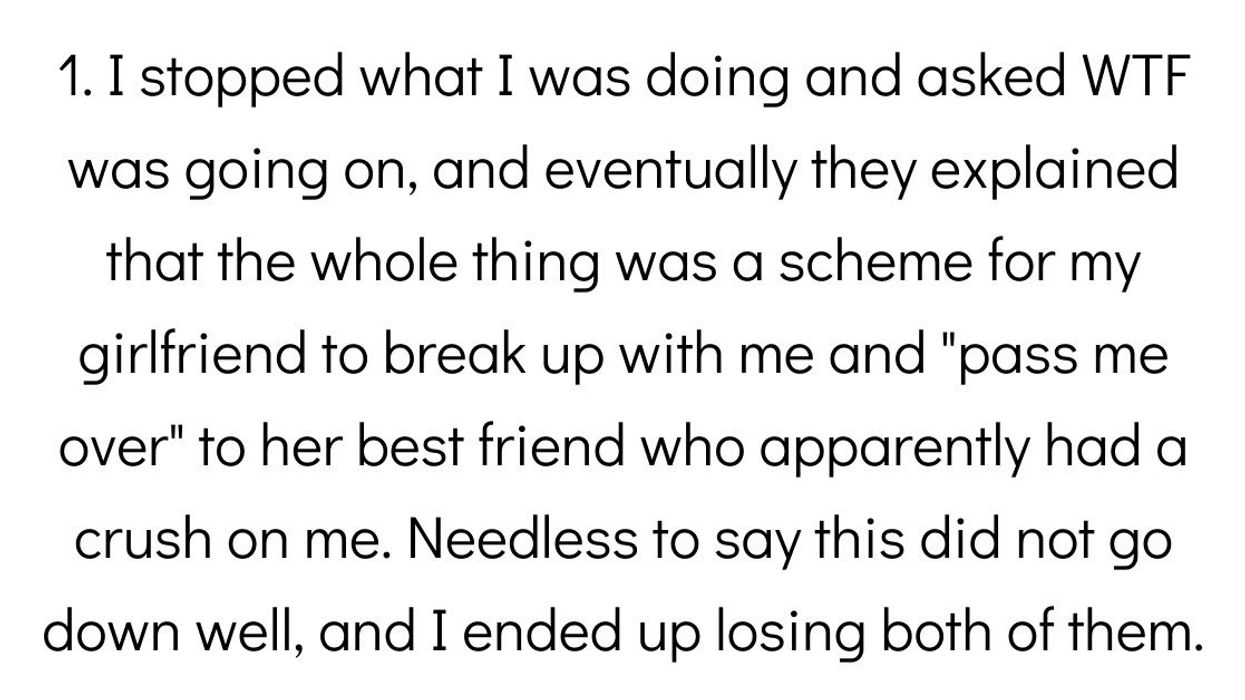 Sex is meant to be fun. Yes it is an imperative part of the procreation process but it most certainly meant to be a time of revelry. Whether you know one another that well or not. So why not open up the experience! There is no written rule that insists sex is to stay between only two people. Sometimes the more is the merrier.... sometimes. All of our actions come with consequences, professionally and personally. Be prepared for the pandora's box you open. Two can often be the safer number and fantasy should stay fantasy.
Redditor u/CRM2018 wanted to know who was wiling to share a few saucy secrets about their love lives and it's activities by asking.... Redditors that have had a threesome and regretted it, what was the unexpected fallout?