On Friday, August 24, Senator John McCain's family issued a statement announcing the ailing Senator's choice to discontinue medical treatment, signaling his death was imminent.
I love my husband with all of my heart. God bless everyone who has cared for my husband along this journey. https://t.co/v27sEbboii

— Cindy McCain (@Cindy McCain)1535123183.0
Naturally, in such a somber moment, Kelli Ward, one of three candidates running to replace Arizona Senator Jeff Flake this upcoming November, believed the family's statement was timed specifically to hurt her campaign.
When the McCains' statement was posted to Facebook, one of Ward's staffers posted the already ridiculous (and now deleted) status:
I wonder if it were just a coincidence that Sen McCain released his statement on the kickoff day of Kelli Ward's bus tour or if it was a plan to take media attention off her campaign? I'm not saying it was on purpose but it's quite interesting.
Below that, Ward herself commented:
I think they wanted to have a particular narrative that they hope is negative to me.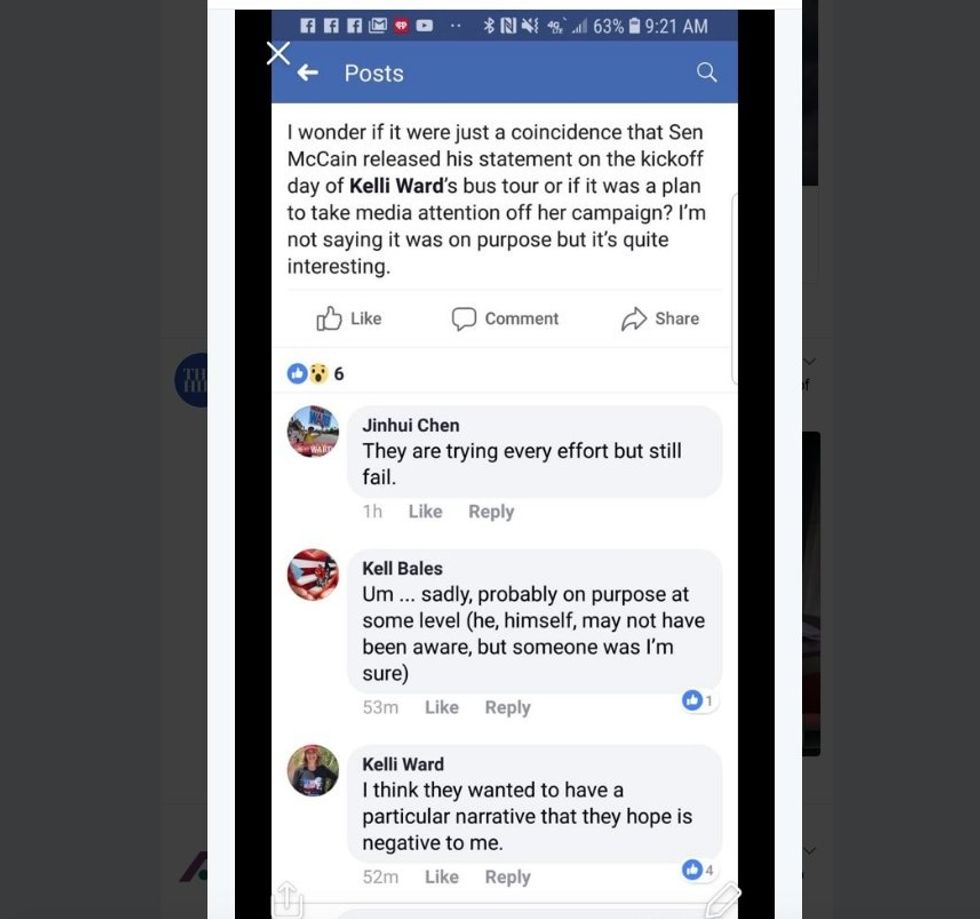 @brahmresnik/Twitter
Luckily screenshots are forever.
WHAT IS WRONG WITH YOU? @kelliwardaz staffer: I wonder if John McCain's trying to steal attention from Ward's bus t… https://t.co/mG87cFCIsE

— BrahmResnik (@BrahmResnik)1535234707.0
Ward wrote a follow-up post that has also since been removed. In it, the Arizona Republic reports she said:
The media loves a narrative. I've said again and again to pray for Senator McCain & his family. These decisions are terrible to have to make. I feel compassion for him and his family as they go through this. It's not the McCains creating a narrative—it's the media making something out of nothing.
Kelli Ward is giving a press conference right now in which she's denying ever calling on John McCain to resign… https://t.co/VCMJPRrsxG

— Lachlan Markay (@Lachlan Markay)1535404498.0
As the controversy spread on social media, Ward returned to Facebook to show some of the hateful comments she had received. She wrote:

The Left is hateful, foul-mouthed, and easily misled. I do thank them (especially the out of staters) for increasing the reach of my page, though! I'll repost my condolences for Mr. McCain's family again—please take note of the trolling comments by people who buy into #FakeNews & political smears—or maybe they don't—it could be that they just like any excuse to bully and attack.
Ward eventually relented, releasing a statement of condolences on Twitter...
We are saddened to hear of the passing of @SenJohnMcCain. His decades of service will not be forgotten by the men &… https://t.co/km1riiWMyX

— Dr. Kelli Ward (@Dr. Kelli Ward)1535245065.0
...but not before she had badmouthed him on the campaign trail the day he announced his discontinued treatment. At a campaign rally the afternoon of Friday the 24, she reportedly said:
We have a choice. Are we going to elect anther senator cut from the same cloth as Jeff Flake and John McCain?
Kelli Ward is just another symptom of the rot that is Trumpism. Hopefully, Arizona is better than that. #ArizonaPrimary

— Mike Kiefer (@Mike Kiefer)1535457407.0
She later told reporters:

There's Senator McCain the person, and I feel very bad for him and his family, but there's also Senator McCain the politician who has let down Arizona again and again and again. I can separate the two and I hope you all can too.
Many online thought Ward was demonstrating the very worst aspects of Trump-era politics.
I have no words to express how I feel about Kelli Ward... Except narcissistic, selfish, idiotic, disgusting, horri… https://t.co/eTqJypTgmI

— Tony Posnanski (@Tony Posnanski)1535287211.0
You have to wonder: Just what the hell is wrong with Kelli Ward? Then you remember: She's a Trumper. And suddenly t… https://t.co/QIih0rrAEU

— LaurenBaratzLogsted (@LaurenBaratzLogsted)1535284268.0
The fact that Kelli Ward absurdly and falsely suggested that John McCain's statement about stopping treatment befor… https://t.co/zQdxNdo3bT

— Brian Klaas (@Brian Klaas)1535280731.0
Hopefully Ward's strategy doesn't work as well as Trump's did.
H/T - Slate, AZ Central