Jennifer Garner may be the coolest mom around — but try telling her kids that. Well, actually, tell any parent's kid that. What's the point of being a parent, though, if you don't get to embarrass your children?

---
Cool mom Jennifer Garner decided to go all out this year for her son's seventh birthday. On top of throwing him a How to Train Your Dragon themed party complete with an adorable Toothless-inspired cake, Garner dressed head-to-toe as Astrid from the film.
On Thursday, the 46-year-old mom shared a priceless photo of herself in full costume carrying out the birthday cake.
Decked out in a fur shawl, boots, leather armor, bracers and brightly colored face paint Garner certainly looked the part, but birthday boy Samuel wasn't nearly as impressed as everyone else.
"Well, guess what. It turns out 7 is the age my kid stops thinking it's cool when I dress up for the party. #firsteyeroll🙄 #anyoneneedanAstrid🤦🏻♀️🤣😬👵🏼. (❤️ @americaferrera ❤️)
At the age of seven, Samuel is the youngest of three children (Violet, 13, and Seraphina, 10) that Garner shares with ex-husband Ben Affleck.
Even as the youngest though, it seems Samuel is already old enough to be embarrassed by his mom.
Garner's Instagram followers, however, agreed she just might be the coolest mom ever.


hdroland/Instagram

hey_judedude/Instagram

shelly_cg/Instagram

daviamichele/Instagram

pinkyloc/Instagram
amerlie_ann/Instagram
In fact, Samuel might have been the only who wasn't blown away by the costume.
Garner's get-up also got a thumbs up from the real-life Astrid, actress America Ferrera, who voices the character in the movie.
"Omg!! I love this!!! My twin!!" Ferrera commented, re-sharing Garner's post on her Instagram story.
Garner even got the seal of approval from the How To Train Your Dragon Instagram account.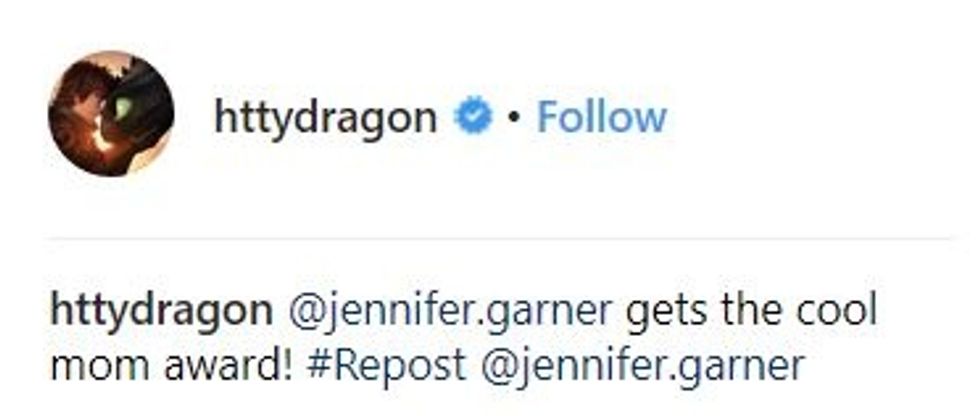 httygradon/Instagram
But no matter how cool everyone else thinks you are, it seems there's no getting around embarrassing your kids.
But Instagram reminded Garner that these are the memories her kids will cherish later.

tiffany.casias/Instagram
rpshough7/Instagram

trinbeed/Instagram
Besides, embarrassing your kids is half the fun of being a parent. Can't wait to see who Garner channels next year.