There's something already deeply unsettling about talking in your sleep. Most of the time, the sleep talker's brain is still following dream logic, so they just spout nonsense. However, a woman's boyfriend is creeping everyone out with his sleep talk.
Tumbler user Geekandmisandry posted about a conversation she had with her still sleeping boyfriend.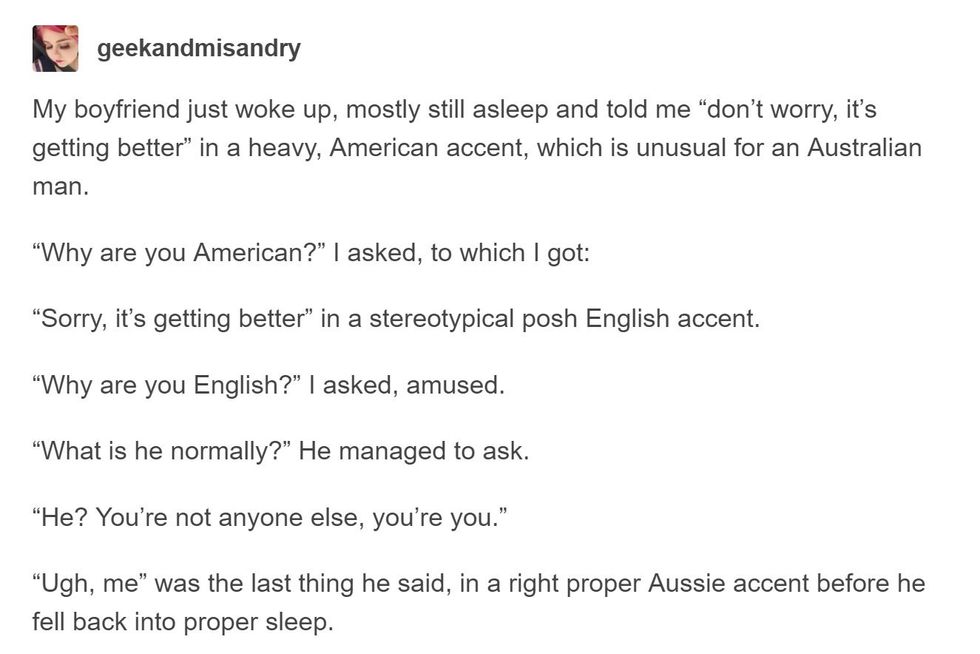 Tumblr.com - Geekandmisandry
He creepily speaks in another accent and responds to her questions with nonsense. At least, he does until we get to the last question.
Asking about himself in the third person has led some to cry demonic possession.

Tumblr.com - neverblogidly, wideopenhighway
It gets worse. Geekandmisandry came back with another time her boyfriend was sleep talking. This time it was about visitors from another dimension.
And we're ready to not sleep again.

Tumblr.com - tharook
To say it's unsettling would be an understatement.
@Independent Maybe she should look into his background. Maybe a confession of who he really is....

— Paul Kearney (@Paul Kearney)1543053554.0
"Um have you tried throwing holy water on him or something cause thats just weird "
"Well that is nice and terrifying"

"funny and creepy what the heck lol"
@Independent .. & in "another life" .. https://t.co/t5kTRUBd0Z

— Jor ♥ El (@Jor ♥ El)1543053689.0
"I love people who talk in their sleep."
- Rhube
"HE FUCKING WHAT"
"Oh, good; so I am not the only one who acts like a nutter in their sleep :3"
This is a creepier take on the "boyfriend talks in sleep" stories people like to post online. The Twitter account @Sleep_Sayings was made for a woman to post what her now ex-boyfriend would say in his sleep.
The results were often hilarious, and prompted others to share their experiences.
@Sleep_Sayings I'm dying 😂😂😂 thank you for making my weekend lol

— Poppy Windsor (@Poppy Windsor)1467532674.0
@Sleep_Sayings @aderbyshire88 this girl tweets all the stuff her boyfriend says in his sleep . I should do it for y… https://t.co/rGg5oiptNv

— hanna XX (@hanna XX)1511949997.0
@Sleep_Sayings Oh those gremlins are nightmare😂😂😂😂

— Goki_a (@Goki_a)1511540642.0
@Sleep_Sayings Does that make you Switzerland?

— Poppy Windsor (@Poppy Windsor)1492174818.0
Although she broke up with that boyfriend, a year later and she's dating a new sleep talker.
New Boyfriend: "We'll take that one!" Me: "What one?" NB: "I.... don't know." THE NEW BOYFRIEND DOES TALK IN HIS… https://t.co/dfTQGxgt2e

— caitlin—formerly sir lord dick pat (@caitlin—formerly sir lord dick pat)1543133212.0
Is sleep talking just the ramblings of an addled brain? Are these people possessed? Who knows. In the meantime, people will continue to share the outrageous things people say in their sleep.
H/T: Bored Panda, The Indy 100, Tumblr