Abbey Clint recently took her 7-month-old to the doctor for her scheduled immunizations.
While there, she decided to snap a couple of photos of herself and her little ones and share them to Facebook.
---
Abbey shared an important message with the photos, along with an infographic debunking the supposed link between vaccines and autism.
"Madelyn got her shots today! 🥂💕🥰"
"I grew up unvaccinated before it was cool 😎"
"I've had to catch up on my inoculations with each pregnancy. Glad I didn't catch measles while pregnant! 🥳"
"Glad my babies don't need to suffer through preventable infectious diseases. Preventative maintenance saves co-pays and saves lives. Proud to vaccinate! 💃❤️"
Her post was largely positive and celebratory, but it apparently struck a nerve with someone, because it was shared in an anti-vaxx group.
This resulted in no small number of people showing up to comment on Clint's post, some even making some pretty wild assertions based only on a photograph.
But many on Facebook were supportive of Abbey's efforts to vaccinate herself and her kids. Because SCIENCE.
Some told stories of life before vaccines.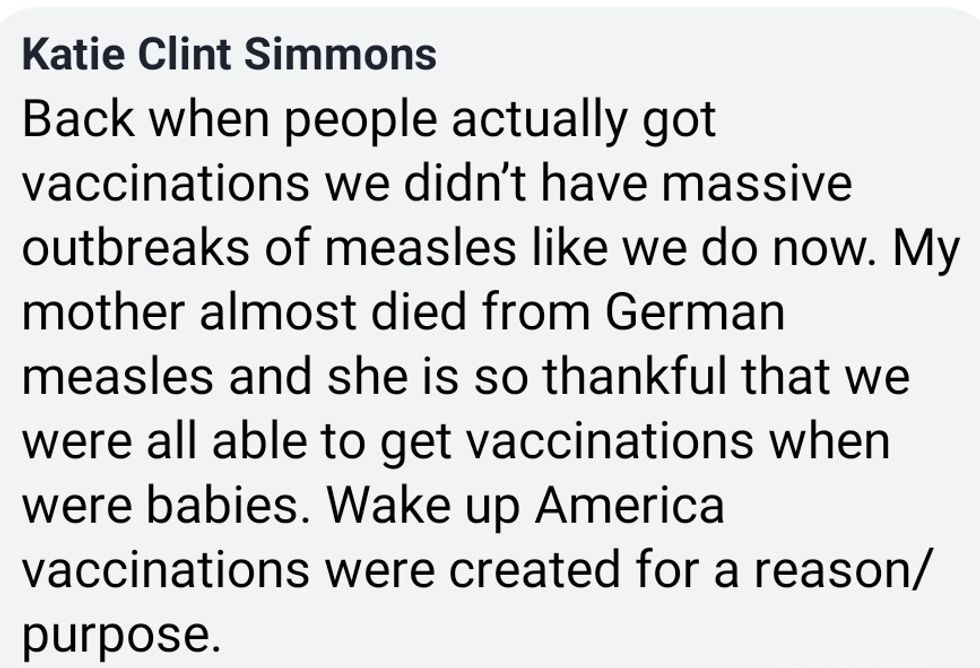 Katie Clint Simmons/Facebook
Others said that they plan to vaccinate their little ones too.

Brooke Morris/Facebook
Some thanked Abbey for Educating herself on vaccines and disease, and using that knowledge to decide to keep her kids and those who cannot be vaccinated safe.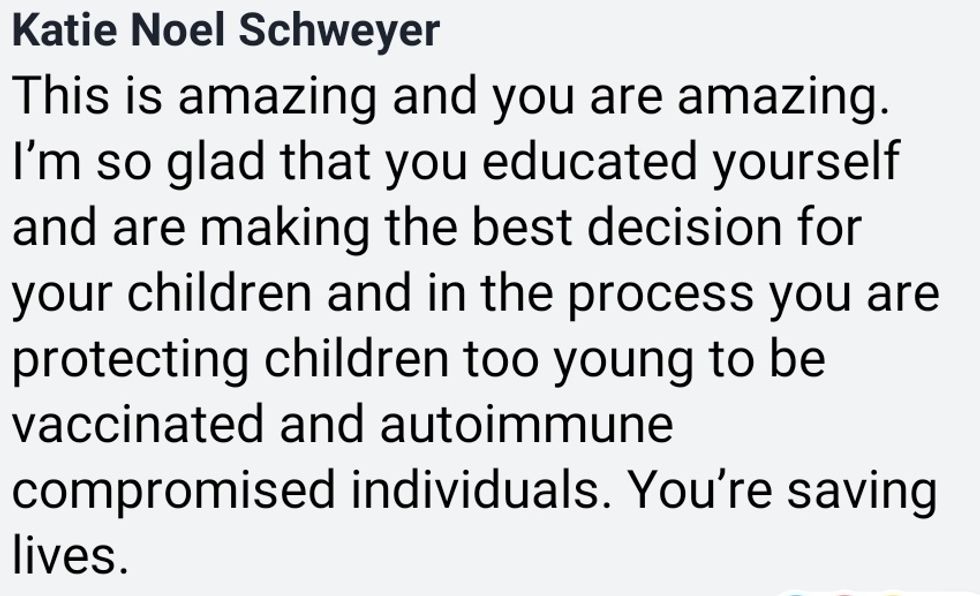 Others who grew up unvaccinated and caught up as adults chimed in with their experiences.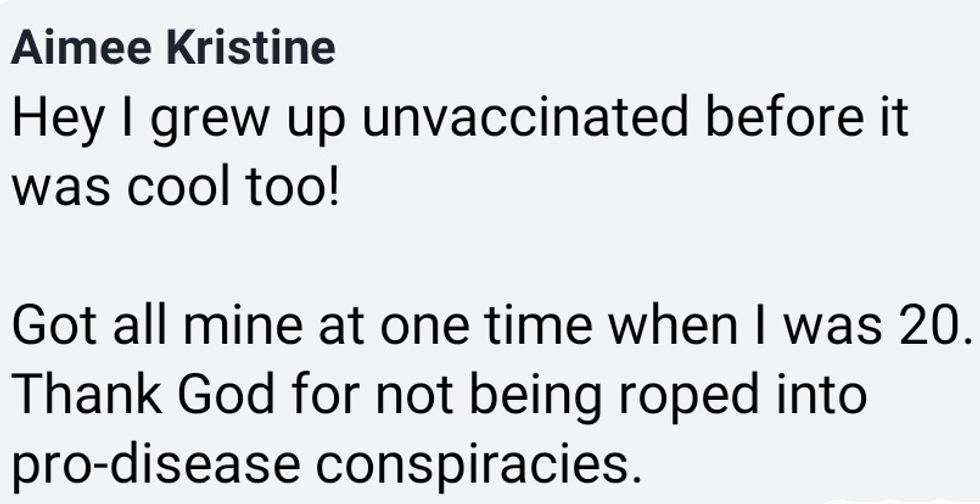 Aimee Kristine/Facebook
After Clint's post was shared to an anti-vaxx group, plenty of people showed up to dogpile on her for what they saw as an attack on their freedom to choose not to vaccinate their children.
Some even went as far as to claim that her children were already showing signs of "vaccine injury" in the snapshot of the family at the doctor's office.

Abbey Clint/Facebook
People had Abbey's back, though.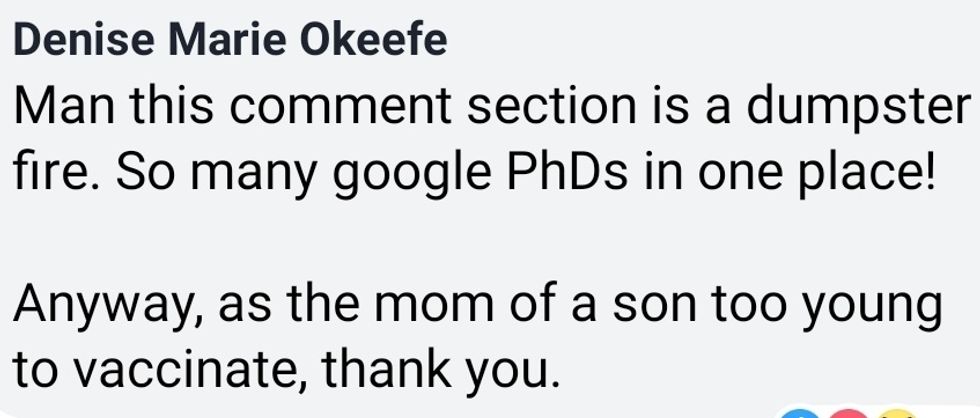 Denise Marie Okeefe/Facebook

Linzi Gayle Jeleniowski/Facebook
One person brought up the uncomfortable truth about the "vaccines cause autism" line of thought.
People seem more afraid of their child developing autism from a vaccine (which doesn't happen, and the paper originally claiming the link has since been retracted over ethical concerns) than of them dying or killing others because of a preventable disease like measles.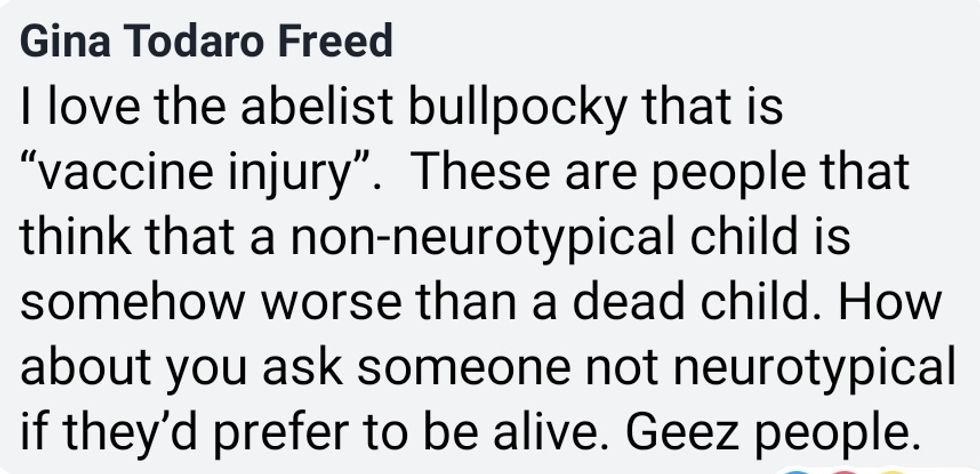 Gina Todaro Freed/Facebook
Vaccination saves lives.
Anyone who was alive before vaccines for measles, rubella or even polio were available could tell you about the horrors of disease outbreaks.
Smallpox, a disease that is estimated to have killed 300 million people in the 20th century alone, has been officially eradicated worldwide thanks to vaccination.
Measles was eliminated in the United States in 2000, but declining vaccination rates have contributed to the disease being reintroduced and several significant outbreaks have occurred this year.
According to a CDC press release, these new cases of measles stand a chance of causing even greater harm.
"The longer these outbreaks continue, the greater the chance measles will again get a sustained foothold in the United States."
Stories like Abbey's show that people can change their minds, and grow, when they educate themselves and come to truly understand a subject.
Misinformation is prevalent, and can be difficult to sift through when doing research.
Alex Azar, United States Secretary of Health and Human Services, recently urged parents to vaccinate their children in a press release.
"The measles vaccines are among the most extensively studied medical products we have, and their safety has been firmly established over many years in some of the largest vaccine studies ever undertaken."
"With a safe and effective vaccine that protects against measles, the suffering we are seeing is avoidable."