With the fires in Australia still burning and more than a billion animals estimated dead, people everywhere are worried at the immense loss the land Down Under is facing.
That hasn't stopped some, however, from imparting their "wisdom" regarding the origins of the fires, including their continued dismissal of climate change.
---
Earlier this week, three female experts in climate change were discussing on Twitter the importance of understanding the effects of climate change on a location like Australia, and how environmental changes increase the likelihood of further fires.
The three also spoke up about those who continue to argue against climate change, and instead for arson, explaining how arson alone would not have a large enough impact to create these fires.
In the midst of their discussion, the three women were, of course, visited by a self-proclaimed expert, a man who decided to mansplain why climate change isn't a suitable explanation for the fires, and the women's reaction was perfect.
Professor Katherine Hayhoe, a climate scientist and professor, wrote:
#AustralianWildFires climate denial claims, "it's arson! it's been warmer before! fire's natural!" The truth? Human… https://t.co/MOLNvaU1ZX

— Prof. Katharine Hayhoe (@Prof. Katharine Hayhoe)1578329920.0
Kate Marvel, a fellow climate scientist, agreed, chiming in:
The number of people yelling "it's arson!" at me like that somehow changes the molecular structure of carbon dioxid… https://t.co/NPW4TeRKip

— Kate Marvel (@Kate Marvel)1578330212.0
Dr. Jacquelyn Gill, an Ice Age ecologist and professor at University of Maine's Climate Change Institute, also chimed in, arguing why it's particularly problematic to blame arson alone.
Dr. Gill wrote:
@DrKateMarvel I research wildfire. Fire is controlled by two things: ignition, and fuel. Climate change impacts bot… https://t.co/VekLu27buv

— Dr. Jacquelyn Gill (@Dr. Jacquelyn Gill)1578334748.0
Up to this point, the three women were having a useful and productive conversation about climate change, one that could easily be educational to onlookers who wanted to learn a little bit more about what's going on in Australia right now.
But of course, someone needed to chime in and claim to be the greatest expert of all.
Retired TV weatherman Mike Smith, who describes himself as a "Husband, father, grandfather, scientist, entrepreneur, and author" and who made his Twitter username USWeatherExpert, came forward to explain why he felt all of these experts were, in fact, wrong.
Smith reacted to Dr. Gill's tweet, stating:
@JacquelynGill @DrKateMarvel That is just nonsense. Theoretically, one might be able to blame lightning-related fir… https://t.co/0vsFFwp1aT

— Mike Smith (@Mike Smith)1578349877.0
Dr. Gill immediately fired back, pulling her legitimate expert card.
@USWeatherExpert @DrKateMarvel Just because you don't understand doesn't mean the rest of us don't. I've already ex… https://t.co/6WuzyV2qID

— Dr. Jacquelyn Gill (@Dr. Jacquelyn Gill)1578357596.0
Smith continued to try to hold his ground, arguing for his understanding.
@JacquelynGill @DrKateMarvel I understand just fine. I recommend you spend some time in meteorology and climatology classrooms.

— Mike Smith (@Mike Smith)1578358671.0
Dr. Gill pushed back again, short and sweet.
I do. As the instructor. https://t.co/8yXtrPeBza

— Dr. Jacquelyn Gill (@Dr. Jacquelyn Gill)1578362663.0
Twitter has been living for this reply, sharing it alone and making it go viral.
@JacquelynGill https://t.co/S8trOAWYRN

— Millennial Edition (@Millennial Edition)1578412719.0
@JacquelynGill https://t.co/CCA70HvpQ3

— KareBearScare (@KareBearScare)1578375289.0
@JacquelynGill https://t.co/68Deey9UxX

— Brian Brettschneider (@Brian Brettschneider)1578365135.0
@JacquelynGill https://t.co/erOSeH9Nag

— Dakota Smith (@Dakota Smith)1578369630.0
@JacquelynGill And THAT'S how you do it, my friends. https://t.co/Ul77kiDeZS

— PhD Diaries (@PhD Diaries)1578398812.0
@JacquelynGill https://t.co/bJwCbyc5rC

— Derek (@Derek)1578414941.0
@JacquelynGill https://t.co/VzcTOi1YrB

— Ani No More Nazis in 2020s 🇨🇦🏳️‍🌈 (@Ani No More Nazis in 2020s 🇨🇦🏳️‍🌈)1578362949.0
@JacquelynGill And dropping this off https://t.co/uZ0KdPWPIe

— OceanGirl🌍🌎🌏🇺🇸🇦🇺🇬🇧🇮🇪 (@OceanGirl🌍🌎🌏🇺🇸🇦🇺🇬🇧🇮🇪)1578365553.0
It's so ridiculous that people, typically women, have to continue to argue for their understanding of a a subject and their credentials, especially when they're making an important contribution to a major conversation like this one.

But Mike Smith, a retired Kansas TV weatherman who writes a glowing bio for himself and shares links to his own blog as scientific proof of and shills his self published books, apparently spends his free time trolling Twitter looking for women with advanced degrees to condescend to.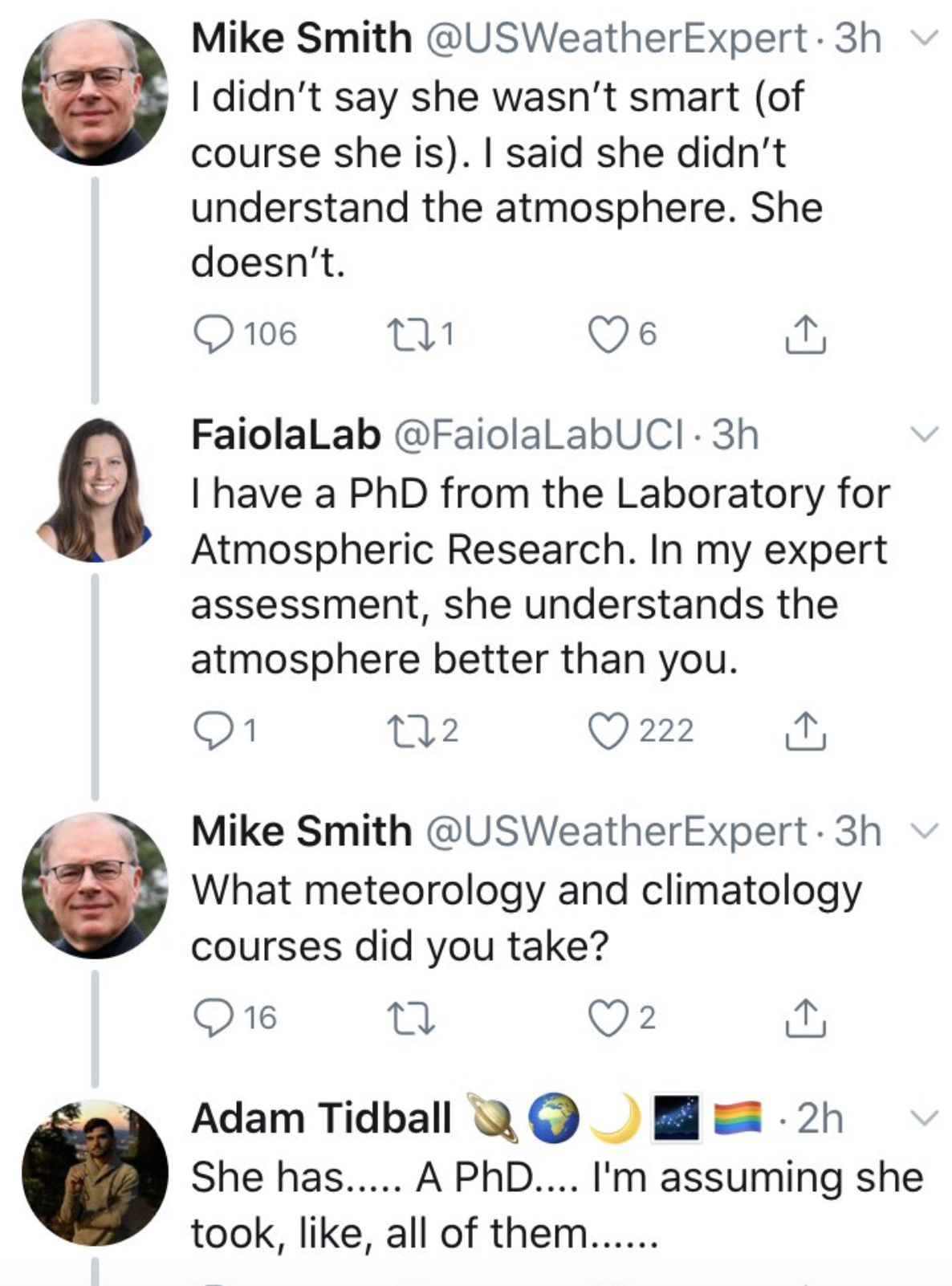 @USWeatherExpert/Twitter
But these three experts handled the situation wonderfully, and they've had fantastic support.

Much later in the Twitter thread, Dr. Gill asked that everyone do what they can to help support those trying to put out the fires, evacuate people, and save animals. There is a GoFundMe page for their Fire Relief Fund, if you would also like to donate.
Tired of climate change deniers? This shirt is available here.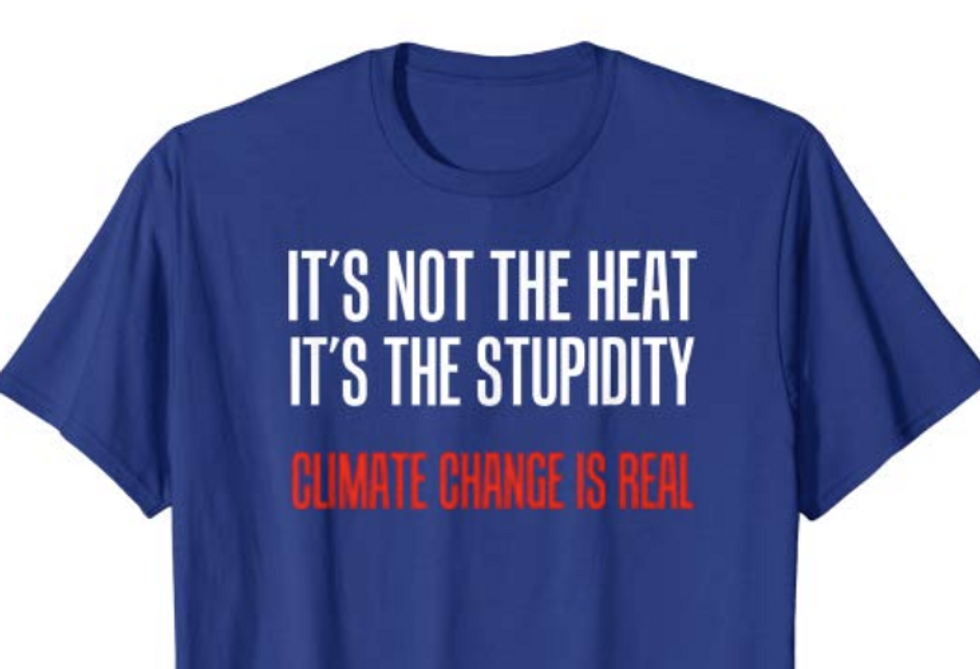 Amazon