Certain countries just develop a reputation with the rest of the planet.
Sometimes it's earned, but sometimes it's way off base.
So what about Australia?
Are the rest of the Earth's stereotypes about the land down under fact or fiction?
Redditor Phrince_Prillip asked:
"Non-Australians, what's the first thing that comes to your head when you think of Australia?"
Nemo
"P. Sherman, 42 Wallaby Way, Sydney."
- yamsnavas2
"Just keep swimming."
- AceAmphiptere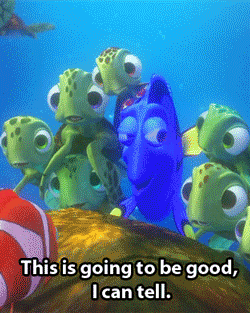 Giphy
Mr. Dundee
"A voice in my head saying 'You call that a knoif?'"
- Flaky-Fellatio
"Love the pronunciation of the word 'Knoife'."
- Phrince_Prillip
"That's not a knoife. THIS is a knoife."
- MadnessPersonified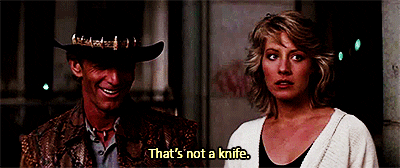 Giphy
"I hate that my answer was kangaroos."
"I know more about Australia but f'king kangaroos pops up first."
- yankiigurl
"AUSTRALIA=KANGAROOS"
- Zgirl333
"Kangaroos, yes. But specifically that kangaroos are just buff donkeys."
- Torshii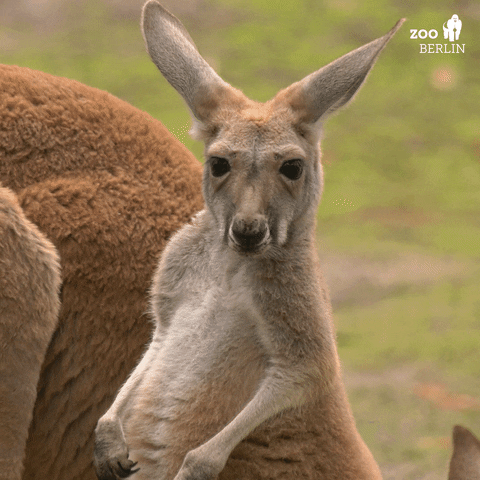 Giphy
Food?
"Answering honestly, the first word that popped into my head when I read your question was vegemite."
- ReadyTadpole1
"Now I want some Vegemite."
- Fabulous_Parking66
"Please don't make the mistake everyone makes. Remember, it's not chocolate. This has been the Australian Government Department of Vegemite Health and Safety."
"Funded by the Australian Government Canberra."
- ProbablyNotYourMum
"If you are a foreigner, the first time you eat vegemite, it should be spread so thin that it is a light brown smear. Half a pea size might be too much for one piece of bread."
"Now if you are an aussie and still do that amount, you are weird."
- Theosie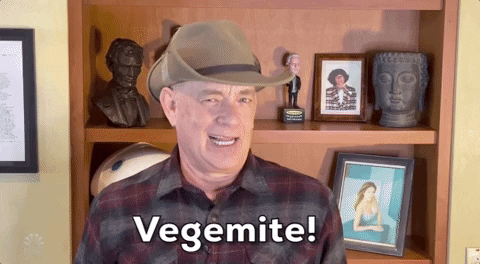 Giphy
R.I.P. G.B.R.
"The Great Barrier Reef. It's a dream of mine to see it one day."
- macaronsforeveryone
"Better book yr ticket soon…"
- BandicootPlastic5444
"I guess my dream is dead in the water, literally."
- macaronsforeveryone
"People say it's all dead but there's still an enormous amount of living reef to be seen. It's definitely worth going to."
- philjorrow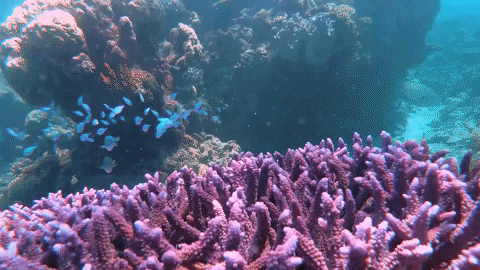 Giphy
Southern Hemisphere
"Summer during end of the year, December."
- ixhejehdbejeh
"For whatever reason, we still play all the old Christmas songs. even White Christmas, when it's summer and like 40°C (104° F) outside."
- rawker86
"Christmas on the beach is sensational."
- Reddit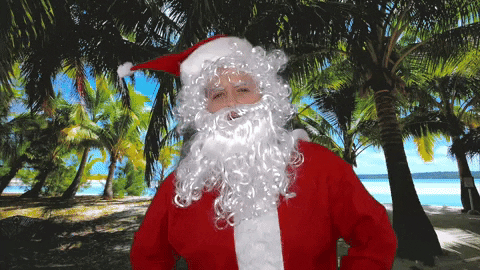 Giphy
Crikey
"Steve Irwin."
- Ok-Chocolate5893
"When I was a kid it was my life goal to meet Steve Irwin, I was obsessed with the man. When he passed I was absolutely inconsolable for days."
"Also, does anyone remember the episode where he lays with his dog [Sui] before she passes? I've been trying to find the clip and was never able to."
"No idea why I want to make myself cry but it was a really touching moment."
- la-bano
"Bless that wonderful person."
"We miss him, my eyes just watered from thinking about him, he was my first ever celebrity death, and I was devastated as a young boy."
- Sir_Admiral_Chair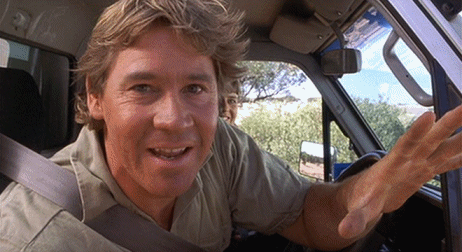 Giphy
Chomp!
"Crocodiles."
- Deana-Marie
"Ooh! Saltwater crocodiles!! I'd forgotten how big they can get."
- pennyraingoose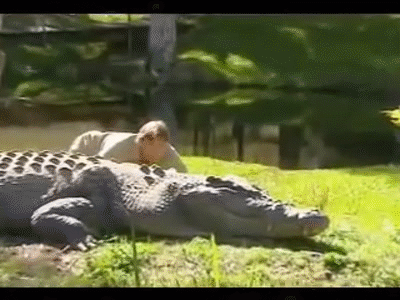 Giphy
🎵 You better run, you better take cover...🎶
"Men at Work's 'Down Under' automatically started playing in my head when I read the word Australia."
- Jaded195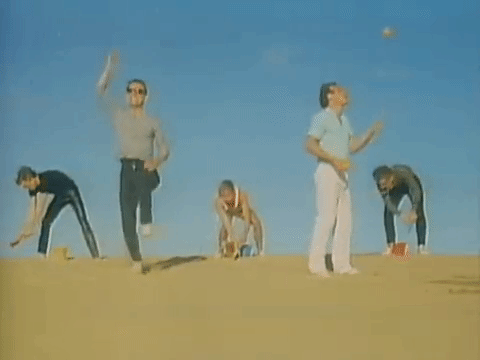 Giphy
Changed Perception
"German here, now living in Australia."
"Before: heavy drinkers, kangaroos and koalas."
"Now: Huntsman spiders, bushfires, flooding and heavy fines for everything."
- drschnaps
"Twas an early morning after a big night with my mates. Everyone was sleeping, and I got up from the couch to go to the toilet or whatever."
"I came back to witness a chunky Huntsman spider walking across the tiled floor, toward my friend's bedroom door."
"I could hear its footsteps."
‐ PHILOSOMATIQA
"The big spiders are fine, it's the tiny ones that will kill you."
- My-Witty-Username
A lot of animals made the list, but koalas, echidna and wallabies did not.
Did anything else synonymous with Australia get forgotten?
What do you think when you hear Australia?
Want to "know" more?

Sign up for the Knowable newsletter here.
Never miss another big, odd, funny or heartbreaking moment again.
Keep reading...
Show less
Every country is unique in their traditions, their customs, and the way people live their lives. It makes traveling so desired by so many people.
However, with the spread of misinformation and the consumption of media that decides to simplify whole cultures, people think wrong things about an entire culture worth of people.
They might think a country acts a certain way, or sounds a certain way, or likes to look for elves in the mountains.
Wait, what?

Reddit user, SodaWithoutSparkles, wanted to know what people get wrong about where you live when they asked:
"What popular beliefs about your country just isn't true?"
There are the classics, the ones right at the top of people's minds when they think of another country, or another continent, worth of people. Wrong, yes, but popular, and maybe that's the problem.
Such A Small View Of A Large Continent

"Kenyans are all long-distance runners, live in huts, speak no English, and have pet wild animals. Ugh."
"So here goes: The long-distance guys are mainly from one community/ tribe called the Kalenjin that's about 15% of the population. Next, Kenya is still a developing nation with a lot of poverty, but there's a lot of modern architecture. Next, the country is rated 18 out of 100 on the English Proficiency Index. And lastly: you can apply for a special (and rarely-granted) permit for your bobcat named Babou, but keeping wildlife is not at all common. And the Kenya Wildlife Service will conduct regular visits to ensure Babou isn't being kept in Meowschwitz-like conditions."
movie_favorit

"People in the west have really outdated views on Africa. We tend to see the whole continent as one blob, and assume everyone's poor or living in a shack."
"Think that's partly due to all the charity videos at christmas. If you see Africans, they're often in a charity ad because some war torn region is suffering from food shortages or a lack of clean drinking water. Meanwhile, as you know, plenty of African countries are poor but wealth discrepancies are large so there are plenty of living relatively affluent lives in modern cities. I assume living in Nairobi wouldn't be that different to living in many a western city, if you can afford that lifestyle."
"Most of reddit is too poor to live comfortably in Kinshasa for example, even if the DRC's a genuinely poor country. And if you explain Ethiopia was Christian centuries before eastern Europe, our brains shut down."
"We're entirely clueless. Sorry about that."
MargarineAndLube
We'll Punch You, Then Apologize, Then Punch You Again
"We're polite"
Homirice
"A fellow Canadian"
bubalub
"We are polite. The misconception is that nice and polite mean the same thing."
Quite_Bitter_Being
They Also Aren't All Plumbers Who Fight Dragon Kings
"No Italian aren't all short, black haired, fat, mobsters that wear wine-stained tank tops and coppolas. We are loud tho"
fawovi7739
"I spent six months in Italy as an au pair, and I don't think I met a single person I could have mistaken for a mobster. Everyone was very loud and smoked a lot though. I loved every second of it."
MiniatureAppendix
"Jesus, we are so loud. I'm an Italian living with n Germany. We are sooooo loud. Every-single-one. Incredible."
Lelo1293
Keep Things The Way They Are
"No we don't speak Spanish, yes we'll probably understand you when you speak Spanish to us but we'll probably think you're an a--hole. No we don't want to join up with Spain, we like our distance."
throwawaygoodcoffee
"You're from Portugal?"
CharlesChrist
'Ello Guv'na!
"People think British people are either stiff Upper lip public schoolboys or cockney brick layers/football hooligans. There's a whole world of people in between! Some of us don't even like football. One of my friends DOESNT EVEN DRINK TEA! Not sure why she's my friend to be honest."
movie_favorit
It's not just people misunderstand, but the animals of the region. You might think one thing about the creatures of a region only to find out that it's just not true at all.
So Common A Misconception You Have A Retort Ready To Go

"Welsh people shag sheep. Temptation is there but the static shock wouldn't be worth it."
movie_stearm
"I'm English but live in Powys. I get told this joke when other English people find out I live in Wales."
"The best retort I've heard from a Welshman is 'Yep. We shag them and we then sell them to the English to eat...'"
WestEssexEnclave
Let's Go A An Australian Bush Bash!
"We don't all ride kangaroos to work fighting off giant spiders while keeping an eye out for drop bears."
"I work from home."
ElZoof
"There are a lot of kangaroos though. I feel like that is the one stereotype that tourists wouldn't feel ripped off at"
PissAnt5
"Why would we fight off giant spiders? I keep them as pets, they protect me from drop bears."
LaitueGonflable
Every country has myths, legends, or rumors themselves that spread about, gaining a legacy pushing them into lore. After all, how else do you explain the elves living in the mountains?
Think Of The Magic
"That some high percentage of us believe in elves."
Iplaymeinreallife
"I know about 25 Icelandic people and 2 of them seriously believe in elves and gnomes. To me, that's a pretty big percentage"
Pizzacanzone
"When there's 5 people in your country and 2 of them believe in Elves, i don't know, that's a high percentage of people who believe in them"
CommunitRagnar
Credit His Origins Where They're From
"Dracula is often depicted as living in Transylvania. While he was imprisoned there for a while, he was actually the ruler of Wallachia (another historic Romanian province that neighbors Transylvania to the south). As for the rumor that we are vampires, I neither confirm nor deny this statement."
fawovi7739
"There was another similar question awhile back that said something to the effect of:"
"I don't know why people think Romania is full of vampires. I've lived here for 600 years and I've never met one."
differentiatedpans
At Least We're Nice Half The Year
"Iceland was not named as part of some conspiracy to keep folks away from a good thing. The name comes from the fact that early settlers arrived during summer and then suffered horrible losses of livestock and people once winter hit and icebergs were seen filling the fjords. It was more of a warning than anything, that this place sucked. Greenland on the other hand was probably named as such to make it sound more hospitable"
movie_online_2
Try to educate yourself before you go out traveling.
Educate yourself on how to find those hidden elves, that is!

Want to "know" more?
Sign up for the Knowable newsletter here.
Never miss another big, odd, funny, or heartbreaking moment again.
Keep reading...
Show less
You don't realize you're living in history, until long after the moment is gone.
What can feel like small, mini moments, might add up to something in the long run.
A choice, a decision, an action, all building towards the finality of your life.
Unfortunately, some people's actions might have rubbed others the wrong way, bringing upon themselves mockery and shame.
Why?
For being right, it turns out.

Reddit user AllofaSuddenStory wanted to know who got the last laugh in the long run when they asked:
"Who is someone that was mocked at the moment, but then proven right years later?"
It's hard when the people we once thought of as "heroes" are discovered to kind of suck. Hard.
Live Strong
"Greg lemond. In 2001 he said lance Armstrong was probably doping. He was threatened he took a huge image hit and his business opportunities suffered."
"He never let up on lance despite the media campaigns, threats, damage to his reputation and business, and the recrimination of his peers in the cycling community. Until surprise surprise in 2012 it came out that lance Armstrong was doping. Who could have foreseen that? If only someone had told us."
"Oh wait. Greg Lemond did. A decade ago."
Cheeseyex
A British Gentleman Would Never--Oh Wait, They Did

"John Rae. Very skilled arctic explorer who unlike most of the rest of Europeans at the time wasn't above learning from the Inuit. He was largely successful because of his willingness to learn from them and use their clothing and diet and techniques."
"Anyway, about ten years after the Franklin Expedition was lost John Rae was out looking for clues what happened because the British Admiralty had a standing reward of £10,000 for anyone who had credible information about the expeditions fate. He found some physical remnants of the expedition and had met with Inuit who'd seen some of the last surviving members of the expedition. They related to him how they'd been taken by disease, lack of food, and how some of them finally succumbed to cannibalism."
"Rae took this information back to England, where society was absolutely outraged how he dared to spin such drivel. Surely no sophisticated gentlemen of the hero's character that would be in Sir John Franklin's expedition would act so savagely!"
"John Rae never got the award. Years later someone else did who told of a story that was correct also to some degree, but less than Rae had been."
"In modern times bone fragments have been found with telltale cut marks, thereby proving John Rae and the Inuit right."
rhutanium
Undoing All The Good Work They Did
"Johnny Rotten"
"Banned from the BBC for ousting Jimmy Saville as being a horrendous pedophile."
"Some 500 cases of abuse. Had his own set of keys to a psychiatric hospital where he would frequently abuse vulnerable children."
Danuta_
Some people become so publicized for their mockery, that their situations and scenarios become common knowledge, the butt of jokes, and fuel for feeling bad for being so wrong later.
Don't Joke About It
"Lindy Chamberlain. A dingo really did eat her baby. :("
TinyGreenTurtles
"Even at the time of Azaria's death aboriginal trackers that were brought in said a dingo did it but because they weren't white no one listened and the poor family was put through hell after losing there child."
ipoopcubes
And A String Of Awful Copycats Followed This Legitimate Case
"Stella Liebeck, the lady who got burned with McDonald's hot coffee. The media mocked her and accused her of a frivolous lawsuit but it was an ongoing problem that McDonald's served dangerously hot coffees that had injured many others."
"The coffee was hot enough to cause 3rd degree burns to her pelvic region and she was hospitalized for 8 days while she had to get skin grafts, and continued medical care for 2 years related to the burns. She originally just wanted her medical bills covered but McDonald's tried giving her an insultingly low amount, so then she was forced to open a lawsuit. The courts rightfully sided with her and forced McDonald's to regulate the temperature on their hot beverages."
IdRatherNotNo
Speaking Out To This Day
"Monica Lewinsky. That poor woman was dragged through the mud and seeing everyone reassess what was done to her has been bittersweet."
"ETA: Bittersweet bc more people seem to understand she was a victim (sweet), but she was really young, and decades of her life were spent being a public punching bag (bitter)"
happycos
Some of these stories, when examined with the power of medical hindsight, shows we really don't know anything about medicine.
It's A Wonder All Humans Aren't All Dead
"Joseph Lister"
"First proposed that germs caused post-operative infections, and recommended that surgical instruments be sterilized between operations."
"People thought he was nuts."
Positive-Source8205
"Yep, in addition the this, Joseph's peers in medical community actively dismissed his suggestions for years due to the fact that they could then be considered culpable in causing harm to patients"
"Ironically, delayed uptake continued to harm patients"
95CJH
How Are We Not All Dead?
"Ignác Semmelweis"
"First doctor to champion hand washing as a means to prevent spreading infection. Everyone made fun of him."
saltyFr3nchFry
"He also noticed out of 2 maternity clinics there was a higher death rate in one because students were doing postmortems and then going straight to the clinic without washing their hands. Who would have thought dead people matter wouldn't go well with pregnant women and new born babies"
OmegaStealthJam
Remove A Handle, Save Lives
"John snow in 1854 tried to tell everyone about cholera, and how it was being caused by the water supply, no one believed him until he took illegal action and saved many lives"
Verticlefornow
"He didn't do anything illegal, he collected evidence and took it to the local government who had the pump handle removed. It was actually late in the outbreak, if not well after the outbreak so how many He saved with that action is questionable, but the methods and the use of spatial epidemiology was groundbreaking."
VectorB
Oh Yeah, Worldwide Pandemic.
"The doctor in China who was arrested for trying to stop the spread of Covid from the start"
youburyitidigitup
"They knew it was coronavirus by 2nd December 2019. They knew it was a cousin virus to SARS and MERS. They did everything it their power to keep it quiet til January..."
"...Also I do understand looking back that we can seem to trace back the data/ rabbit hole to June/ July 2019, some even can go back to March 2019. I'm pointing out that I simply heard/ read the officially "there's a new coronavirus in Wuhan" in digital print on that date. That's when this all started for me personally."
Turfanator
"And his name was Dr. Li Wenliang. May he never be forgotten. salutes"

safer_than_ever
"delirious ravings"
"Alfred Wagner hypothesized plate tectonics in the 1920's, but this wasn't an accepted notion until the 50's. He was a meteorologist, and copped a lot of flak from the geological community at the time."
SaraBunks
"This is the one I was looking for. He was ridiculed and talked down on because of his plate tectonics theory, calling his ideas 'delirious ravings.'"
Daninumblr
Dingo Trauma
"Lindy Chamberlain. A dingo really did eat her baby. :("
TinyGreenTurtles
"People used to say that 'a dingo ate my baby!' Mockingly as a joke when I was in school. I never knew what it was from, then when I found out I was horrified and completely disgusted that people I knew were running around mocking a woman who lost her baby to a wild animal attack for fun."
CannibalCapra
DNA BEFORE
"Barbara McClintock, she postulated the existence of transposons (certain types of genes) in DNA BEFORE anybody even knew what the actual structure of DNA is like, she was widely mocked by the scientific community at the time. Transposons were later confirmed to exist and she was awarded the Nobel."
ThousandSunnySenpai
Floods
"Duff Roblin, the Premier of Manitoba. After the 1950 flood, Roblin's government initiated the Red River Floodway project. The floodway diverts part of the river around the city. At the time he was mocked and a lot of people thought it was a waste of money, because 'a flood like that will never happen again.'"
"It's been estimated that it's saved $40 billion CAD in flood damages since it was completed in 1968. I was there for the '97 flood. The floodway saved my home and my in-laws' home."
deagh
Depletion
"Sherry Rowland. Discovered the effect of CFCs on ozone depletion and received an immense level of blow back from industry. Not only that, but invited talks and collabs were rescinded within the scientific community. Poor guy was ostracized. 20 years later after his (and Molina's) discovery, he's finally recognized with a Nobel prize."
GadgetGo
Allergies
"Alexander Fleming, the man who discovered Penicillin, spent almost 10 years trying to convince the medical bodies of his time that it was worth investing time and resources to experiment with it, but was basically told to pound sand despite the respect he had prior to the discovery. Lot of good it did me, I was lucky enough to be born allergic. Happy for the rest of you at least."
The-BIG-Plant
Capsized
"Henry Freeman, a lifeboatman in Whitby. He tried to get the other lifeboatmen to wear cork lifejackets, but no-one would but him. During a great storm, the lifeboat was launched several times to help struggling vessels and sailors. On their sixth launch, disaster struck and the lifeboat capsized. Only Henry survived thanks to his cork life jacket. They became compulsory for lifeboatmen shortly afternoon."
alizare
80s Noise
"Richard Stallman. Warned us back in the 80s that if we allow corporations to rule the internet that nobody will have privacy or freedom on the web, among many other things. r/stallmanwasright"
ProtonSlack
Truth
"Courtney Love on Weinstein."
lundy7881
"There's a small bit in the book 'The Game' (highly recommend not reading it). The author makes fun of Courtney the whole way through because she's reading books on fraud and alleging that people have stolen her money. At the end, he adds in a sentence or two about how someone in their house looks at her finances and goes, 'Wow, it's true."
SkinHairNails
Concussion
"Dr Bennet Omalu who found that American football players had chronic traumatic encephalopathy/brain concussions which were slowly affecting their neurological and psychological functions. He was strongly opposed at first but then proved right. His biographic movie is named 'Concussion.'"
sweettooth_92
Just keep an open mind going forward.
And wash your hands.

Want to "know" more?
Sign up for the Knowable newsletter here.
Never miss another big, odd, funny, or heartbreaking moment again.
Keep reading...
Show less
It's easy to feel homesick.
You travel far away, far from what you've known, to live somewhere else. During your excursion you'll let your mind wander, thinking back on the things you remember most of your homeland. The sights, the sounds, the smells, the sheer amount of alcohol you and your countrymen all drank.
Everyone's country of origin has something unique that stands out about it when comparing it to the rest of the world, and we're sharing them today.

Reddit user, ManavMishra07, wanted to know what makes your country stand out when they asked:
"What's your country known for?"
Sometime what your country is known for can be obvious, as if it needed to be written on the side of your flag or something.
Don't Forget The Socialized Healthcare
"Maple syrup and politeness."
Mortar_n_Pestle
"Canada"
Puzzleheaded-Show289
Wait, So Who Lives In Them Now?
"Pyramids, for the last time we do not live in fucking pyramids okay"
iIAdHmSa
"Sooo, do you just use them as weekend homes or something?"
not-gandalf-bot
Mountains As Far As The Chocolate Can See
"Chocolate, cheese, watches, neutrality and mountains."
dia6hf
"Switzerland"
TangibleRalph
Other times it can be all the fun stuff, the things most adults would love to do every time they go or the stuff teenagers get up to when they think no one is looking at them.
NOT How You're Thinking Of It
"Spiders, snakes, lizards, mosquitoes, flies, crocodiles, sharks, ants, toads and c-nts, lots of c-nts"
Zealousideal
"Australia"
grenzor
Learn Your Geography
"Weed and sex workers"
"Edit: Alright I think it's time to clarify that Amsterdam is not a country, it's the capital of a wonderful small country called the Netherlands. And while we're at it, Holland is not a synonym of the Netherlands, it is only a part of it"
thedivineconspiracy
All Of The Fun Stuff
"Banks, castles, a very specific kind of molten cheese and a popular destination for our neighbouring countries to buy alcohol, cigarettes and coffee because it's cheaper"
InfiniteOmniverse
"Luxembourg."
"Used to buy cigarettes there when I was an au pair in Trier."
Aimil27
And then there's these, the stuff you kind of wish everyone would forget about your home country.
Now We Know What The Queen Gets Up To
"Bad teeth, tea, the queen and knife crime"
Hot_Ad_7663
"Always wondered what the queen does anyways"
random_tiktoker
Rubbing It In Everybody Else's Face
"Spreading freedom at the point of a gun"
TimFromTampa
"There is literally nothing more American than that"
YardOk8020
Know Your History
"A failed Artist."
Zealousideal
"It doesn't matter how many Austrian artists are great there are always a failed one that spoils the bunch"
glowing_feather
"Don't worry. Most people think he's German."
Leo_Kovacq
Turns Out The Nazis Ruined A Lot Of Things
"Chocolate, fries and beer."
AcanthocephalaLow590
"Much like our waffles we crumbled in the hands of the Nazis."
Rwokoarte
Don't be ashamed of where you came from. It's what made you who you are today.
Maybe be ashamed if they're still doing the stuff that made them infamous.

Want to "know" more?
Sign up for the Knowable newsletter here.
Never miss another big, odd, funny, or heartbreaking moment again.
Keep reading...
Show less
Who doesn't love a good travel experience?
While difficult right now, what with the seemingly never-ending worldwide pandemic, there still lingers in many people's hearts the desire to see the world.
But where to go? Don't want to go any place too touristy, too on the grid, right? Certainly there must be some spots that you've heard of but never given a second thought to see.

Reddit user, justarndmacc, wanted to give some space to the underrated locales of the world when they asked:
"What city is massively underrated?"
Having fun is key to any bit of travel. After all, experiencing the day-to-day life of local eateries and shopping is fun, but what you really want is to see how the people live there celebrate and enjoy themselves.
Knowing How To Party
"I was not expecting Krakow to be one of the highlights on my trip to europe"
Mallonhead
"I loved Krakow! Wouldn't have thought to go there but my friend married someone from Katowice so checked it out on the way. Great place and Polish people certainly know how to have a good time at a wedding"
VegetableVindaloo
Beer On The Streets? Hello!
"Savannah, Georgia."
"Absolutely stunning architecture, not overcrowded, rich history, and you can drink beer on the streets."
americanslang59
"I've been there multiple times. The city is so gorgeous and the history is mind-blowing. It's main streets are so welcoming and full of cafes, with multiple parks and large trees. There are fountains literally everywhere, and the dock is very relaxing. There's a market too, full of southern culture and food. Honestly the prettiest city in the south."
marksman12O
It's Australia. Everything Might Try To Get Ya.
"Underrated by other Australians, but my city of Adelaide."
"Beautiful wine regions, nice beaches, great nature walking trails in the hills and boutique eateries, great nature reserves, all within about an hour drive."
"Come during festival season and the arts scene is insane."
"Stay more than a week or so you might start to struggle, but a lovely stop on an Australian trip."
"People just focus on the murders..."
eroticdiagram
You might have heard of the city before this, but it wasn't for what people want you to know it for. There seems to be more lying under the surface than we might think when we imagine these cities.
When The Belfast Child Sings
"Belfast, Northern Ireland."
"People still think it's the 1980s with Gerry Adams, masked bandits doing street patrols, uniformed police beating up Catholics, murals everywhere and a car bomb parked on every street corner. That is basically all gone now, apart from the usual marching season and a few dodgy suburbs you'd best keep away from. Most normal people aren't that bothered and the city centre is really good."
"Seriously good friendly people, clean and beautiful city, great vibe, stellar entertainment and nightlife, awash with culture and history. Houses and property are also dirt cheap."
_spookyvision_
Can't Beat History
"Plovdiv, Bulgaria"
"Not a small city, actually a big one, but it has so much in it and also it has 8000years old history"
ShortResearcher4173
"I LOVED Plovdiv. Very beautiful city center, seems to have a rich artist and cafe culture. Food was also A++"
halbesbrot
Catch All The Sports
"Madison, Wisconsin. I was only there for a day but everyone was super nice, the city was incredibly clean, there was plenty to do, and the scenery was amazing."
gil_beard
"Wisconsin is super underrated as a state; and Madison is the best the state has to offer."
"Madison has so much more than college sports, but either way I'd like to add: That place is something else during game day. From Women's volleyball to football. Sure it's not Alabama or Duke, but we have relevant sports on both men and women's side all year round."
TimmyRL28
Come In For A Good Drink

"Da Nang. It's changed a lot from what it looks like in all those Vietnam War movies"
throwaway4127620
"Hello from Paddys Irish Pub in Da Nang as I write this"
"I lived in and visited many many cities and this place is by far the most liveable place I've been to."
its-not-me_its-you_
Sometimes a country is lucky enough to have more than one city worth visiting. Would such a country exist?

A Dream Country
"Kanazawa, Japan. It has the charms of Kyoto without the overcrowdedness that Kyoto suffers from during peak tourist seasons."
PumpkinSpiceBiscotti
"Japan is cheating."
"Japan has so many cities outside of the usual (Tokyo, Osaka, Kyoto) that are skipped by tourists but are fantastic."
"Nara, Hiroshima, Nagasaki/Kagoshima, Kobe, Nikko, Kamakura are all worth a visit if you're willing to spend a few weeks in Japan."
ExoticCommunication
"Asahikawa, Japan. Has a much less crowded snow festival than Sapporo and the snow is so beautiful. Plus, a really cool zoo."
semispooked
"I went to the zoo when it was snowing and it was amazing, gave the whole experience a completely different dynamic. Wolves howling in the snowfall, Amur leopards in the snow - not a typical zoo experience. The penguin walk was cool too."
tintinfailok
Wherever you do get to travel, make sure you take in as much as you can. Barring world events shaping our daily lives, you might not get another chance for a long while.
Want to "know" more?
Sign up for the Knowable newsletter here.
Never miss another big, odd, funny, or heartbreaking moment again.
Keep reading...
Show less