Europeans Point Out What's Normal In Their Countries That Americans Think Are Nuts
Traveling outside of one's homeland is always an exciting adventure. Discovering new places and people is good for the soul. And it's always interesting to experience culture shock, particularly between America and Europe. 
Giphy
One Redditor, Inmydreams91 posed the question of the :  "What is normal in Europe but abnormal in America?"
It all goes back to the Puritans. 
Broadcast tv having more nudity than hbo.  mtwstr
PG-13 isn't the same worldwide. 
Greater tolerance of bad language and nudity in media in general. For example, Zack and Miri Make a Porno, according to IMDb, passed with an "11 and up" rating in Sweden, and in the Netherlands, films like Erin Brokovich, and Steve Jobs (rated R for language, mostly) got an "All ages" rating.
Hannibal has an 18 certificate in the UK (and the equivalent of an 18+ rating in most countries) while it skates by with a TV-14 and is primetime fare in the US.
Big Mouth is rated "12 and up" in the Netherlands despite explicit sexual references, while South Park and Family Guy bear a mere "6 and up" rating.
It's not one guy cussing or two people having consensual sex that triggers a higher movie or TV rating in most European countries - it's someone getting beaten, whipped, eaten, or stabbed to death. Watchmen got an 18 certificate in the UK (the highest rating - rarely given to superhero films) because of the bandsaw scene, while The King's Speech got a mere 12A due to the bad words being "in a speech therapy context." In the US, both of these films were R but for completely different reasons.
Earmuffs, young ones.
I'm Christian and I don't like profanity, but it's unrealistic to think kids won't hear it or that everything has to be "sanitized". There are well-written songs, films, and TV series that happen to have swear words, and it's foolish to deny that. It's not like the Bible is exactly all "G-rated" either - especially if you're Catholic or Orthodox (that Book of Maccabees is brutal).   01000001_sauce 
Giphy
Metric Mania
The Metric system.     mal088   (Always a head scratcher!) 

What about the pirate party?
Having more then 2 political parties to vote for.  TheStressGamer
YES PLEASE!!!
Giphy
CHEERS!
Drinking outside such as on the beach, in a park etc. While probably not considered abnormal in America, it definitely seemed to be less common than in the UK.   CycloneChilli
Giphy
Show me the money
Chips-n-cheez The price on the shelf being the price you pay.
Edit. Nothing to do with haggling. European prices include tax on them. It isn't added when you get to the till/cash register.
Tips on Tipping
tropomagnifico A few years back I went on an all expenses paid cruise with open bars and food, etc. After boarding, I see signs all over the decks and bar areas saying gratuity was not included in the all expenses deal. I ran out of cash after like 45 minutes of tipping and then the servers just ignored me because I could no longer tip them and they assumed I was being rude. The poor staff were probably paid horribly and surviving on tips, which is just plain awful. Employers should pay a living wage and not expect customers to pick up the difference.

Holiday time
Over 30 days of paid vacation every year.  memeromemes
Yes, Mom. There's a chaperone. 
deg3n3rate Letting your teenage kid's bf/gf sleep over at your house without freaking out.

Giphy
The bigger the better
Small cars. In the US something like the Ford Focus or VW Golf is considered a small car, and cars like the Ford Fiesta and Mazda 2 are considered really small.
A Honda Civic Accord is about what America would consider normal size.
In Europe, totally different, the Golf and Focus are the average with anything larger than that considered large.  Sven2774
Who knows where those eggs have been!
Unwashed eggs. didzisk
United States Department of Agriculture (USDA) graded eggs would be illegal if sold in the UK, or indeed anywhere in the European Union (EU). Its all to do with the fact that commercial American eggs are federally required to be washed and sanitized before they reach the consumer. EU egg marketing laws, on the other hand, state that Class A eggs those found on supermarkets shelves, must not be washed, or cleaned in any way.
Gaming the system
Calling the early 90s Sega console a "Mega Drive" instead of a "Genesis".   CuthbertTheDestroyer

Giphy
Don't make me wash that mouth out with soap!
Swearing.
Now, yes, we swear in the US, of course we do...but I didn't realize how much I reign it in in public until I came back from a long Euro stint, ate at an American restaurant for the first timein a month, and kept getting daggers from the eyes of a mom at the next table over with kids of 8 or 9 or so. In Europe, no one gives a shit about swearing (I mean, yeah it's in English, but everyone knows all the swears, and they swear in the local language, too) but in the US if you're in public and you hear even a slightly raised voice swearing, it usually means some shit's going down.    FlavinBagel
Giphy
Wouldn't that be nice?!
Going to the hospital without worrying about being plunged into debt. SinkTube
Cold Shoulder
noTSAluv  Normal in Europe...sit at a cafe/restaurant for hours without having the waiter come by every freaking 15 min or so to ask you if there is anything else you need. No, we are here just chatting it up cause we got no other place to be, If we needed your services we would have called you.
No ice in drinks. autisticbigballs01

Giphy
Pucker up! 
Cheek kissing. Soldier4Christ82
Giphy
Well when one is traveling abroad, as they say,  "When in Rome!"
A bride has a lot to do before her big day, from planning the dinners, to getting her dress, to deciding on the decorating details. This quest for the perfect wedding can sometimes be even more stressful than finding a lifelong partner—but that doesn't mean these women had any excuse for going full Bridezilla in front of their staff.
"Two roads diverged in a wood, and I— I took the one less traveled by, And that has made all the difference." ~ The Road Not Taken by Robert Frost
Life is full of choices. Each one we make can send our lives in entirely different directions.
Sometimes our decisions work out for us and sometimes disaster ensues.
But let's focus on the positive.
Reddit user Kai6180 asked:
"What's the best decision you've ever made?"
Relocating
"In 2012 I got an offer from Amazon. It meant leaving Arizona and all my friends and family to move to Seattle. I stressed about it for a long time and finally decided to take it for a year and then move home."
"Met a girl my first week here and married her 5 years later."
~ Lotan
Trusting Instincts
"I found [what I thought] a US Army grenade simulator as a kid. It had a pull string."
"I held it and was going to pull it but changed my mind. Instead I tied it to tree and got more string until it I had about 10 feet."
"It blew a hole in the pine tree about the size of pie tin and about 2 inches deep. The cops came. I would have lost my hand or worse."
"The year was 1968."
~ enkiloki
"Changing my major."
"I have so much more motivation for school now that I actually love what I'm studying."
~ user8203421
Isn't It Romantic?
"I don't give a f'k if it's cheesy, but proposing to/marrying my wife."
~ Derekeys
"Right there with you, buddy."
"If this answer is cheesy then call me Mr. Rella."
~ GreenManTenTon
"Was going to say same. 34 years happy."
~ Factsaretheonlytruth
"Accepting an accidental friend request from the woman who'd eventually become my girlfriend."
~ warlordwinters
"I agreed to snap with a girl who texted me first on an Online Dating site last December. Just reached 8 months with the woman that will most likely become my wife."
"I thought she was a bot or something when she first texted me."
~ Murphy338
Setting Goals
"A bit over a year ago, I decided it was time to lose weight. Now, I had the yearning to lose weight before that, because being fat sucks."
"But I got a haircut that looked really good and I looked in the mirror and it was as if I were seeing myself for the first time. I looked at myself and thought 'I could be pretty. I really could. You know what? I'm going to give this an honest try'."
"So I did. I researched the hell out of weight loss, began calorie counting and I am proud to say that Ihave lost 127 lbs... so far."
"Now it isn't even a matter of 'Gee, will I ever reach my goal weight?' It is a matter of WHEN."
"My whole life has changed, and 95% of those changes have been positive. I have met a version of myself I never knew existed. And it is f'king beautiful."
~ Rearldeen34
"At 30 years old with a wife and two kids, go to college."
"My standard of living dramatically improved after graduating."
~ Spud9090
"I'm 36 and in my second year."
"My daughters will know a better life than I had."
~ mrw4787
Moving On
"Leaving my ex. We were horribly toxic together and I'm so much happier now."
"Give yourself time to grieve and process. Even when it's the best decision, the pain from the loss is still there. It will be ok. A new kind of ok."
~ HeyJoe459
"Needed this, just left a very one way relationship where everything was about her and now I am free but still hurts to lose that talk every single day aspect."
~ 1trickana
"Leaving and going no contact with my abusive family."
~ tvcxsxalty
"Congratulations on that, ❤️ people have no idea how hard that is."
~ loveloveyourself7
"I just did this. I knew I had to get away from them. COVID made things worse."
"I hired a company to help me fix my credit and I bought a house in a small town in a different state."
"Right now the heat is keeping me indoors but once fall comes it's going to be heaven."
~ BookmarkThat
"Right there with ya'."
"I feel much more relaxed."
~ ActualFirelord
"Divorcing my husband just short of 50 years!"
"No more negative influence."
~ jennifer3333
"My aunt divorced her husband after 38 years and she has been a new person ever since."
"You can tell the weight was lifted."
~ rb928
Facing Addiction
"Stopping drinking alcohol."
"Today I have my life back and I am very grateful."
~ Outrageous_Duty_8738
"Getting sober from alcohol - 1,290 days but who's countin!"
~ slycooper89
"Quit smoking and drinking, started to exercise!"
~ PeachFuzzTamer
"I quit drinking and smoking on the same day about 14 years ago....it was a rough couple of weeks..."
~ Psychological-Joke22
Waiting
"After college I started interviewing for graphic design jobs, and I realized 'Oh, this would be excruciating corporate bullsh*t'."
"I had a moment in time where I knew I needed to decide between a miserable "grownup" job that pays well after a few years, or just working wherever and focusing on enjoying life."
"I wanted to live life, not devote myself to joyless adulthood and a career. I ended up meeting a lot of awesome people, including close friends I still hang out with a decade later, and making countless memories I cherish."
"Recently I started focusing on making more money and being a serious adult, and it feels like the right time for that."
~ UStoAUambassador
Unconditional Love
"Getting a Golden Retriever puppy.
"That was 11 years ago and now I have 3. So much happiness and love."
~ the_best_taylor
"Animals help in ways I don't think some humans really understand."
"My girls [cats] act like they hate me but they are always there for me...for one minute."
~ Flamesclaws
Like we said, life is full of choices.
So which ones worked out well for you?
Ideally life is a rollercoaster of highs and lows.
Constant highs set up an unrealistic expectation of the world that can come crashing down hard over the smallest setbacks.
Constant lows are just plain cruel.
A mix helps develop coping skills and problem solving while not crushing the spirit.
Curious about what constituted low points, Reddit user beesechugersports asked:
"What was the worst year of your life?"
Childhood Trauma
"1987. I was 13."
My dad was killed when he was hit by a car. Total accident."
"I think about the driver sometimes. I hope he forgave himself."
"I honestly don't recall ever feeling anything toward that guy. I think I was more upset with the neighbor who came to our door to tell us he thought my dad was in an accident."
"My mom piled us in the car and we drove down the street to the scene. My dad's body was under a sheet.
"That night I was numb until my mom hugged me and I bawled in her arms. After that I pretty much shut down emotionally for a couple decades."
"Took me a long time to get help for my own PTSD."
~ surfingonmars
Losses
"2011 - Lost my job, girlfriend, friends, had to move back in with my folks where I fell into a deep depression."
"That went on on until 2014 when I was able to turn the ship around."
~ max-peck
"People underestimate how horrible those 2-3 yrs of depression feel."
"I was in rock bottom depression for 2 yrs and it felt like a decade passing by."
~ secondhand_bra
Future Derailed
"2012. The year started out great. I met and befriended an adult film actress on my birthday and had an active sex life for the first time ever."
"I was finally off the night shift at my job. I applied for grad school. I was accepted into a program for veterans at the Writer's Guild of America."
"I had finally arrived."
"But by September it was all over. My relationship with 'Nadia' had turned toxic and ended in a huge fight."
"I was rejected from grad school. The WGA program didn't pan out for me."
"Worst of all, I was fired from my good job. I nearly became homeless and had to go back to working the night shift guarding a gated community in Beverly Hills."
"By the year's end, I was alone and broke (I would declare bankruptcy early the next year) with no hope for the future."
~ SgtSharki
Economic Downturn
"2014. My business suffered a 4 million dollar loss."
"Then my fiancée who I was with for 6 years left me for her boss just 3 months before our wedding."
"I wasn't able to find another partner but I did recover from the absolute shambles I was in."
"Just the fact that I'm able to function normally and interact with people again without breaking down is a big win for me."
~ S_MZ
Post College Struggles
"2014—the year I graduated college and was looking for work and had bad acne and unrelenting pressure from my parents and a poor social life and I worked Uber while studying for the Chartered Financial Analyst exam that I ended up failing."
~ Damerman
Friends Lost
"2017. I lost my best friend that year.. we met during our first year of university and immediately hit it off and became close."
"We were inseparable for 7 years. I've never been the same since then.. I died with him."
"I wish I could've helped him.. I wish I could just take one last drive and smoke one last cigarette with him ,and tell him how much I love him and how much he means to me."
"Please tell your friends that you love them whenever you get the chance.. you never know when will be the last time you hang out together."
~ Syouf
Seeing the Light
"2018. Realized I was part of a cult."
"It was called the Great Commission Churches when I attended though they've changed their name multiple times over the years when they've been accused of abusive practices."
~ Consistent-Way-2018
Long Road to Recovery
"2019. Last straw at my job, where the management team turned on me, resulting in me putting in my 2 weeks after my complaint against a lying supervisor was dismissed."
"Had no more income, so I couldn't pay rent, and thus had to move out of the shared house I had with a friend and his fiancée (wasn't on lease, had no obligation to stay, and the fiancée even told me "you know, you don't have to live here" during an argument)."
"Said fiancée convinced him to turn on me and drop me as a friend, which resulted in him going off and convincing the only other friend I had to do the same."
"Covid hit."
"My cat developed a genetic illness that paralyzed her and my step-father put her down behind my back. My childhood dog developed cancer and was suffering so she was also put down, but I was able to hold her while she passed."
"Great aunt died of cancer, great uncle (other side of family) died of cancer."
"That was the lowest I've ever been, and I haven't even recovered 20% yet."
~ Whatsa-Throwaway
Pandemic Pandemonium
"2021 was the year when my mental health was worse than ever."
"Looking back I'm proud of myself that I just survived."
~ Master-Mood1816
"Well done on that and also, same."
"2021 can go straight in the bin."
~ sicklything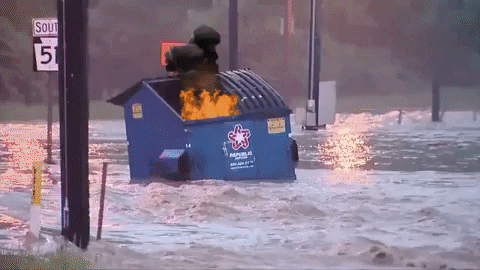 Giphy
Aftermath
"On the flip side 2021 was probably one of the best years of mine as an adult."
"My girlfriend and I were able to spend so much time together because she was only working maybe 1 day a week and I worked at an empty warehouse from 7 to 3 Monday to Friday."
"When everything went back to normal we both were working so much we ended up splitting up, so I guess 2022 sucked pretty bad."
~ ofTHEbattle
Piling It On
For some, their worst year isn't done with them yet.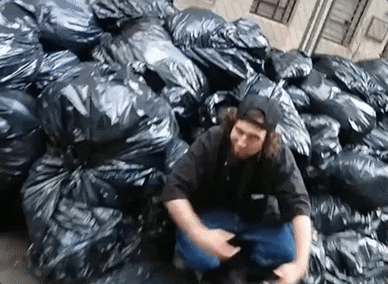 Giphy
"2023. By far the worst year of my life.
"Got laid off, took forever to find a new job, fiancée got pregnant then lost it then she got cancer, hated my new job, went heavily into debt to survive, fiancée beats cancer, she gets a life insurance payout from her father's passing, she gets pregnant again."
"Then I find out after she up and vanishes suddenly that every single thing was a lie. She faked it all from top to bottom for two years and pulled the rug out from under me, suddenly running off with our dogs."
"Since then I guess she needs some sick gratification that she's not getting from just all that and continues to stalk me on social media/Reddit as well as spoof her phone number to text me sh*t with purely the intent of trying to hurt me."
"Losing the dogs hurt and still hurts, won't lie, but being rid of her has been nothing short of a blessing."
~ Ok_Outside_4650
"This year—2023."
"My dog died in June."
"My wife died in July."
"My cat died in August."
"I have 5 kids."
~ MichaelHoncho
Dear whatever doesn't kill me, I'm strong enough now.
"Every year seems to beat the previous."
~ BenChodABQ
Oof, that's a lot to take.
While some are still going through it, many have already come out on the other side.
Here's hoping better days are ahead soon for everyone.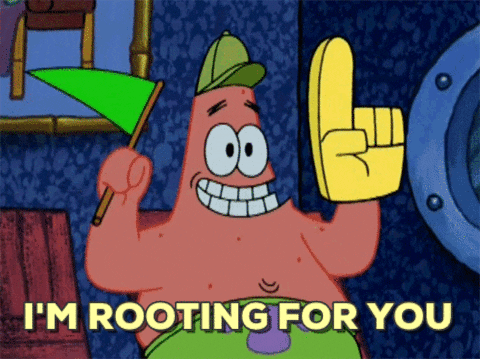 Giphy