Harry Potter is one of those cultural phenomenons that you can't really get away from - and that fans don't really want to. The franchise now includes books, films, merchandise, theme parks, and stage plays. You'd think the actors involved in the original films would be the biggest fans in the world - and they might be - but they know when to stay away from the Potterverse. Harry Potter and the Cursed Child has been making some serious waves in the theater community, but Daniel Radcliffe - Harry Potter himself - won't be seeing the show.
---
Radcliffe appeared on Late Night With Seth Meyers and the topic of the play came up. It was such a smash hit that surely Daniel would want to see it, right?
Nope.
Lots of people assume maybe it would be strange for him to witness his own character in some of these situations, but that's not the case. Radcliffe has had an incredibly successful acting career in movies, television, and stage plays since Harry Potter. He's quite comfortable letting go of his characters. He doesn't want to see it because he doesn't want to deal with the audience. We mentioned that Radcliffe is an accomplished stage actor, so he understands that the audience and actors affect one another. Radcliffe worried that people would be busy watching him for his reactions as opposed to watching the action on stage. Putting Harry Potter into a theater full of Harry Potter fans would create a distraction. The fans wouldn't get to enjoy the show as intended and the actors would constantly be competing for the audience's attention.
When asked if he would consider a disguise, he brushed the idea off. He didn't want to be that guy.
"The thing about a disguise is that if it stops working then you're just a dude who wore a disguise."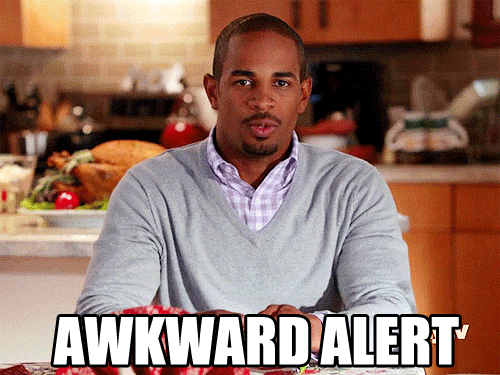 media3.giphy.com
Overall, the whole thing wouldn't be a "relaxing evening at the theater" - which is what Radcliffe thinks theater should be. The verdict on whether or not he will see the show in the theater is a totally understandable no.
People get it. Radcliffe has made it a point to maintain as close to a "normal" life as possible, so skipping out on that makes sense. Most people were quite happy to just let that be the end of it.
Then there's this guy... who kind of unintentionally proved Daniel's point.
@Gizmodo He just needs to show up nude like he's in Eqqus and nobody will notice.... uh... some of his reactions.

— Mike Fennelly (@Mike Fennelly)1543029509.0
You can watch the full interview here:
Daniel Radcliffe Is Avoiding Harry Potter and the Cursed Child www.youtube.com