Actress Dakota Johnson was among many celebrities who attended the annual Global Citizen Festival in New York City on Saturday, September 29, and she had something important to share.
The theme for this year's festival focused on the fight against sexual harassment and showing support for Dr. Christine Blasey Ford, who accused newly-appointed Supreme Court justice Brett Kavanaugh of assaulting her when they were both teenagers.
---
As a guest speaker, The Fifty Shades of Grey and The Social Network star encouraged women to share their stories of sexual assault.
Dakota Johnson wants to hear from you. https://t.co/6i2kw2tfrv

— ten daily (@ten daily)1539123177.0
She surprised attendees when she took her phone out during her speech and said:
This is my phone number. I want you to call me and tell me your story in a voicemail.
Johnson then listed the digits to her number, 212-653-8806, which appeared behind her on a jumbotron.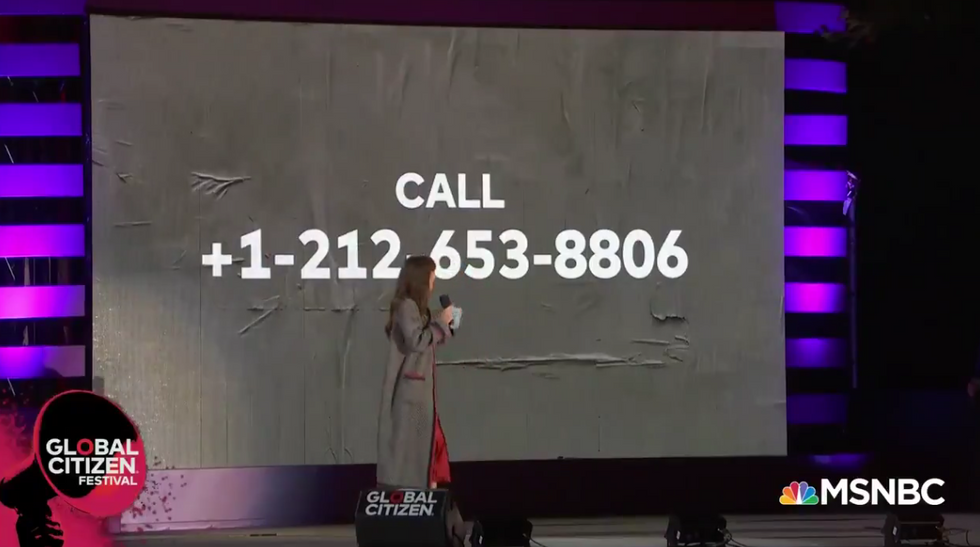 Dakota Johnson offers her phone number at the 2018 Global Citizen Festival.(screenshot from @NBCNews/Twitter)
Johnson added:
Or I want you to send me a message at dakota.johnson@globalcitizen.org and tell me what you've gone through as a women or girl in the world that's been suffering.
WATCH: Actress Dakota Johnson shares her phone number on #GlobalCitizen stage and encourages women to call her: "T… https://t.co/Cs2yue0pDa

— NBC News (@NBC News)1538271295.0
Johnson made accommodations for those whose primary language isn't English.
If we don't speak the same language, that's ok. We have a team for that. We'll translate it. And if you're going to threaten to hurt me, we have a team for that too.
She added that the voice messages would be compiled and she would make arrangements to "get them heard so I can amplify your voice."


For those who missed her speech on the Great Lawn in Central Park, she later posted her number on Instagram.

"Women and girls in every corner of the world face extreme violence and sexual harassment on a daily basis," she wrote in her post.
According to the World Health Organization's maternal mortality's statistic, over 830 women die every day from preventable causes related to pregnancy and childbirth complications.

Johnson continued:

Over 800 women and adolescent girls die every day because they do not have access to reliable contraceptives and basic maternity services.
I don't want to speak for you. I want to listen to you.
When callers dial her number, they are greeted with this message:
This is Dakota Johnson. Please leave a voicemail after the tone and I will record and share your story so we can live in a world where she is equal. Thank you.
Cosmopolitan couldn't confirm whether the number was Johnson's private number or if she created it for the occasion.
@NBCNews Dakota Johnson we thank you.. I also think Nicole Kidman would be a huge voice for this cause. Both are st… https://t.co/VLiRupoJdt

— Kathy (@Kathy)1538325967.0
@NBCNews @cowgirlup1a This is beautiful! ❤️🙏❤️

— Judy Elliott (@Judy Elliott)1538282009.0
@NBCNews I left my story / message

— Lisa Schlaeg (@Lisa Schlaeg)1538273510.0
The 2018 Global Citizen Festival calls on world leaders to fulfill their promises on key policies, like ending poverty, assuring all children have equal access to quality education, and enacting updated laws against child marriage in the U.S.

Hugh Jackman and Deborra-lee Furness returned to host this year's festival, which included an impressive roster of performers including Janet Jackson, Shawn Mendes, Cardi B, and Janelle Monáe.
The festival is a part of a series of other events for the Global Citizen's Be the Generation campaign, which honors the life and legacy of Nelson Mandela in commemoration of his centenary year.

H/T - GlobalCitizen, Twitter, WHO, Cosmopolitan, Elle