Curiosity may have killed the cat, but things didn't turn out much better for an inquisitive canine once he began investigating his human's mysterious head massager.
---
While dogs have always been man's best friend sometimes they aren't exactly the brightest.
It's funny to think that the same animal that can be taught to herd sheep or sniff out drugs can also be utterly confounded by simple household items.
Like for instance Tucker, a curious Golden Retriever who learned a hard lesson in being careful what you wish for when his owners finally let him inspect their rotating head massager.
Doggo Doesn't Understand Head Massager || ViralHog www.youtube.com
According to his owners Michael and Linda Budzyn, Tucker had been curious about the gadgets from the get-go.
"Tucker has been sniffing and trying to play with these head massagers ever since we got them," they wrote on Facebook.
Fortunately after deciding to give Tucker what he wanted Linda was there to record his adorable reaction.
"We decided to see his reaction if we let him play with them. His reactions to new toys are always hilarious."
After first Tucker just stared at the plastic enigma, but once the power was switched on he didn't know what to make of it.
As he jumps around the bed Tucker snorts, sniffs and barks at the mystery machines, but try as he might he just couldn't seem to make peace with them.
The three and half minute video may have been too cute for words, but that couldn't stop Tucker fans from sharing the love on Facebook.

Kalilaka Thompson/Facebook

Terry S. Roy/Facebook

Lynette Johnston/Facebook
Kim Walker/Facebook
As it turns out Tucker and his antics have quite the following on Facebook.
And fans can't seem to get enough.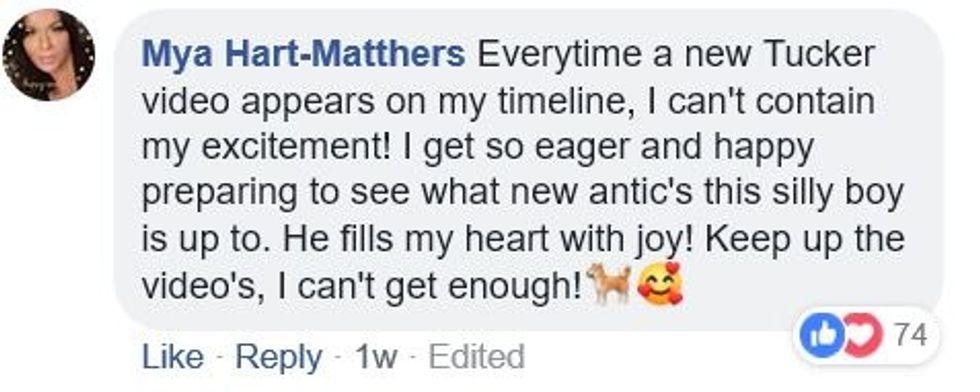 Mya Hart-Matthers/Facebook

Peggy Klopfstein Preston/Facebook

Leeann Braden Brown/Facebook
Whether he's having an adventure outside...
Or just helping around the house.
For more of Tucker and his adorable antics you can follow him on his Facebook page.