Cookbook author Chrissy Teigen and judge of NBC's Bring the Funny served up some giggles this week while going through airport security.
The Transportation Security Administration has strict rules when it comes to allowable food items, and keeping track of what can or can't be packed in a carry-on is daunting for the casual jet setter.
So what about gravy?
---
The 33-year-old model wondered if airport security would give a thumbs up for her cold gravy to travel with her.

While filming her traveling companion tilting the Tupperware with the substance in question, Teigen asked:
"Is it a liquid? Or is it a gel? Or is it gravy in a solid form?"
let's play "is cold gravy tsa approved" https://t.co/ykxh0pJ1l6

— christine teigen (@christine teigen)1561483323.0
Her followers were concerned about why she was smuggling a whole container of the good stuff.

@chrissyteigen IDK, but why do you have that much cold gravy?

— becca (@becca)1561483492.0
@notrachel @chrissyteigen For the turkey she has in her purse. DUH!

— Tara Hunter, MNM 🏊🏾‍♀️🚴🏾‍♀️🏃🏾‍♀️ (@Tara Hunter, MNM 🏊🏾‍♀️🚴🏾‍♀️🏃🏾‍♀️)1561483643.0
One suggested she dump the contents into a diaper to ensure safe passage.
@chrissyteigen Just store it in a diaper. They won't dare touch it.

— Tom Megginson⚡️adperson (@Tom Megginson⚡️adperson)1561483372.0
Twitter contestants weighed in based on past experiences or word on the street.
@chrissyteigen They made me dump my $15 jar or white chocolate peanut butter I was trying to bring home from Hawaii… https://t.co/7kVnUVWJsL

— Gina (@Gina)1561484046.0
@chrissyteigen I hear that if you FREEZE queso you can bring it through security. Not that I tried to bring back… https://t.co/3rQhbg6KgV

— Ashleigh (@Ashleigh)1561483484.0
@chrissyteigen I had a solid as hell fig jam from the Italian market in Philly and the bastards jacked me for it. I… https://t.co/Mw6ZlJ3dPM

— washed feeling (@washed feeling)1561485115.0
Did the gloopy sauce make it on board?

Over 36,000 people responded to Teigen's online poll and a good majority voted, "Yes! It wasn't a liquid."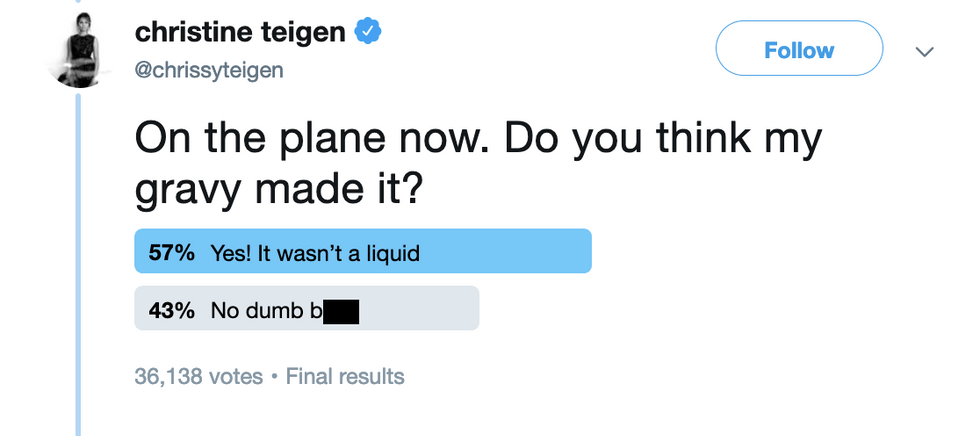 @chrissyteigen/Twitter
Permission was contingent upon one thing, and it's a bit of a mush.

results: cold gravy IS allowed if you mix it with mashed potatoes https://t.co/HKJGdl9CFq

— christine teigen (@christine teigen)1561484009.0
I guess I forgot to tell you about the potatoes

— christine teigen (@christine teigen)1561484141.0
@chrissyteigen Definitely not a time to say "these are some bomb mashed potatoes and gravy."

— DanDan The Elephant (@DanDan The Elephant)1561484118.0
@chrissyteigen I'm so glad the TSA has finally solved terrorism.

— Shelby Petersen (@Shelby Petersen)1561484158.0
@chrissyteigen that's why it's called the gravy train not the gravy plane, Teigen

— Scoop K (@Scoop K)1561484206.0
Here's a tip for those traveling with their own nosh.
TSA spokeswoman Jenny Burke told USA Today:
"The general rule of thumb is that if you can spill it, spread it, spray it, pump it or pour it, then it should go into a checked bag. Liquids in carry-on bags must follow the 3-1-1 liquids rule."
The TSA's website says gravy is allowed as long as it's less than 3.4 ounces, but Burke added that the ultimate decision rests on the TSA officer on whether or not food items can pass through the checkpoint.

Just pass the gravy, please.