It has been a solid year since rapper Big Sean turned 30 and disappeared from the music industry without a word. But now he's back and ready to open up about where he went.
---
Just yesterday, the I Decided artist turned 31 and instead of ringing in his new year with videos of partying and festivities, he took to Instagram to make a major confession.
In the three videos, Big Sean explains that this past year he,
"wasn't feeling like myself and I couldn't figure out why. I just felt lost and I don't know how I got there."
He went on to explain that his feeling "lost" instigated his search for a therapist as well as implementing meditation.

"I got a good therapist. I was blessed enough to talk to some super spiritual people. They made me realize one thing I was missing in my life, and the one thing I was missing was clarity."
The rapper concluded his videos explaining that he has found joy and love through independence.

"I started realizing, you can't depend on somebody for love and a good time and all that if you can't give it to yourself. I started doing things by myself, doing things I never thought I'd do, like going skydiving or whatever I thought was fun," he said. "In the midst I definitely rediscovered myself, found a whole new energy, and me being a source of it and not somebody else."
Many people are happy that he is back and feeling better than ever.
@TMZ Admitting you need help IS LIVING YOUR BEST LIFE!

— Mrs Carla (@Mrs Carla)1553541445.0
So happy for him. It's like there's been a birth, a rebirth. I really wish a mental health support team for everybo… https://t.co/PxNGBkUKix

— Asia Nichole Hodges (@Asia Nichole Hodges)1553540946.0
Big Sean snapped back faster than i did when i was going thru my anxiety/depression combo. Im glad he back. Prayers… https://t.co/ynH0gXdYxk

— Twitta Fingerz ✌🏾🇯🇲 (@Twitta Fingerz ✌🏾🇯🇲)1553541879.0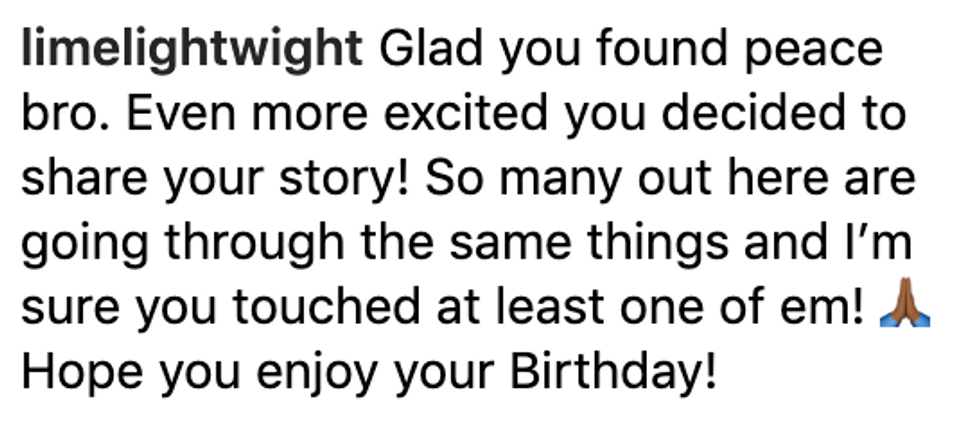 Instagram
Others are thankful that the Top Billboard artist is being candid about his mental health struggles.

THANK YOU Big Sean for speaking up about mental health ❤️ https://t.co/azjCk6Gc4r

— "#YouDefineYou" (@"#YouDefineYou")1553539935.0
Thank you @BigSean for being vocal about mental health and going to therapy. It's okay to feel like you're not your… https://t.co/Xi50t1Zp67

— Buddy Project (@Buddy Project)1553538400.0
So awesome to see men in the african american community letting others know it's ok to Talk to someone and seek gui… https://t.co/1JIwXvg6Aw

— Beau (@Beau)1553535819.0
Big Sean's message on anxiety and depression is something everyone should listen to. I definitely deal with anxiety… https://t.co/iX5xGlLKJJ

— the real Diane Johnson. (@the real Diane Johnson.)1553532433.0

Instagram

Instagram
Happy belated birthday, Big Sean!